The hills and cobbles of the iconic course at the World Triathlon Cup Karlovy Vary provided two quality winners today.
Leonie Periault back on top
The first five women out of the swim in Karlovy Vary today were also the first five to arrive at the finish. What's the saying, 'you can't win the race in the swim, but you can lose it'. That seemed to be the case today.
That quintet comprised Leonie Periault (FRA), Bianca Sergni (ITA), Summer Rappaport (USA), Olivia Mathias (GBR) and Lizeth Rueda Santos (MEX). After the seven laps of this challenging bike course, they had built an advantage of almost exactly one minute over a group of 20 athletes, which included recent winner in Bergen, Tilda Månsson, the World Junior Champion.
After third place last week in Valencia, Periault was looking back to the multiple WTCS podium athlete we are used to, and a 34:27 run left her well clear at the finish. The Italian youngster, Seregni, who had led the swim improved on her third place in Karlovy Vary last year to take second, with Rappaport completing the podium ahead of Wales' Commonwealth Games MTR silver medallist Mathias.
Periault was thrilled to be back on top of a podium, saying: "I'm very happy with that! The group was really good on the bike, we worked well but that run was just crazy."
Lehmann is the man of the day
Richard Varga (SVK) and Mark Devay (HUN) – perhaps the best two swimmers in the sport – led the way through the 1.5km swim, but despite their skills, there was still a long line of athletes immediately behind them.
Devay was joined by Austria's Leon Pauger (a Europe Triathlon Cup winner this season) in a bike breakaway, but that was not one that they could sustain. By the time that the end of the seventh lap arrived and the bike dismount line was in sight, it was all back together at the front. That group comprised of 21 athletes, including 2019 winner Sam Dickinson and runner-up 12 months ago, Grant Sheldon.
Lasse Lührs (GER), Csongor Lehmann (HUN) and Matthew McElroy (USA) emerged as the leading trio at the end of the first lap of four, with the American seemingly keen to push on the pace. Lührs was third this year in Leeds, Lehmann a winner in Tiszaujvaros while McElroy has been on an upward trajectory with 11th in Bergen and third in Valencia.
They remained locked together until well into the fourth and final lap, when Lehmann made a big surge with just over 1km remaining. Lührs was distanced immediately, but McElroy tried to hang on the pace of the 2021 U23 World Champion. It was Hungary's gold medal, but another strong race and progress back to his best form for the USA's McElroy.
World Triathlon Cup Karlovy Vary 2022 results
Sunday 11 September 2022 – 1.5km / 40km / 10km
ELITE WOMEN
1. Leonie Periault (FRA) – 2:05:04
2. Bianca Sergni (ITA) – 2:05:46
3. Summer Rappaport (USA) – 2:06:29
4. Olivia Mathias (GBR) – 2:06:45
5. Lizeth Rueda Santos (MEX) – 2:06:53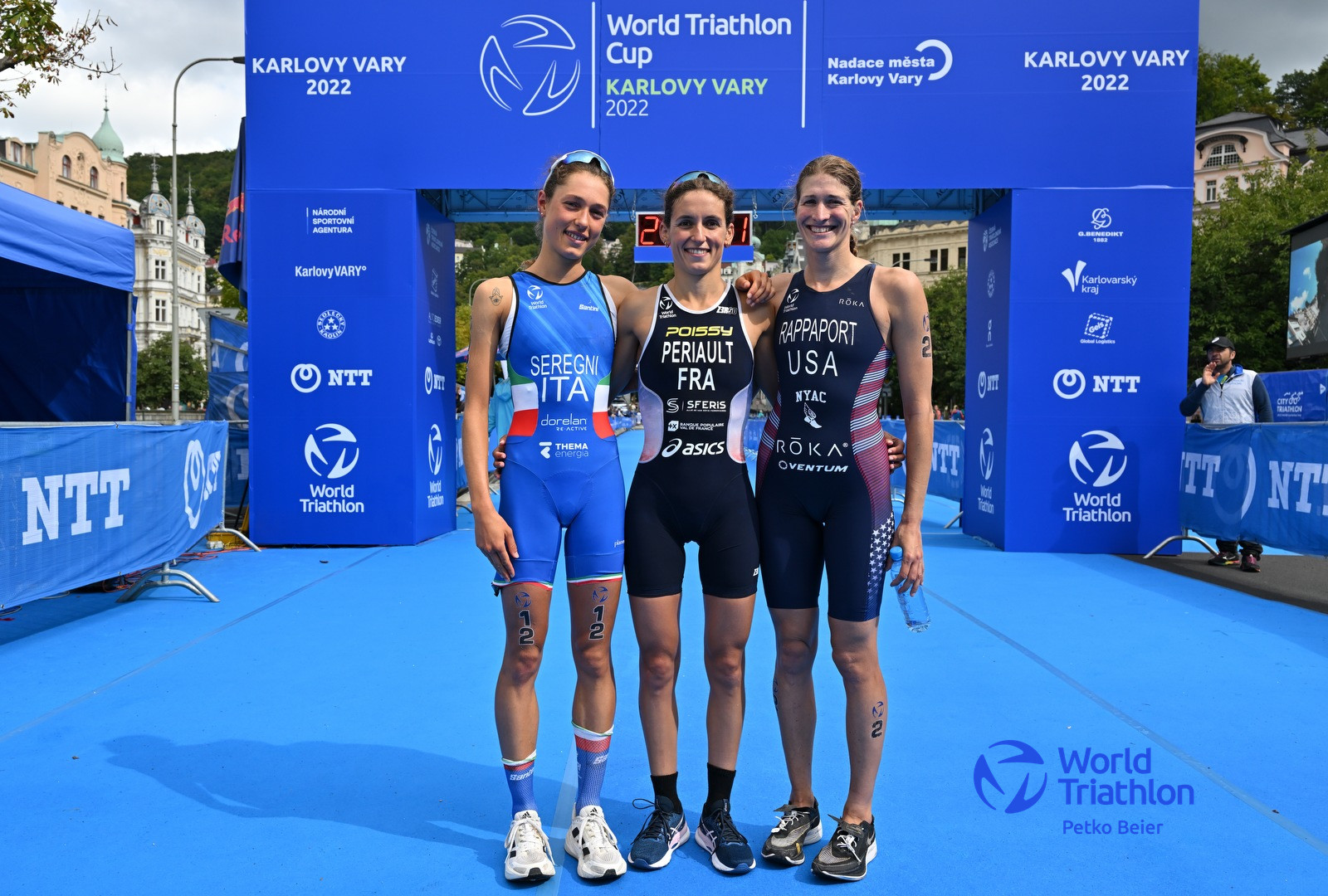 ELITE MEN
1. Csongor Lehmann (HUN) – 1:51:10
2. Matthew McElroy (USA) – 1:51:20
3. Lasse Lührs (GER) – 1:51:42
4. Roberto Sanchez Mantecon (ESP) – 1:52:03
5. Grant Sheldon (GBR) – 1:52:07
7. Samuel Dickinson (GBR) – 1:52:19
18. Jack Willis (GBR) – 1:53:30
34. Harry Leleu (GBR) – 1:56:21