From Haeundae to Tongyeong, the World Triathlon Cup relocates within South Korea this weekend for the final race of its series in 2021. Check out the maps – they haven't got too far to travel!
Busan beach provided a fine return for British athletes this past weekend, as Beth Potter and Kate Waugh claimed the top spots – will it be same again this time around?
Race time and how to watch live
Racing over the Sprint distance again, the Elite races in Tongyeong will take place at 0900 (Elite Women) and 1130 (Elite Men) on Saturday 30 October.
With Korea eight hours ahead of the UK, that means that the Brits will be racing very early on Saturday morning (0100 UK / 0200 CEST).
You can watch the race live via the World Triathlon subscription service, TriathlonLIVE.tv.
Tongyeong history
The coastal city of Tongyeong does have a little place in triathlon history. Back in May 2009, and following a restructure of the Elite side of the sport post-Beijing Olympics, the city hosted the first ever 'ITU World Championship Series' event (which would later become World Triathlon Series, then World Triathlon Championship Series…).
We've had some great and close finishes in the sport just this year – think Yee / Van Riel at SLT Malibu for example – and Tongyeong provided a great start to the new world, with Bevan Docherty just getting the verdict over Brad Kahlefeldt.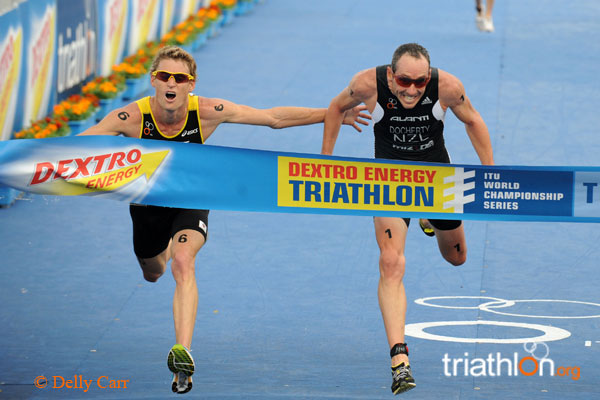 While that was the only time Tongyeong hosted a top-tier (now WTCS) event, it has been a regular on the World Cup circuit ever since.
Who's racing?
As you would expect given travel, we have very similar start lists this weeks with the vast majority of the athletes from last week set to go again for a Korean double. It is sprint distance again – and you have to make Beth Potter the strong favourite to top the podium once more given her excellent form.
Kate Waugh will have gained great confidence too from her best senior Elite result to date and will certainly believe another podium result is there for the taking.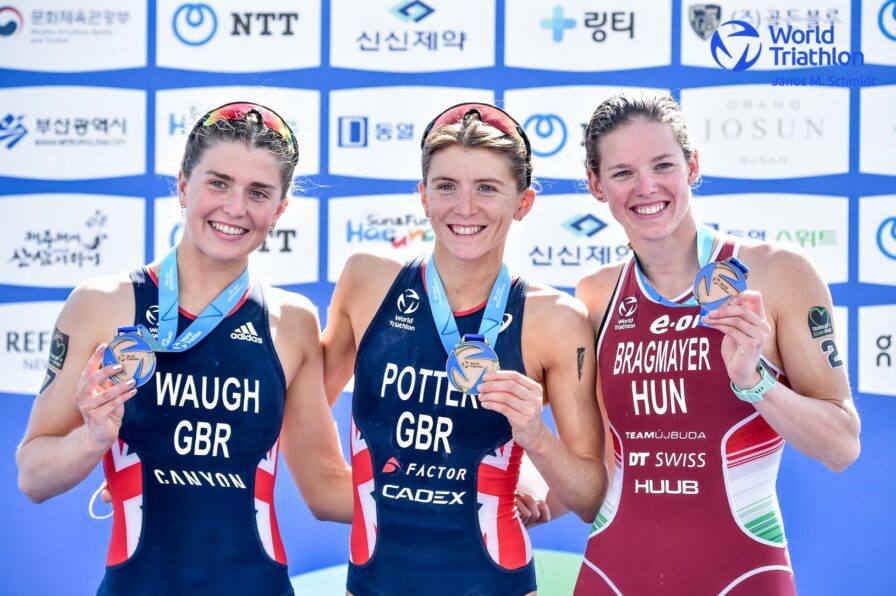 Sandra Dodet (FRA) was fifth in Haeundae, and having won in Tongyeong in 2019, that may well provide the additional incentive to improve on that this coming Saturday.
There will be a different look to the men's podium though, as both Anthony Pujades (FRA) and Takumi Hojo (JPN) – the top two from Haeundae – are absent this week. We couldn't pick a winner for the men's race last week… and we are going to opt out again this week. There is seemingly no obvious favourite.
You can click here for the full start list.