There was no stopping the dominant run performances of Matthew McElroy and Audrey Merle on Saturday at the World Triathlon Cup Tongyeong in South Korea.
While a first career victory at this level for Merle, for the American, this is a race he knows well – and how to win it.
Elite Women: Merle leads French 1/3/4
A non-wetsuit swim in Korea saw Mathilde Gautier (FRA) lead out a long line of swimmers from the opening 1.5km of this Olympic-distance World Triathlon Cup event. With more than 20 athletes following in the next 20 seconds, while spread out, there was not much in the way of separation as they headed towards their bikes.
By the midpoint of the six-lap bike course, a clear group of 10 had broken clear, and that move would stick for the remaining laps, leaving them with a significant advantage of 1:15 with 10km of running remaining.
Olivia Mathias was the quickest onto the run, but it wasn't long before Gautier moved into the lead. The escaping 10 also included Annika Koch (GER) – already a World Cup winner this season in Huatulco – and Audrey Merle (FRA).
Merle glided her way towards the front of the race to make it a French one-two before the end of the first of four run laps, pulled away on lap two and finished up with a comfortable winning margin of 23 seconds. That represented the first World Triathlon Cup win for the 2015 U23 World Champion.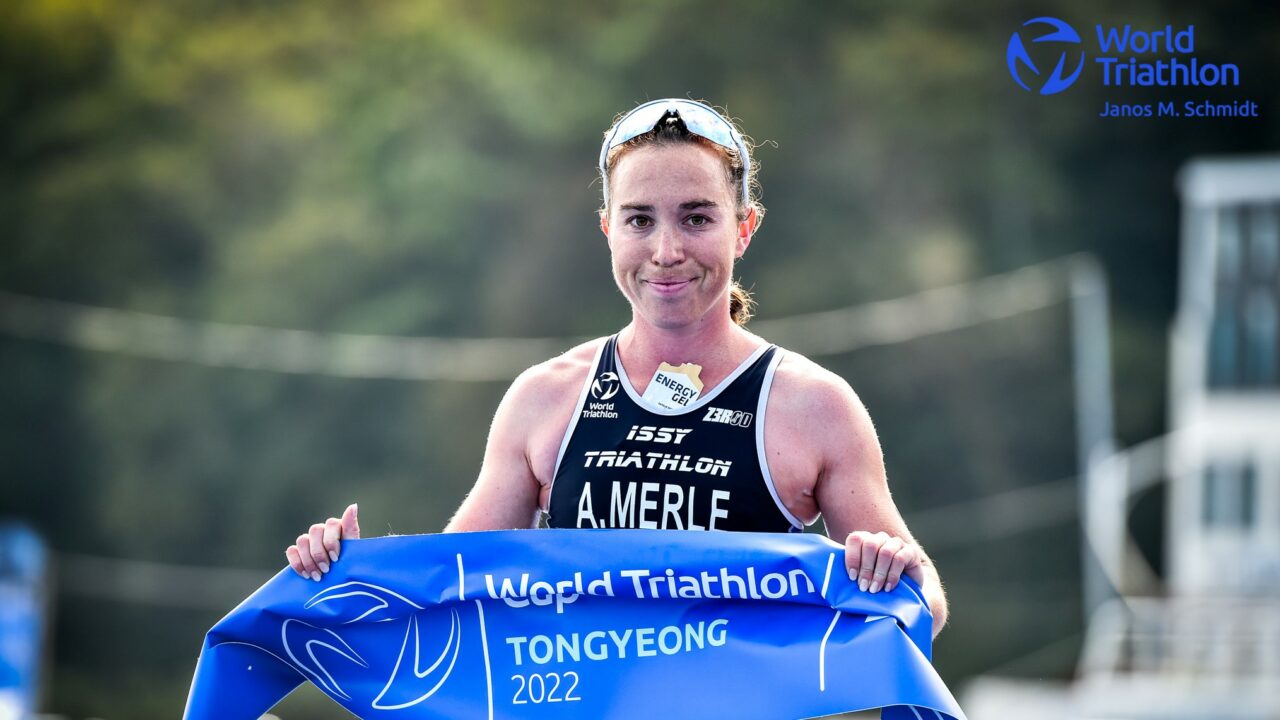 Annika Koch closed the gap to, and then moved past, Gautier on the final lap. As if to reinforce the French strength-in-depth (despite the absence of Beaugrand, Lombardi and Periault), Sandra Dodet set the quickest split of the day to run through from the chase back to take fourth. First, third and fourth the Les Bleus.
Speaking to the World Triathlon media post-race, Merle said:
"I feel really happy. Honestly, it was four really difficult years for me and today was big to win a World Cup. I know it's not the biggest race in the world, but I really wanted to win today and I am really happy.
"We know that a lot of good runners were on the back and I think it was natural to work together and try to be with a lot of advantage in T2.
"I just wanted to catch the first on the beginning and stay in the lead group. I know the run course was good for me with the hill. I felt really good. I just tried to take a breath and be happy to be first and just enjoy the moment. I was really emotional in the last lap."
Elite Men: It's 3, 2, 'won' for McElroy
Nathan Lessmann of France was first out of the two-lap, non-wetsuit swim in Korea, and there was also a strong British presence immediately behind him, with Connor Bentley, Jack Willis and Sam Dickinson right there at the front of a long line of swimmers heading towards T1.
As with the women's race earlier, a breakaway group formed on the bike, and this time it was 12 athletes. That wasn't going to stick to the finish however, and Willis, Ricardo Batista (POR) and Jumpei Furuya (JPN) got away, and with some hard riding gained a lead of one minute over what was now a very big chasing pack. Furuya of course was the athlete that escaped with Jonathan Brownlee in Cagliari last week.
Willis would prove the strongest of the breakaway trio, and he led solo well into the third lap before McElroy, winner in Tongyeong in 2019, took the lead. A 30:56 split would see the American take the title, and complete a run of third (Valencia), second (Karlovy Vary) and first in his last three World Triathlon Cup starts.
Willis held strong to the end, finishing seventh, but the podium would be completed by Gabor Faldum (HUN) and another Brit, Dickinson, who produced a superb final 800m to take third place.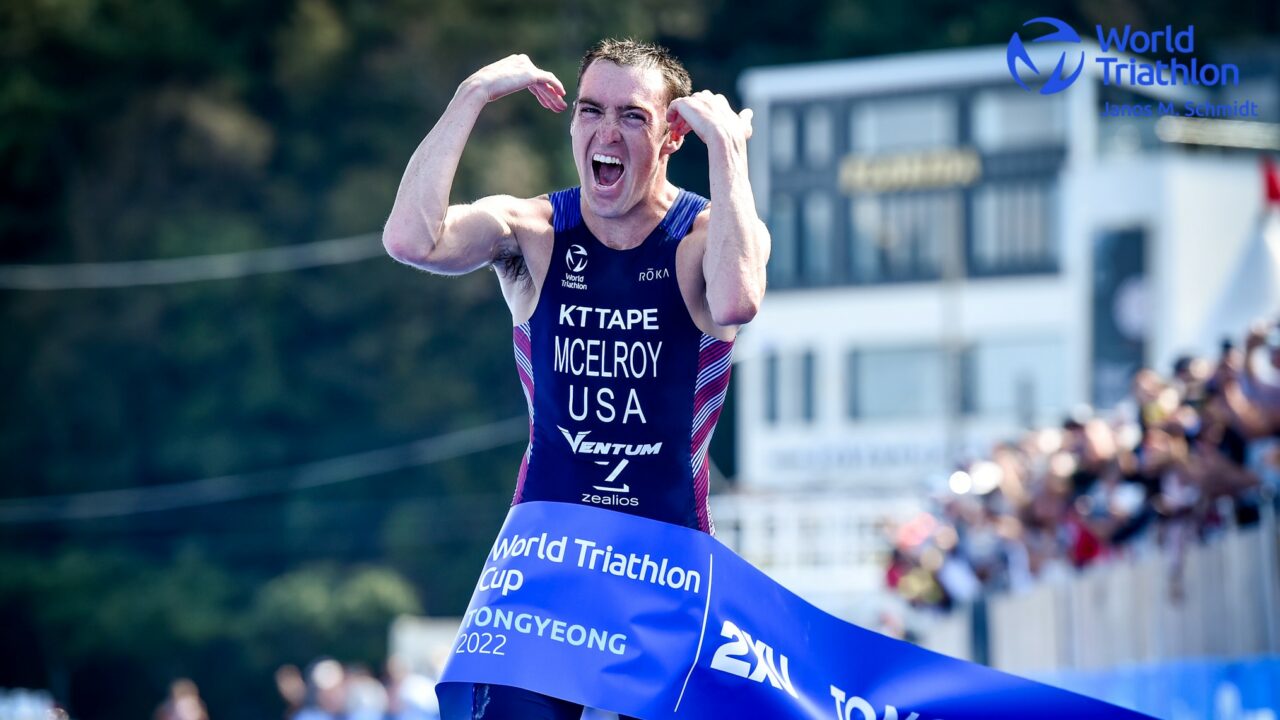 Post-race, McElroy reflected:
"I feel good. This is my second time winning this race. We've been on a bit of a World Cup podium streak so I think it's time I do a WTCS and see if it translates.
"Today, that was a tough race. I played it pretty smart on the bike. The swim was quite the battle, I haven't been in a swim like that, when it was that physical, in a long time.
"It turned out to be a running race. I just sat on Gabor Faldum and waiting to make my big move."
World Triathlon Cup Tongyeong Results 2022
Saturday October 15, 2022 – 1.5m / 40km / 10km
ELITE WOMEN
1. Audrey Merle (FRA) – 1:57:08
2. Annika Koch (GER) – 1:57:31
3. Mathilde Gautier (FRA) – 1:57:38
4. Sandra Dodet (FRA) – 1:58:18
5. Rosa Maria Tapia Vidal (MEX) – 1:58:19
9. Olivia Mathias (GBR) – 1:58:54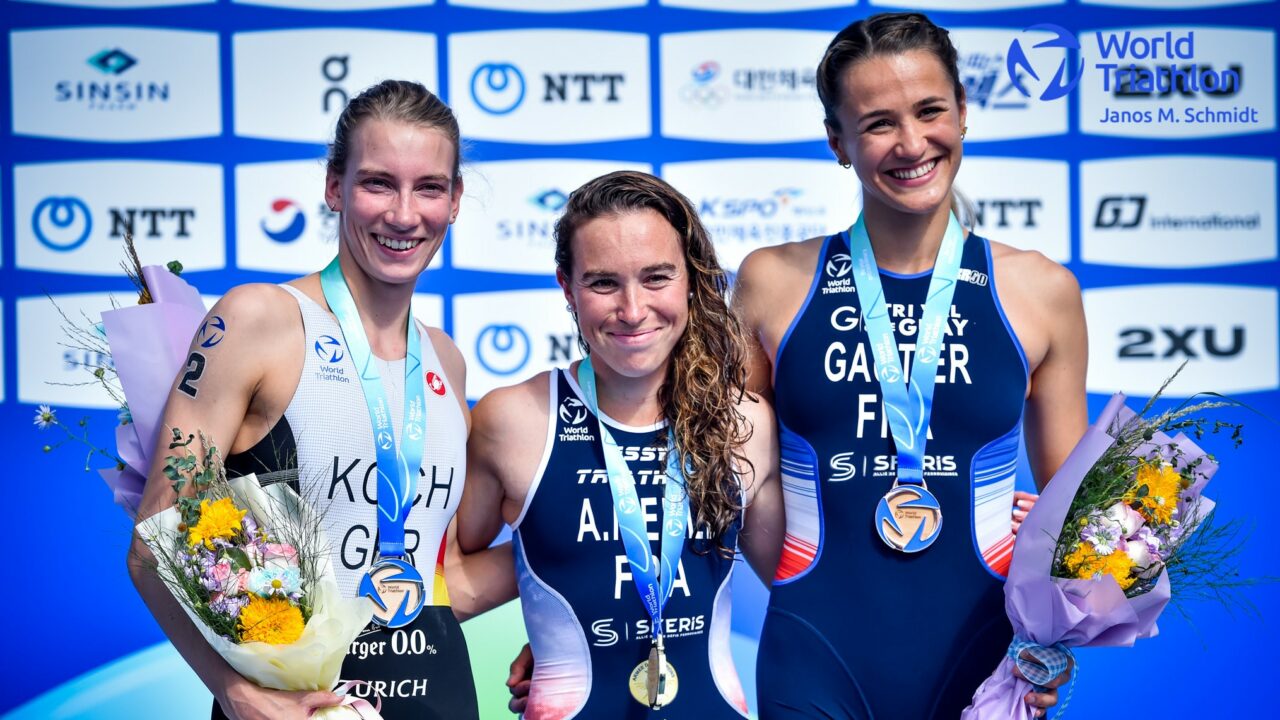 ELITE MEN
1. Matthew McElroy (USA) – 1:44:49
2. Gabor Faldum (HUN) – 1:45:09
3. Samuel Dickinson (GBR) – 1:45:16
4. Aram Michell Peñaflor Moysen (MEX) – 1:45:21
5. Felix Duchampt (FRA) – 1:45:24
6. Maxime Hueber-Moosbrugger (FRA) – 1:45:28
7. Jack Willis (GBR) – 1:45:28
25. Connor Bentley (GBR) – 1:46:58
28. Ben Dijkstra (GBR) – 1:47:10
29. Harry Leleu (GBR) – 1:47:17