Jonny Brownlee's prediction proved spot on as Beth Potter claimed her first-ever WTCS victory in Abu Dhabi on Friday.
The Scot, who has been training with the Brownlees out in Spain, said she was going into the "unknown" but she triumphed in style after kicking clear of fellow Brit Sophie Coldwell and the rest on the run to win by 18 seconds.
'More positive and calm'
Speaking afterwards, Potter explained: "It's always a bit of an unknown, first time out in the season.
"But training has been going well – and Jonny texted me before and said 'you're going to win' but I didn't quite believe it!
"I've been working really hard – not just the physical side of it but the mental side too and I feel much more positive and calm."
Potter made the decisive move when the gradient kicked upwards on the 5km run, stretching out the field on the first lap and then distancing them on the second, adding: "I just bided my time and knew that I could potentially attack up the hill and off the top – it was back to my cross-country days!"
Worthwhile change of plan
There was delight too for Coldwell who was notching a silver medal for the first time at this level, the result made all the more sweet by the fact that the race hadn't always been on the agenda.
She said: "To be honest I wasn't even planning on racing this early. I've just come back from a training camp in Australia so I thought it's on the way home, I might as well stop off!
"So to come second and get my best result, I'm lost for words, I can't believe it."
Coldwell led out the swim and then stayed calm when she was served with a 10-second penalty for going too soon off the pontoon.
"I was just too keen to get the season started!" she admitted. "As soon as I dived in I was like 'uh-oh, I might have gone early'. So I just kept my head down and told myself if it is a penalty then I've just got to serve it and stay relaxed.
"Thankfully I got on the back and it was a really good working group – some people were stronger than others but everyone kept tapping through and we got a nice buffer."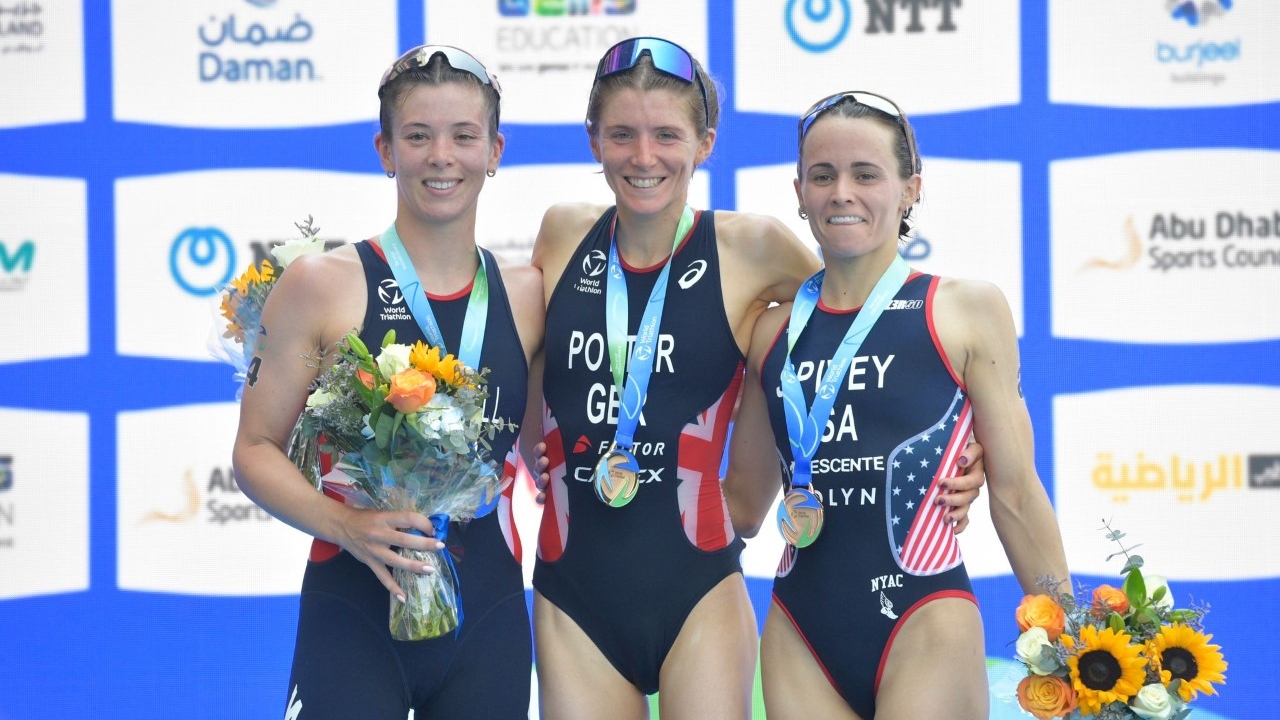 Confidence boost
That was underlined by the fact the first five all came from the six-person break, with American Taylor Spivey rounding out the podium – much to her relief after a succession of fourth places in individual WTCS events.
She said: "I just thought I can't let myself come fourth again. I think I'm actually not the most confident athlete and racing is a way to boost my confidence.
"I executed pretty much every step of the race perfectly today and I finally came away with a step above fourth place so I'm happy with it.
"I went into this race after about five months of being sick – and I still have a bit of a cough since before Bermuda last year so it was a bit of a rough off season and I've only been training for about four weeks so knowing that and that I can build off this is really reassuring.
"Not qualifying for the Olympics after the last cycle was really rough on me and the last few months have been too so I'm really proud with how I've handled everything."