Even for Olympic champion Flora Duffy, it's fair to say that Saturday's victory at World Triathlon Championship Series Hamburg was a special one.
It was her 13th WTCS triumph and came after what has been a frustrating season to date.
She's twice battled Covid and then the wheels came off her bid to qualify for the 70.3 Worlds at Mont Tremblant a fortnight ago when her bike failed to arrive in Montreal on the same flight as her.
So when she picked up a first ever penalty at T1 in Hamburg it must have seemed the latest in a series of unfortunate incidents.
'Flustered'
Speaking afterwards she told Trevor Harris on the live broadcast: "I couldn't believe it. I came into T2 and I saw my goggles were out of the transition box and it really flustered me and I was slow out of there.
"And then Dan, my husband, shouted at me '10 seconds penalty' and I was like 'wow, Flora, you're really making it hard for yourself today!'
"I've never had a penalty. I think now it's like I'm making all these mistakes. I've got slow transitions, I'm doing penalties. I guess I'm really trying to keep it really interesting for myself and make it super hard to win a race!"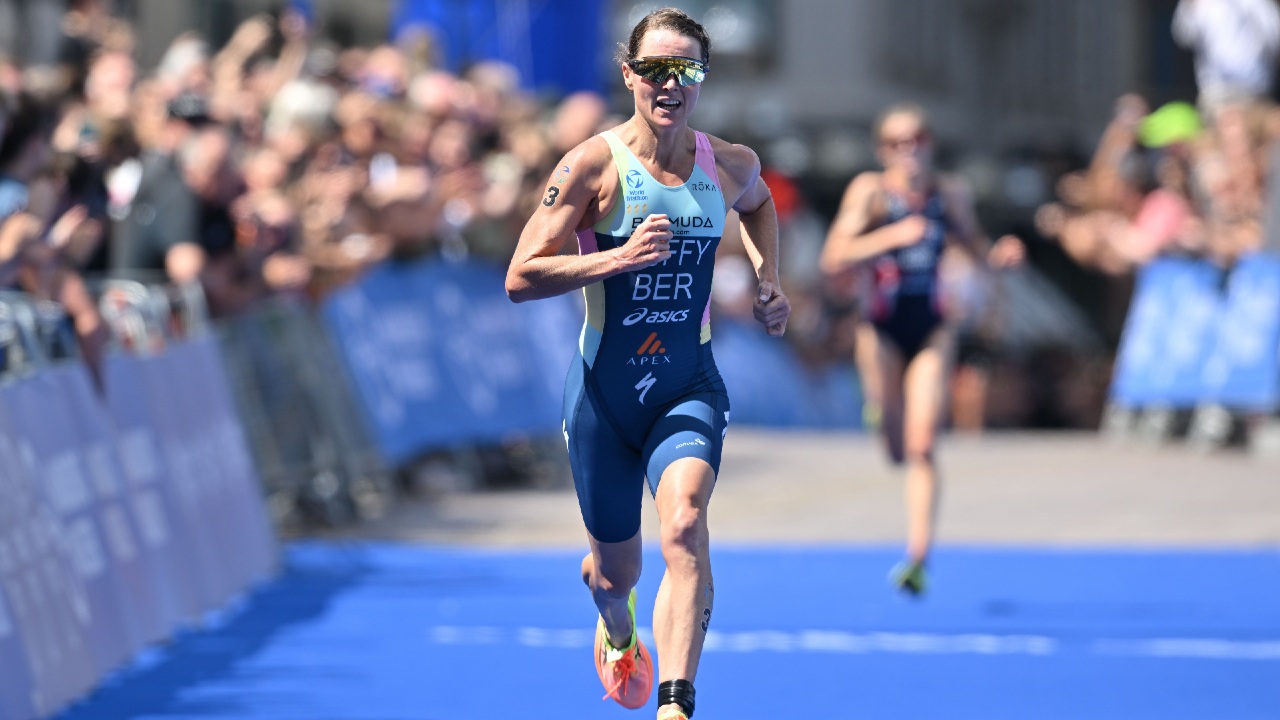 Interesting it definitely was – Duffy might have come out of T2 in 15th but she was soon up to first and trying to put time between herself and the rest before she would have to take that penalty.
She picks up the story: "My husband Dan shouted to say take it after the first lap, I think just to have a 10 second reset and then just really charge it for the last lap."
And that plan worked as well as it could have done, with the Olympic champion coming out of the penalty tent in second – six seconds behind Beth Potter. With both being outstanding runners, it was very much game on.
"Honestly, I thought I was going to come out of that penalty further back in the top 10, but I was pretty happy that I'm still in second," confirmed Duffy.
"And, yeah, I had to try chase down Beth, which is much easier said than done."
Back in the series
Asked if her 13th WTCS win – by a six seconds margin – was one of the most satisfying, she replied: "Yeah, for sure. I gave everything out there and am super pumped to take a win after this year.
"It started off so weird with two times Covid, flying to races and my equipment not making it. I'm pumped to get myself back in the series and excited for the rest of the year."
It took two to make it a great race and Arena Games outright winner Potter again deserved a huge amount of credit for her runner-up spot, her highest WTCS finish so far and second podium position in a row.
But she admitted to mixed feelings throughout the race, saying: "I was a bit sloppy today and just felt tired coming into this.
"I was pretty disappointed with my bike today. I just felt like I was always in the back and in a bad position at the back of the group and I know I should be further up, so a bit disappointed. But I stuck in till the end and I'm rewarded with the silver.
"It was a nervous two-and-a-half k knowing she was coming, but I just tried to keep my cool and kind of focus on what I could control in the last little bit."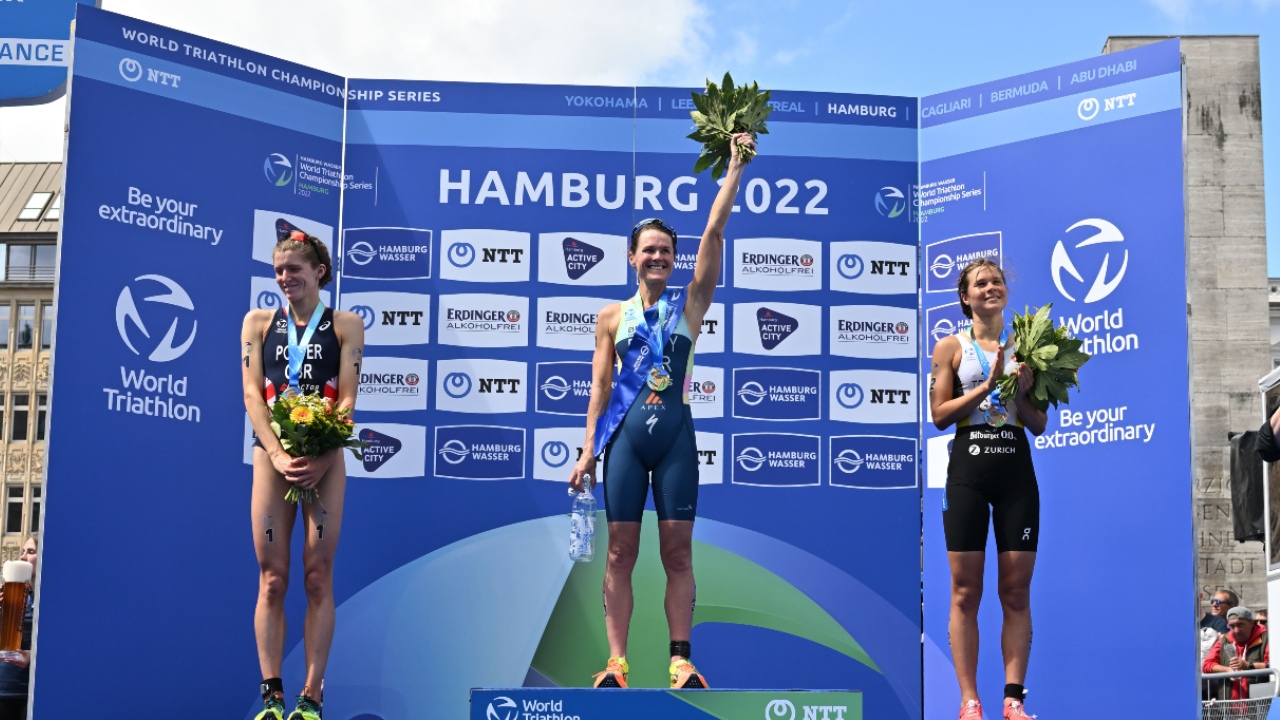 Rematch in Birmingham
Next up for Scotland's Potter is a rematch with Duffy at the Commonwealth Games in Birmingham later this month and she's looking to maintain the forward momentum: "Coming into this season I wanted to consistently be in the top five and in my last races have done that, so I just need to consolidate on that and keep moving forward.
"We've got one last race in this part of the season now, that's the big goal so I need to rest up for that."
German representation on the Hamburg podium in the shape of Lisa Tertsch – her first WTCS top-three spot.
And she admitted she was pleasantly surprised: "I definitely did not expect that. I was trying to give my best. But I didn't expect that my best would be good enough for third, so really, really happy. It's very special in front of my home crowd, it doesn't get any better than that."