GB Olympic selection issues resolved? Almost certainly. Alex Yee secured a hugely popular and impressive victory in Roundhay Park on Sunday, at the AJ Bell 2021 World Triathlon Championship Series Leeds. Sushi will surely be on the menu later this year too as a result.
It was a fantastic performance, in a great race which closed out two packed days of triathlon action, as Leeds welcomed the top tier of international draft-legal racing to the city for the fifth time. As well as the race win, Alex also collected the Maurice Lacroix World Triathlon Championship Series Ranking Leaders trophy, adding to his fourth place three weeks ago in Yokohama Japan. A 4th and a 1st was, by just 10 points, enough to take the trophy ahead of Morgan Pearson, who now has a 3rd and a 2nd place finish this year.
The race followed a very different script to that of the Elite women a couple of hours previous, with no significant breaks on the bike. On his World Triathlon Championship Series debut, Sam Dickinson did manage to escape alone and get close to a 30 second lead at one point, but by T2, the peloton had him in sight and close to 30 men were soon in chase just seconds behind the local athlete, making his WTCS debut.
It was very obvious from the start that Alistair Brownlee would (and could) not be competitive in his home city, clearly carrying an ankle injury which left his running style painful to watch. He could do nothing other than drift back through the pack and finish the 'run' in 38:20, to be greeted on the finish line by a red card confirming his disqualification for "unsportsmanlike behaviour during the swim segment", due to a 'dunking' incident of the USA's Chase Mcqueen. The incident didn't look great (2:50 into this video), but ultimately is should not be the major talking point here – that should be the WTCS gold medal winning breakthrough of Alex Yee.
While Tom Bishop's efforts and 16th place have moved him up one place in the Olympic qualification rankings to 34th, with just one (possible) race next week in Huatulco, Mexico remaining, any chance of GB's men earning a third slot seems remote (and my well even be mathematically impossible – I'll leave that to the Performance team and others to confirm).
Either way, Tom attempting to race five back-to-back races, across three continents, was always going to be asking a lot when performance was the aim. With the emotion of yesterday, it would not surprise me if that flight was cancelled. One thing you can never do is discount Tom's commitment to the wider British team cause over many years. Along with Philip Graves, his domestique efforts for Gordon Benson at the 2015 European Games in Baku will forever remain in my memory as one of the best team performances I've ever witnessed.
The day though belonged to Alex Yee, something that the two-time Olympic champion acknowledged.
---
Alex Yee shows Olympic credentials with golden WTCS Leeds display
Great Britain's Alex Yee had Leeds' Roundhay Park in the palm of his hand on Sunday afternoon, eventually coasting to a first WTCS gold after a magnificent 10km run. With the swim staying condensed and the bike pack large, the stage was set for Yee to strike out, running solo for the final three laps to the delight of the fans.
Behind him, Morgan Pearson (USA) had another brilliant race to finish second, bronze going to Belgium's Marten van Riel.
"That was very special," said a beaming Yee. "It is the first time that I've seen so many people on the street, and it was just amazing to be able to deliver in front of all of them. These results are a team effort. For me to finish fourth in Yokohama was a bit of a disappointment, but after the race I spoke with the team to see what we needed to work on and I think that this shows the progression I've made in the last weeks."
Race Report
It was warm and overcast as the men lined up on the Waterloo Lake pontoon, Kristian Blummenfelt (NOR) wearing the number one and taking up position on the left of the start for what should have been the shortest route to the first buoy, but the group strayed off line and had to correct themselves and the first turn.
With the smooth stroke of Richard Varga (SVK) occupying a familiar place out front, behind him an incident between Alistair Brownlee and USA's Chase McQueen meant that Britain's two-time Olympic champion would eventually be disqualified, though he continued to race on. Brother Jonathan Brownlee was also going well in the water, likewise Aaron Royle (AUS) who was hoping to help Australia confirm a third Olympic men's place on the Tokyo start list just as Tom Bishop was for GB.
A big group came into T1 together, Van Riel, Pearson and Alistair Brownlee out first, Jonas Schomburg (GER) again looking dangerous in the early stages, with Kenji Nener (JPN) and Csongor Lehmann (HUN) among those hoping to get onto the front pack too.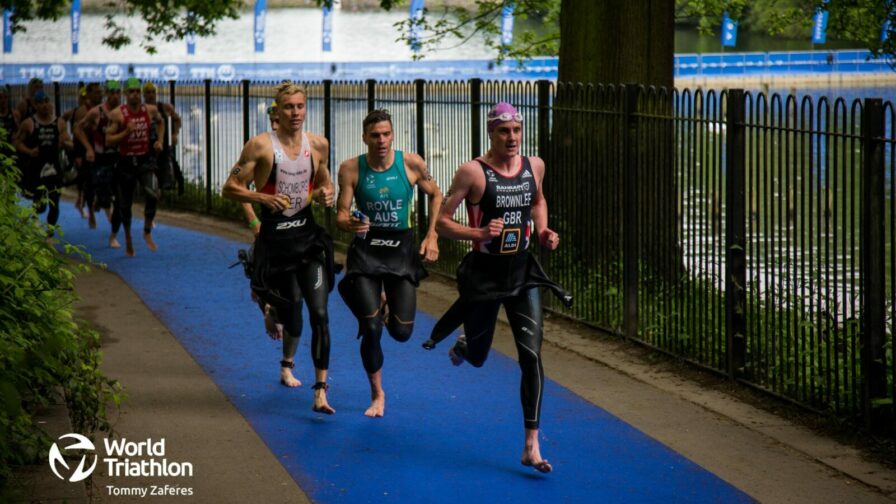 It was an eight-strong group that found some space out front on the first climb, Leo Bergere and Royle getting on the back and looking ready to push things forward, Salvisberg (SUI) and Varga trying to join them, Blummenfelt, Javier Gomez Noya, Bence Bicsak (HUN) and the returning Hayden Wilde (NZL) in the big group 10 seconds back spearheaded by Yee. One minute off the leaders was a third group led by Gabriel Sandor (SWE).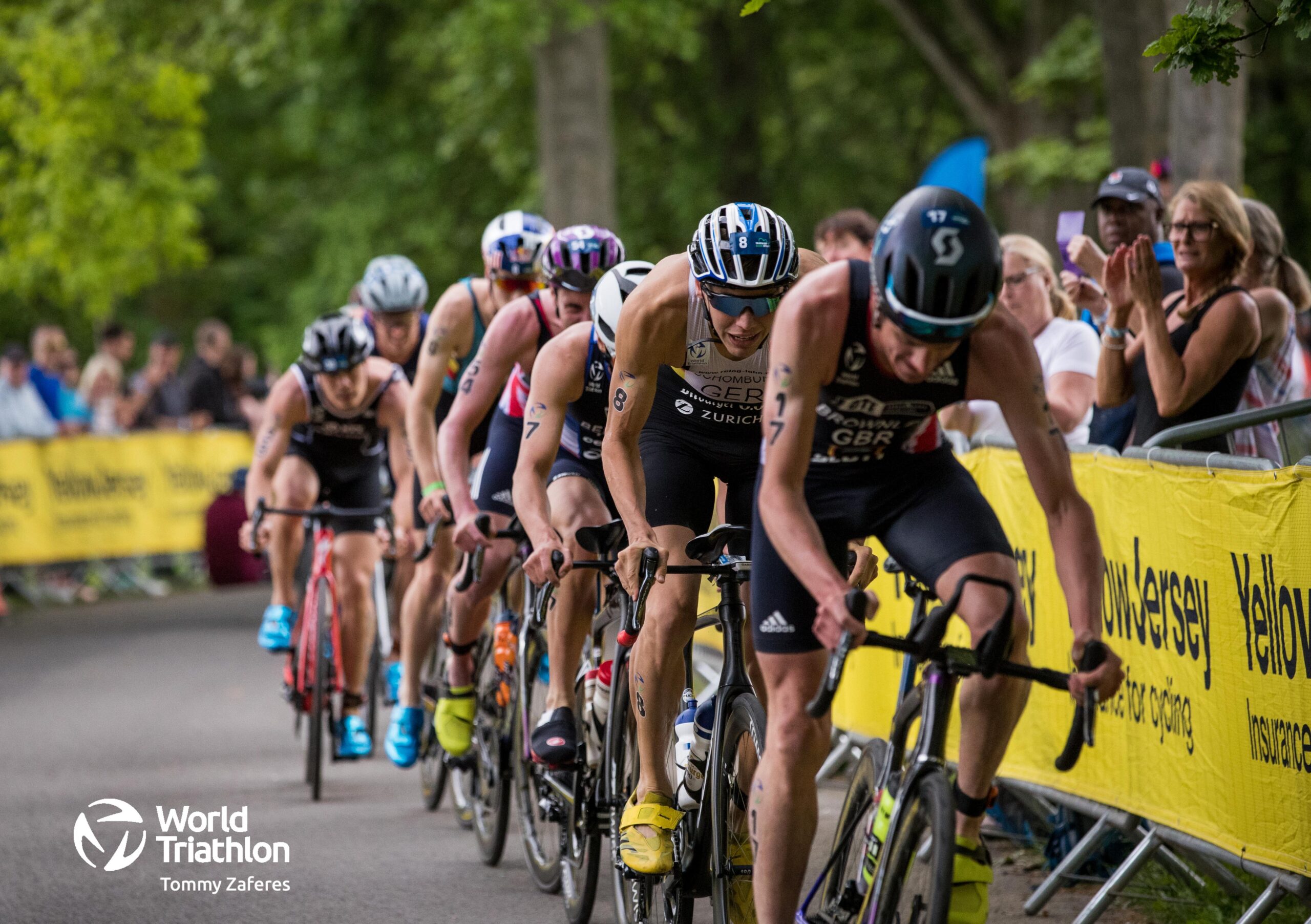 The front two packs merged into a 27-deep train on lap three, Jacob Birtwhistle and Sam Dickinson looking well-placed to mount a challenge and it was the latter rolling the dice on lap seven and pulling 20 seconds clear for two glorious laps for the crowds before being hauled back heading into T2.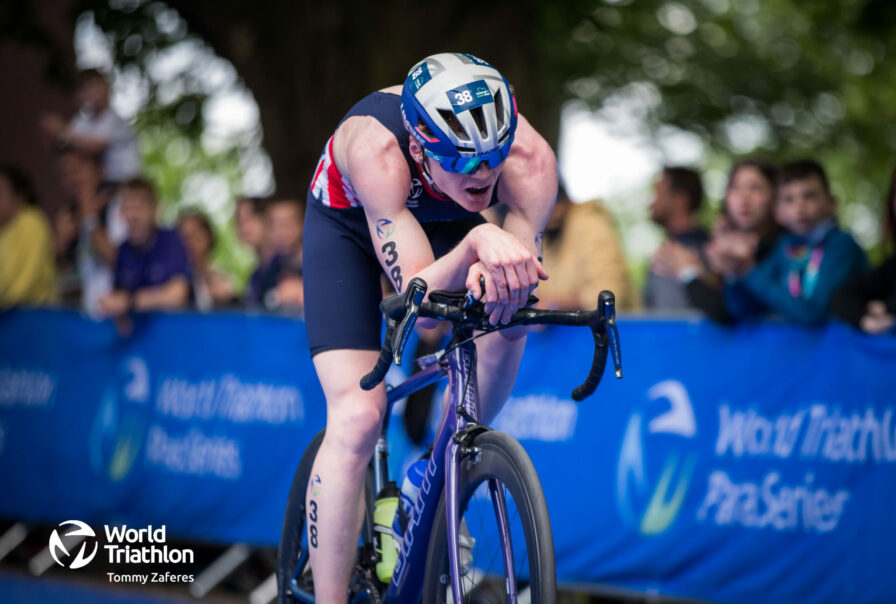 Blummenfelt and Schomburg were right onto Dickinson out and into the opening strides of the run, Wilde and Seth Rider (USA) likewise, and it was the German who set the early pace with Antonio Serrat Seoane and Yee in hot pursuit.
It was Yee who caught him first with a real early statement of intent, Wilde moving into position alongside and the two looked to work together to pull clear from a group full of run talent.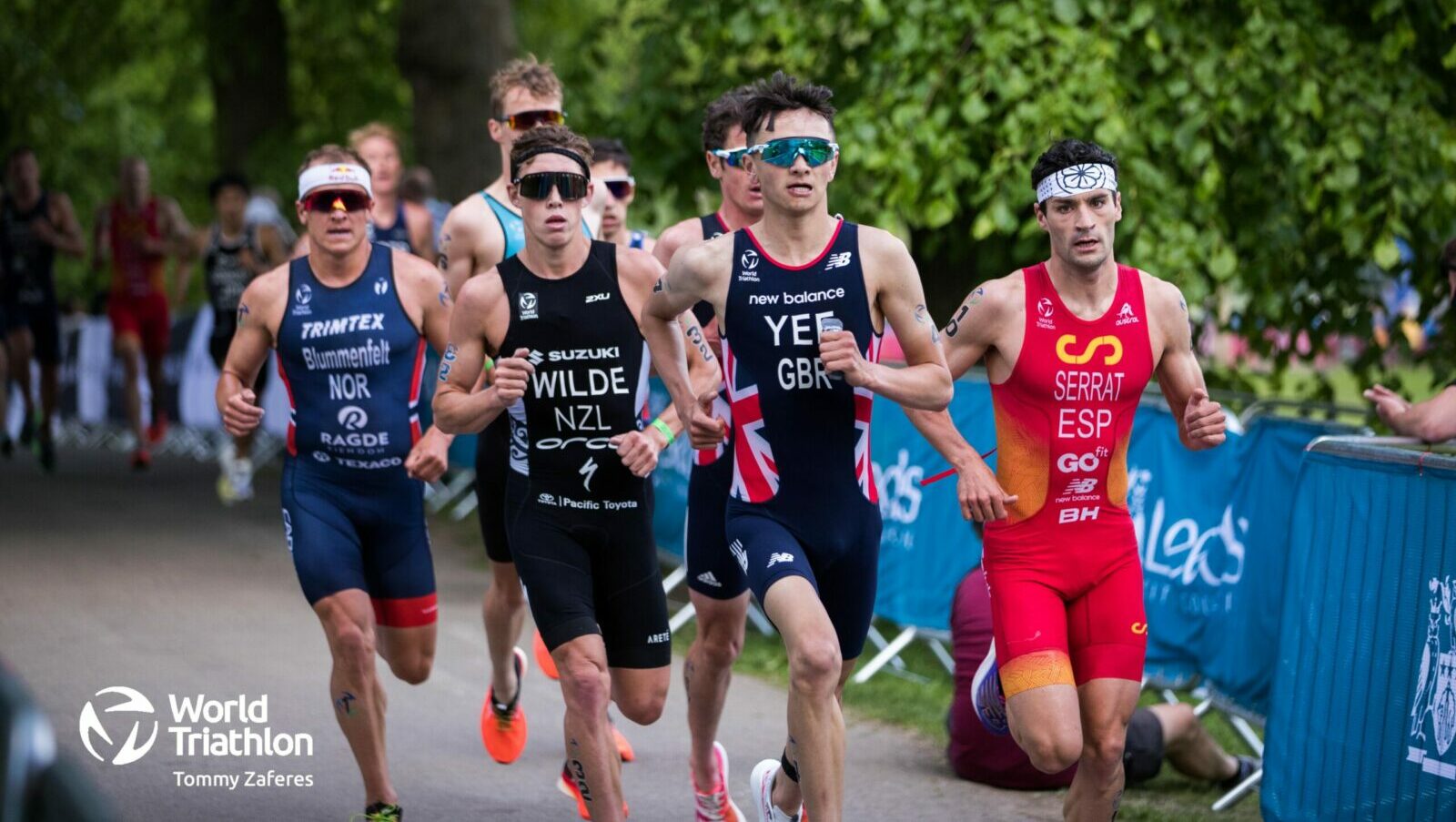 Jonny Brownlee dropped to the back of the bunch pulled back in touch with the leaders by Pearson, van Riel and Blummenfelt on their shoulder, only for Yee to then drive onwards again, this time decisively with no collective response coming from behind him.
Still something of a newcomer to Championship Series racing, the 23-year-old looked totally at ease out front and only extended the gap with every lap, Van Riel hanging tough with Fernando Alarza moving into familiar territory.
Wilde was also clear in second for a time only to be reigned in at the 5km mark by the flying Pearson. Belgium's Van Riel took up position in third looking in good rhythm and by now had the likes of Blummenfelt 45 seconds and Jonny Brownlee and Bergere a minute back.
The final kilometre then became the Alex Yee show, and the Brit lapped up the audience adulation, pumping his fists and eventually taking the tape with a roar and a 10km split of 29:46. Pearson ran his way into second with another brilliant WTCS podium, van Riel with the bronze.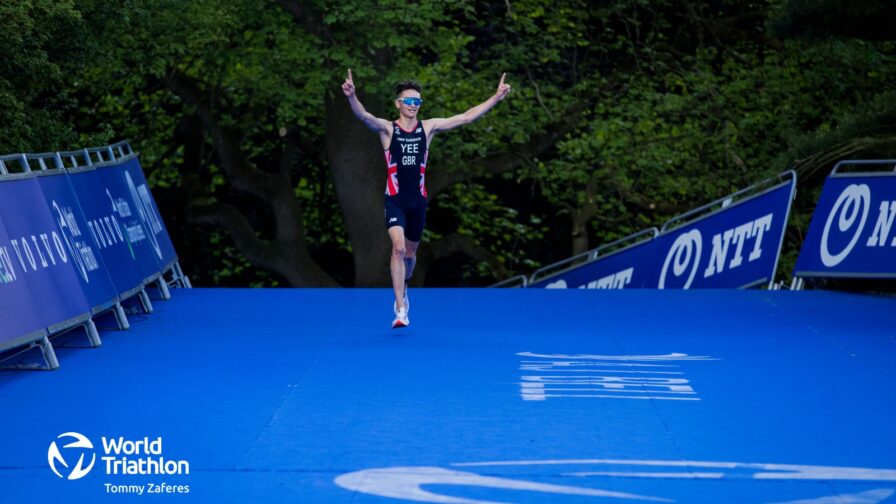 Alarza was five seconds back in fourth, Hayden Wilde, Kristian Blummenfelt, Leo Bergere, Serrat Seoane, Jonny Brownlee and Jonas Schomburg rounding out the top ten.
"I am super happy," said Morgan Pearson after his silver. "I came here and didn't know what to expect. After Yokohama I took it pretty easy, I had a week just for recovery and the travel here was not easy, but to be able to finish like this here is nice. Since I started triathlon my goal was to go to the Olympics, so the fact that I already have qualified in Yokohama has put that weight off my shoulders. I felt relaxed all week, and I think this played out on my benefit."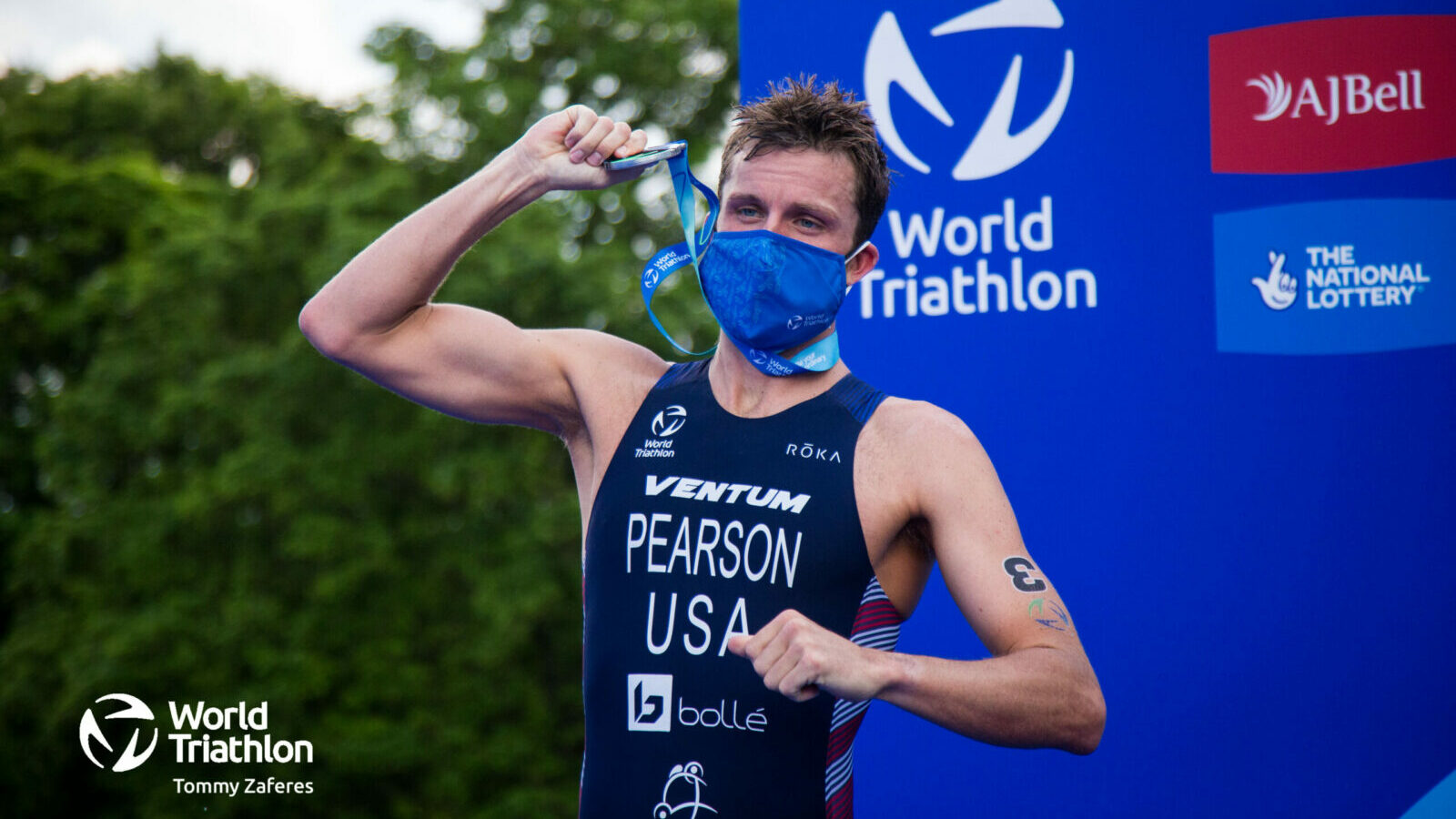 "This was a super tough race, I think everyone was suffering," admitted Marten Van Riel. "It was just about keeping your own pace and keep going. I really loved this bike course, it is one of the hardest ones I've seen, but I loved it. With all the corners, it made the pack really string out, but in courses like this you can't hide, and this is what I love."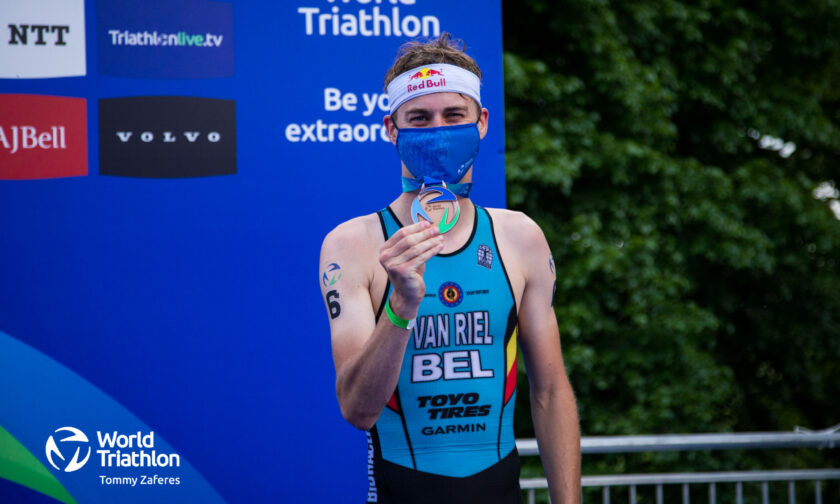 AJ Bell 2021 World Triathlon Championship Series – Sunday 6th June 2021
1.5km / 37.9km / 10km
ELITE MEN
1st – Alex Yee (GBR) – 1:43:27
2nd – Morgan Pearson (GBR) – 1:43:52
3rd – Marten Van Riel (BEL) – 1:44:03
4th – Fernando Alarza (ESP) – 1:44:12
5th – Hayden Wilde (NZL) – 1:44:27
6th – Kristian Blummenfelt (NOR) – 1:44:33
7th – Leo Bergere (FRA) – 1:44:36
8th – Antonio Serrat Seoane (ESP) – 1:44:37
9th – Jonathan Brownlee (GBR) – 1:44:43
10th – Jonas Schomburg (GER) – 1:44:48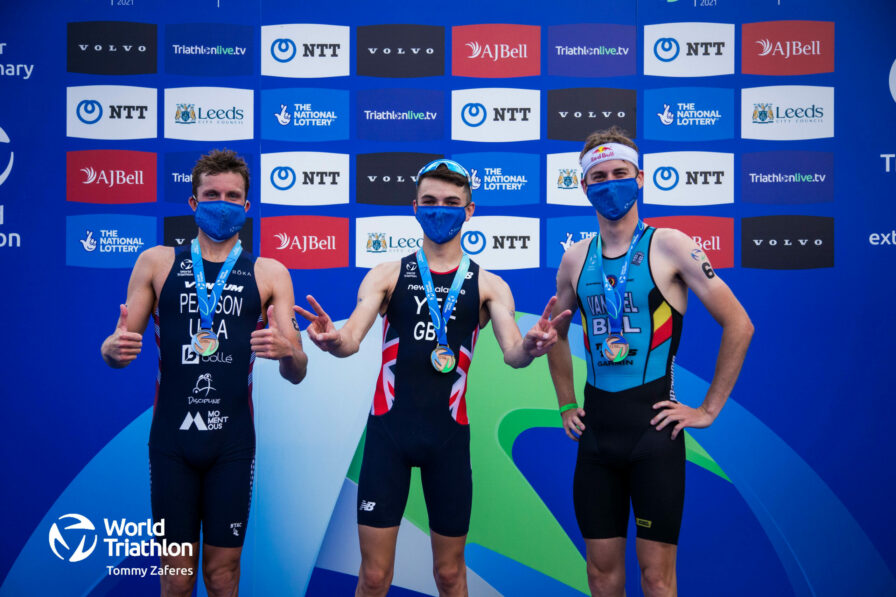 16th – Tom Bishop (GBR) – 1:46:19
23rd – Sam Dickinson (GBR) – 1:47:03
40th – Grant Sheldon (GBR) – 1:50:25
DNF – Gordon Benson (GBR)
DQ – Alistair Brownlee (GBR)