Flora Duffy secures World Triathlon Series win at 'home' in Bermuda
Commonwealth Games Champion is in a different league. Again.
Want to beat Flora Duffy? Your chances are slim. Want to beat Flora Duffy in Bermuda? Are you having a laugh?!!!
First out of the water, Flora did have company – though only from one athlete, Kirsten Kasper (USA) – to the bottom of Corkscrew Hill, around 1km into the 10-lap bike course. 60 seconds or so later, with Kasper blown off of the wheel of her new Specialized Tarmac Disc bike, the race was all but finished.
Everyone knows what she is going to do – and it would appear, nobody has any idea how to compete with her. She's simply brilliant.
After a 40km solo ride, @floraduffy is through T2 and onto the run with a solid lead of over 1:20! See the final moments of #WTSBermuda on https://t.co/y8dlHRYkwP pic.twitter.com/az6NOP7GHh

— World Triathlon (@worldtriathlon) April 28, 2018
Reaching T2 with a significant lead of 1:20, she just continued to extend that over the four lap, 10km course and with 5km to go, there were records to potentially be be broken:
.@floraduffy currently leads @WTSBermuda by 1:54 with 5km of running remaining. Largest @worldtriathlon series winning margin ever, was 1:51 (Duffy, Yokohama 2017)…

— TRI247 (@tri247) April 28, 2018
Not surprisingly, Flora enjoyed the final stages, took in the cheers and support from the home fans and backed off the pace slightly – that particular record didn't quite go. That, in part, was because of a photo-finish sprint between Vicky Holland and Katie Zaferes for second. The Brit won that one. Just!
The "unofficial" photo finish! @VixHolland gets the silver with bronze going to @KZaferes6! #WTSBermuda pic.twitter.com/losilXZsg2

— World Triathlon (@worldtriathlon) April 28, 2018
"That will be one of the highlights of my career" said the two-time World Champion post-race.  While the Brownlee brothers are the most famous names in the sport in the U.K., Flora Duffy is the most famous athlete in any sport in Bermuda. Indeed, she may well be the most famous Bermudian, full stop. Quite simply, the race would not be there without her.
She was in huge demand as the face of the race, and her victory was almost taken for granted. The athlete still needs to deal with all of that pressure and perform on the field of play. Flora Duffy coped with everything put upon her shoulders and showed what a champion she is. Big respect.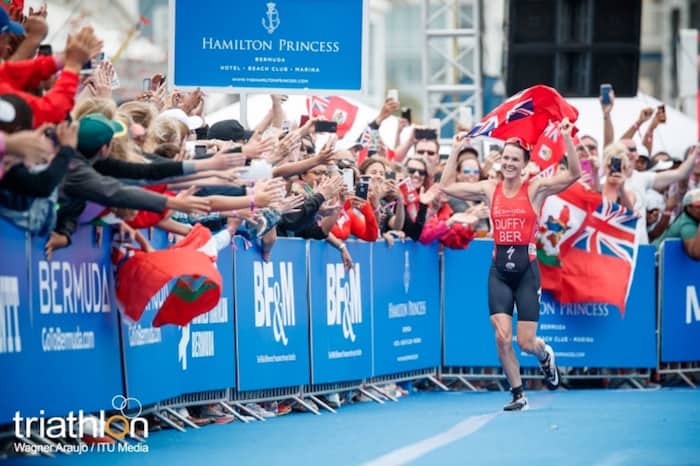 ITU World Triathlon Bermuda – Saturday 28th April 2018
1.5km / 40km / 10km
1st – Flora Duffy (BER) – 2:01:39
2nd – Vicky Holland (GBR) – 2:03:25
3rd – Katie Zaferes (USA) – 2:03:25
4th – Kirsten Kasper (USA) – 2:05:40
5th – Yuko Takahashi (JPN) – 2:05:51
6th – Alice Betto (ITA) – 2:06:05
7th – Yuka Sato (JPN) – 2:06:23
8th – Jodie Stimpson (GBR) – 2:06:37
9th – Taylor Spivey (USA) – 2:07:02
10th – Joanna Brown (CAN) – 2:07:38
14th – Georgia Taylor-Brown (GBR) – 2:08:06