World Champion Vincent Luis is flawless in Italy
He didn't have the minute-plus winning margin that Flora Duffy did earlier in the day in the women's race, but France's two-time and reigning ITU World Champion, Vincent Luis, was similarly impressive at the Arzachena World Cup in Sardinia on Saturday.
On a new course – a great course – which rewarded athletes for the strengths across all disciplines, the favourite for Olympic Gold next year proved that he could dominate in the sea and on the hills and descents of Sardinia, just as well as he did in the lakes and flat roads of Hamburg. As for his finishing kick, well, you really don't want to be challenging him in a final 200m sprint!
It was also another step up from Alistair Brownlee – who took third place, behind Kristian Blummenfelt – on his journey back to, he hopes, a fourth and final Olympic Games and a shot at a third gold medal. Having focussed on middle and long distance racing in recent years, he left quality athletes including Gustav Iden, Jelle Geens, Richard Murray, Henri Schoeman, Pierre Le Corre, Dorian Coninx and Leo Bergere some way behind. A 14:54 run split (Luis, the fastest, was 14:40) saw him looking much stronger than in Hamburg. But, for now at least, the Frenchman is absolutely at the top of his game.
Encouragingly (let's look at the positives), some clear – and hopefully simple – opportunities for Brownlee to improve too. His start (from the beach) for the swim was quite clearly sluggish (watch the highlights video above for evidence!) That will no doubt have been a contribution towards him losing 22 seconds over the opening 750m swim, something we rarely see.
He's clearly still one of the best cyclists in any format of the sport, based on his rapid ascent of the first hill back to the small leading group. Alas, he would have been hoping that such as effort was to break away from, rather than to catch up to, that group.
Finally, his T2 was a shambles – the slowest in the field – as he struggled to get his running shoes on. There's no room (or excuse) for that at this level – but, it should be a simple fix.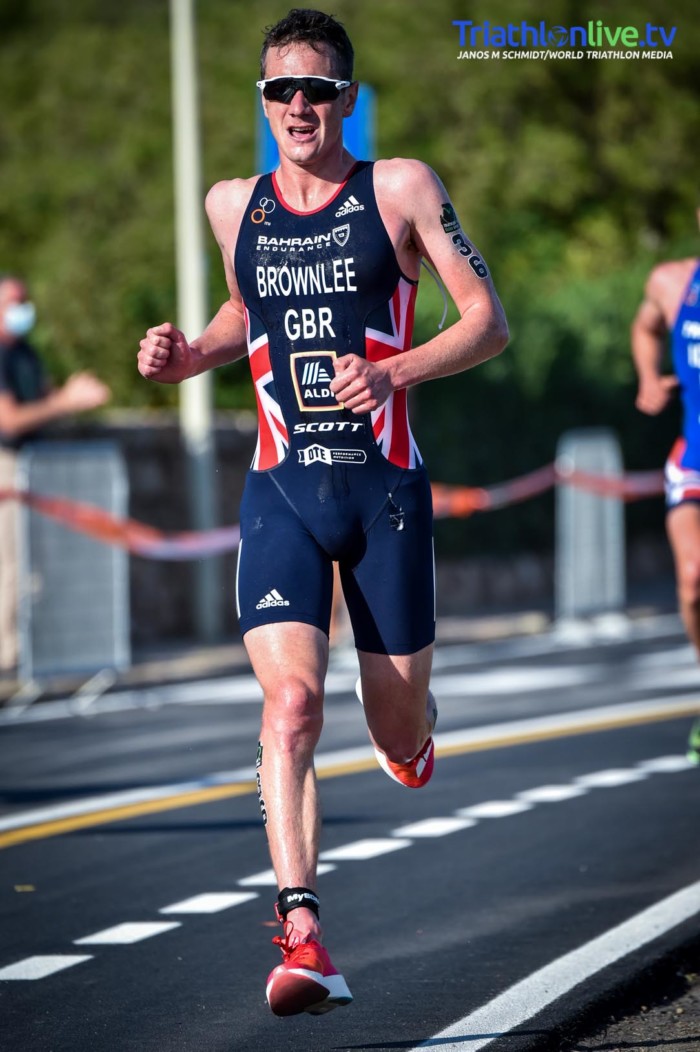 Here is the extended report, courtesy of Doug Gray at World Triathlon.
---
Vincent Luis makes it three from three in Arzachena
It was another fantastic World Cup with a stellar line up and brand new course on the Italian island of Sardinia, but the result was to be a familiar one. Vincent Luis has been imperious since the return to racing in Hamburg in September and though Norway's Kristian Blummenfelt pushed him all the way on Saturday afternoon, it was a third gold for the Frenchman. Completing the podium, Britain's Alistair Brownlee showed he will still mix it with the best after a strong finish earned him bronze.
"It's a good feeling when you win every race you start," said Luis. "It's not a type of course i'm used to but my coach managed my training really well. I feel good, Valencia is coming up in a month and I'm glad this mini-series has been put together. I was praying a bit for a non-wetsuit swim and that boosted my confidence as i've been putting together some great sessions in the water. The bike was tough, Kristian made it tough, and I didn't want to break away even though he tried a few times. Once again I had my strength with the sprint finish and with 1km to go I knew it was mine."
Race Report
The wind had picked up from the morning's race but the bay waters were still calm as the 61 athletes lined up for the beach start. A returning Henri Schoeman was quick on the right side of the pontoon with Brownlee, but it was Luis on the opposite end who found clear water on the return from the buoy.
The field hadn't stretched much though, Jonas Schomburg and Pierre le Corre right with Luis, Schoeman and Jonas Breinlinger well in touch with the leaders into transition. Brownlee was 20 seconds back, Blummenfelt 35 seconds with Antonio Serrat Seone and Jelle Geens for company.
What followed over the opening stages of the bike was astonishing, as first Brownlee used the climb then Blummenfelt the descent to bridge up to the leaders, an eight-strong group then forming including Germany's Tim Hellwig and Leo Bergere of France.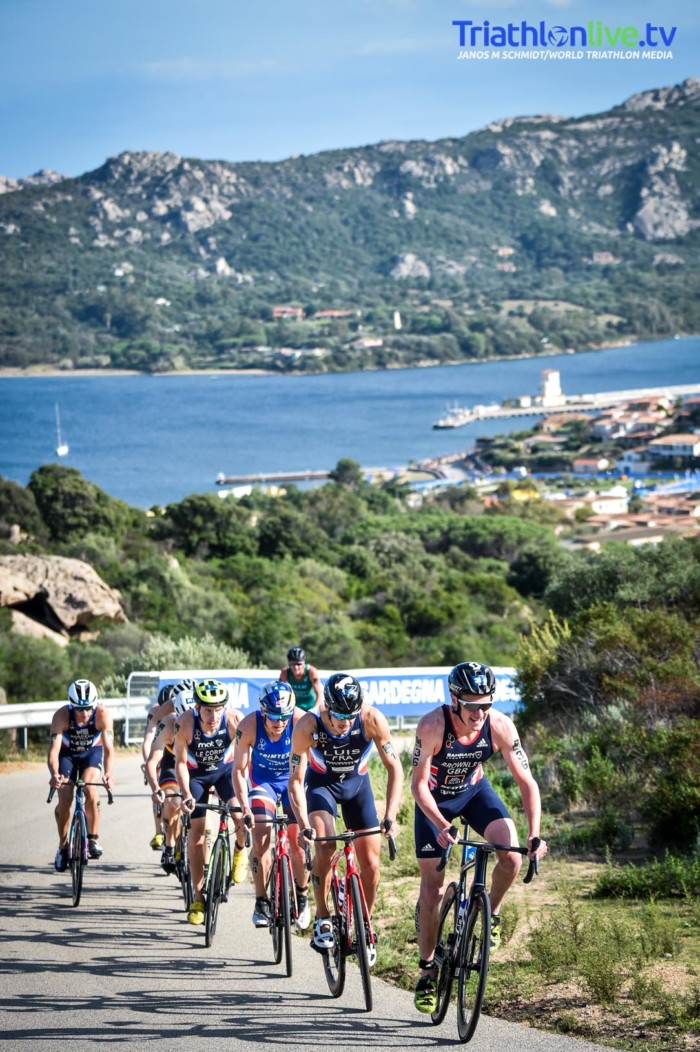 Schoeman dropped off the pace on lap two and joined the likes of Gabriel Sandor and Seone who had now moved into striking position, Gustav Iden leading that group's charge to get the chase pack right into contention as the second transition drew into sight.
Blummenfelt had his shoes on first and exited first along with Bergere and Seone, Luis right on their shoulders, Breinlinger and Sandor well-set but Brownlee losing precious seconds struggling with his shoes to just come through ahead of Schoeman, Le Corre and Schomburg.
It was to be Luis and Blummenfelt who asked the first question on the 5km run and it was only Seone able to go with them. Norway's 2019 Grand Final winner and the World Champion then pressed on and it became clear this was a two-way shootout for the gold.
As Luis repeatedly surged, Blummenfelt responded in kind, before rolling the dice himself with 500m to go. There was no dropping his rival, however, and Luis then summoned his trademark final burst of speed to drive onto the blue carpet and guarantee his third straight win and underline his place at the top of the men's triathlon tree.
Further back, Brownlee had passed Seone and was stretching into space to secure a podium of his own on the island where he took the gold in 2019. Seone eventually finished 17 seconds back in fourth just holding off Iden, while Bergere, Hellwig, Matthew McElroy, Le Corre and Sandor completed the top 10.
"For the week leading up to this I have been really enjoying feeling fresh and having this awesome course to take on," said Blummenfelt. "It was a lot of fun. Ive done 15-20 laps of the bike in training already so i knew what I needed to do and knew you can really go fast if you have a clear road in front on the downhill. It's very hard to beat Vincent over 5km and that finish line just came too quickly."
"I was quite happy with that," said Brownlee. "A beautiful course and a good race, i'm just really enjoying my racing at the moment. The first lap was a big effort and that used up a lot getting to the top of the hill first. Then it was annoying I couldn't get my shoes on fast enough and that cost me a bit but a few more races and i'll be even sharper and hopefully continue this upward trajectory."
For the full results, click HERE