This morning's women's Arzachena World Cup event in Sardinia, Italy was really a tale of two races.
When Bermuda's twice ITU Triathlon World Champion (with another seven off-road world championship victories on the C.V. too), Flora Duffy, exited the 750m swim with a clear lead, the task for her opposition was already going to be a tough one. Add in the fact that the three-lap bike course included a substantial climb each lap, almost immediately out of transition, and in truth if this were the Open golf championship, we would be crossing to the familiar sight of the winners trophy being engraved already.
Second in Hamburg, a dominant winner in Karlovy Vary and another victory today, Duffy has more than proven her return to form and fitness after an extended period with injury. Fastest swim, bike and run splits. Different class.
One other thing to note – from Monday, the PTO will begin announcing their 10 wild cards for the PTO 2020 Championship at Challenge Daytona in December. You can make that nine, as there is not a chance that Flora won't, at the very least, be offered one. Given that she won her only previous 70.3 start, if she chooses to accept, only a fool will believe she can't be a contender.
There was another good news story from a British perspective too. Exiting the water just nine seconds behind 2019 World Champion Katie Zaferes, Beth Potter was swift through transition and soon part of a select chasing group who were clearly going to be battling for silver and bronze. If the Rio 2016 10,000m runner was going to be exposed on the bike, this was the type of course to do it. Not today, Potter – the 2019 ETU European Champion – rode strongly alongside the likes of Zaferes, Rachel Klamer and Leonie Periault.
We know Potter has the run pedigree, but proving that after a challenging bike leg is not quite the same thing, and so another efficient transition and pulling away from that quality chasing group was impressive to see. She never looked like she would finish anywhere but second, matching her result from Antwerp in 2018. Her best performance to date? Quite possibly.
Bear in mind, when the 2020 British Triathlon Performance Squads were announced at the end of 2019, Potter was not on that list, despite having won the ETU Championships earlier in the summer. That shows her dedication to proving her potential in her new sport – congratulations Beth, great effort.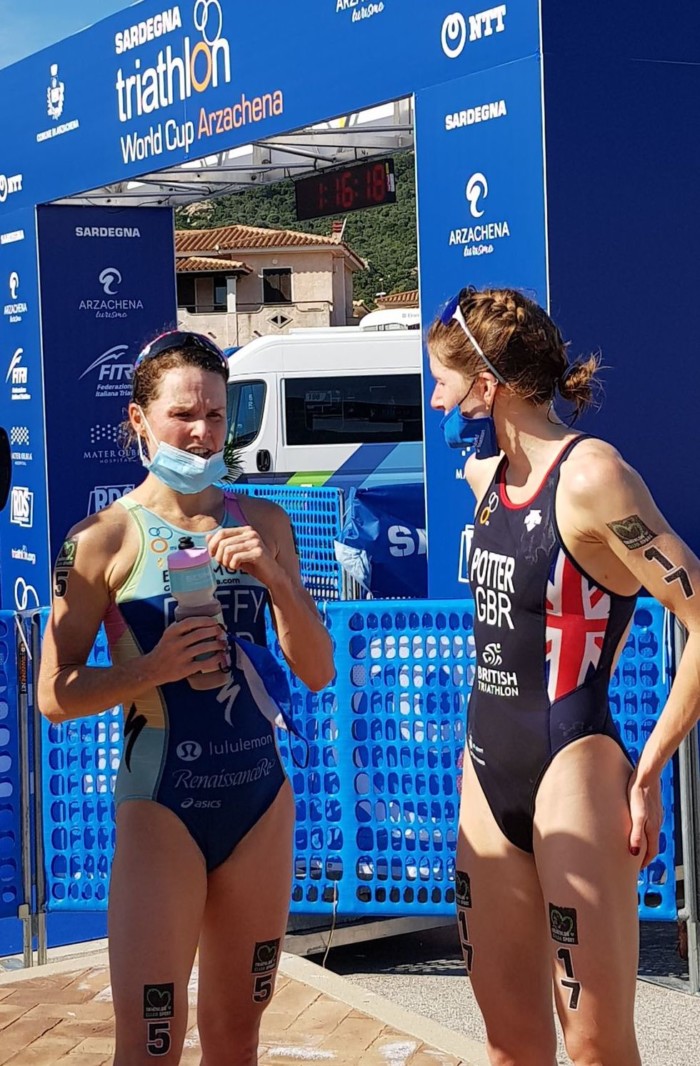 Here is the extend report, courtesy of Doug Gray at World Triathlon.
---
Flora Duffy dazzles in Arzachena World Cup
It was one of those performances you just had to take a step back and admire as Flora Duffy took the tough Arzachena World Cup course by the neck and raced solo for an hour to win another brilliant gold. There was to be no catching the Bermudian from the moment she emerged from the water with 10 seconds of daylight behind her, Britain's Beth Potter running her way into silver ahead of Italy's Verena Steinhauser.
Race Report
The conditions were near-perfect as the athletes took to the beach start line on Saturday morning, 2019 World Champion Katie Zaferes wearing the number one and leading a strong field into the water. By the first buoy, though, it was Duffy who had the clear water ahead of her and as she powered back towards the beach her advantage grew and grew.
The short run into transition confirmed a 10-second lead was already hers, Zaferes, Sara Perez Sala, Rachel Klamer and Anna Godoy Contreras looking to try and bridge the gap straight out of T1.
Duffy had other ideas. The first long climb saw her stretch away and her technical brilliance allowed her to attack the downhill too, carving out a 35-second lead by the end of lap one. Behind her, Angelica Olmo, Leonie Periault and Potter had battled hard to join Zaferes, Klamer and Steinhauser, the two Spaniards dropping off the pace.
The likes of Lisa Tertsch and Erika Ackerlund were struggling to keep in touch almost two minutes back, each climb stretching the field out further.
The lead was just north of 50 seconds as Duffy dismounted and headed into transition with no thought of looking back, then it was Klamer, Potter and Olmo out together and looking to chase the podium places.
It was Netherlands' Klamer who faded first, while Periault went through the gears and pulled clear in third behind Potter. The Brit had a useful 6-second lead at the bell, Steinhauser, Zaferes and Olmo all hanging tough together and waiting for the right time to make a move.
As Duffy soaked up the final few hundred metres safe in the knowledge gold was hers for the second successive World Cup, Potter came around the final corner with just enough daylight behind her, Steinhauser edging Periault to the final podium spot down the blue carpet.
Olmo took fifth place ahead of Zaferes and Rachel Klamer, Lisa Tertsch running her way into eighth, Denmark's Alberte Kjaer Pedersen and Mathilde Gautier rounding out the top 10.
For the full results, click here