Boardman Performance Centre – Evesham
Sunday January 27th 2019 – FREE to attend
"Part retail space, part museum, part performance laboratories all linked to its marquee draw – the wind tunnel – you have a facility that any cycling or triathlon geek would consider an essential destination. It is certainly very impressive."
That was how I described the Boardman Performance Centre (WEBSITE) after our first visit there in November last year. Having proven popular already, the next opportunity to get a great insight to the venue, what they do, what they can do for you and a lot more, comes next weekend with their latest Open Day.
If you are a fan of cycling, technology, history, performance, training, physiology or indeed Chris Boardman himself, you certainly won't regret your visit. With lots of talks, tours and demos – all free – if Evesham is within easy reach, a highly recommended day out.
"Join us at the Boardman Performance Centre on Sunday the 27th of January anytime between 10.30 to 16.30. Our January event focusses on pre-season performance exploration, with the day's activities designed to help any cyclist identify areas of opportunity for personal improvement and development for the season ahead."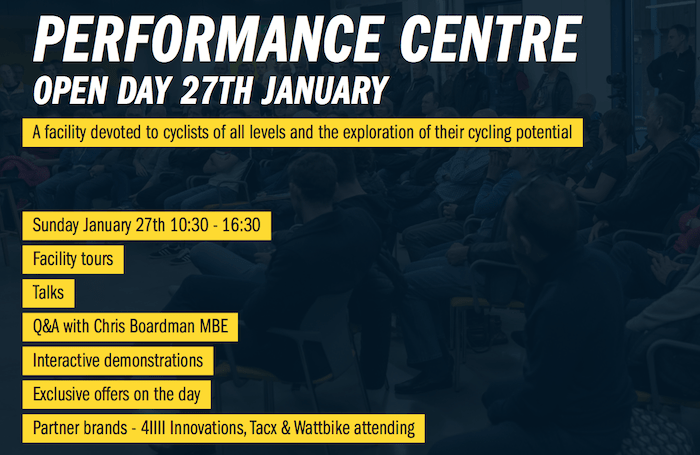 For more information and to indicate your interest, visit the Facebook event page for the day HERE.
Social media links for the Boardman Performance Centre:
The Performance Centre is located at The Valley Retail Park, Evesham, Worcestershire, WR11 4DS. The centre is easily accessible by car, train and of course bike!
Here are a few more details of just some of the events and experiences you can take in on the day: