Super League Triathlon Hamilton Island: Day Two, Stage One – The Equalizer
After three back-to-back races on Friday afternoon, the athletes were up early on Saturday morning in Australia for a 6km individual time trial. After Friday's 'Triple Mix', Saturday's format of racing is 'The Equalizer'.
This afternoon will see a 'swim-run-swim-bike-run' race format… but each athlete will start, based upon the times set this morning. Fastest athlete, Cameron Dye, leaves first… but two-time Olympic Champion, Alistair Brownlee, will have to wait 38 seconds before his race will start.
EQUALIZER BIKE TIME TRIAL RESULTS
1st – Cameron Dye (USA) – 9:40
2nd – Jacob Birtwhistle (AUS) – 9:42
3rd – Ryan Fisher (AUS) – 9:43
4th – Jorik Van Egdon (NED) – 9:53
5th – Kristian Blummenfelt (NOR) – 9:54
Selected others…
8th – Richard Murray (RSA) – 10:00
10th – Mario Mola (ESP) – 10:04
11th – Javier Gomez (ESP) – 10:05
17th – Alistair Brownlee (GBR) – 10:18
18th – Richard Varga (SVK) – 10:23
Here is the full morning report from the Super League Triathlon media team.
---
CAMERON DYE GAINS POLE POSITION WITH EQUALIZER STAGE 1 WIN
Athletes scorched the tarmac this morning in the Stage 1 individual time trial of the Equalizer at Super League Hamilton Island. Cameron Dye (#08) laid down the fastest bike split, with a provisional time of 9 minutes and 40 seconds over the six-kilometer bike course starting from Hamilton Island Airport all the way up to One Tree Hill.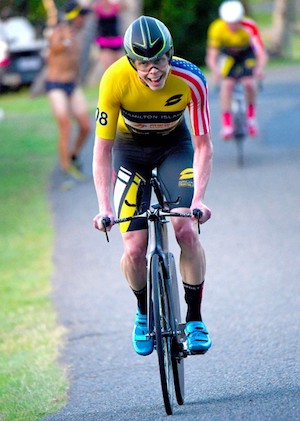 In the final 1.4 kilometres of the Equalizer time trial course, athletes were grinding uphill on ascents with a maximum gradient of 24.4 percent, gaining 121 metres in elevation.
While Dye finished in 18th place yesterday in the Triple Mix format, thanks to his stage win in the Equalizer he will now go first in this afternoon's Stage 2 swim-run-swim-bike-run. The rest of the athletes will follow according to their finish times in a pursuit format. Yesterday's overall leader Richard Murray (#07) will start 20 seconds back in seventh position. Mario Mola (#03) and Javier Gomez (#01) are separated by just one second in tenth and 11th place respectively. Alistair Brownlee (#23) is way back in 17th place. Dmitry Polyanskiy (#77) will have his work cut out for him as he will start last.
Once the first swimmer is out of the second swim, a 60-second countdown will begin. Any athletes who have not mounted their bikes when that time runs out are eliminated. There is one minute and six seconds separating the fastest and slowest athletes, so there is a chance a few athletes could be pulled out of the race after the second swim in Stage 2.
Legendary Australian swimmer Ian Thorpe has been present to watch all the racing action unfold, and he watched the time trial keenly.
He said, "Yesterday's race was exciting and somewhat unpredictable, and I think because of this morning's time trial it's helped to even things up." The five-time Olympic gold medalist continued, "Super League Triathlon has its advantages that it's kind of entertainment sport with its origins in triathlon. I think it's a great way for new audiences to engage with triathlon."
https://www.instagram.com/p/BRwV6cXhu1A/