'Retired' Olympic Time Trial Champion Fabian Cancellara is keeping busy
He is one of the greatest time-trial cyclists of all time, but Switzerland's Fabian Cancellara – now retired – isn't quite ready for the proverbial pipe and slippers just yet.
As we reported recently, Fabian has invested in the sport of triathlon through the return of the Tristar Series, returning to Rorschach is Switzerland on 2nd/3rd September.
He's also seemingly planning on keeping himself pretty fit – and has invited amateur cyclists to take him on in a series of Chasing Cancellara challenges. Think you can beat him? Well, sign up and have a go.
---
Fabian Cancellara is ready for the "chase" – can you beat him?
"Chasing Cancellara" is the newly launched project of Fabian Cancellara in cooperation with Human Sports Management AG. The swiss cycling legend competes three times on completely closed roads against amateur athletes.
Closed down roads for 333 amateur cyclists, 10 to 15 kilometer distance and steep hills. This is the concept of "Chasing Cancellara". Following the motto: "All against one", 333 drawn participants try to cross the finish line before Fabian Cancellara. The ones who make it, receive a certificate which entitles them to call themselves "Fabian-Cancellara-Beater". After the race, everybody, including Fabian Cancellara, gather to have a chat about the race experience and recover at the Pasta Party.
2017 with 3 Stages in 3 language regions
With a race in Anderamtt, Villars-sur-Ollon and Lugano, the three main language parts of Switzerland will be covered.
The Dates:
24-25 June 2017 – Andermatt
09-10 September 2017 – Aigle – Villars-sur-Ollon Lugano
22-23 September 2017 – Lugano
In Andermatt, the riders must climb up the Oberalppass. Before the race starts, there is a neutralized start through the village.
Fitting the event, in Aigle the start is at the UCI (Union Cycliste Internationale) headquarters. The neutralized part is until Ollon and after that the race starts.
The stage in Lugano is the final. Next to the drawn participants, the top 10 of the races before qualify automatically for the final event. The neutralized start is at the Cornaredo Stadion and the race start is in Melide. The athletes will cycle along the Lago di Lugano and get up to Carona.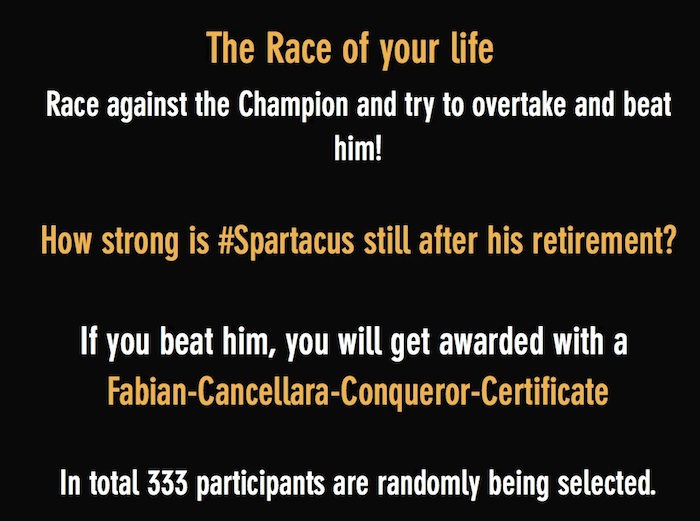 "Chasing Cancellara should be seen as a platform for amateur athletes, friends, fans and could be the perfect corporate event to bring people together, who want to meet me and challenge me. Fun is also a very important factor. I am looking forward to hard races against amateur riders", says Fabian Cancellara. He organizes the series together with Human Sports Management, which is his official marketer. In 2018, more regions and locations should be included in the series.
You can find more information about Chasing Cancellara on www.chasingcancellara.com.