IRONMAN 70.3 Dún Laoghaire, Ireland
Race Date – Sunday 25th August 2019
Its name may prove something of a tongue-twister for visitors, but in is first edition in 2018, IRONMAN 70.3 Dún Laoghaire (website) in Ireland attracted an impressive field of close to 1,700 entries. The second edition of the event will take place on Sunday 25th August 2019.
Dún Laoghaire previously featured as the swim venue / T1 for IRONMAN 70.3 Dublin from Sandycove in the clear waters of the Irish Sea in Dublin Bay. The popular seaside town is now the host for the event, which was won in 2018 by Elliot Smales and Emma Pallant.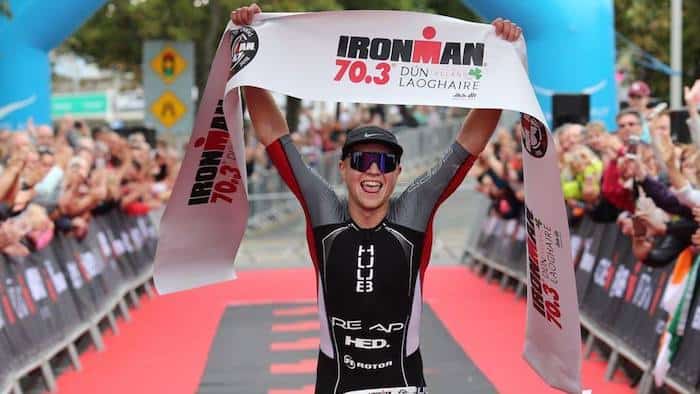 Having enjoyed a recent trip across the Irish sea myself when hosting the ETU Awards dinner in Dublin – my first visit to Ireland – I got to experience both the Irish hospitality, ease of travel and also see some of the sights and attractions which would certainly suggest that adding in a race is a fine reason to make the trip yourself. From first hand experience, a trip to Ireland comes highly recommended.
Where is Dún Laoghaire?
That's probably the first question you'll be asking. It's actually remarkably easy in terms of travel and access.
Dún Laoghaire is a suburban coastal town in County Dublin, Ireland, and is situated just 12 km (7.5 miles) south of Dublin city centre. It is the county town of Dún Laoghaire-Rathdown, in the province of Leinster.
Formerly a major port of entry from Great Britain, it was known as Dunleary until 1821 when it was renamed Kingstown in honour of King George IV's visit that year, and in 1920 was given its present name, the original Irish form of Dunleary. The county of Dún Laoghaire-Rathdown has a population of more than 200,000.
How to get there:
The main airport is Dublin Airport (www.dublinairport.com), a major international hub which handled more than 4 million passengers in 2018.
There are extensive flight options from many UK airports, with flights typically taking just 45-60 minutes. Access to Dublin is also straightforward for international visitors. One feature of the 2018 edition (which has been replicated with the debut of IRONMAN Ireland Cork, later this year) is the large number of entrants that have been attracted from across the Atlantic. The race will truly have an international feel.
There is also the option to drive, utilising the Holyhead to Dublin ferry services. Check out Irish Ferries (www.irishferries.com) and Stena Line (www.stenaline.co.uk) for more details on timetables and pricing.
The race website has extensive details on travel, including by air, boat, train, bus and car – including valuable information on local bus routes – CLICK HERE for their travel guide.
Time of year visit:
If you want to take a visit either to train for the race (which is on 25th August 2019), or indeed just experience Ireland and Dún Laoghaire, then the best months to travel in terms of weather are July (average 17°c) and August (average 16°c). With average water temperatures in July and August around 14-15°c, the water may be a touch chilly – but on the plus side, you need have few worries about the chances of a non-wetsuit swim!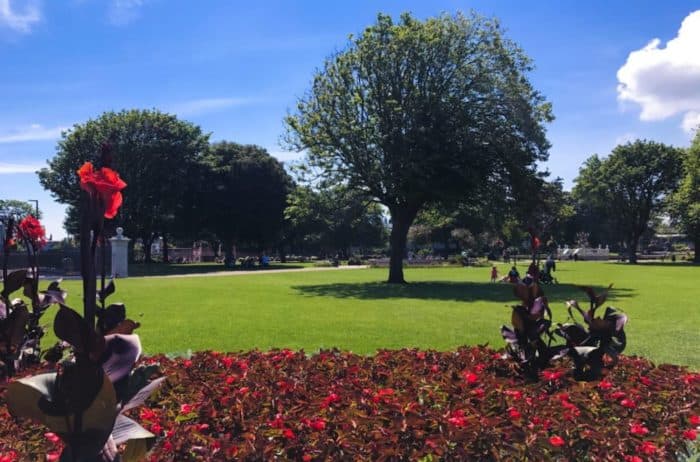 Where to stay:
The event accommodation partner is Nirvana (CLICK HERE for more), with some of the options available including:
There are plenty more accommodation suggestions including hotels, guesthoues and B&B's in Dún Laoghaire HERE.
Being located just 12km away from Dún Laoghaire, staying in Dublin may well be an option you want to consider, in which case a wide and extensive range of offerings from cheap and cheerful to five-star luxury will be available to you, as you would expect with a major capital city. A few of these include:
Swim, Bike, Run in Dún Laoghaire:
As mentioned above, wetsuits are all but certain to be compulsory on race day and you are strongly advised to wear one all year round. The swim start in Scotsman's Bay is a great area to swim.
Regarded by many as the "most beautiful 70.3 in the world", there will be no shortage of routes to ride your bike in and round Dún Laoghaire. Head out towards Dublin and Wicklow mountains and pass Ireland's highest pub, Johnnie Foxe's (www.johnniefoxs.com), a traditional Irish pub with live music every night and award winning food. You can also ride past The Guinness Lake (Lough Tay) and Sally Gap (website) where you will find spectacular views of the Wicklow mountains.
Run wise, Dún Laoghaire East Pier is a popular spot to run. The pier is also part of the race run course.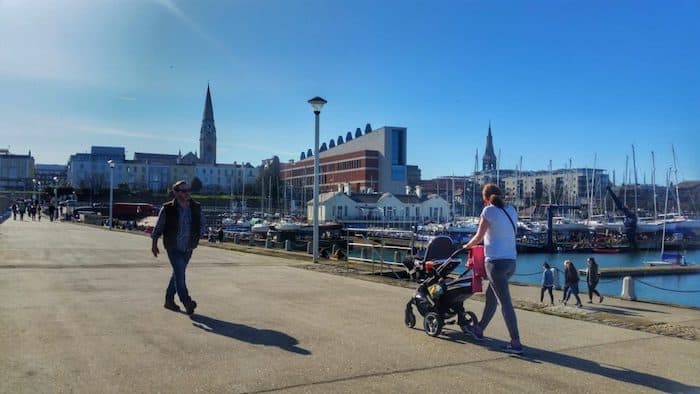 Dublin City – How far is it and how to get there:
As noted above, Dublin and Dún Laoghaire are not too far away in distance – and are also well served in terms of transport. Dún Laoghaire is served by Dublin Bus, and these come every few minutes and will take you into the city in just 25 minutes. CLICK HERE for timetables.
You also have the option of the DART (Dublin Area Rapid Transit), the electric rail system, another quick and easy way to get around Dublin. It runs along the coast of the Irish Sea from Malahide or Howth in north County Dublin, southwards as far as Greystones, Co Wicklow. DART services operate every 15 minutes at peak or 30 minutes off peak. The journey from Dublin's Connolly Station to Dún Laoghaire takes approximately 25 minutes.http://www.irishrail.ie/
IRONMAN 70.3 Dún Laoghaire – the course:
Ok, so now having an insight into Dún Laoghaire, where it is and how to get there – what lies ahed for entrants to IRONMAN 70.3 Dún Laoghaire on Sunday 25th August 2019? Let's take a look at the race itself.
A single loop, anti-clockwise 1.9km loop within Scotsman's Bay.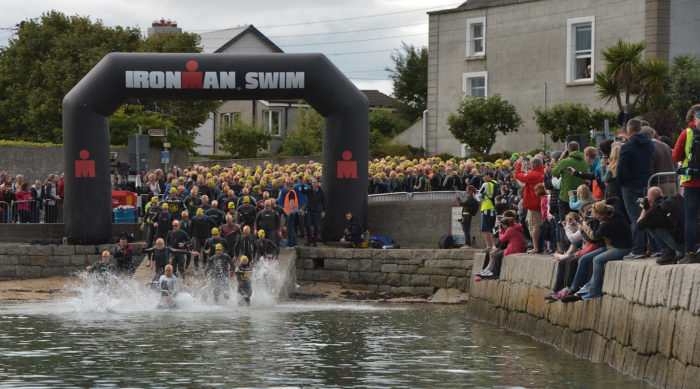 You'll start from Sandycove and then complete a "three sides of a rectangle' course, exiting at Newtownsmith where transition (T1 and T2), is located.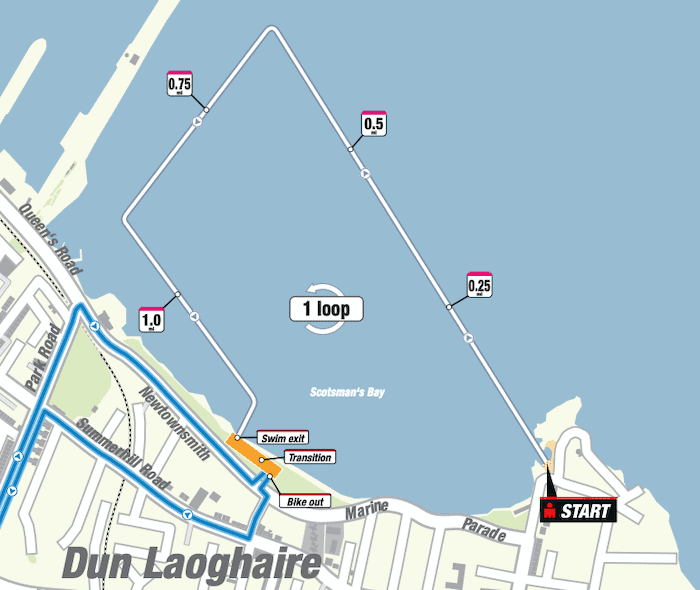 When we asked Susie Cheetham (winner of IRONMAN 70.3 Dublin in both 2015 and 2016) about the swim course, one of her pieces of advice was:
"It's also worth noting… the swim can be cold! If you are impacted by cold water then it is well worth considering wearing one of the neoprene skull caps under your official race cap. I would suggest thinking about this before you arrive at the race… otherwise, you may find that the expo have sold out, if everyone else has the same idea."
The single loop, 90km course is a challenging one which includes a total of 1,200m of climbing. From T1 you'll head south towards Roundwood.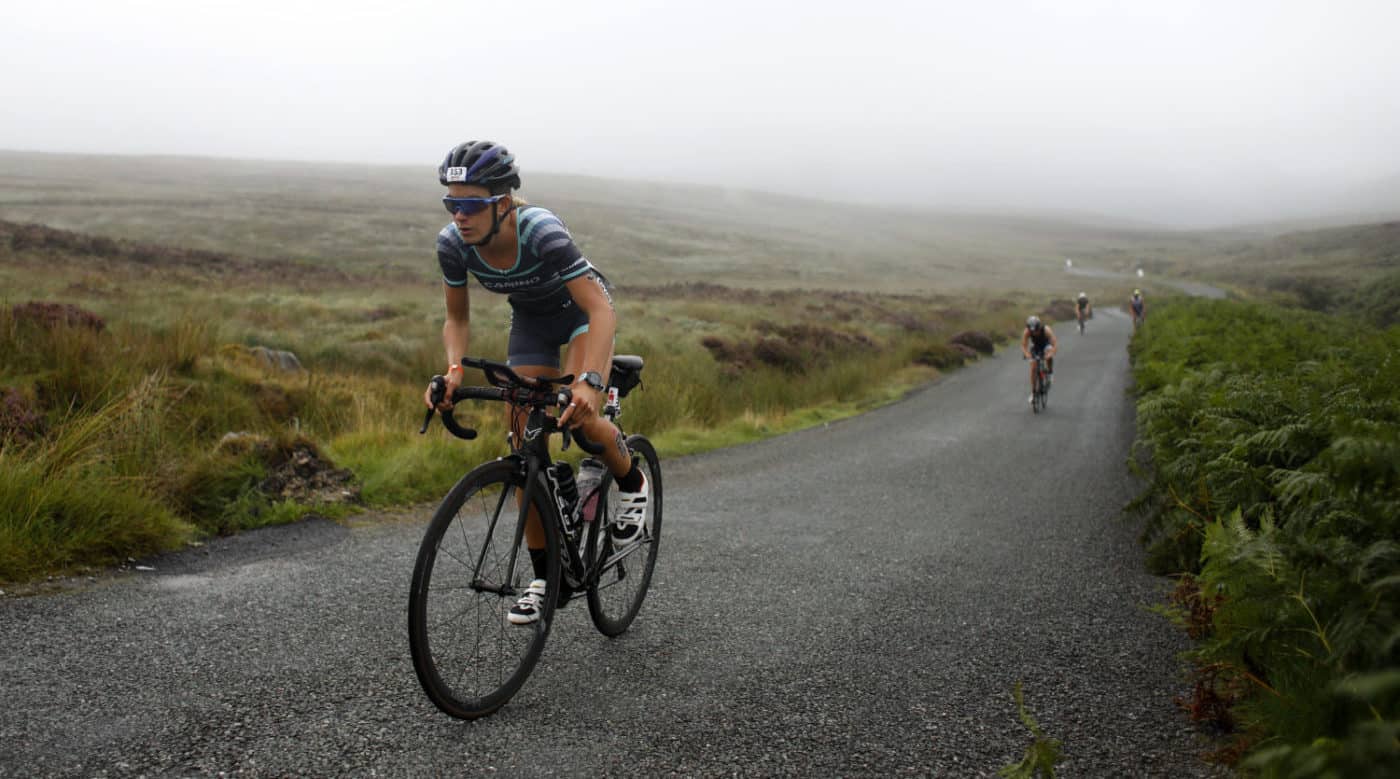 The course then feature a fantastic ascent into the Wicklow Mountains National Park. To compensate for your efforts, you'll be rewarded with fine views towards Dublin city and across the impressive landscapes.
'What goes up, must come down', and in the final third of the ride you'll get to descend towards the Hell Fire Club (Montpelier Hill) in what is regarded as the most technical element of the course.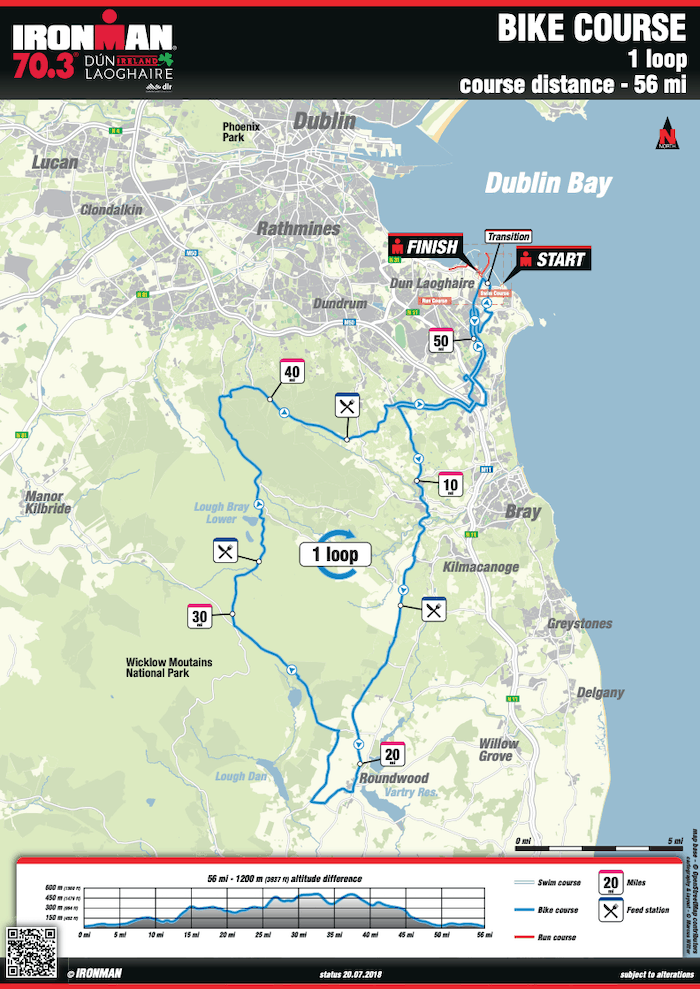 Take advantage of the final few flat(ish) miles of the route back into Dún Laoghaire and T2, to get prepared for the closing half marathon run.
After the challenges of the bike course, most athletes will be more than happy to find that the three-lap run route is mostly flat.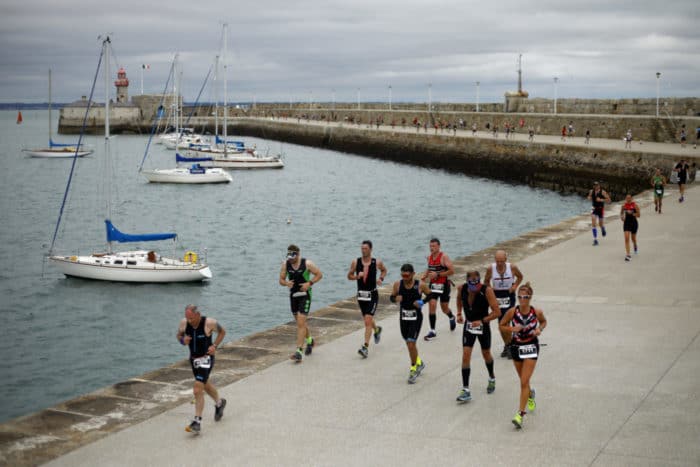 It's a coastal run that takes in Dún Laoghaire Village, Monkstown and Seapoint before finishing with the stunning backdrop of Dún Laoghaire harbour, by the DLR Lexlcon Library.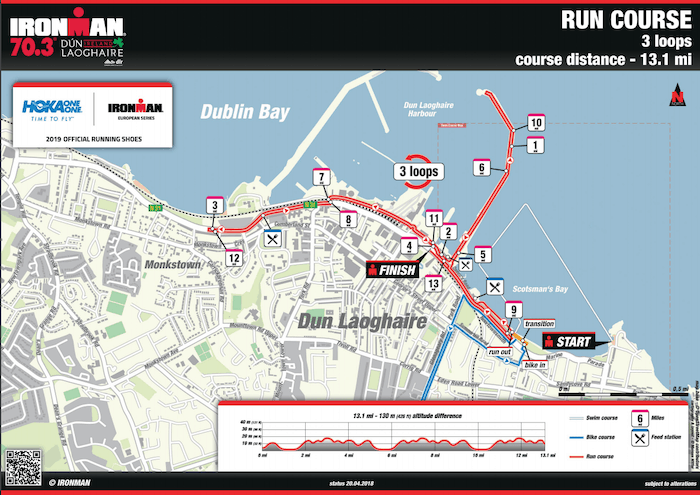 With a three-lap run course that also features the East Pier, the route is nice and compact which will enhance the atmosphere for athletes and also make viewing nice and simple for spectators. A great finish to the event, one for which 2018 second place finisher, Andy Potts (USA), commented:
48 hours in Ireland and it did not disappoint. Great people, Great Race Course and Great Event! I highly recommend it. Thank you Ireland!

IRONMAN CEP Compression USA TYR Sport Skechers Performance FULL SPEED AHEAD BOCO Gear Wattie Ink.

— Andy Potts (@Andy_Potts) August 21, 2018
For an even more visual insight into the event, here's a look back at some highlights from the 2018 edition: