Ready to watch World Triathlon Series Edmonton?
Tomorrow (Saturday 29th July) sees the sixth round (of nine) of the 2017 World Triathlon Series reach Edmonton, Canada.
With the time difference to Canada from the UK (Edmonton seven hours 'behind' London), that means Saturday night viewing in the UK for triathlon fans.
Racing over the Sprint distance, the event will see Jonathan Brownlee start in only his third WTS event of the year. Having finished out of the point in Yokohama following a bike crash just before T2, he is effectively out of contention for World Championship contention this year, on the "best five results plus the Grand Final" scoring system.
That said, he is looking forward to getting back into racing action in what has been a truncated and frustrating season so far. "I was really disappointed to miss Hamburg, but I had to listen to doctors' orders. I'm really happy to be in Edmonton and although I'm not certain how things will go, I know I'm feeling a lot better than I was!"
How to watch (BBC TV in the UK):
Women's race: 20:00-21:30 Connected TV and online (repeated on BBC Red Button 22:00-23:30 & 02:30-04:15)
Men's race: 22:00-23:30 BBC Red Button and online
Highlights: 11:00-12:30 (18:00-21:00, repeated on BBC Red Button)
You can also follow the race (with subscription) via www.triathlonlive.tv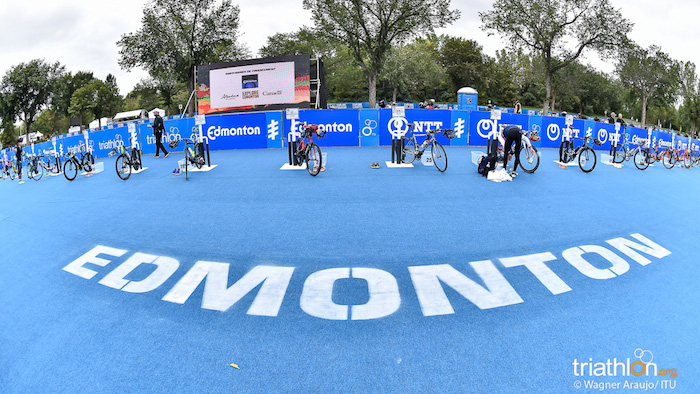 World Rankings after Hamburg
1st – Mario Mola (ESP) – 2864
2nd – Fernando Alarza (ESP) – 2743
3rd – Javier Gomez (ESP) – 2448
4th – Tom Bishop (GBR) – 2004
5th – Richard Murray (RSA) – 1827
1st – Katie Zaferes (USA) – 2507
2nd – Ashleigh Gentle (AUS) – 2486
3rd – Kirsten Kasper (USA) – 2478
4th – Flora Duffy (BER) – 2400
5th – Andrea Hewitt (NZL) – 2286