Ride with Louise Minchin and support The Big Night In
This coming Thursday, Comic Relief and Children In Need are combining for one night, to create The Big Night In, which will be broadcast on BBC One and iPlayer. More on that HERE.
As a part of that fundraising effort, BBC Breakfast presenter and triathlete, Louise Minchin, will be holding THE BIG BIKE IN, alongside the television show. She'll be riding 100-miles on Zwift, starting at 5pm, and would like you to join her for as much or as little as you like. Full details below.
THURSDAY 23RD APRIL 2020 – STARTING 5PM UK-TIME
THE BIG BIKE IN – with Louise Minchin
Endurance athlete and Breakfast presenter Louise Minchin would love your company as she rides 100 miles on Zwift's Road to Ruins to support the BBC's The Big Night In.
If you join The Big Bike In you can ride for as long or as short as you like, the full 100 miles, a full 6 laps of the course, or just for a few minutes. Whichever way you choose, Louise would love you to be part of it and join her along the way as part of The Big Bike In team.
Any money raised by the team will be used by BBC Children In Need and Comic Relief to support local charities and projects in the UK, so they can provide essential support to people who really need it through the coronavirus crisis.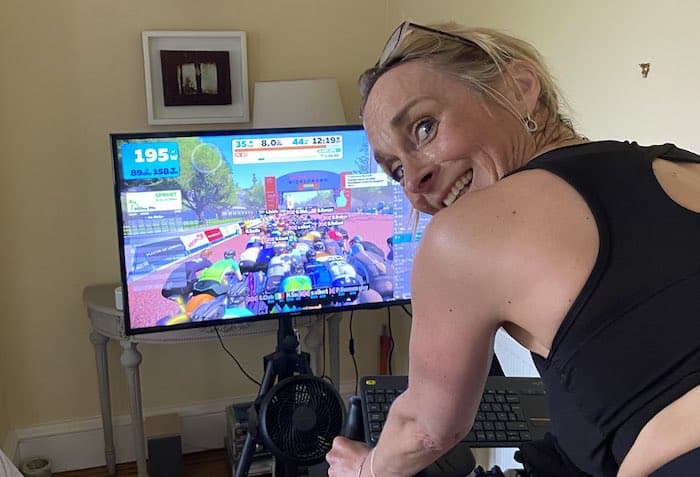 Is it a race?
This is definitely not a race, it is a fun ride you can either do with Louise or at your own pace, fast or slow, and you can stay as long or as short as you like. There will be a planned break at 8pm BST so, if you want to, you can join in the Clap for Carers or have a mini-break.
Watch out for special guests along the way, top athletes and familiar faces who will come and join the ride. You can also follow live updates on Twitter or Instagram.
Donations?
If you want to make a donation, HERE IS THE LINK, with all funds split equally between BBC Children in Need and Comic Relief to support local charities and projects in the UK.
#TheBigBikeIn
#TheBigNightIn
Twitter @louiseminchin
Instagram @louiseminchin