How to have your best race at Dorney Lake
Great advice to have your best race at the Media and Advertising Triathlon
We asked age-group triathlete Ben Wickham for some tips on how to race the Media and Advertising Triathlon (RACE DETAILS), taking place at Dorney Lake on Friday 7th July 2017. Remember, the race is open to all – so how about racing on a Friday and starting the weekend early?
Ben is a big fan of the race but is unable to race this year due to another race commitment in Germany (Rockin' Roth!), but still wanted to pass on some of his advice to others racing. As well as swimming, biking and running a lot, Ben also works for Channel 5 News and won the relay race in 2015 with a work team, also featuring uber biker and presenter Matt Barbet…
---
Vital facts
Race date –

 Friday 7th July 2017

Location – 

Dorney Lake, Windsor, Berkshire SL4 6QP

Race distances –

 

Olympic Triathlon, Olympic Triathlon Relay, Sprint Triathlon, Sprint Triathlon Relay, SuperSprint Triathlon, Duathlon, Duathlon Relay.

Competitor numbers – 

1,000 Media and Advertising professionals.
A lovely venue, a late start, (usually) a beautiful summer's day and the chance to race with and against workmates, and the best Media and Advertising teams in the country. What's not to like?
With options for Super Sprint, Sprint and Olympic, Duathlon and Relays, there's something to suit everyone. And with the option to hire bikes, wetsuits and even breakfast available, there's no excuse not to get involved.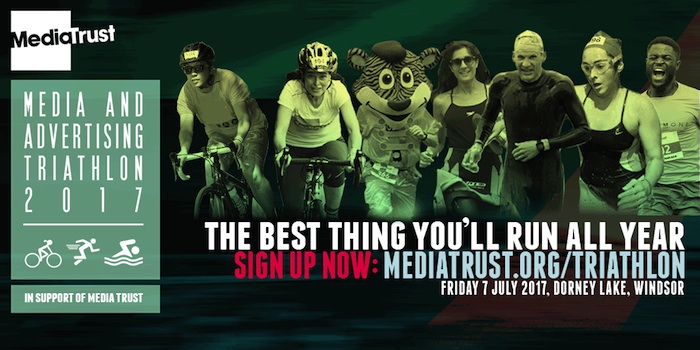 The Swim
The swim takes place in the same place Team GB rowed to glory in the 2012 Olympics, and makes a great place to do an open water swim, especially if it's your first time. The lake is shallow and clear (not shallow enough to stand up in, but on a windless day, you can usually see the bottom). It's 750m laps, with quite a short turnaround between the first couple of buoys, so whilst it can be a bit narrow around the first one, the size of the swim waves are small enough that you tend to have a pretty clear swim. The shallow water, and date means that you can expect the water temperature to be very swimmable. Wetsuits for sure, but comfortable. There's a big inflatable swim exit, big turn buoys, and straight lines so you'll have an easy to navigate and hopefully fast swim.
T1
With everything being based by the side of the lake, T1 is very short. Depending where you end up racking you'll likely have a very short run to your bike, or to the mount line. The first lot of racking is about three metres at most from the swim exit, so you'll struggle to get your goggles off by then, let alone your wetsuit! Transition is very busy with waves going off all day so keep your wits about you for people wandering with their bike, or racing in and out.
Bike
Laps of Dorney Lake are a mixed blessing. It's very easy to navigate, you get to scope out the bike-in point on every lap, and you can get your head down and get on it. It's a very open venue though, so you'll likely have a head-wind somewhere, and it's usually on the back half of the lap. Other than that, it's a fast flyer of a lap, and you can swing past your mates each time round, glorying in how very fast you look. If you like to do lots of laps it's brilliant. If not, sorry, you're doing lots of laps. Watch out for the chicane just past transition though, there tend to be people cheering and you want to keep your wits about you, as everyone seems to have a different line getting through.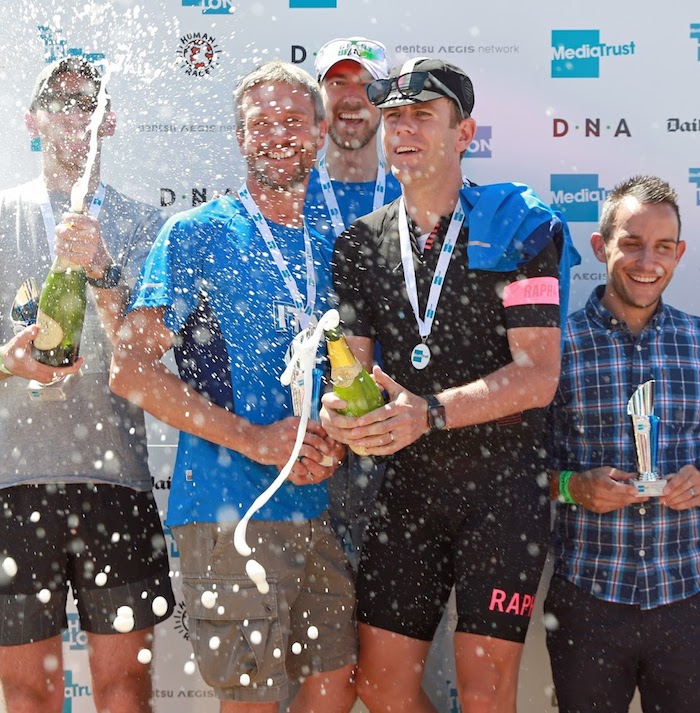 T2
You'll see T2 coming a mile off as you will have already passed it three times, or seven depending what race you're doing. As with T1, it will be busy, and with many different waves you'll need to make sure you remember where you were racked so you can find your running shoes. Once you're there though, you've just got the small matter of some more laps…
Run
The run is up the side of Dorney Lake and, certainly near transition, most people gather to cheer here. You'll see swim waves going off, and cyclists lapping around you, and no doubt feel like a superhero. But a word of warning, the prevailing wind tends to be a tail-wind on the way out of the run, and a head-wind on the way back. You'll get to the turnaround, when there's no support, and suddenly feel like the run home is a very, very long one. Dead straight out-and-back means there's no way you're going to get lost, but you'll need to keep your mental game strong, especially for those of you on the Olympic course.
Post race
You're done. Your bike and wetsuit are right there, as are all your workmates and industry friends. Enjoy the complimentary post-race ERDINGER (it's alcohol free and good electrolyte replenishment), and grab something from the BBQ (you'll need cash, don't forget). Revel in the glory of your finish time, and cheer those still out there.
There's loads of industry teams around you, which means this is technically work, right? What better way to end the working week.