Thoresby Park to host NEW Outlaw Half Triathlon
'Outlaw X' is coming to North Nottinghamshire in September 2019
And then there were four.
From the first Outlaw Triathlon in 2010, the addition of the Outlaw Half Nottingham in 2013 (HERE) and then the further expansion of the Outlaw Half Holkham in 2016, the last three seasons have seen the popular Outlaw Triathlon (www.outlawtriathlon.com) series host three annual events.
There has been significant talk of additional growth (we spoke at length to organiser, Iain Hamilton back in 2016 about), and the addition of an Outlaw Half 'South' got close to being sealed… but ultimately couldn't be finalised.
Undeterred, a different route has now been taken – with the announcement of the Outlaw X, a new half distance event based at Thorseby Park, North Nottinghamshire, to take place towards the end of the domestic season on 22nd September 2019.
The 'X' refers to the tenth anniversary year of the formation of the first Outlaw Triathlon.
The now four race Outlaw series comprises:
Below is the full, formal announcement from the Outlaw Triathlon organising team.
---
OSB Events announce new event in celebration of 10th anniversary year
OSB Events has today launched Outlaw X – a brand new Outlaw Half distance event to celebrate the 10th anniversary of the Outlaw Triathlon Series. Outlaw X will take place at North Nottinghamshire's Thoresby Park on 22 September 2019.
The event will provide triathletes with an unmissable opportunity to finish the 2019 racing season on a high and celebrate ten years of Outlaw. With both Outlaw Half Nottingham and Outlaw Nottingham both sold out of general entries, demand for Outlaw X is expected to be high when entries open exclusively to everyone who has pre-registered on Thursday January 31.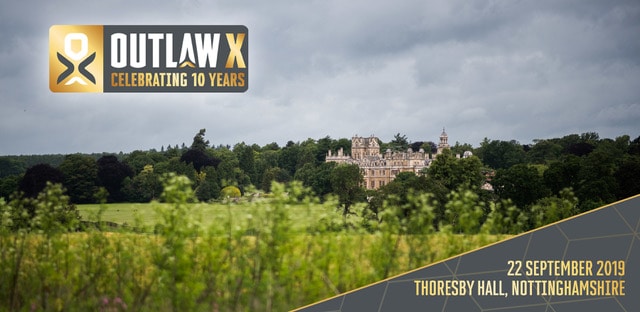 Following a 1.2mile swim in Thoresby Lake, athletes will embark on a single-lap 56mile ride through the north Nottinghamshire countryside before completing their epic journey with a 13.1mile run through 1000 acres of unspoilt English countryside within the grounds of the historic Thoresby Park. The grounds feature various accommodation options including camping, as well as being close to Sherwood Forest sites.
Athletes will be cheered across the finishing line in typical Outlaw style in front of the grade I listed 19th-century Hall, and a special Outlaw X Awards Party will follow to reflect on ten years of Outlaw.
Outlaw founder, Iain Hamilton, commented: "We've been looking at new venues for some time and are really pleased to be able to take Outlaw to such an amazing location. It's almost ironic that Thoresby Park is right on our doorstep! It's great to have yet another event in Nottingham – the spiritual home of Outlaw."
He added: "Outlaw Half Nottingham and Outlaw Nottingham are both sold out for 2019, so this offers a new opportunity to race in Nottinghamshire at the end of the season. Thoresby Park must be one of the most stunning triathlon venues in the country and we are extremely privileged to be able to host an event there in 2019."
Outlaw X entries are opening on Thursday January 31 exclusively to everyone who pre-registers before midnight on Wednesday January 30. To pre-register for Outlaw X, visit the Outlaw Triathlon website https://www.outlawtriathlon.com/outlaw-x/overview/. As with other 2019 events, OSB Events is offering a payment plan for Outlaw X, enabling athletes to split the cost of entry across two instalments.
Find out more and pre-register HERE.