A new closed-roads, 100-mile sportive for the South
Vélo Essex pre-registration in now open for a new 100-mile and 50-mile event based at Hylands Park.
If you got a 'Commiserations' magazine through the post this week from the Prudential RideLondon (and we got two in my house!), here's a brand new closed roads option for you, taking place on Sunday 20th September 2020.
---
Vélo Series Launches Brand New Closed-Road Sportive in Essex
15,000 places available in the sportive
100 mile and 50 mile routes available through beautiful Essex countryside
Free Family Ride for all ages & abilities
Family fun-filled Cycling Festival within Hylands Park
Routes re-trace 2014 Tour de France Stage 3 route
Organisers of the Vélo Series have today announced that pre-registration for a brand new closed-road sportive in Essex is now open. Taking place on Sunday 20th September, Vélo Essex – the sister event of the hugely successful Vélo Birmingham & Midlands – will offer 15,000 riders a unique opportunity to ride on completely traffic-free roads across the County's iconic roads and lanes. With 100 and 50 mile route options, a Free Family Ride and a Cycling Festival within Hylands Park, the new sportive is set to become the biggest participation event in Essex's history.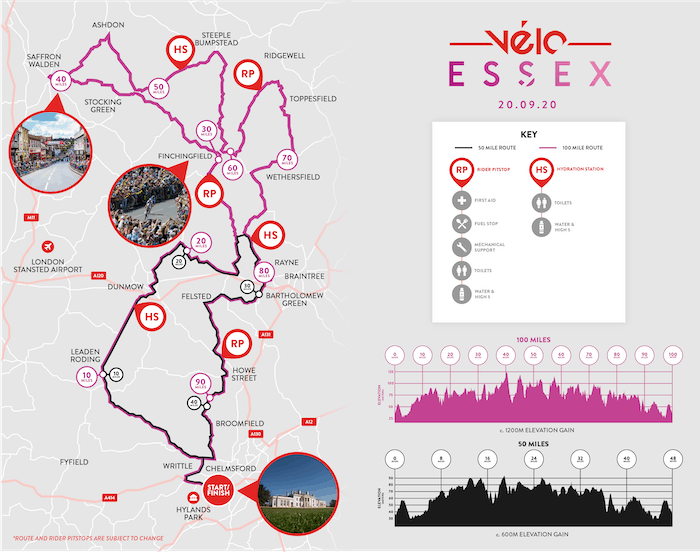 Steeped in mile upon mile of beautiful rolling British countryside, Essex is renowned as one of the most stunning places to ride a bike within the UK. Having hosted Stage 3 of the 2014 Tour de France from Cambridge to London and produced some of Britain's best time trialists, the County has a rich cycling history. Lining the roads with adoring fans and treating the pro's to some of the most incredible support ever seen, it's now time for the amateurs to experience their very own 'Grand Tour of Essex'.
The event is open to riders of all ages and abilities and will see a true weekend festival of closed-road cycling. With over 15,000 places across the100 & 50 mile routes, and thousands more available for the Free Family Ride, it's expected that Vélo Essex will become one of the UK's top three biggest cycling events in its inaugural year and the biggest participation event in Essex's history.
The event will start & finish within Hylands Park just outside of Chelmsford. Located under an hour from London and easily accessible from most major cities, Vélo Essex will be the only other alternative Southern closed-road sportive from the overly subscribed Prudential Ride London.
Building on its historic success as host during the 2014 Tour de France, organisers have worked hard to re-trace the 2014 Stage 3 route, with nearly half of the 100 mile route using the same roads as that memorable day. Taking riders from all over the country on the very best roads the County has to offer, the 'Grand Tour of Essex' will take riders through iconic villages and towns like Finchingfield and Saffron Walden. With just 1,200 meters of climbing on the 100 mile event and 600 meters on the 50 mile option, both routes are very achievable to any level of rider.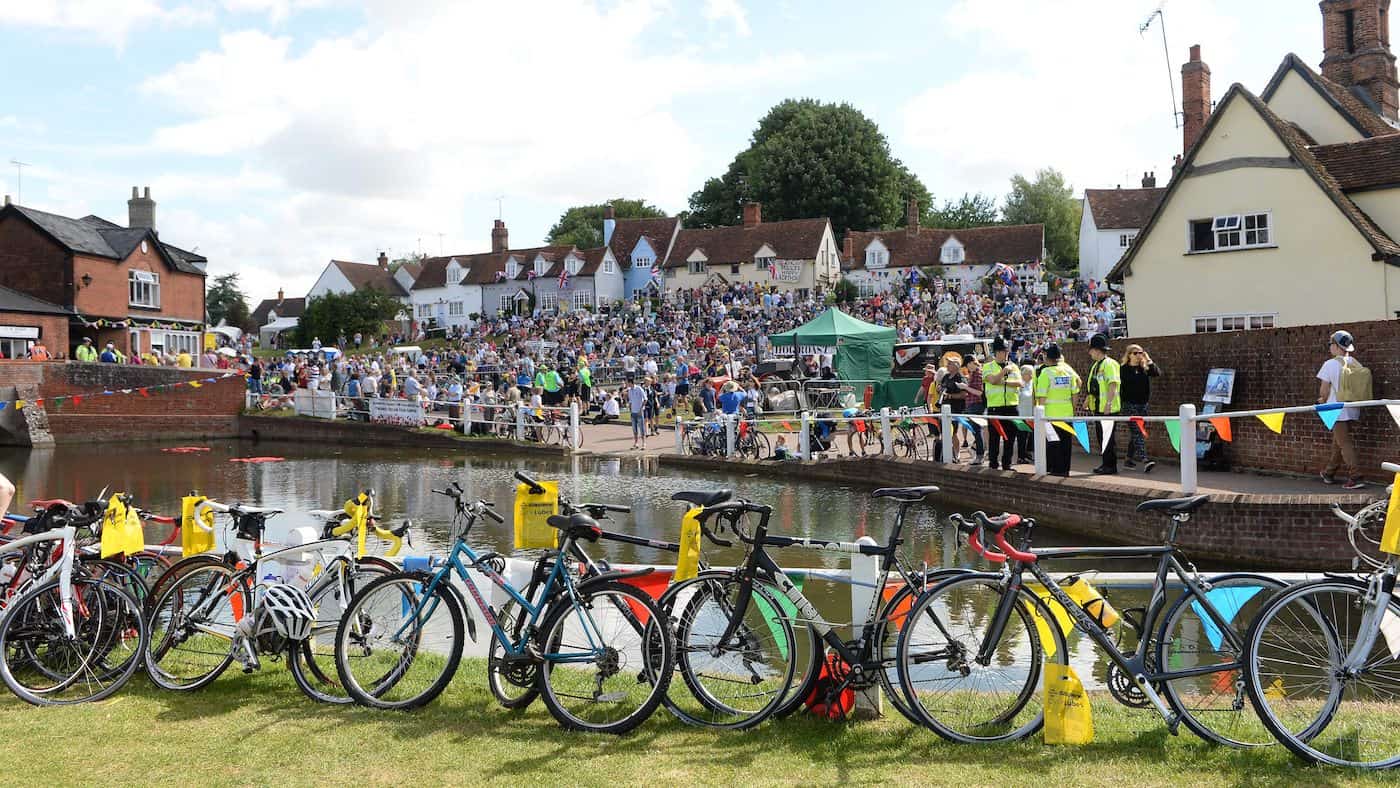 In addition to the three routes, there will also be a 'Cycling Festival' within Hylands Park across the weekend that will feature cycling-themed activities, great food and drink, live Q&As, live music and fun for all the family. The event will also offer a host of camping options within Hylands Park on Saturday, adding to the event's festival feel and providing riders with the opportunity to enjoy an unrivalled weekend within Essex.
Local hero, and professional UCI World Tour rider, Alex Dowsett is an official ambassador for the event. Commenting on the inaugural Vélo Essex event he said: 'I'm really proud to be part of Vélo Essex – a brand new closed-road sportive in the lanes I grew up training in. Whilst many other pros would move to warmer shores to train over the off-season, I've always believed that Essex is one of the most beautiful places to ride in the World and opted to stay and train here. I can't wait for everyone else to see all that Essex has to offer.'
Cllr Ray Gooding, Essex County Council Cabinet Member for Education and Skills, said: "Vélo Essex will be a great event involving thousands of people, many of whom will be coming to Essex for the first time. This event will showcase the beautiful countryside and wonderful towns we enjoy in Essex.
"Cycling is a healthy activity with the added benefit it improves the environment by cutting down on carbon emissions. A strategic priority of Essex County Council is to improve the health of people in Essex and our support for Vélo Essex is a foundation in our approach to achieving this priority."
Richard Relton, Chief Executive of event organisers Active Sport, said: "We are hugely excited to announce the launch of Vélo Essex. Taking place on Sunday 20th September, this brand new sportive will offer thousands of riders of all levels of ability an unforgettable experience of riding through the beautiful County of Essex on completely closed-roads. Thanks to all of the support from our local authority partners we're confident that this event will continue the legacy of cycling within Essex – inspiring thousands of riders of all ages and abilities throughout the county to take part and reap the benefits of cycling on a more regular basis."
Captain of the winning 2003 Rugby World Cup England team, Martin Johnson CBE, added: 'It's fantastic to be involved in the launch of a brand new closed-road Sportive – one of just two in the South. Since hanging up my boots from professional rugby, I have fallen in love with cycling and the many benefits it offers. Last year's Vélo Birmingham & Midlands event was one of my best days ever on the bike, so I can't wait to see if Vélo Essex can top it!'
Former Captain of the England and Essex County cricket teams, Graham Gooch OBE, commented: 'I, like Martin Johnson, took up cycling after retirement from professional sport and have never looked back. Having lived in Essex all my life while playing and coaching the County team, I know the lanes well and can say first-hand how beautiful this route is. The fact the organisers have managed to re-trace so much of the famous 2014 Tour de France Stage 3 route is just fantastic. I look forward to joining 15,000 other riders for what promises to be a fantastic day out.'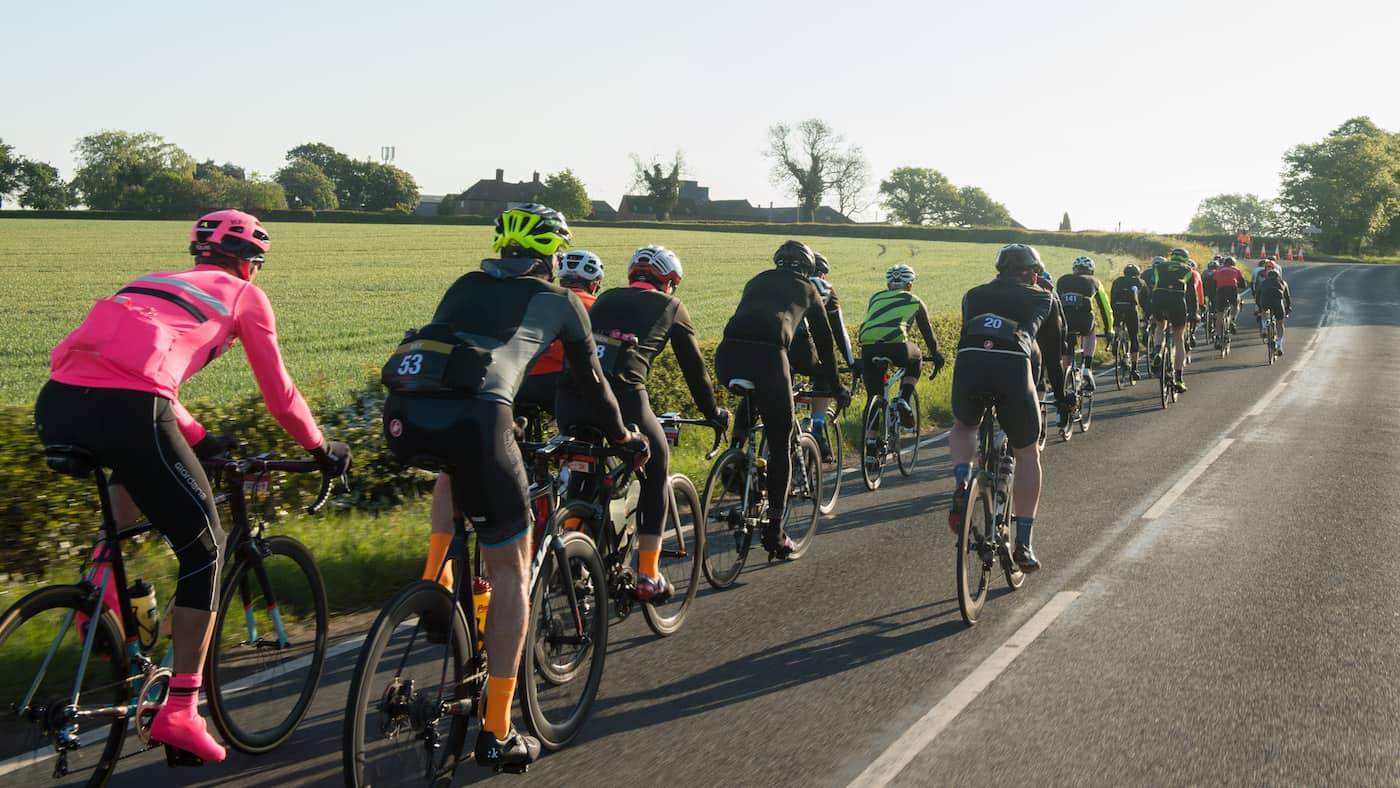 As well as helping to inspire a new generation of cyclists within the region, Vélo Essex is also expected to raise millions of pounds for a range of local and national charities. The event has officially partnered with Prostate Cancer UK –  the only UK-wide organisation solely focused on beating prostate cancer – and the Active Essex Foundation, a local charity promoting opportunities for everyone in Essex to engage in physical activity and sport. This is of course in addition to the thousands of participants which will raise money with family and friends in support of charities which are particularly close to them.
Pre-registration is now open to those that would like to register their interest in taking part. Entries will open exclusively to those who have pre-registered from February 26th, so avoid missing out by signing up today.
View the routes in full and pre-register for the event now at www.veloessex.com