Fancy an April 2019 trip to Bermuda?
Following back-to-back ITU World Championship success for Flora Duffy in 2016 and 2017, the stunning island of Bermuda hosted its own ITU World Triathlon Series event in 2018. Quite appropriately, the local heroine dominated the race and took an emotional victory on the streets of the capital, Hamilton.
The World Triathlon Bermuda (www.bermuda.triathlon.org) returns on 27th April 2019 – and you can be part of it over Sprint of Olympic distance, in the Age-Group races.
I've had the pleasure of visiting Bermuda a couple of times some years back myself (coaching triathlon!), and if you are seeking an alternative, early season, overseas trip then you would be sure to have a fantastic time in a wonderful location. If you and a few friends are considering the trip, the organisers are offering entry fee discounts and additional benefits for larger groups.
---
Bring your friends and save!
Kick off your 2019 triathlon season this April, out here in Bermuda. Swim the Atlantic's crystal waters, bike the beauty of the rock, and run with the sounds of the island urging you on. Bermuda's mild island temperatures (23ºc/73ºf) are just right for racing. Join hundreds of other athletes in taking on the triathlon in one of the most beautiful places on earth.
Sign up as a group of four or more and enjoy 30% off your entry fees!
Signing up is easy and you can find out how to do it at the official website here >>> https://bermuda.triathlon.org/enter_now/tri_club_perks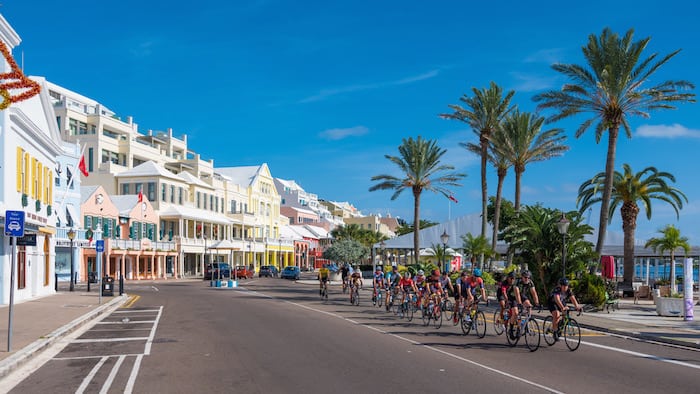 If you are a group of 10 or more, sign up and receive a full tri club package of perks!
Kick off your tri club season next spring with your tri club colleagues in Bermuda and enjoy the following benefits:
Dedicated tri club concierge to help with logistics and accommodations
Preferential club line for packet pick up, including course map and goodies
Dedicated and secure tent at the age group transition area
Personalised sign with club logo
Select complimentary food and beverages
Dedicated restroom facilities for the club area
Dedicated bike mechanic for the club area
Special club rate for race entry
To sign up, the group or tri club leader must create a group with a group name. The leader then receives a password and shares it with the other members of the tri club/group, who can then sign up using the password to secure our discounted group rate and the tri club/group perks.
For more information please contact us: info@tribermuda.com or check out their website HERE.