Whilst things went swimmingly for Alex Yee in the men's race, Britain's Beth Potter couldn't quite shake the fatigue from Paris last weekend in London, as the Olympic Test Event winner finished just off the podium in fourth at the first round of the 2023 Super League Championship Series.
For the rest of the field, in particular Luxembourg's Jeanne Lehair, Potter's loss was their gain, as Lehair got the win in a fabulous sprint finish to outkick Sophie Coldwell of Great Britain and America's Taylor Spivey.
For the leading trio, West India Quay proved to be ideal grounds for redemption after difficult days out in Paris, with Coldwell in particular bouncing back from a sub-par performance in the French capital with a brave race for second in London.
"I honestly can't believe it"
After a rollercoaster first two stages, where she went from front pack to dropped and back again, Lehair pulled it out of the bag at just the right moment to secure her first ever Super League win in style, as she continues to build on a brilliant season so far.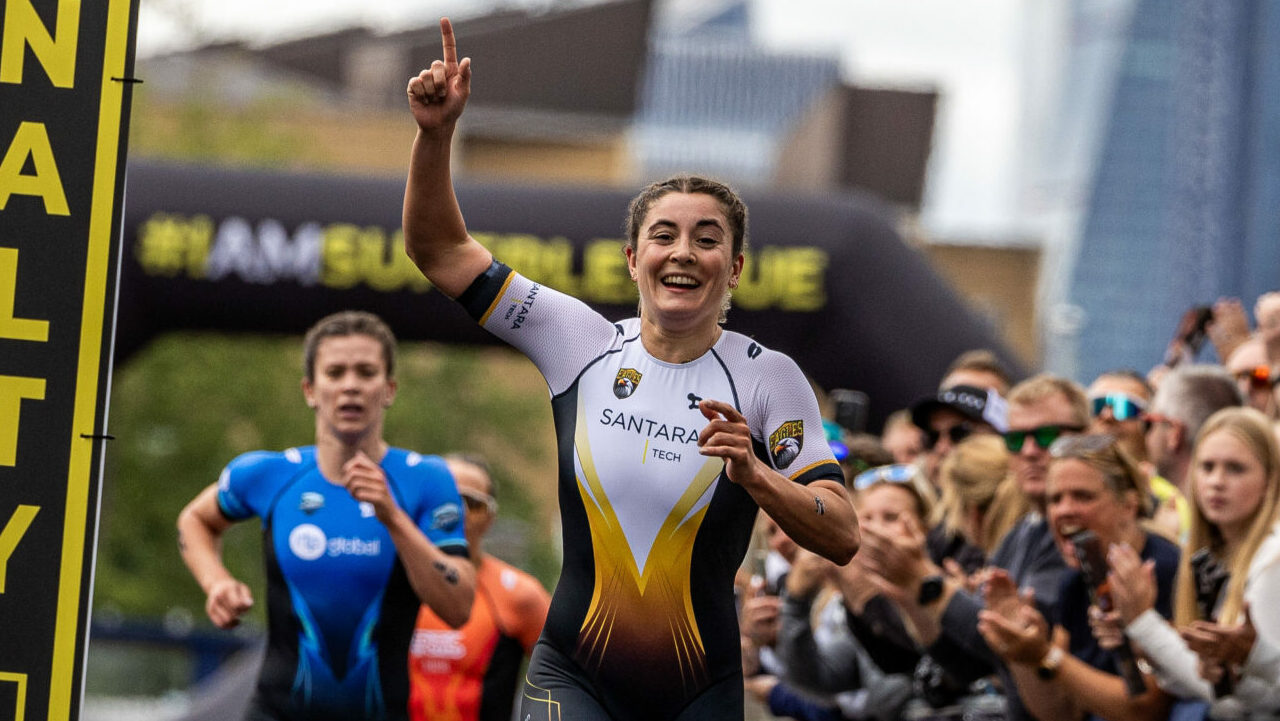 "I was doing really badly on the bike, so I was thinking that I would miss out on some energy at the end, but over the last two days, I have been feeling really good and I think it's after coming down from altitude.
"I honestly can't believe it, when I was in fourth I was thinking that was a good result as it was better than last year, then I started thinking about the podium, but I never thought about the win! I hope I can race the same every time, although I don't think it will be that easy, so for now I can't believe it and in a few minutes I will just try to enjoy it."
Lost for words in her post race interview, Lehair reiterated that she never expected to get the win when she stood on the start line yesterday, but was beyond proud with the performance she managed to put together against a strong contingent of world class athletes.
"I don't really know how to feel, but I never thought I could've won a race and for now I can't believe it, but I am really happy for the team as well as I knew I had to do really well as I didn't see too many of my teammates shoes in transition."
"It was just as savage as I remember"
For Coldwell, the race in London was a welcome reminder of the highs of racing, but also the struggle of Super League racing. Competing in front of a home crowd, she added, made her second place result especially sweet.
"It was just as savage as I remember to be fair. It was a great atmosphere, there were definitely more people than last year and it was amazing to be back in London, back in the UK and I had a really good day out."
Coldwell credited team manager Michelle Dillon and the rest of the women on the Team RTP Sharks squad, with three of the top five coming from the British centred team, with Coldwell coming out on top against a high calibre home contingent.
"I think a lot of people were saying about how well the Sharks would do so it was great that all five of us finished so high up and we managed to get points across the disciplines too so it was a good day out for the Sharks."
"I didn't set myself up great"
For American Spivey, representing the Team RTS Warriors, the result in London came as a little bit of a surprise, as the runner-up from last year's series shared that she had been dealing with some injury problems leading into the race.
"That was rough and I didn't set myself up great at the start but I stayed patient throughout and tried to be smart and somehow I kept making my way up. I had put in such a big training block, that I think even taking a week off running, I was luckily able to perform well and get on to the podium."
"It was really tough because I knew Beth [Potter] had just come off a win at the Test Event and I have been battling some pain in my ankle for a few weeks now and I wasn't even going to start today, so coming away with third is incredible."