Andrew Horsfall-Turner and Kerry Hickson claimed fine victories at the 2021 edition of the Outlaw Triathlon in Nottingham on Sunday.
Horsfall-Turner, second at Outlaw Half Nottingham last month, smashed the course record in the process here and claimed that £3000 bonus to make the win all the sweeter. His time of 8:26:27 was more than 13 minutes faster than the previous mark of 8:39:37 set by Kit Walker in 2017.
Hickson didn't manage to lower the women's course record, but she did produce an excellent personal best of 9:31:40 – inside 10 hours for the first time and just under half an hour faster than her previous best at IRONMAN Cozumel in 2019.
Men – Horsfall-Turner pours it on
Horsfall-Turner, who is now eligible for a pro licence courtesy of that display in Nottingham last month, will race Kona as an age-grouper in October before stepping up to the pro division in 2022. And he showed his wellbeing here with a dominant performance.
A 48:04 swim was enough to give Andrew an advantage of more than five minutes over Kit Walker, winner here in 2016 and 2017.
Horsfall-Turner was also dominant on the bike as he clocked a split of 4:27:08 – again the best of the day. That was good enough to see him extend his overall advantage over Walker to more than 10 minutes.
A marathon of 3:03:35 was good enough to see that course record fall, and with it the bonus payment to Horsfall-Turner. His eventual winning margin was more than nine minutes from Ian Dempsey, who overtook Walker for second with a 2:56:41 marathon split.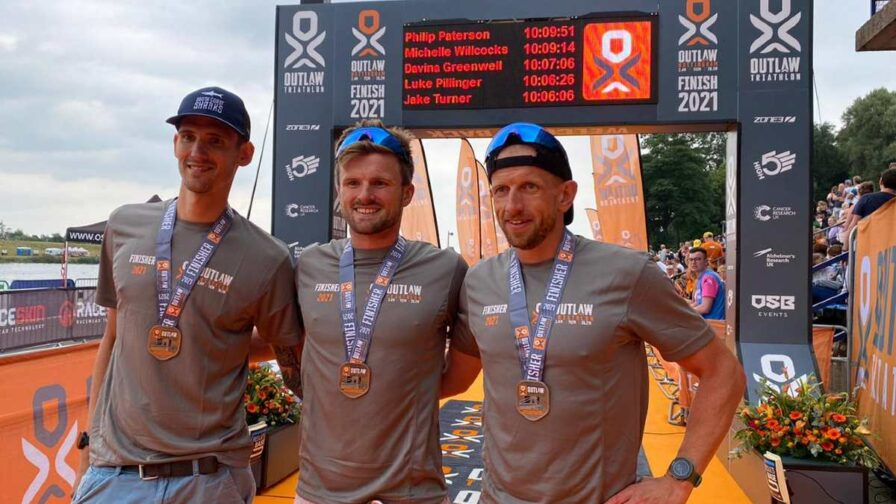 Walker hung on for third, while Robert Fryer was a couple of minutes further back in fourth and Daniel Anderton claimed fifth.
Women – it's Kerry all the way
Just as Horsfall-Turner did, Hickson led from gun to tape with a confident performance. She began with a 55:30 swim which saw her leave the water more than 6 minutes ahead of a chasing pack led by Michelle Wilcocks.
Claire Weller (4:53:19) and Rebecca Duxbury (4:57:09) moved into second and third respectively after cutting into Hickson's advantage on the bike leg – the leader put in a 5:00:23.
Kerry reasserted her dominance on the run though, completing the marathon in a time of 3:24:56 – the best split of the day. Duxbury (3:29:53) overtook Weller (3:36:09) on the run as they claimed second and third respectively.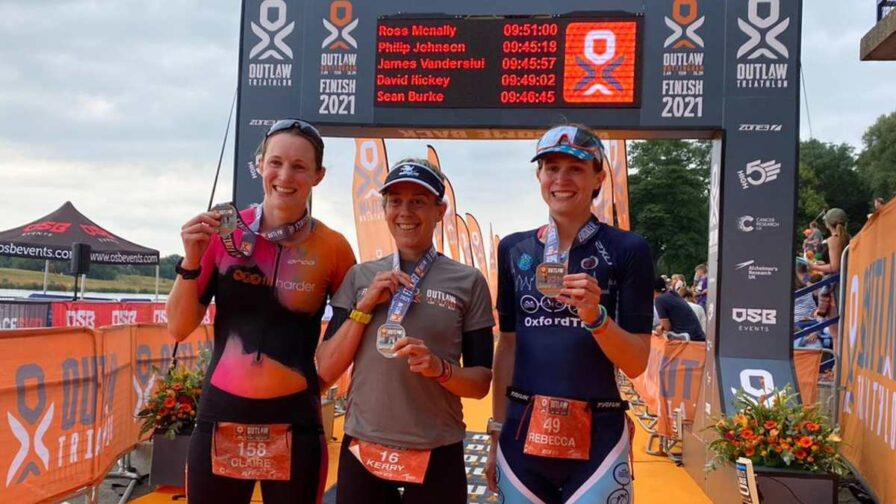 Davina Greenwell took fourth position in the finishing order, with the aforementioned Wilcocks back in fifth.
Outlaw Triathlon 2021 Results
Sunday July 25, 2021
Overall MEN
Andrew Horsfall-Turner 8:26:27
Ian Dempsey 8:35:39
Kit Walker 8:45:09
Robert Fryer 8:47:20
Daniel Anderton 8:53:23
Overall WOMEN
Kerry Hickson 9:31:40
Rebecca Duxbury 9:43:51
Claire Weller 9:45:18
Davina Greenwell 10:07:06
Michelle Willcocks 10:09:14