This is a preview for the men's race at WTCS Sunderland, which was won by Frenchman Pierre Le Corre in a sprint finish.
Kiwi fan favourite Hayden Wilde returns to British shores this weekend for the first edition of WTCS Sunderland, off the back of his World Super Sprint Championships win at WTCS Hamburg
Wilde will be eyeing a second consecutive top-tier win on English soil after registering a terrific victory at WTCS Leeds in 2022.
Series leader Vasco Vilaca of Portugal will also be chasing another podium after a stellar start to the season, with reigning world champion Leo Bergere leading a strong French contingent.
We have all the details on start times, how to watch the event live and a full breakdown on the favourites to win.
Start time and how to watch live
Taking place on Saturday July 29, the elite men will be racing over the sprint distance down at Roker Beach, with the gun going off at 14:00 local time. This corresponds to 15:00 CET and 09:00 on the East Coast of the United States (0600 PT).
The race will be broadcast live on the World Triathlon subscription service, TriathlonLive, and also available free for UK viewers via BBC iPlayer, the BBC Sport website, the BBC Sport App and the BBC Red Button.
Who is racing at WTCS Sunderland?
Out of the entirety of the men's start list, Wilde seems to be the racer to back, with his run of form since having a mechanical at WTCS Abu Dhabi making him a strong favourite for the world title along with Vilaca.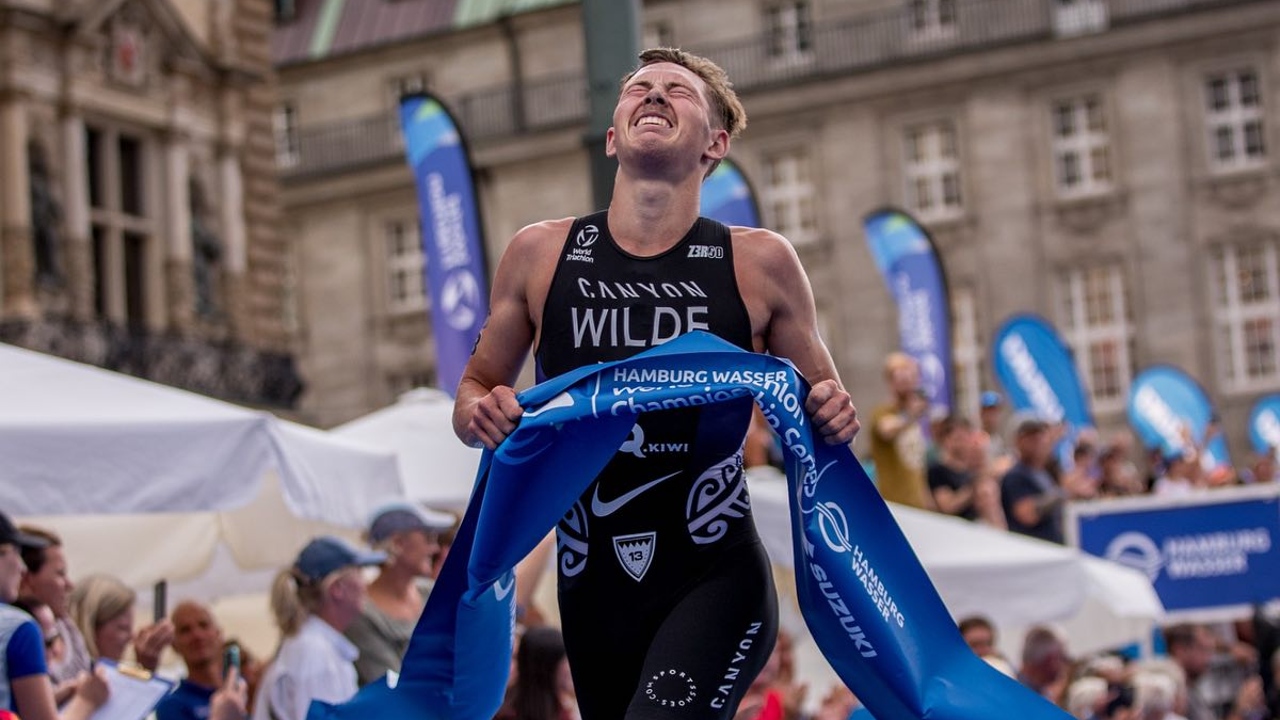 Having got the better of long time rival Alex Yee a fortnight ago in Hamburg, Wilde will be increasingly confident of his abilities over the shorter distances, with a highly likely wetsuit swim another factor which will play into his hands in Sunderland.
Vilaca pushed him to the line in Hamburg, but head-to-head it seems as if Wilde would win again. The Portuguese athlete, part of the JFT crew, might need a change in race dynamics to really take it to the Kiwi.
One thing Sunderland does have that will play into Vilaca's hands, however, is the French. Leo Bergere and Pierre Le Corre, both excellent swimmers, will view it in their best interests to have a buffer on Wilde for the run and could push hard from the gun to make an early breakaway.
If this is the case, German Jonas Schomburg and Hungarian Mark Devay stand to benefit, as does South African Henri Schoeman, with the start list in Sunderland possessing enough quality in the water to make it hard for the weaker swimmers.
Whilst Wilde will believe in his abilities to stay with a front pack and control the race, other athletes such as Dutchman Richard Murray, three-time world champion Mario Mola and Moroccan Jawad Abdemoula, who are all threats on the run, might be left out in the cold.
If it comes down to a run race, Wilde has what it takes to win, with a number of other men possessing the foot speed required to make the podium. However, if a small group hit the swim hard, it could leave it all to play for.