There's a saying in triathlon that the further the distance you race, the more important the bike leg becomes.
Adam Bowden has built a reputation as one of the UK's finest middle distance triathletes and one of the quickest runners in the sport. But as he moves up from Ironman 70.3 racing to the full distance in Tulsa this coming weekend, he knows the bike leg has to be even more of a focus if he wants to be in contention for the podium on leaving T2.
In his latest piece for Tri247, Adam takes us through what he's learnt in his preparation for time-trialling 112miles and how those lessons can help amateur triathletes too.
(Related articles: Goals, Motivation and Planning for 2021 / Adam's three key run sessions).
---
Relax into each session. Whether using power to train or not, I've found it helpful not to be too strict about effort levels early in a long ride. It's rare to know exactly how you'll feel when you start pushing the pedals, but just warm up into it and trust your perceived exertion. Being cautious is often better than hammering it when you feel groggy and burning too many candles before the main training set where the quality work is supposed to take place. It's a useful simulation for race day too. When you emerge from the Ironman swim, you might not feel 100% – especially if it's been choppy in the water, but you've a long day ahead, so don't panic, and accept they'll be ebbs and flows.
Practise eating and drinking. I'm practising taking on fuel and fluid earlier in the bike – up to 90g of carbs per hour – to try and make sure I'm topped up for later in the race, particularly on the run where it'll be harder to take on calories. I have a plan to regulate my intake (e.g. a watch beep every 15mins), but remain flexible to see what works best. Remember, we're training for an Ironman bike leg where a marathon follows, so don't want to finish a long ride depleted. In training, I'll have another session the next day. In racing, I'll have 26.2miles to run. Finally, this might be a tough one to take but, for now, cafe stops are also out. There's a time and place for them, but they won't happen in a race, so I want to embed the feeling of riding consistently. It doesn't mean I won't stop to refuel, but when I do, it'll be quick, then I'm off again.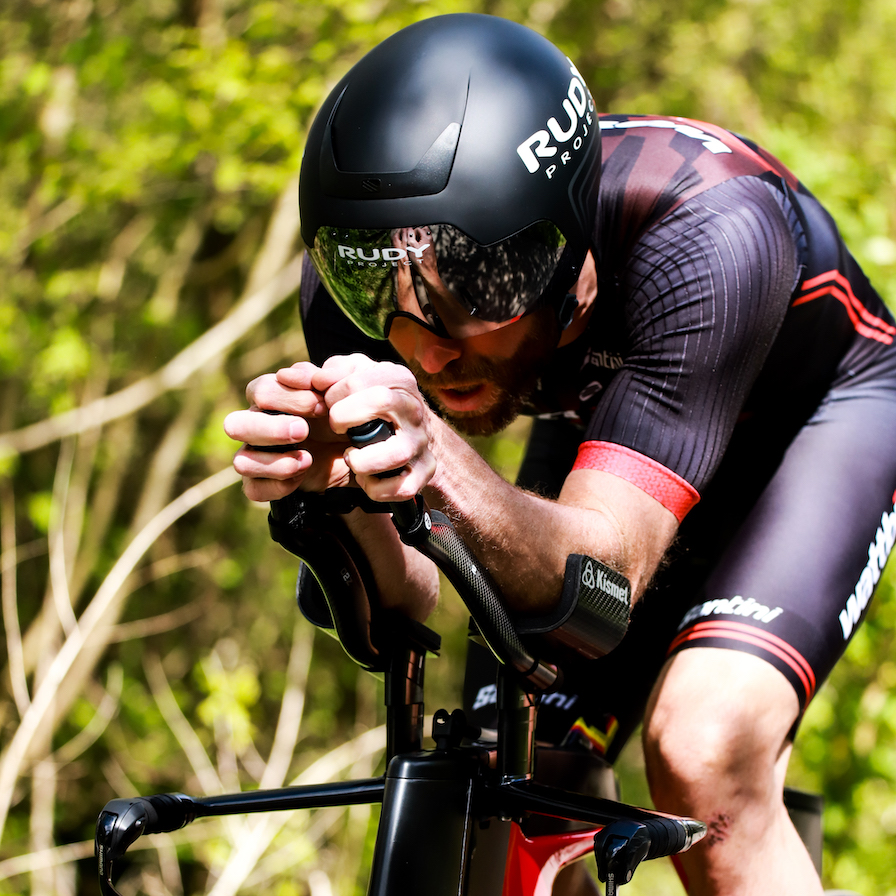 Get to grips with the distance. My long rides are getting longer and longer, with the longest going in excess of the 180km I'll need to complete in Tulsa at least a couple of times. There are a few reasons for riding so far. I want to…
Build the fitness to handle the distance at the required power.
Be comfortable riding my time-trial bike in an optimal aerodynamic position.
Make sure my race nutrition works and my stomach can cope.
Have the confidence to know the distance isn't a step into the unknown.
Use brick sessions, but only with a short run. In triathlon, a brick session is defined as one training discipline directly following another, the most common being a bike-to-run set. I think there's definitely an advantage to getting off the bike and doing a run to get a sense of how leaving T2 will feel in a race, but while I include some brick sessions into training, the run is typically only 20-30mins. I believe this gives me the necessary understanding of what to expect in a race, but won't turn into a mammoth session that I'm unable to recover from to train the following day.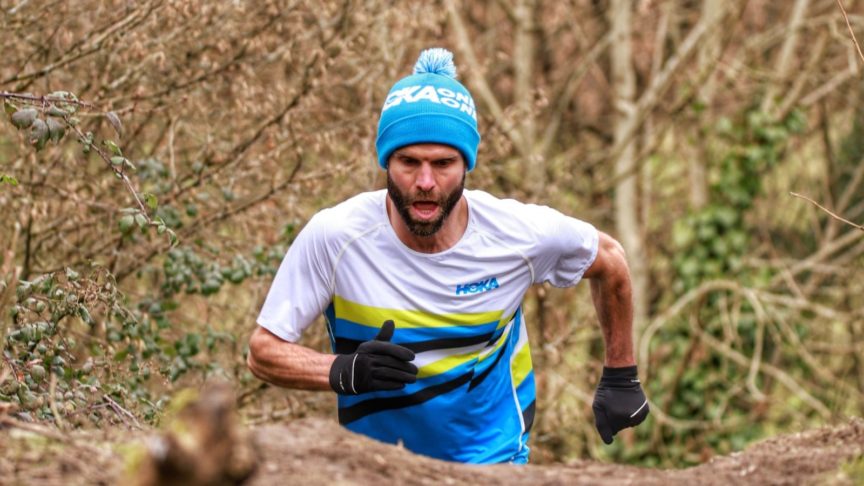 The importance of base layers. Choosing the right clothing for long rides is paramount if you don't want to overheat or, more likely in South Wales, end up cold, soggy and miserable. I'll check the forecast and probably pack a rain jacket, although in the last few rides the sun's been out and I've worn just shorts and a jersey. However, I always have a base layer. My sponsor, Santini, produces mesh base layers of different thickness, including a long sleeve option. These technical garments work wonders. If it's cold they help keep me warm and on a warm day, help wick away the sweat. It means I never set off without one.
Get used to the TT bike. Having raced a lot of Zwift races on the Wattbike set up like my road bike at the start of the year, I probably neglected being on the TT bike and the first time I took it out in 2021 my neck and forearms felt wrecked. My coach Rhys has been gently adjusting my position. It can't all be about just being as aero as possible because if it's uncomfortable, I'll be thinking more about the pain than the power I'm putting out – and I still need to be able to run off the bike. I think I have a decent aerodynamic position, but I've moved my arms slightly wider because I'm not the most flexible triathlete. It's a compromise between aerodynamics and comfort. Additionally, since making this realisation we have also set up my Wattbike to mimic my TT position so all rides are now in the TT position. The Tulsa course looks a bit undulating, so hopefully there'll also be times when I can get out of the saddle and stretch.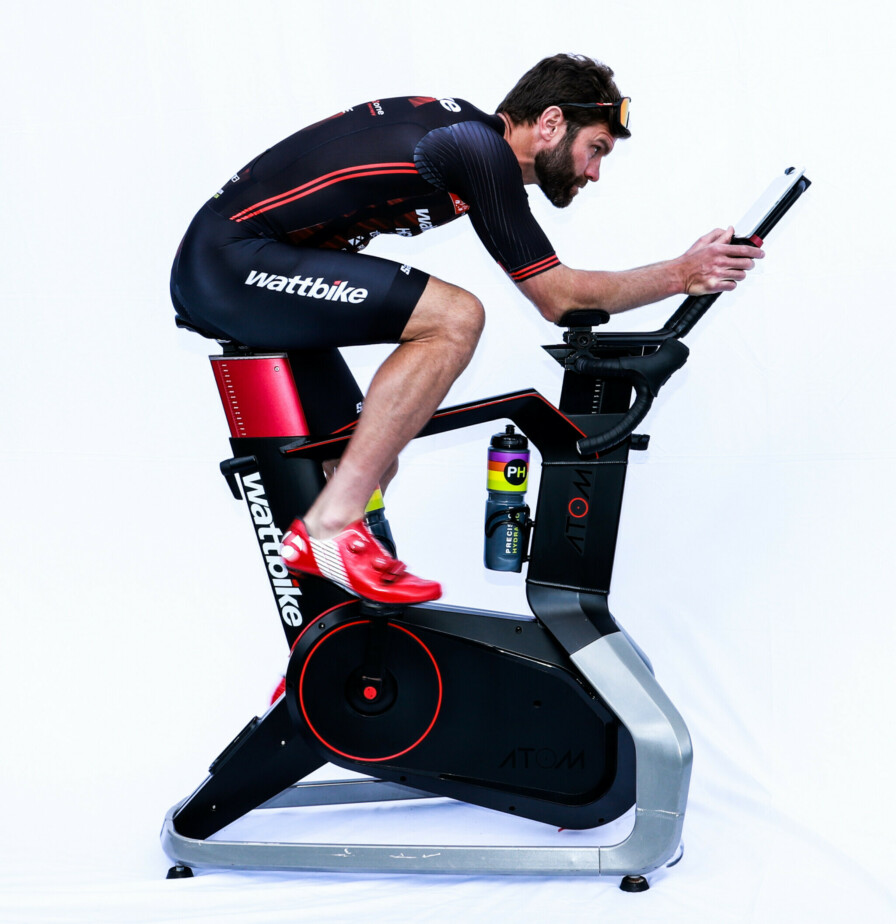 Embrace solo riding. Riding solo is very much the life of an Ironman and because a lot of the guys I've trained with are focussing on short course racing, they can't cope when I'm on a TT bike. Even sitting behind me, their power is through the roof. If I'm holding 260watts comfortably, they'll be pushing 310-320watts just to keep up. With a family at home, training must also fit my schedule, so I don't have all day to get the ride done. Being on your own tests your mental side too. It's nice to be social and have a distraction, but in a race you'll be in your own space. A 3hr ride now feels short and that's giving me more confidence, plus I'm enjoying it more and more. I rode to Swansea and back last week and it felt as if I had a tailwind in both directions.
Ride (and run) outdoors. Indoor training on my Wattbike ispreference, as I get so much out of my Wattbike, but there's a definite benefit to getting out and feeling the road beneath your wheels for race preparation. It provides a different rolling resistance and the same holds for running outside versus the treadmill. It also helps improve bike handling skills, which the Wattbike or trainer don't reinforce. As the weather improves and it's lighter for longer, I've enjoyed getting out in the real world.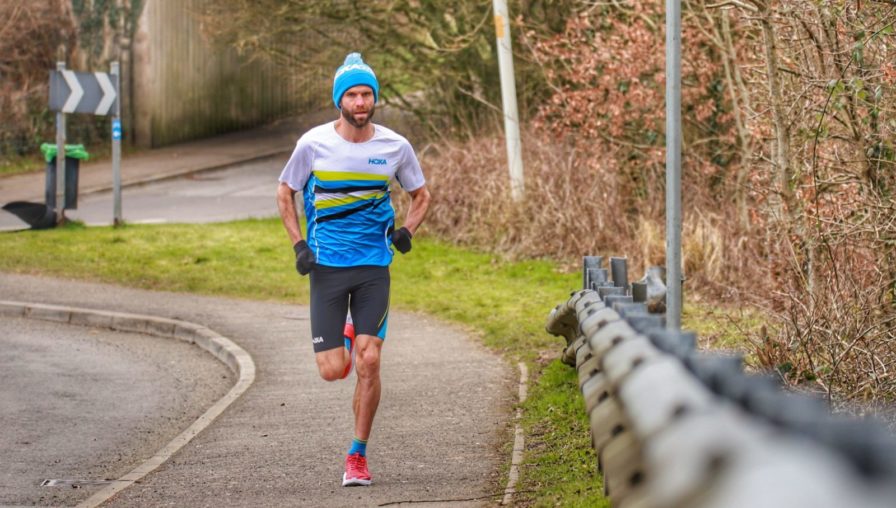 Try some race simulation. While dressing like a cyclist in bib shorts is the most obvious option for a training ride, there are times when I'll head out wearing my trisuit and TT helmet. It's essential to test the kit I'll be using on race day and find out how comfortable it feels – not just for the first 10mins but after several hours when even minor irritations can expand into race-impacting issues. There are other reasons for wearing race kit that might not immediately spring to mind too. For example, typically trisuits have a slightly thinner chamois than bib shorts, and while it might only be millimetres, it can alter the dynamics of a pedal stroke.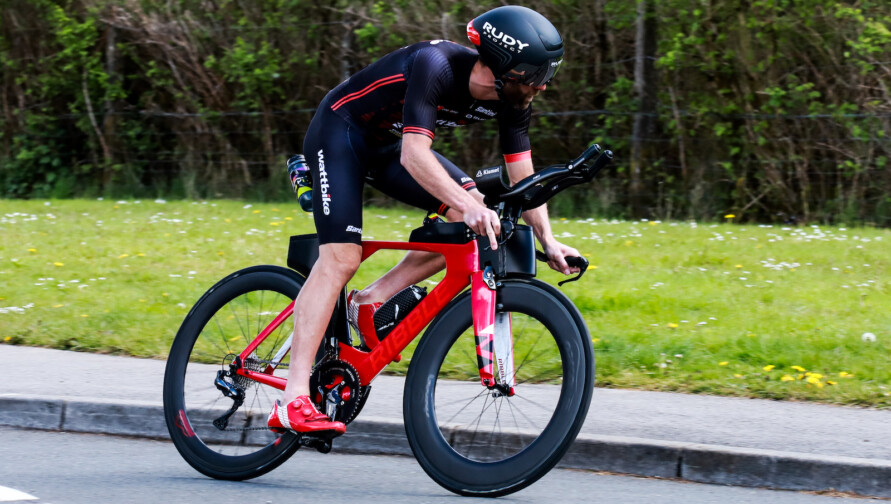 Bike maintenance and smart choices. Unlike some triathletes, I'm not one for constantly riding on my race wheels while training. I'd rather keep my race wheels separate, with a race chain and cassette because I feel it reduces the risk of wear and tear causing a problem in a race. There's also the mental side of keeping it fresh, knowing that having my best gear puts me in the mood to race. Whatever kit you do race on though, make sure you check it thoroughly, especially when it's been in transit. I always check all bike bolts are tight, my Di2 electronic gear shifters are charged the evening before, and try not to miss the small things such as making sure my visor is clean before a race or leaving my nutrition ready on the bike for an early morning start. And, of course, practise, practise, practise learning how to change a tyre quickly.
Best of luck to Adam, and all of the athletes racing this weekend at the IRONMAN North American Championship, Tulsa
CLICK HERE FOR EXTENDED PREVIEW OF IRONMAN TULSA
---
Adam Bowden is supported by an amazing set of partners including; Wattbike World Class Smart Indoor Bike Trainers, Ribble Bicycles, Rudy Project Helmets and Eyewear, Santini Cycling and Triathlon clothing, Zone 3 Wetsuits, Precision Hydration Nutrition, Hoka One One Running Shoes and Clothing, ForgoodnessShakes and One2One Therapy.