crankedUP's new pain cave parties to help cyclists feel the buzz of cycling events again during lockdown
Two new cutting-edge live broadcasted mass virtual cycling events announced for 28th February and 27/28th March
Team and individual endurance competitions perfect during lockdown to give that real race event feel
Live DJ sets within virtual arena throughout
Register at www.crankedup.co.uk for just £10 per event or take on a bundle of both events
With traditional cycling events on hold during lockdown, crankedUP™ has announced two new pain cave party events to enable cyclists to feel the nerves, excitement and camaraderie of taking part in real events with their ride buddies once again.
Following the success of the first two events in December and January, crankedUP™ will open the doors of its cutting-edge virtual stadium for a two-hour Fast and Furious super sprint on Sunday 28th February.
The super sprint event will be followed by crankedUP's Mega event on Sunday 28th March. The Mega event offers riders and teams of riders the chance to ride for 2, 6, 12 or 24 hours. The 24-hour Super Beast has been added for the first time and is the ideal event for cyclists looking to raise money for charity.
Sunday 28th February 10am to 12pm
Two-hour super sprint (fast and furious)
Sunday 27th-28th March 10pm to 10pm
Mega event (2, 6, 12 hours and the 24-hour Super Beast)
crankedUP™ events pair live broadcast within a virtual arena of music with the whirring of pedals as entrants ride a virtual course of their choice, trying to ride as far as they can on their preferred training platform (Zwift, Rouvy, RGT, Tacx etc).
Whatever the social distancing restrictions in place on the day, cyclists can now confidently plan a big gathering with their buddies, wherever they are in the world, either solo or as a team of 2, 3 or a 4 and compete against one another over their chosen duration.
crankedUP™ technology connects riders around the world through a unique interactive digital and physical experience. As well as its main virtual stadium, crankedUP™ leverages new and advanced production and broadcast home entertainment technology to create multiple 'stages' that riders can visit offering different music and entertainment. `Plus unique dynamic content, polls, chats so riders and guests can learn, be entertained and be inspired whilst they pedal, or while they take a well-earned rest.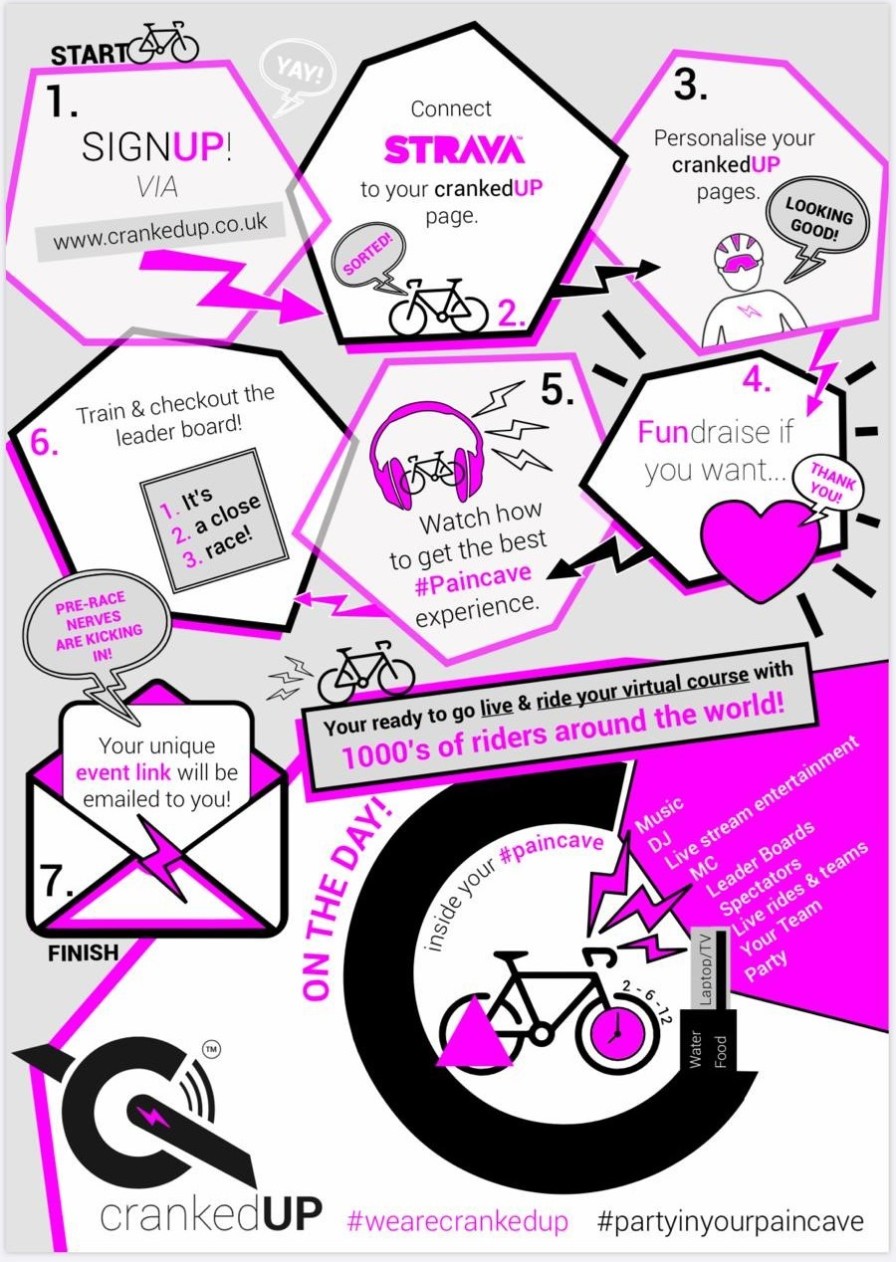 A fundraiser for Action Medical, who took part in the inaugural event with his partner, comments: "We have a Wattbike in the home office, so Zwift is usually a part of our day but what was great about this event was it kept us in the saddle for longer and it gave us a purpose. It also gave us that pre-event feeling on the morning of the ride that we have been missing, we felt part of something and will be organising a full team for the next events so we can ride together."
Keith Williams, crankedUP™ Concept Creator, comments: "We have been overwhelmed by the success of the first crankedUP events and the positive response we have received from the riders. This has spurred us on to develop our new 2021 events and by doing so help get frustrated cyclists through lockdown alongside their ride buddies."
Teams have access to a virtual peloton group room and smaller team pit virtual rooms so they can interact together and support their active team member whilst they are off the bike. All riders will be able to invite guests to have all access areas.
Live leaderboards, displaying riders' and teams' live distance totals, chart progress, supported by event commentary.
crankedUP™ is organised by Lovelight Events Ltd and entry will cost £10 per person.
To register, visit: www.crankedup.co.uk
Charity partners include Pancreatic Cancer UK and Action Medical Research