Kate Allan is a competitive cyclist and triathlete, who in 2017 was the 50-mile time trial champion in the UK. With a young family and a busy work life, optimising her training is key to achieving the results she obtains. Kate uses a Wattbike Atom for her indoor training sessions and does the majority of her riding indoors throughout the year to boost performance, fine-tune her position, and maximise cross training for running.
Here are four reasons she uses indoor cycling to improve both the bike and run leg of her triathlon training and racing.
---
Train with absolute efficiency
The single best thing about indoor cycling for me, is how efficient it is; you get optimum 'bang for your buck' with the time invested. It negates the logistics of bike maintenance, weather preparation and faffing around with mechanicals – and in my case, this translates to minimal time spent away from my two young children, and even when I am training, I never feel far away.
Training indoors means no chasing daylight, sitting in traffic jams or at lights; you jump on for your set, pedal to your heart's content, and jump off. This is especially beneficial for long, flat triathlons, in which a good chunk of time is often spent in the TT position/pedalling with no respite. It works you really hard, and to this end, can offer quite remarkable fitness gains in a comparatively small space of time.
I have my Wattbike Atom set up in our garden office. It's got a really small footprint which means that it takes up very limited space and being easily adjustable, my husband is able to jump on and use it too, with only a couple of small tweaks. It doesn't result in any oil-stained hands or dry chains either – and there is no added faff incurred, such as changing wheels and charging DI2 batteries (a simple thing, which frequently catches me out!).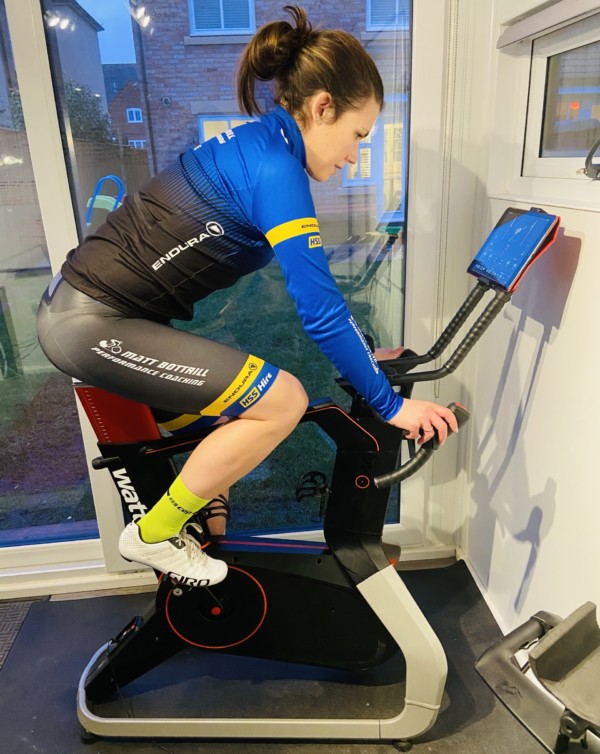 Performance through the use of data
To get the very most out of my training I follow a really structured programme, (via Matt Bottrill of Matt Bottrill Performance Coaching), which is really heavily focused around the use of data and use of the Wattbike Hub App. The great thing about the Wattbike Atom is its connectivity to a range of differing training and racing apps, so you can select the training program that suits you best. The free to use Wattbike Hub is a great place to start with a huge variety of workouts and training plans.
I only have 6-7 hours available to train a week – which means that every single set must count, and the Wattbike enables a really thorough insight into what is happening session-on-session, be it through power numbers, cadence – or most specific to the Wattbike – Pedalling Effectiveness Score (PES). Unique to Wattbike, PES allows you to look beyond the power you put down on each pedal revolution, and to dissect what is happening at each stage of the stroke. Matt makes sure that I have frequent 'PES' sets built into my programme which involve specific drills to improve my PES, and using the Wattbike Hub App (free with any Wattbike) it's possible to see this visually in the form of a real-time 'peanut' through Wattbike's innovative Polar View technology.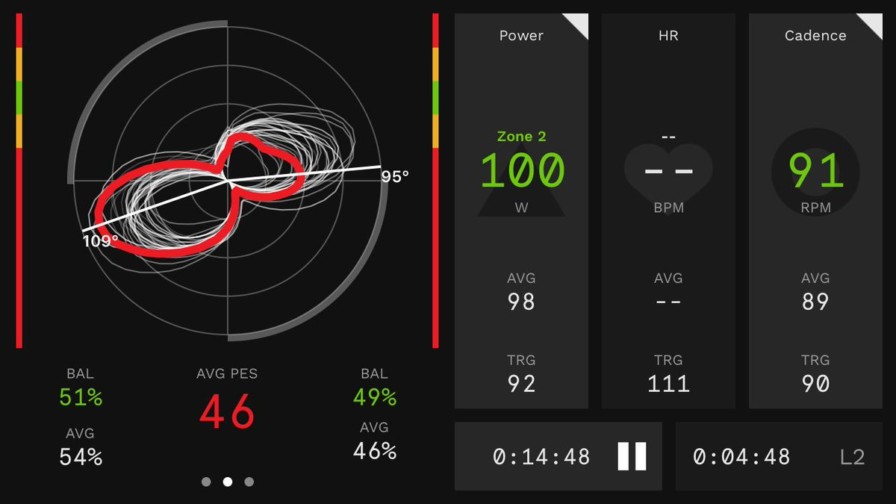 Whilst my PES still leaves a lot of room for improvement, I've made significant gains through working on this – and it's seen improvements in my overall cycling technique which no doubt translates to performance on the road.
Technique session – 22 mins – from the Wattbike Hub App
A set that has been designed specifically for you to observe your pedalling data (PES, left-right balance and Angle of Peak Force) and see how it changes while pedalling over a range of intensities and cadences.
Warm up – 5 min @ 54% FTP
Build – 3 min @ 46 -135% FTP*
Recover – 1 min @ 43% FTP
Build – 3 min at 43 – 152% FTP*
Recover – 1 min @ 43% FTP
Build – 2 min 40 sec @ 43 – 152% FTP*
Recover – 1 min @ 43% FTP
Build – 2 min 20 sec @ 54 – 170% FTP*
Cooldown – 3 min @ 46% FTP
*Builds increase in 20 second intervals
Cross training for running
When it comes to improving the run leg of a triathlon, cross training on an indoor bike is a really effective (and safe) means of maintaining and improving a strong cardio base. And indeed – the bike leg precedes the run, so if you get your cycling in a stronger place, you'll automatically be in a better place to start on the run course.
'Once upon a time' I was a thoroughbred runner, but it's never been the most natural discipline for me. Despite this, I found that when I became a triathlete, I became a stronger and faster runner. I was able to enjoy far better cardio gains by improving upon my cycling fitness by adding consistent training load and volume, at a far reduced injury risk than if this time was spent exclusively running. By training on a bike indoors you can be really specific in terms of the cadence work you do too; fast cadence supports a quick leg turnover and therefore is beneficial for run training in which light, quick legs are needed.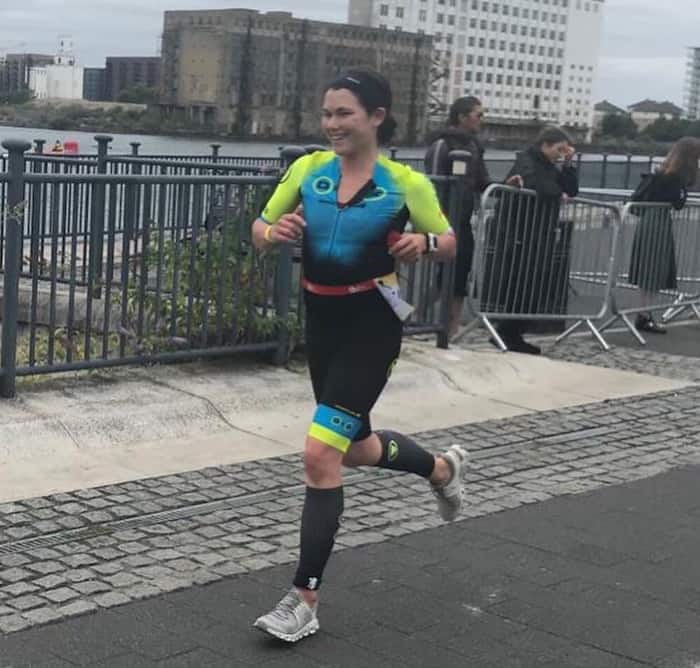 When training as a triathlete, I would alternate hard run sessions with an indoor recovery spin to really flush out the legs and prepare me for my training the days ahead. I believe that doing this enabled me to largely avoid injury, as it helped to stagger my training load and boost my fitness without the accompanying repetitive strain that running puts on the body.
The best tool for the pregnant triathlete
Specific to female triathletes, my Wattbike was undoubtedly the best fitness tool I had available through both pregnancies/postpartum periods, and I cycled up until the day I delivered both my kids. When pregnant, I quickly found that riding outside, or on a turbo set-up was only going to have a certain lifespan to it, my ever-growing bump forced my knees out, and there was no way my lower back was going to allow me to get anywhere near my tri bars! I was also nervous out on the roads, especially in Berkshire where I live, where it's difficult to locate consistently quiet roads.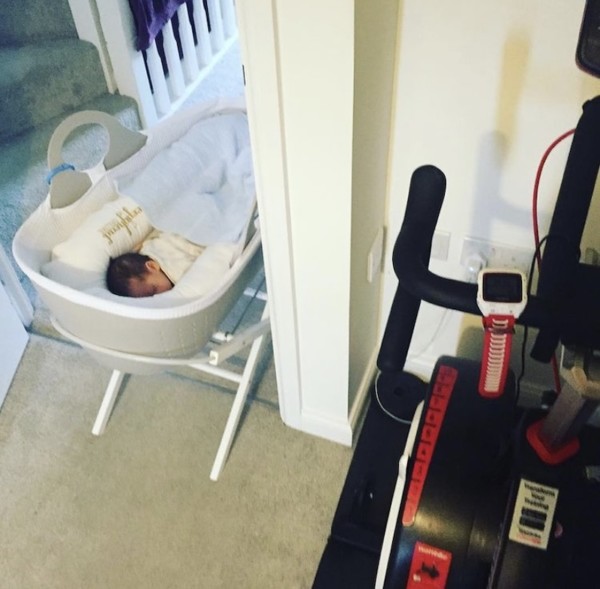 I bought my Wattbike when I was eight weeks pregnant with baby number one – I was able to raise the handlebars as my bump grew, and continued to follow my training data, to make sure I was not working myself too hard. Adjusting the bike was really easy, and despite looking like I needed a wicker basket on the front by a certain stage of pregnancy, I was able to comfortably ride with a decent biomechanical gait and maintain a strong cardio base.
Postpartum too – I started riding six weeks after both pregnancies and it helped support a gentle adaptation to form, and helped me reintroduce running slowly too, so much so that I was able to win my age group at IRONMAN 70.3 Lanzarote in 2016, just six months after giving birth to my son Finlay.