How time flies. Somewhat remarkably, it's almost two years since we started the TRI247 Series of Wednesday night Group Workouts in partnership with Zwift. That first session was lead by none other than three-time IRONMAN World Championship second place finisher, Lucy Charles, and we wrote about that very first experience HERE.
The Wednesday night session has continued to be a regular part of the TRI247 landscape. We are fast approaching 100 Wednesday workouts now, when we are regularly joined by athletes from all over the world, training together – virtually – with structured sessions, individually tailored to the ability of that rider. It's been a great journey, long may it continue!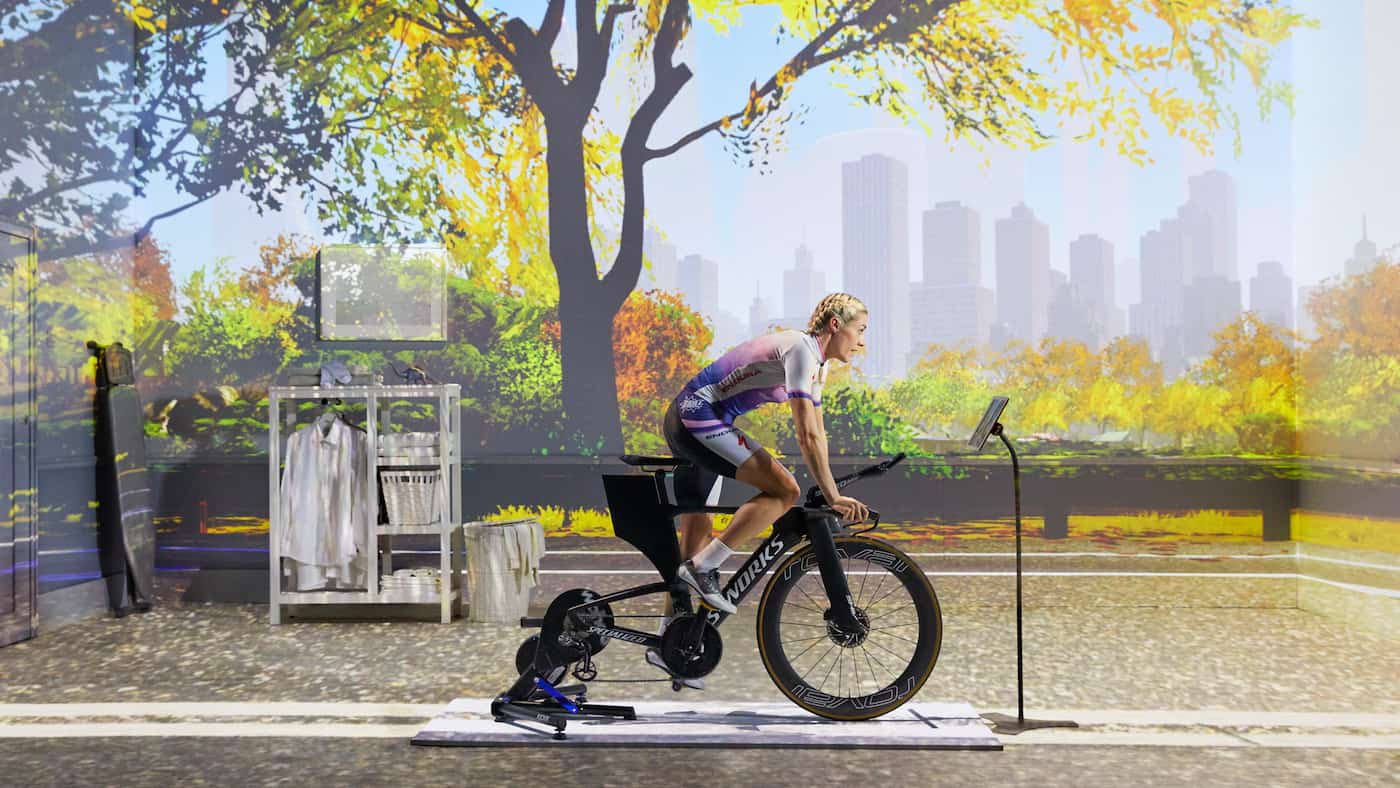 Indoor Cycling – are you in (yet)?
I've said many times in previous articles on the site, that indoor training has been, is currently and will likely continue to be for some time, the biggest growth area within the triathlon and cycling market. There are many practical reasons; weather, road conditions and safety, but also some real-world developments that have significantly made the indoor (and virtual) world a far more attractive, enjoyable and productive place to be to achieve your cycling objectives.
For me, those broadly fit into two areas. First up, the development, quality and accessibility of the modern (smart) trainer. Secondly, the ability to utilise and make training (and increasingly, racing), productive, enjoyable, interactive and social utilising the software tools (apps) that unlock the potential of that hardware.
I can speak honestly from personal experience. I purchased my first smart trainer (a Wahoo KICKR), around two years ago, and I would regard it as perhaps the best sporting investment I've ever made. That's not a 'plug' for Wahoo – I have little doubt I would have been similarly content with an alternative product from the likes of Tacx / Elite / Saris – more, a reflection of a 'big tick' for a product category that transformed my perception and experience of indoor cycling.
My previous indoor trainer was purchased around 15 years previously… and I don't think I'd used it for approaching 10 of those! If you still have nightmares about the 'turbo' being simply a means to an end that has to be endured, rather than enjoyed… fear not. There really is no comparison.
With the colder weather starting to become the norm in Europe at least and the winter (and Christmas!) approaching, I suspect that there will be plenty of people considering whether they too should step up their indoor-training game in the near future. If you've not done so already, I would highly recommend it.
Zwift
So, what is it? Well, according to Zwift itself, it's "The app that turns indoor training into a game", with its Fun Is Fast tagline.
It is that, but, I would suggest that doesn't adequately reflect the range of ways to use Zwift that are on offer. Here's another personal experience story to provide some context…
Before using Zwift, I genuinely didn't think it would be "for me". I have never for example owned a games console, I don't play online computer games and so my preconceptions were that did I really want to join a 'game'? If this was a 'virtual world', would it be something I wanted to be a part of?
What I quickly found was actually a genuine training tool, that provided an immersive experience that kept me interested and coming back (regularly) for more. Unlike some purchases (how many of you have an unused foot spa in your family somewhere?!), my smart trainer hasn't been gathering dust. Quite the opposite. Thanks to Zwift we now have two in the household with a 'his and hers' setup for my wife, I was so impressed with the combination.
And that, in simple terms, is why Zwift works for me. In combination with the functionality and ride feel of the modern smart trainer, Zwift provides an environment and experience that makes me enjoy and want to ride my bike, and do so in different ways. Ultimately – whatever set up or software you use – that is what will provide value to you.
Want to try it? Here's how.
Is it complicated? No, it's actually pretty simple. And while I might run a website day-to-day, I can assure you I am far from being a technical expert! Here, in summary, is how you get started.
Zwift is a subscription service that costs $14.99 per month (it is £12.99 in the U.K. per month), but the good news is that you can try it free for seven days. As noted above, until you try it you won't know whether Zwift (or indeed, an alternative in the market), will work for you, and only you can really answer that question. There is also no minimum subscription period (e.g. if you do sign-up, you don't have to commit to three months), and you can stop / start your account at any time, for example if you train indoors during the winter but once the Spring arrives, you'll only be seen outside in the big wide world and have no plans to use an indoor training application when the sun is out.
What do I need?
First up, make sure you have the physical elements that you'll need. Broadly, that means
A bike (!) **
A trainer **
An internet connection / WiFi
Something to run (and display) the Zwift app on
(** These could be the same thing if, for example, you were using a Smart Bike such as a Wattbike Atom, Wahoo KICKR BIKE or similar)
[With their recently updated online store, you can also purchase Zwift accredited indoor trainers, merchandise, accessories and more through the Zwift Shop – zwift.com/shop. Purchasing a trainer through the Zwift shop also provides a 30-day free home trial, free shipping and free returns as well as an extended 30 day free membership to Zwift. Those elements are well worth considering if you are a considering your first significant purchase in this market.]
The Zwift app can run on a range of PC, Laptop, Mac, tablets and iPhones – but there are some minimum technical specification requirements. For example, some early model iPads will not be able to run Zwift. Provided below are the latest (as at December 2019), minimum and recommended requirements to be able to run Zwift.
Next, you'll need to create a Zwift account. This can be done through the Zwift website at https://zwift.com/create_account – this process will request some basic details, which include height and weight. Try and make these as accurate as possible (they can be updated and change over time, as you may well change…!), but are important inputs into the integrity of the Zwift experience in proving you with reliable data and feedback once riding 'in game'.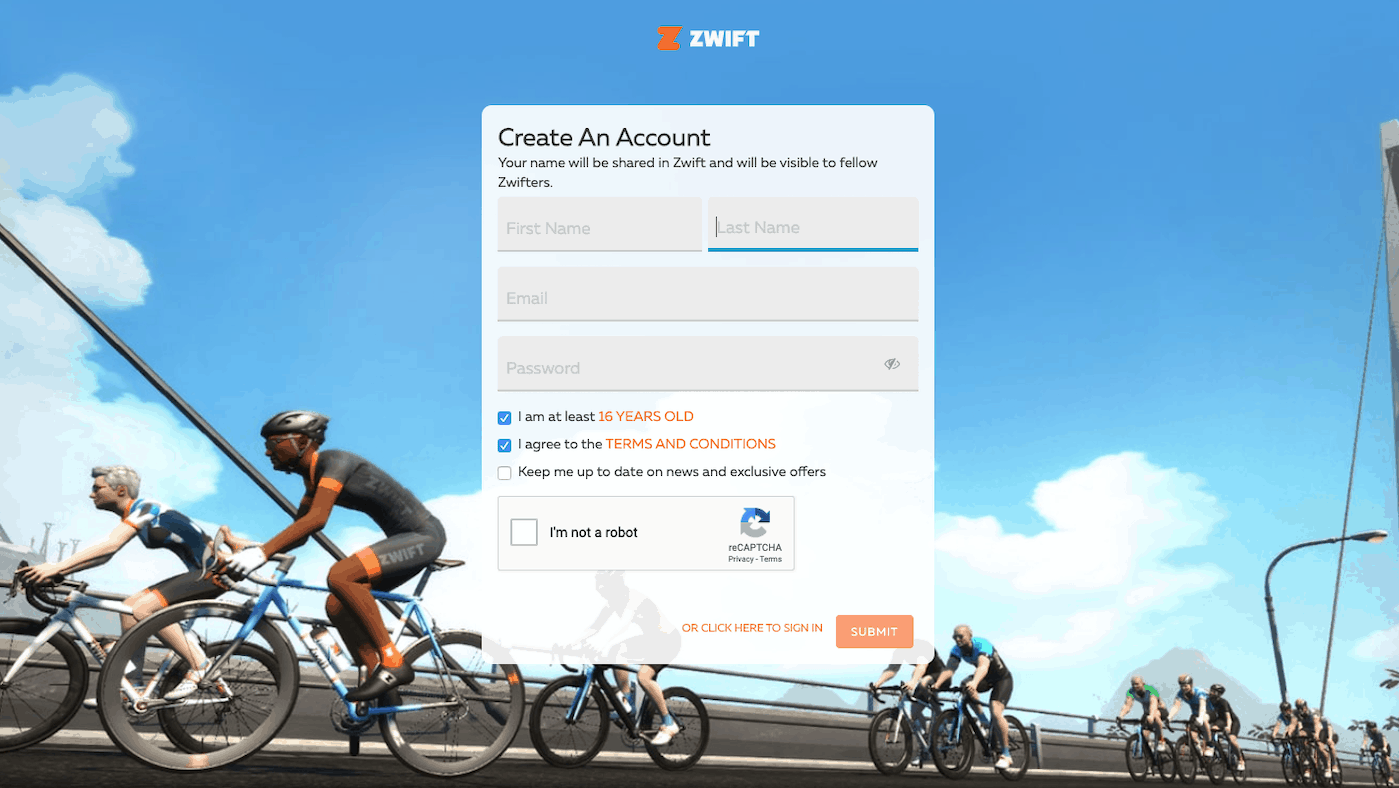 Having now created you Zwift account, you'll want to download the Zwift app onto your phone / PC / Mac / tablet etc that you are going to run the application on. If you plan on potentially using several pieces of hardware at different times, thats fine, there is no fee for having the app on multiple devices. For example, you may have the app on a laptop if you will be travelling / using the bike in multiple locations, and on your Apple TV box for your home/base set up.
Ok, so you now have the Zwift application ready to go – let's get it started. In this example, I'm opening up Zwift on my iMac, and I get the screen below. (TIP / HELP – you create your account on the Zwift website (Zwift.com), and then you open the software through the Zwift application!]
Pop in your email and password (and you can click the 'Remember me' button, so you don't need to repeat that each time), hit the 'Log In', and then 'Let's Go' buttons on the next two screens,, and you get taken to this screen:
We are now almost there. In this example, I'm using a Smart Trainer (Wahoo KICKR), a heart rate monitor (Wahoo TICKR Fit) and (personal choice), no cadence reading (the current KICKR Smart Trainer now has cadence integrated – i have an older model, with a separate cadence sensor), all connecting to an Apple iMac. These connect via Bluetooth, and a quick 'Search' provides the following: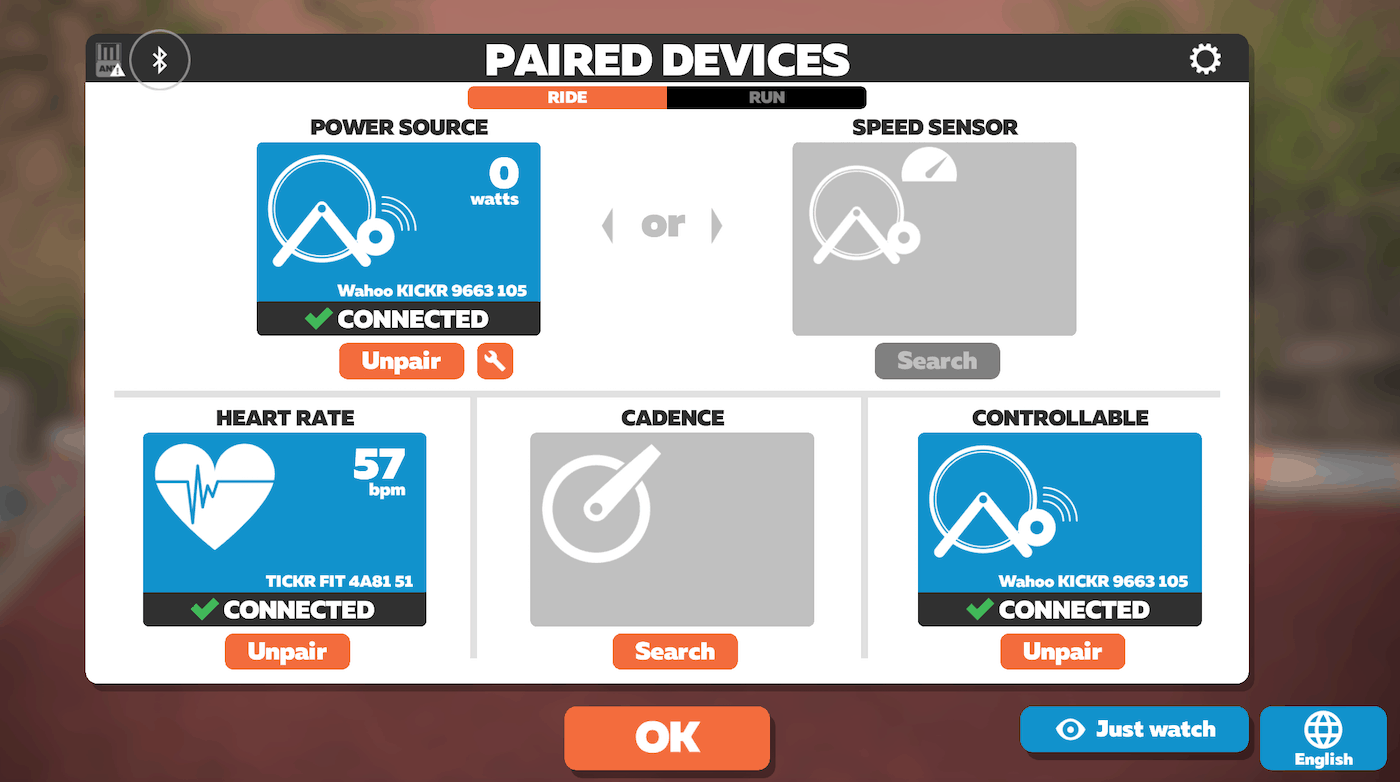 What does this mean… it means, we are almost ready to go!!!
It means that the power information used by Zwift, to calculate speed etc within the game will come from my Smart Trainer.
As in this case it is a Smart Trainer, it means that Zwift can also 'control' the trainer, to reflect for terrain / hills. It will also allow the use of 'Erg Mode' within structured sessions (more on this in future articles).
I'll also be recording heart rate data within Zwift.
As I'm not using a cadence sensor in this example and I don't need a speed sensor, no pairing is required for those two grey boxes.
Ready to ride? This what you see:
And with that, your first Zwift experience is just moments away! Click 'RIDE', get on your bike and away you go.
Is that it? It can be… but of course, as I alluded to above, there are LOTS of ways to use Zwift, different ways to train and options that will keep the whole immersive experience fresh.
I'll delve into some of those in more detail for Part Two of this series, when I highlight FIVE DIFFERENT WAYS TO EXPERIENCE ZWIFT.
And another thing… The Companion App!
Ok, before we end this initial introductory lesson, there's one other addition to add to your Zwift toolkit, and it's called the Zwift Companion App. You can think of this as turning your mobile phone / device into a remote control for Zwift. It will also show you your ride data / ride history / allow you to find and follow other riders / join events / message other riders and much, much more. Confused? Think of it like this:
Zwift website (Zwift.com) – create account / support / shop / tips
Zwift application – 'the game', that you download and runs on your chosen device(s)
Zwift Companion App – as its name suggests, the 'companion' that supports the Zwift experience, both 'in game', and for scheduling rides / social interaction and lots more.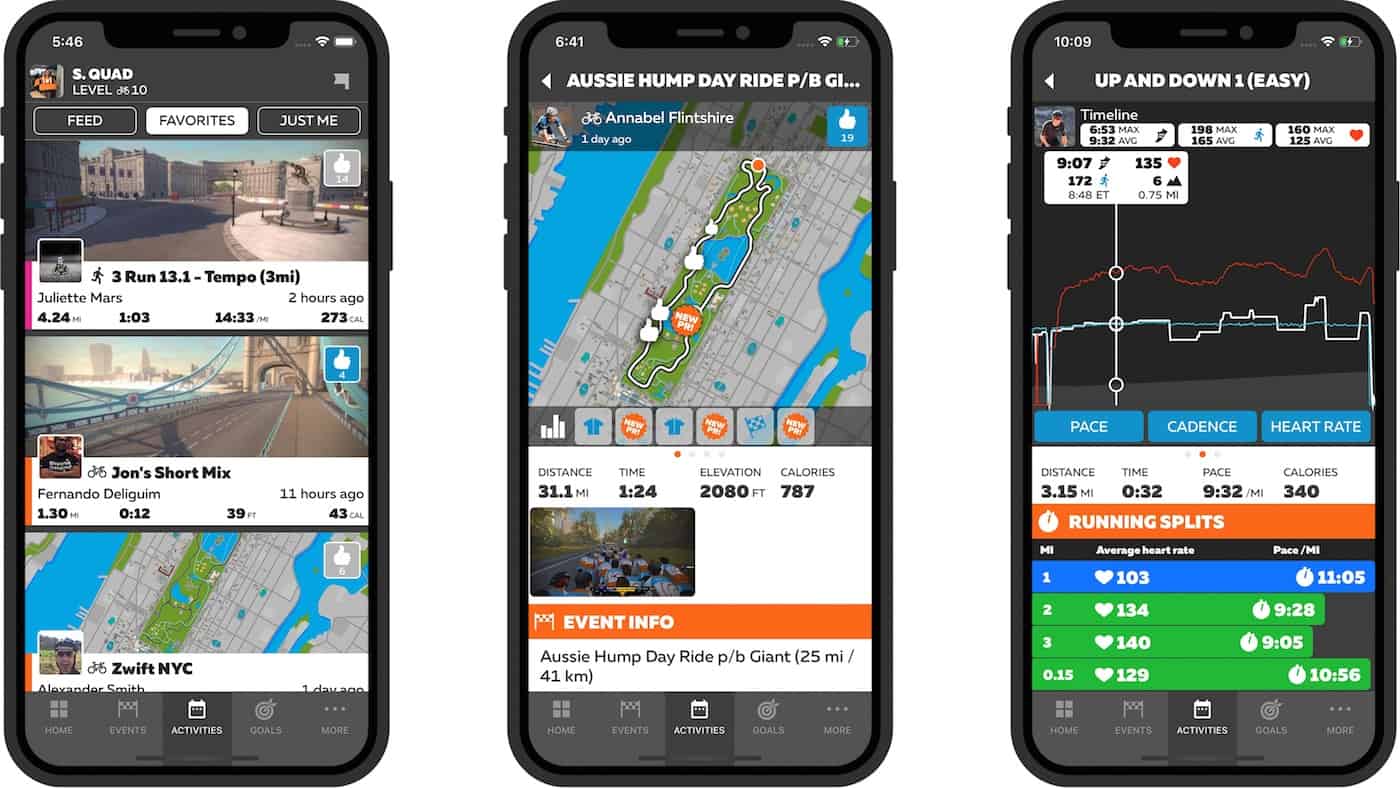 And finally, you can run on Zwift too…
Ok, while this particular feature is cycling focussed, as a triathlon site we should also mention in this introduction that Zwift can also be used for running. I'll highlight this area in more depth in future articles, but taking the immersive game experience from the widely used cycling platform, an increasing number of runners and triathletes are also now using Zwift to make the treadmill less 'dreadmill'.
You can find out more about Zwift Run here – https://zwift.com/run – and don't forget, that if you are a member of British Triathlon, then you can claim a Free Zwift RunPod, courtesy of Zwift's Official Training Community partnership with the national governing body.