I recently put together a back-to-basics, introductory 'where do you start?' guide to the market-leading indoor training software, Zwift.
That first article ended at the point where you would be in a position to begin your first ride. What I also indicated was that what and how you choose to ride on Zwift is more than simply press go and pedal. So, for this second feature in the series, I'm going to give you an overview on five different ways to experience Zwift.
How do you do the Zwift training program?
If you are completely new to the platform, or have yet to venture beyond simply getting on your bike and pedalling, hopefully this will give you some ideas on how to integrate some of the opportunities that exist to improve your own training, for both performance and enjoyment purposes. And note, this isn't an exhaustive list either…
And with that, let's dive straight in.
1 – Zwift rides
Ok, so having said that there's lots of options… one of those is indeed, 'Just Ride'! Of course, there's a little more to it than that and still plenty of options to choose from.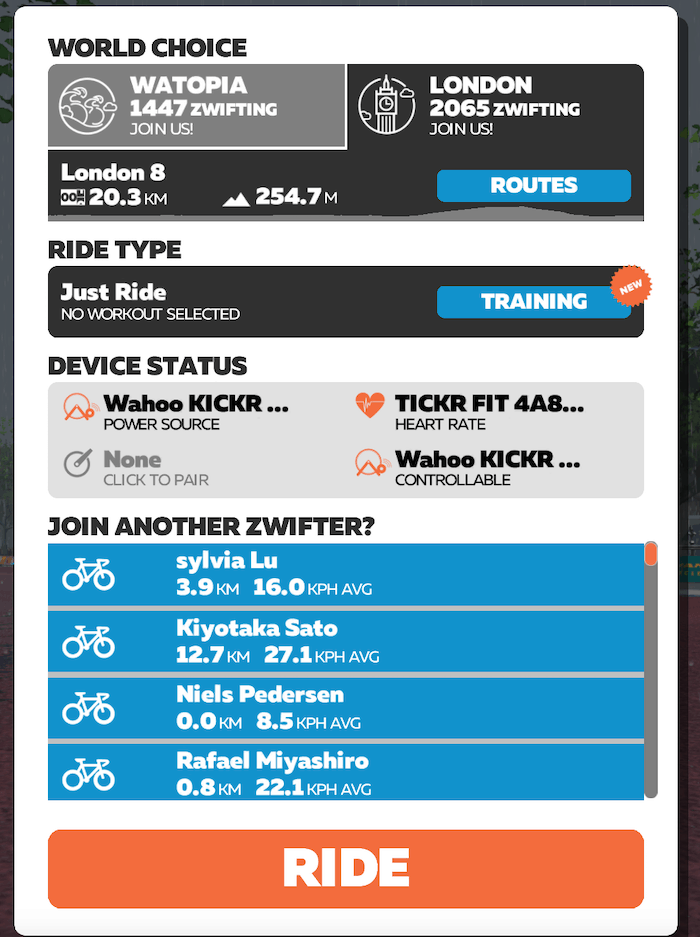 The graphic above is an example of where we finished the first part of this Zwift series. But, just like in the real world, in Zwift you have some virtual choices to make before you pedal away.
Where are you going to ride?
Zwift has a number of courses available (sometimes also referred to as maps or worlds), namely:
Watopia
Richmond
London
New York
Innsbruck
Yorkshire
France
Paris
Makuri Islands
Bologna (Events only)
Crit City (Events only)
Watopia is Zwift's own world (and for many Zwifters, regarded as the best and most popular in terms of options, graphics and overall experience). It features jungles, volcanoes, Italian villages, mountains, deserts, bridges, underwater worlds and more, including the replica climb of the infamous Alpe d'Huez – plus plenty of flat road options too.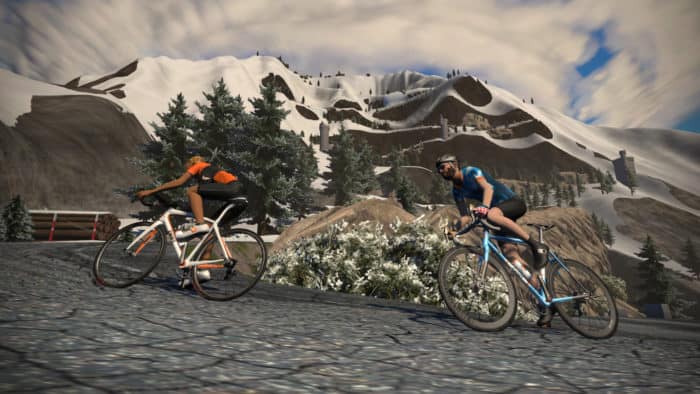 As the 'home' course of Zwift, Watopia is available at all times, along with a guest maps from the others available which may change daily. On the example above, you can see that London is the second map available when this screenshot was taken. You can see what the schedule Guest World maps is on your Zwift login screen (example below), or on one of the many Zwift community website available such at Zwift Insider and What's On Zwift?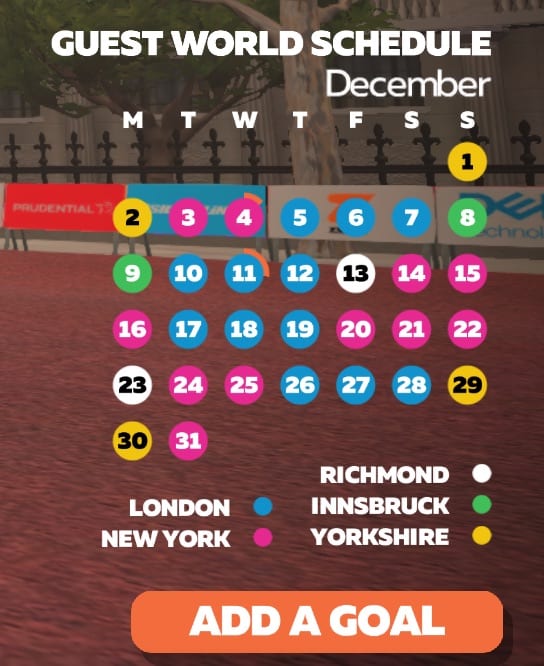 What route are you going to ride?
Ok, now having chosen which course / map / world you are going to ride on, perhaps the more important choice is which route you are going to ride, within that world?
Each route will be of a different length and have different terrain (climbs), which could be quite key depending in the session that you plan to do. For example, if your intention is to do a relatively easy ride and keeping you power output within a steady Zone 2 / Zone 3 range (perhaps replicating a standard, endurance group ride over a gently rolling route), then picking a course that features the Alpe Du Zwift on your smart trainer might not be the best option.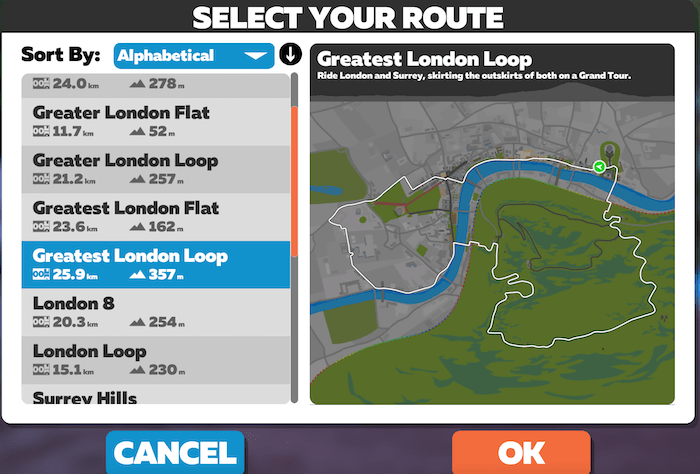 Alternatively, if you want to combine some hills with flat terrain, then choosing a London route such at the 'London Loop' would be ideal, as you get to (virtually) climb and descend Box Hill within each 15km circuit.
My personal experience would be to try some different routes out to find your favourites (laps of the Jungle Circuit on Watopia is my go-to default!) and/or lookup the details on each of the routes online to see what best fits to your training needs.
2 – Zwift Workouts
The next type of training session that you really should consider if you are trying to build structure into your plan is what Zwift would refer to as a Workout. These are structured / interval style workouts, which cover a wide range of different purposes, focussing on specific intensities and may be develop endurance / speed / threshold ability etc., depending on your particular goals and time of the season.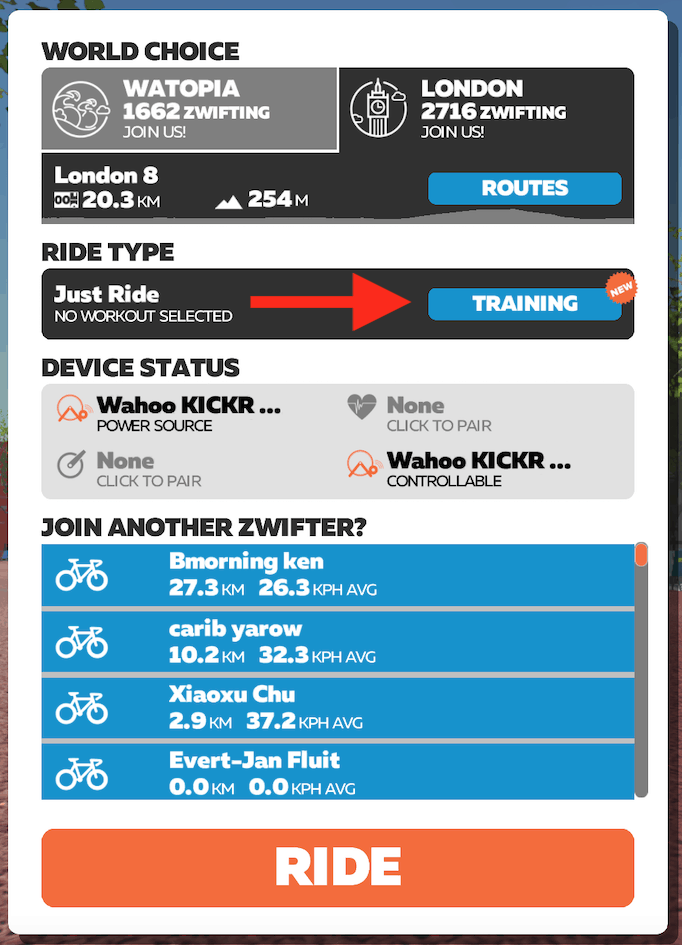 You can set a workout on the RIDE TYPE button on the screen above. The default position is Just Ride (covered in section one above), but if you hit the blue TRAINING button, you will get this screen: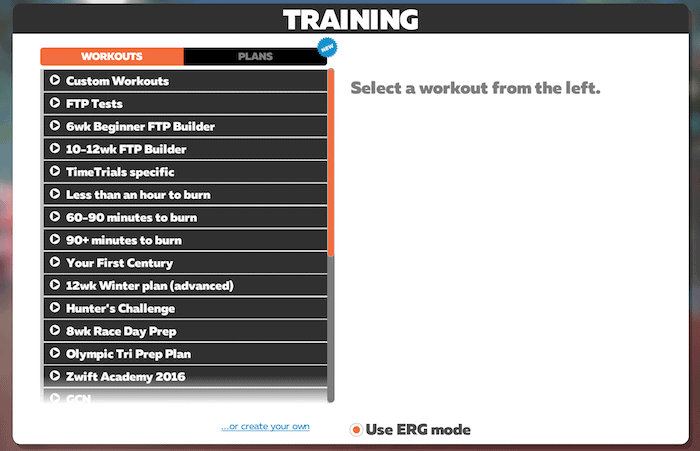 You can now access hundreds (possibly thousands?) of pre-set workouts and tests, categorised by time / type / training plans and more. One particular set of workouts I have personally used for the past two years is called the '4wk FTP Booster'. This is a set of workouts created by Kevin Poulton, a coach to World Tour riders, who famously guided Mat Hayman to success at the 2016 Paris-Roubaix, with much of that preparation undertaken on Zwift, after breaking his arm six weeks prior to the race.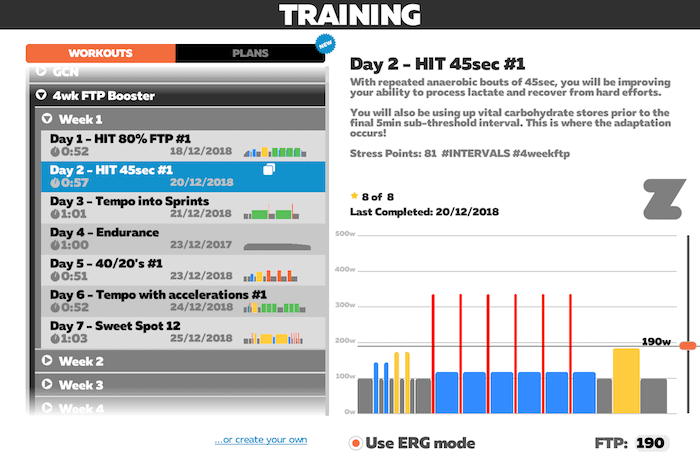 If you are self-coached and/or looking for some structure in your training, there are plenty of options that will help meet your particular goals.
Alternatively, you can create your own sessions (Custom Workouts), or even ride the sessions set by your own coach. Sessions set on Training Peaks for example can be easily uploaded into Zwift, without you needing to manually recreate anything.
Another personal experience tip? Sometimes you are not motivated to train, and so it can be easy to fall into a trap of "I'll just do 45/60 mins easy spin", with no particular goal or objective. While mentally, setting yourself a tough session in those instances is almost certain to end in failure, having a 'go to' session at those times can be very useful. I often use a session called 'Intermittent', which is tucked away in Week 4 of the '6wk Beginner FTP Builder'. The reason? It's far from an intense session, but it's just enough to keep your attention and is manageable for those times when your are perhaps not feeling your best – and always makes me feel better when completed. I'd highly recommend finding a session that works for you in the same way!
3 – Zwift group workouts & rides
Didn't we just cover workouts? Yes… but there are different ways to do them. One of the elements of Zwift is the option for social interaction in a remote / virtual environment, and the ability to ride with other riders from around the world. And that's where Group Workouts come in. As the names suggests, a Group Workout is one that you do with other riders… but from the comfort of your own home, thanks to the Group Workout functionality within Zwift.
How can you find a Group Workout? Quite easily… and there are lots of options, every day. As we mentioned in part one of this series (HERE), the Zwift Companion App is your friend here. Simply open the app on your phone / mobile device, and then go to EVENTS, and you will see a screen similar to this: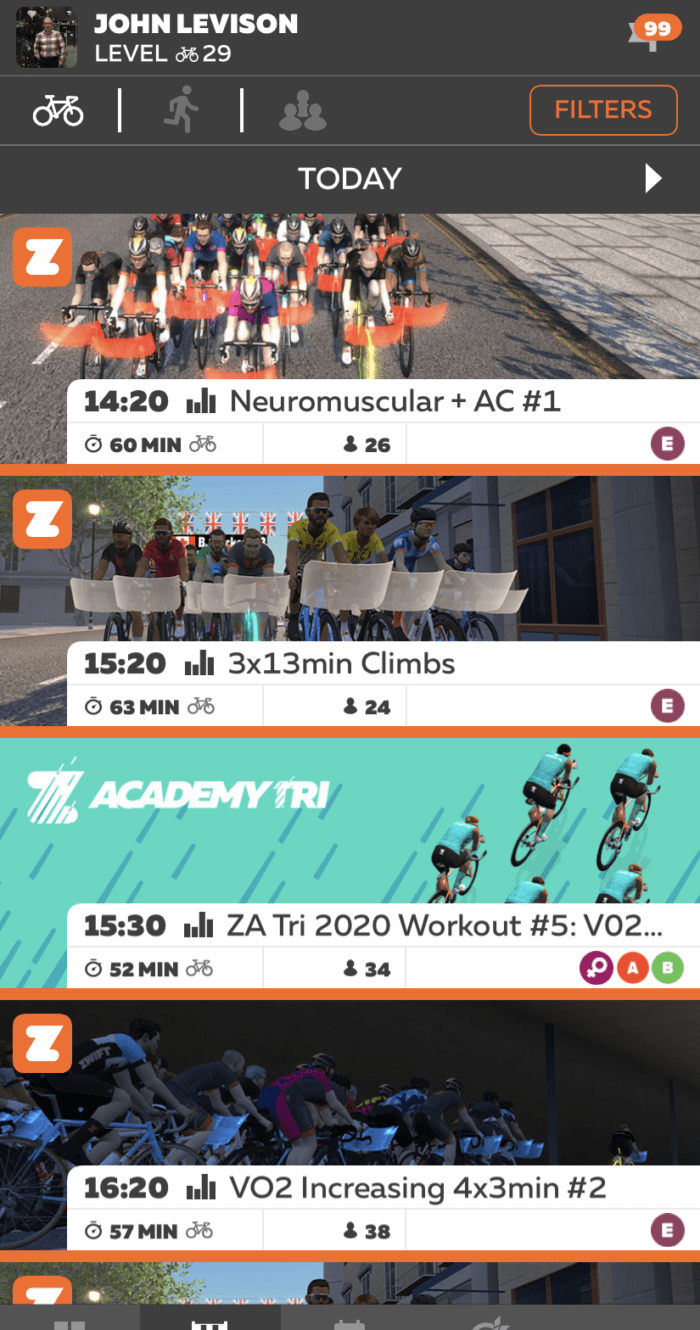 This screen will provide a list of upcoming Events on Zwift (of all kinds), but you can readily identify the Group Workouts using the FILTERS button: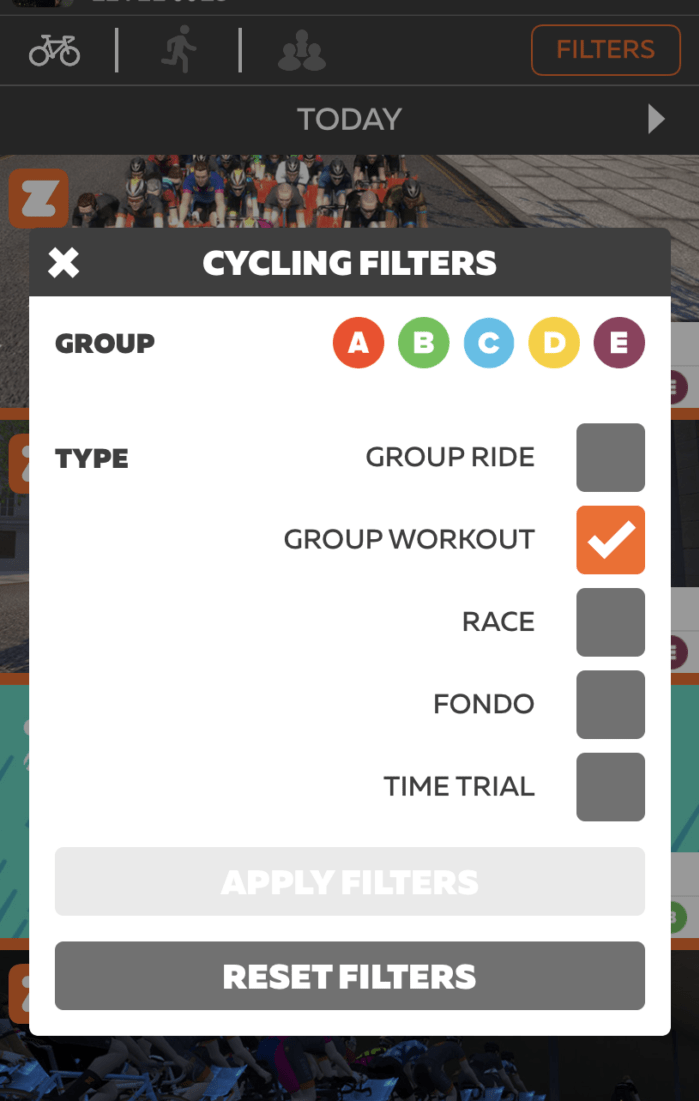 And there you go – a list of upcoming Group Workouts. Want to find out more? Simply click into the event and find out more about it. If you want to join, simply press the 'Plus' button and your reminder will be set. Of course, we would like to encourage to join us a Wednesday night, 7pm UK-time, for our own TRI247 Workout Series 🙂
Are you fast / good enough to join a Group Workout? This is where things get clever – in Group Workout mode, the 'group' will all be doing the same session, but what each rider will see is power targets that are based on their own individual level (based on FTP – Functional Threshold Power – which will be set within your own Zwift account). So yes, you can ride with Lionel Sanders and not get dropped, however slow you think you are. It works really well.
Personal experience feedback again? Group Workout have two key benefits for me:
the day / time is set. In my case, I know that 7pm, Wednesday night = a quality hour on Zwift. No thinking, no excuses, part of a weekly routine and a good habit to be in.
the 'group' environment REALLY works. Many, many times I know that I would not have finished a session if I was doing it on my own, but the knowledge that others are doing the same set at the same time really does provide additional motivation. Many comments made at the end of the session suggest that is a common theme.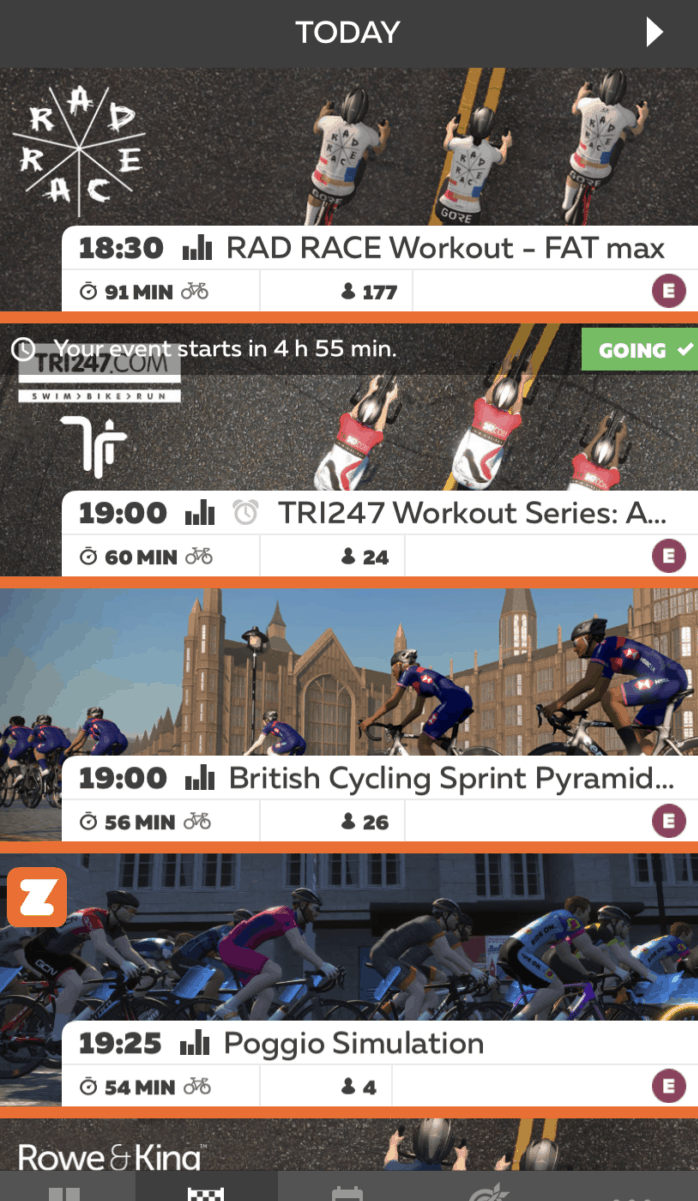 What about a Group Ride? What we are doing here is taking the 'Just Ride' concept but applying it to riding with others. Unlike a Workout / Group Workout, the session is not specifically structured to a range of intervals, in the same way that you may well undertake a weekend ride with your club-mates / training partners.
Unlike Group Workouts, where the absolute level of the rider is not a factor (as provided each rider hits their targets, the on-screen group stays together), in a Group Ride, you absolute level will impact whether you are able to stay with that group (or, perhaps, it is too slow for your ability). However, that is not a particular issue because Group Ride Events are categorised, so you you need to select a ride that best fits your own ability level. These categories are based on watts per kilogram (w/kg) and your FTP level: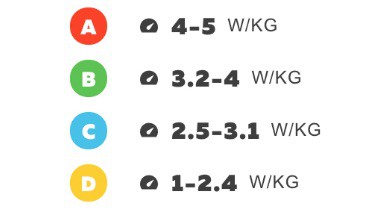 You can search for Group Rides in the same way as Group Workouts, using the filters above, and the details within each ride will typical give you more details on the objective of that ride. Here's an example: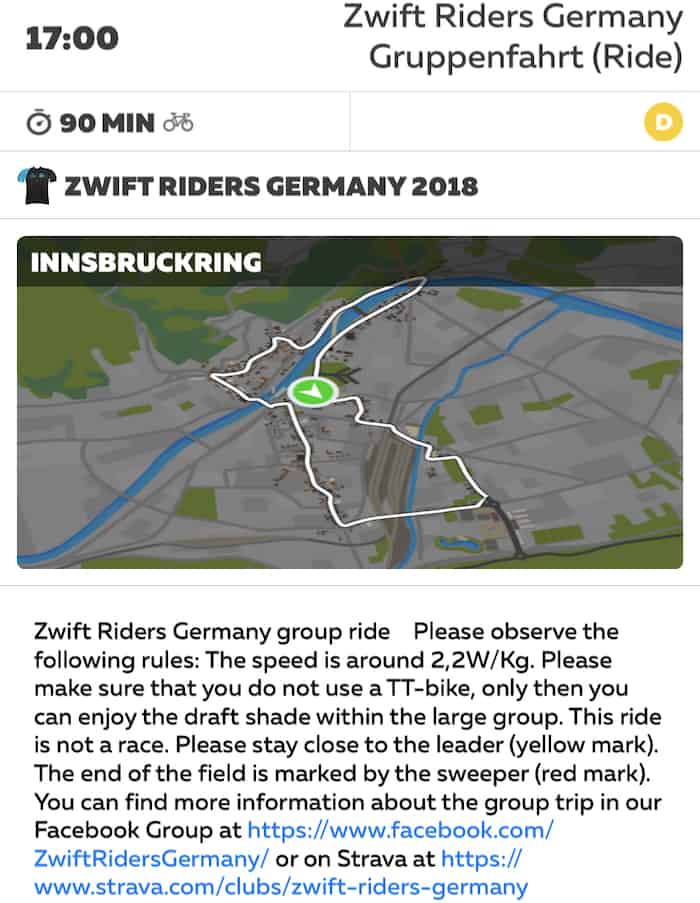 In this instance, for a 70kg rider, the effort level for this rider would be approx. 154 watts – remember, this is a Group Ride and not a race!
4 – ZWIFT challenges & tours
Running alongside the different training options that exist within Zwift, there are regular promotions, challenges and competitions. In many cases the 'prizes' are virtual – complete Task X and you gain a virtual jersey to add to your personal Zwift garage for example. There are also plenty of real prizes and opportunities to be won – entries to the Norseman Xtreme Triathlon, London Marathon entries (on Zwift Run) for example – with different challenges available most months. At the time of writing, you can win entry to the 2020 Prudential RideLondon: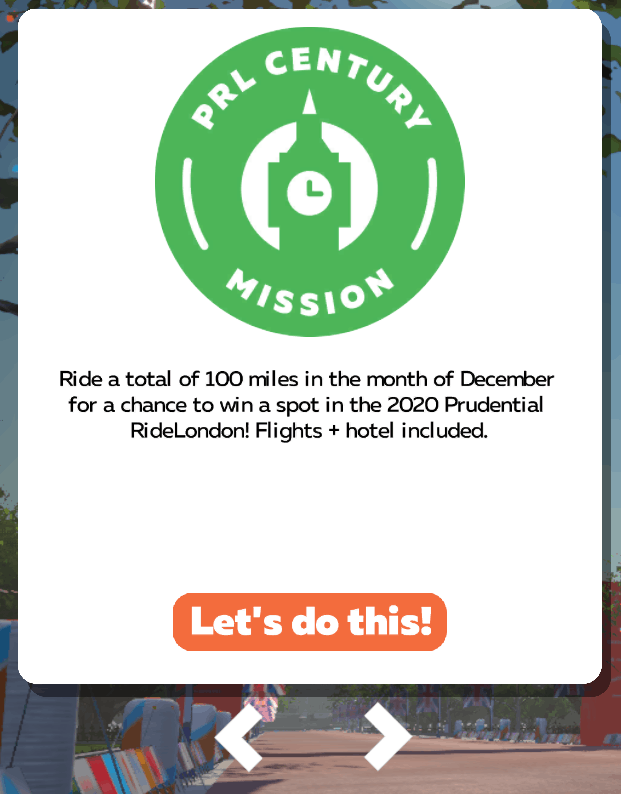 Possibly the biggest annual participation event on the platform is the annual Tour De Zwift. Probably best described as a series of 'virtual sportives' through the month of January, the rides covered all of the Zwift maps in a series of stages (including one up the Alpe du Zwift). I did many of these in January last year and have to say that they really did provide an excellent training focus through the month. There are opportunities at different times over several days to complete each stage – plus the chance to 'catch up' on any you missed towards the end of the month. Highly recommended – you can ride them as hard or easy as you like.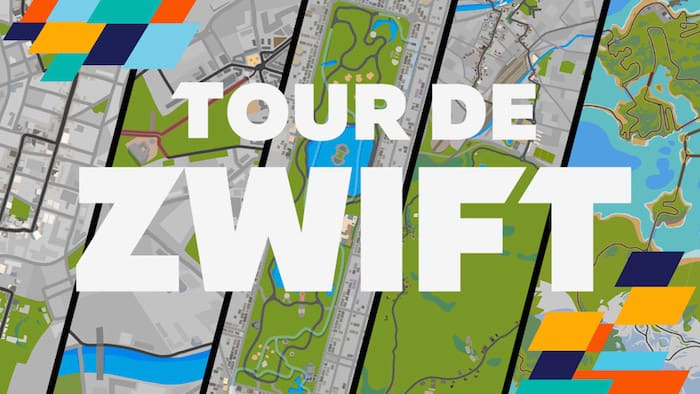 5 – ZWIFT racing
And of course… you can race on Zwift! While there have been high profile developments in terms of World Championship, National Championships and Professional Leagues on the platform, the world of eSports / eRacing is available to everyone – and on Zwift, you can often have many choices every hour, all around the clock.
In parallel with how Group Rides work (above), races are also categorised across A / B / C / D, so choose the grouping that best fits your ability, sign up to the event in the same way and get stuck in. It's worth checking on the specific rules (if any) that apply to the race, as it may be a requirement that riders wear a heart rate monitor (for validation purposes) / must have cadence data / must be using a smart trainer or power meter etc. Whatever you do, PLEASE do make sure that your weight registered in Zwift is accurate! This is key to ensuring that you performance is accurate (and fair…) within the games.
Beyond that though, if you are looking for a way to get in an intense session, there's little like a race to get people motivated. And you won't need to travel either. Good luck!