TRI247 Workout Series #64 – Hurtbox Time Bomb Intervals
Train with Hywel Davies on Zwift
Wednesday, 20th

 March 2019 7.00pm UK time on Zwift
For this week's TRI247 Workout Series group workout on Zwift, we have a brand new session from a first-time ride leader to our weekly session… and it looks set to be a tough one!
Leading the way this week is Hywel Davies, an athlete (and now coach – www.tri-becoaching.co.uk), who has perhaps one of the most varied and consistently successful sporting C.V.'s in the sport today
The Hurtbox Time Bomb session
Wednesday's workout is relatively simple in structure, but don't let that fool you… we are expecting this one to be a very challenging, but rewarding hour of work.
The main set consists of 18x two-minute intervals – but with a couple of twists…
Split into two sets of 10 and 8 respectively, the efforts comprise of:
90 seconds at close to threshold effort, straight into 30 seconds above threshold
As each set progresses, the recovery between each interval will decrease by 5 seconds each time
What starts off as relatively comfortable for the first few reps, will gradually get MUCH tougher thanks to the combination of accumulated fatigue and reducing recovery – hence the 'Hurtbox Time Bomb' name of this session. It's a challenging set – so perfect for the group workout motivation.
[TIP – It is always worth having the (free) Zwift Companion app to hand on your mobile device. Within the workout screen you can toggle your FTP by +/- 10% 'on the fly', which will immediately change your power targets during the session. Legs feeling a heavy, can't quite hold your power targets? It happens! Rather than can the session, how about moving your targets down 5% first, before giving up completely? Alas, the body isn't a machine and can't always deliver as you hope/think it should, so a bit of flexibility and not getting too obsessed with the numbers can be a good thing!]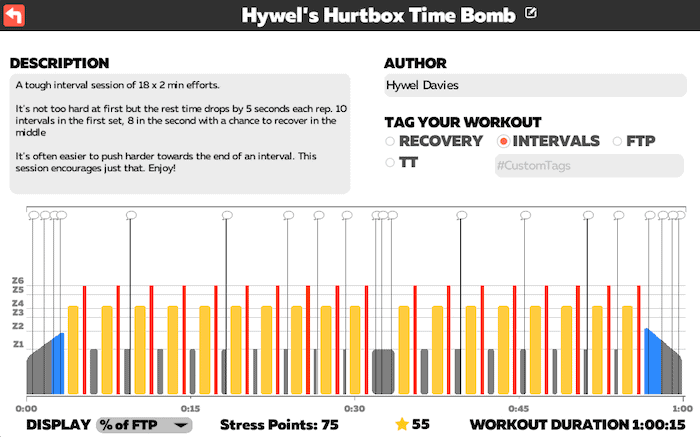 About Hywel Davies
Hywel's sporting resume is remarkable, extensive and varied. Within triathlon, he as won at every distance from Super Sprint through to and including double iron-distance. A Sub-9 iron distance finisher on many occasions (most recently at IRONMAN Barcelona 2018), he's also run a 2:30 marathon, set multiple endurance world records in indoor rowing and won British, European and World Championship medals across a range of sports.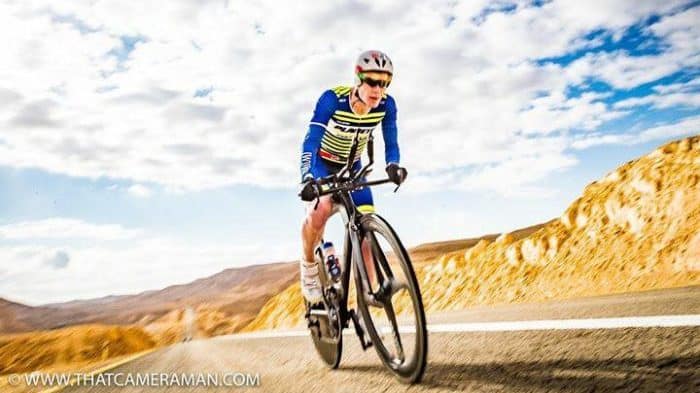 Prior to triathlon he was the premier Cross Training athlete in the world, unbeaten for many years including wins at the 'Best of the Best', Ultrafit, X Zone and was the 2004 World Ultrafit Challenge Champion.
Still racing and training hard in his 40's, Hywel is now passing on his extensive experience and knowledge as a full time coach through TRI-BE Coaching (https://www.tri-becoaching.co.uk/).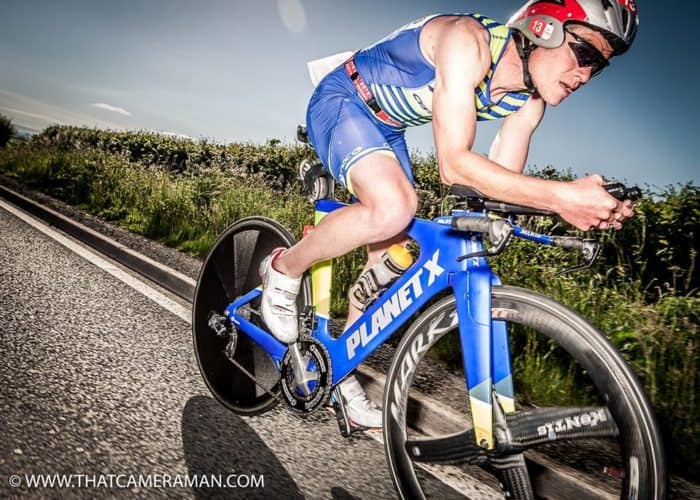 Join us at 7p.m. on Wednesday 20th March 2019 (UK time) for another quality workout, where we'll be riding the virtual roads of the London. Set your reminder now on the link below or via the Zwift Companion app.
The session is genuinely open to everyone of ALL abilities. Group workout mode works fantastically in Zwift and ensures that the power targets are tailored to YOUR level. So, it makes no difference if your FTP is 400 watts or 100 watts, your set will be specific to you – all while being part of the on-screen group.
You can find the custom workout files from all of the previous TRI247 Workout Series sessions on these links, to download and do ride again in your own time:
Custom Workout downloads from previous Zwift sessions:
Joining Instructions:
The workout will begin promptly at 7.00pm UK time, Wednesday 20th March 2019. It is worth logging in 10 or 15 minutes before the session to make sure you are set up and ready to go, where you will be able to warm up in the virtual 'holding pen'.
https://www.youtube.com/watch?v=XNTXAkky4qE
Look for the TRI247 Workout Series event in the list on the right of the screen once you have paired your sensors. Click to JOIN and you will be taken to the start line ready to begin the workout.
Make sure you have set your FTP level correctly before you join the workout as all the intervals are based on a percentage of FTP so it is important to get that right. If in doubt, dial the FTP number down 10 or 20 watts as it is better to finish the session than to feel like it is too challenging.
If you have never used Zwift before but don't want to miss out, head to the Zwift support page for tips on how to get the most out of your setup.
After the session head over to the TRI247 Facebook page for some post ride chat.
Zwift Group Rides: TRI247 Workout Series
The cool thing about a group workout on Zwift is that varying levels of ability can ride together in a group and all finish the session together having done the same relative effort, even if the actual watts are significantly different. It is not a race, but a shared goal to get a good session in the training log.