TRI247 Workout Series #26 – with Lesley Levison
Wednesday, 13th June 7.00pm UK time on Zwift
After a week off last week, the weekly TRI247 Workout Series session is back tonight. Ride leader this evening will be 'Mrs. Editor', Lesley Levison.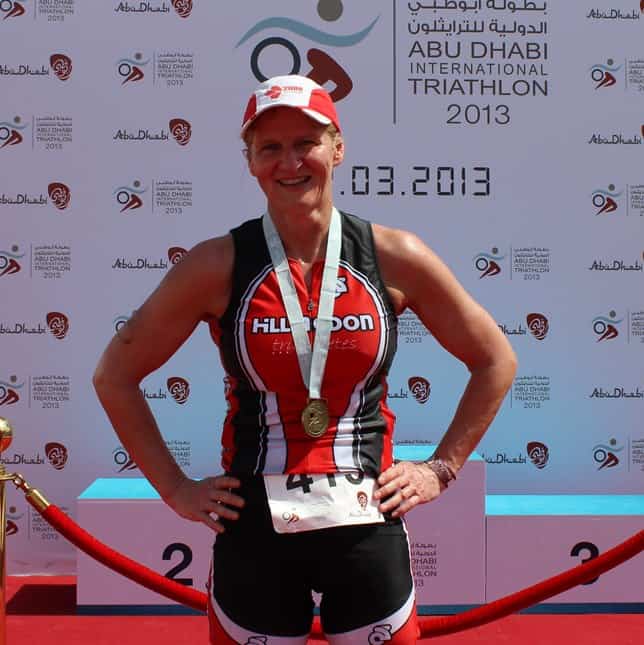 A fine swimmer, typically leading her category out of the water in most races, she has really taken to cycling in recent years. With a demanding job and limited time for training, Zwift has been her 'go to' resource for the past six months, with probably 90% of her cycling done indoors. It appears to be working too, having already set a new PB over 25-miles in her first Time Trial of the season.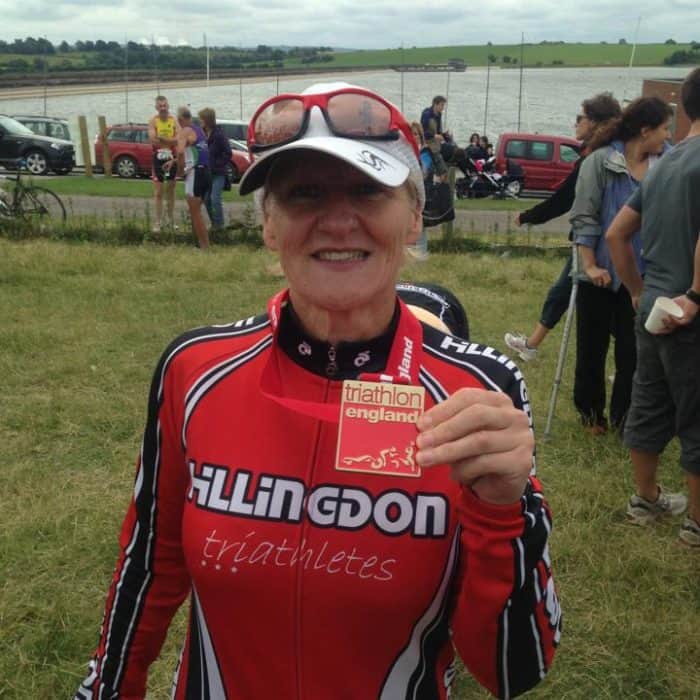 The Spiked Tempo Session
This session has been selected from the Zwift '4 Week FTP Booster' program, which was built by Coach Kevin Poulton, a World Tour Coach who has guided athletes to victory at the Paris-Roubaix, Grand Tour stage wins and more. This plan has been used extensively, with success, by tonight's ride leader – so here is your introduction to it!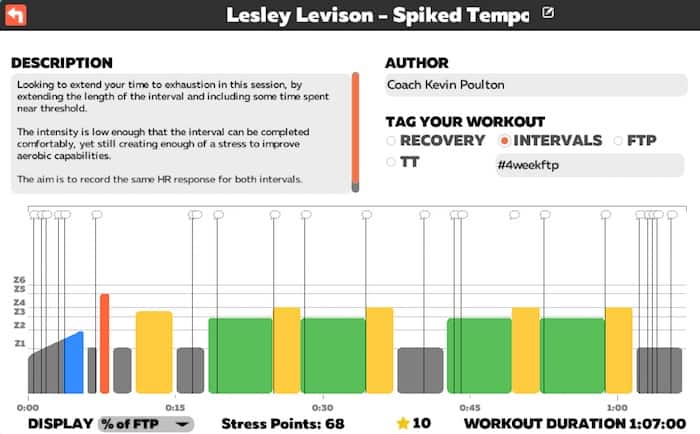 After a progressive warm-up and a four minute 'primer,' the bulk of the session is two, 20-minute efforts as:
7min [Z3] – 83%
3min [Z4] – 95%
7min [Z3] – 83%
3min [Z4] – 95%
There is a 5minute recovery period between each block.
The intensity of the efforts in this workout are relatively low, but focus is required due do to their length, which will provide the stimulus needed to improve your aerobic capacity. An ideal midweek workout if you are racing again this coming weekend.
You can find the custom workout files from all of the previous TRI247 Workout Series sessions on these links, to download and do ride again in your own time:
Custom Workout downloads from previous Zwift sessions:
Joining Instructions:
The workout will begin promptly at 7.00pm UK time, Wednesday 13th June 2018. It is worth logging in 10 or 15 minutes before the session to make sure you are set up and ready to go, where you will be able to warm up in the virtual 'holding pen'.
https://www.youtube.com/watch?v=XNTXAkky4qE
Look for the TRI247 Workout Series event in the list on the right of the screen once you have paired your sensors. Click to JOIN and you will be taken to the start line ready to begin the workout.
Make sure you have set your FTP level correctly before you join the workout as all the intervals are based on a percentage of FTP so it is important to get that right. If in doubt, dial the FTP number down 10 or 20 watts as it is better to finish the session than to feel like it is too challenging.
If you have never used Zwift before but don't want to miss out, head to the Zwift support page for tips on how to get the most out of your setup.
After the session head over to the TRI247 Facebook page for some post ride chat.
Zwift Group Rides: TRI247 Workout Series
The cool thing about a group workout on Zwift is that varying levels of ability can ride together in a group and all finish the session together having done the same relative effort, even if the actual watts are significantly different. It is not a race, but a shared goal to get a good session in the training log.