TRI247 Workout Series #56 – Micro Burst Intervals 2
Wednesday, 23rd

 January 2019 7.00pm UK time on Zwift
This week's TRI247 Group Workout Series of Zwift will see the return of the Micro Burst Intervals 2 session.
With January's Tour de Zwift still in full swing and proving very popular, a couple of weeks ago we did our original Micro Burst Intervals set, as a contrast to the endurance / threshold type work that many of you (and me) have been doing during those events in recent weeks. That approach seemed to work well (we finished it still in one piece…), and so this week is a good opportunity to go with the sequel to that one.
The Micro Burst Intervals 2 session
If you've ridden the original Micro Burst Intervals session, this one is an adaptation and development of that.
This time we are going to do three blocks of short intervals (5*20secs, 6*15secs, 7*10secs) at significantly above FTP level – and then repeat that. As the interval length decreases, the power targets increase and the rest intervals will also be reduced. It does feel a bit tougher the second time through…
This is not an easy session and certainly not one to arrive tired for, but it is very achievable and realistic. If you are looking for workout to complement your longer intervals base / sweetspot / threshold work, then this one will provide something a little different. The intervals are structured as:
5*20secs @ 150% FTP
6*15secs @ 175% FTP
7*20secs @ 200% FTP
In order to ensure you and your legs are ready for the main set, the warm-up will be relatively long, progressive and include a few short and sharp efforts to get the legs firing and ready to go.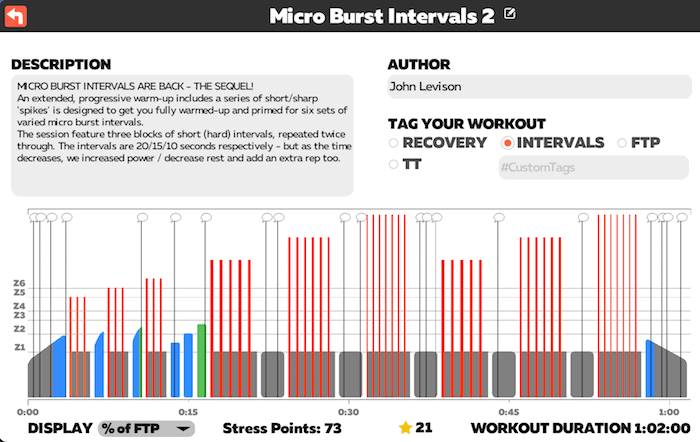 Join us at 7p.m. on Wednesday 23rd January 2019 (UK time) on the virtual roads of Watopia. Set your reminder now on the link below or via the Zwift Companion app.
You can find the custom workout files from all of the previous TRI247 Workout Series sessions on these links, to download and do ride again in your own time:
Custom Workout downloads from previous Zwift sessions:
Joining Instructions:
The workout will begin promptly at 7.00pm UK time, Wednesday 23rd January 2019. It is worth logging in 10 or 15 minutes before the session to make sure you are set up and ready to go, where you will be able to warm up in the virtual 'holding pen'.
https://www.youtube.com/watch?v=XNTXAkky4qE
Look for the TRI247 Workout Series event in the list on the right of the screen once you have paired your sensors. Click to JOIN and you will be taken to the start line ready to begin the workout.
Make sure you have set your FTP level correctly before you join the workout as all the intervals are based on a percentage of FTP so it is important to get that right. If in doubt, dial the FTP number down 10 or 20 watts as it is better to finish the session than to feel like it is too challenging.
If you have never used Zwift before but don't want to miss out, head to the Zwift support page for tips on how to get the most out of your setup.
After the session head over to the TRI247 Facebook page for some post ride chat.
Zwift Group Rides: TRI247 Workout Series
The cool thing about a group workout on Zwift is that varying levels of ability can ride together in a group and all finish the session together having done the same relative effort, even if the actual watts are significantly different. It is not a race, but a shared goal to get a good session in the training log.