Broken bones won't stop Ruth Purbrook aiming to be the fastest amateur in Hawaii
(Header image photo credit – James Mitchell Photography – www.jamesmitchell.eu)
2019 is a year when everything has not gone to plan for Ruth Purbrook, the winner in 2018 of the F25-29 category at the IRONMAN World Championship.
Seeking her third Umeke trophy from three Kona starts (she was also third in 2017), this time around she'll be racing in the 30-34 division. That might be for the final time however… as Ruth is hoping to be racing in the Pro ranks from 2020.

Despite injuries and broken bones, she's still managed to pull together a season which most would only dream of:
Continuing with our extensive coverage of the 2019 IRONMAN World Championship, I asked the Specialized Zwift Academy Tri Team member about her mid-season bike smash, not letting lofty targets be a burden, her very slick 2019 bike… and the thing she most looks forward to about arriving in Hawaii.
---
It's been something of a roller-coaster year for you – at least, it appears that way looking from outside (?) – a slow start with injury, back to form and some strong results, a massive performance at Challenge Roth and then back to earth with a (far too big and literal…) bump, thanks to a major bike crash and several broken bones. Not exactly the 'stable and consistent' that all the text books preach?!
It hasn't exactly been the year I planned, that is for sure! After a good year last year, this definitely feels like more of a roller coaster – the stress reaction at the end of April meant I missed three early races, and wasn't able to prepare for Roth in the way I wanted. So to have a good race at Roth and be just about to get back into training and build to Kona to be knocked off my bike was pretty frustrating! So no, it hasn't been a particularly consistent year, but it still feels like I have made progress on the bike and run, so hopefully I can show that in Kona.
https://www.instagram.com/p/BzpH6nVB6Hx/
Before all of that, perhaps the first piece of big news of 2019 was your selection fo the Specialized Zwift Academy Triathlon Team – how has that all worked out… and how is the fab orange bike?!
The Specialized Zwift Academy Tri Team has been a whirlwind! Having the support of some amazing brands has been incredible, not just the bike but full indoor set up from Wahoo, wetsuit and swimskin from Roka, and SiS nutrition. Having the best kit is so motivating, and we have also had the benefit of being able to draw on the expertise of the brands, as well as get advice and support from Tim and Sarah. It has also been so much fun being part of the team and tracking the other athletes at their races, and following everyone's progress. The bike is incredible, so much fun to ride and so fast, and disc brakes are brilliant!! The only issue is you don't feel like you can go for an easy coffee spin on it. . . !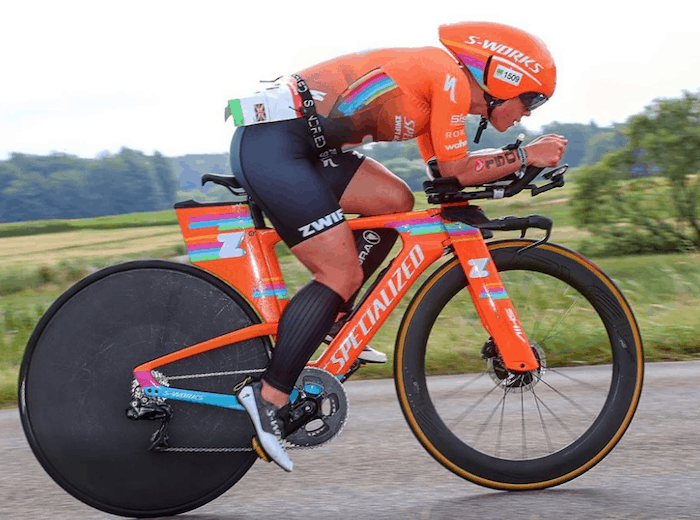 Going back to that bike crash, what happened and are you now feeling recovered from it?
So I was out for a ride with James Ellis and John Borton, just coming back towards Windsor on a very straight road, when a car coming towards us clearly didn't look and just pulled across us to turn off. James was at the front and went into the car, John managed to just avoid it and I went into James as he cane down the other side of the car. I knew as soon as I sat up my collarbone was broken, and then noticed the pool of blood coming from my face as well! Fortunately I seem to have healed up quite well, the swim is taking some time to come back but I was able to get back to biking and running pretty quickly.
https://www.instagram.com/p/B0M6Jg4hOYh/
You recently raced at the IRONMAN 70.3 World's in Nice and were the fastest GB Age-Group athlete. Given results over the past couple of years, 11th Age-Grouper and 7th in F30-34 would probably leave you 'unhappy' (!)… but considering what went before, is that actually more of a massive confidence booster?
Given that I didn't think I was going to be able to race Nice, and I just started swimming again post the collarbone op a week before the race, just to be on the start line was a big achievement! I just wanted to enjoy the course and being out there with so many friends, so to be first GB age-grouper back was a surprise. Given how close I was to the winning women, there is a part of me that is pretty annoyed at the driver taking away my chance to win, but to put together a decent race 5.5 weeks after surgery definitely put me in a more positive frame of mind for Kona.
Before last year's race we spoke (HERE) and you said, "I have invested so much (mentally, emotionally, hours wise, financially!), that I want to see the hard work pay off." You won your AG after finishing third in 2017, did that feel like validation of both your ability but also your commitment to your goal?
It was definitely a relief to win my age-group after all the hard work, and public setting of the goal! Honestly, it probably highlighted more the areas I need to work on – the swim and the run! With the longer term goal of going Pro, last year's race was confirmation that I am still a long way off being a competitive Pro, and that there is more work to do! Hopefully this year I will be able to get validation that looking to turn Pro next year is a good decision!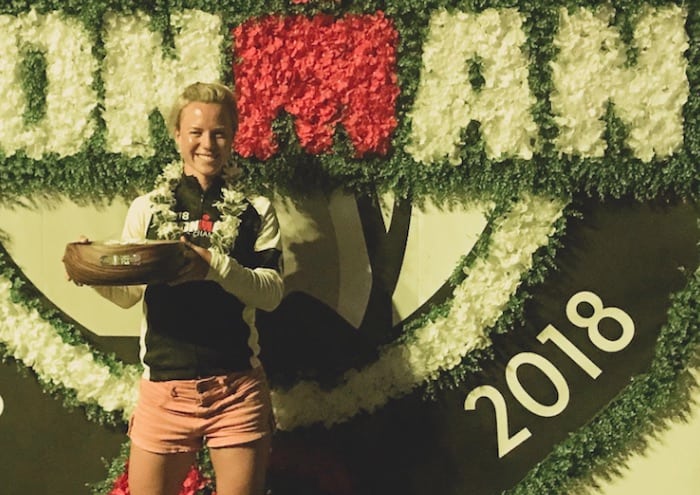 You've never been afraid to set very high goals (which you often hit…) and actually put them out there publicly – like aiming to be first Age-Grouper overall. For many, I'm sure that would feel like putting additional pressure on yourself, but from following your racing and results, it seems like that's not the case for you and you can still enjoy both racing and the results, even if a target is not quite reached?
I actually find that by making my goals public I get even more amazing support from the broader triathlon community as well as my friends. I am always going to be putting high pressure on myself, so in some ways sharing it helps. I love racing, and even if I don't meet my goal like in Roth, I generally love the race atmosphere and competition, and being able to see what I can do performance wise.
https://www.instagram.com/p/B23NYvBBS30/
You manage your training and racing around a far from 9-to-5 role supporting a Senior Executive in the city – has that role been just as full-on this year as last?
Yes this year has been pretty full-on up to the last month when it was a bit quieter, but that coincided with my crash so I wasn't able to take full advantage of getting more training in! However, I have had my sabbatical signed off for January so the end is in sight!
When did you arrive in Kona – and it being the third year now, do you feel a lot more comfortable knowing the venue, where to eat, where to shop, train and all of those logistical elements?
I arrived on the 27th, coming out a bit earlier this year. It is definitely easier knowing the places to go, where to get good coffee and food, and some good places to train. It is also nice being out here before it gets too hectic!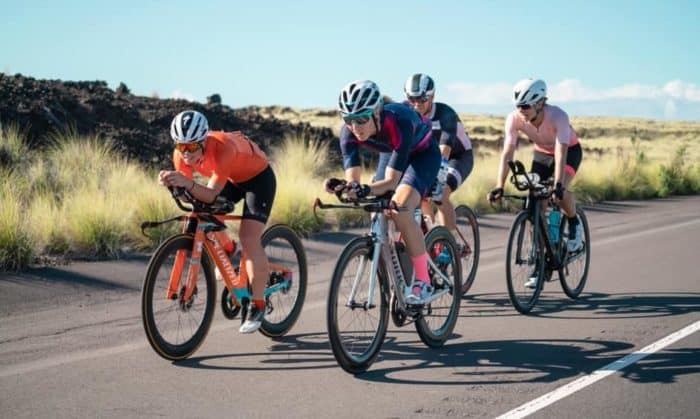 You won the big fruit bowl (!) lat year – the Umeke – just wondering where you keep it… and did it end up being a fruit bowl?!
It is kept on a shelf in the kitchen, not quite a fruit bowl but it does have a random assortment of bits in it!!
Finally, forgetting all the racing / training / results /performance elements… what was/is one thing you are most looking forward to about going to Hawaii?!
The most magical thing is swimming in the ocean and bumping into the wild dolphins – is just amazing!