Purbrook and Munday are the fastest Brits on the French Riviera
Tough competition at the 2019 IRONMAN 70.3 World Championship
Who were the fastest Brits and the podium winners In France? Let's get to it, starting with the women…
(FIND THE PRO REPORTS HERE >>> WOMEN | MEN)
British Age-Group Women
Fastest Brit, 11th overall and 7th in her Age-Group might typically be considered a disappointing performance for Ruth Purbrook, one of the two British members of the Specialized Zwift Academy Triathlon Team.
An Age-Group winner in Kona last year and overall Age-Group champion at Challenge Roth this year, Ruth has been one of the very best Brits on the long distance scene for several years now. But, when you consider that a major bike crash left her looking like this seven weeks ago, with a broken collarbone that subsequently required surgery 10 days later… well, a stunning performance. Not only that, what a confidence-builder that should be ahead of the IRONMAN World Championship.
https://www.instagram.com/p/B0M6Jg4hOYh/
The second quickest British women overall, Rebecca Goodwin, was one of several athletes who also raced the previous week at the ITU World Championships in Lausanne where she won Silver in the Sprint Distance Champs. Rebecca was also the fastest Brit overall earlier this year at the ETU Middle Distance European Championships in Transilvania. In the same 30-34 category as Ruth, Rebecca finished one place behind in eighth.
The fastest female Age-Group athlete overall was the F40-44 winner, Johanna Daumas Carrier (FRA), with a time of 4:51:09.
Top Three British Female Age-Group Athletes
1st – Ruth Purbrook – 5:01:14 (F30-34) – 11th fastest AG athlete overall
2nd – Rebecca Goodwin – 5:05:00 (F30-34)
3rd – Jemima Cooper – 5:07:53 (F18-24)
https://www.instagram.com/p/B2HY43shC-y/
British Age-Group Men
The quickest two British male finishers were separated by just ten seconds on time. The first Brit – which earned him 13th position in the M18-24 division – was the recent British Triathlon Middle Distance Championship winner, Will Munday. Such was the depth of quality in the Age-Group racing in Nice, the top-28 fastest men overall were separated by less than 10 minutes, putting Will's overall AG finishing position as 33rd.
Just 10 seconds slower, one place behind Will overall and eighth in the M25-29 category, was Brett Halliwell, who earlier this year was quickest overall at The Championship in Samorin.
The overall Age-Group champion in France was Kristoffer Visti Graae (DEN), winner of M25-29 in a time of 4:15:38.
https://www.instagram.com/p/B2L0PoFhaut/
Top Three British Male Age-Group Athletes
1st – Will Munday – 4:26:26 (M18-24)
2nd – Brett Halliwell – 4:26:36 (M25-29)
3rd – Josh Holman – 4:29:58 (M25-29)
https://www.instagram.com/p/B2L3Wzuh9LX/
GB AGE-GROUP PODIUM RESULTS (Top-5 finish) 
IRONMAN 70.3 World Championship, Nice, France – 7/8 September 2019
1.9km / 90km / 21.1km
As with the IRONMAN World Championships in Kona (2018 summary HERE), Age-Group awards at the IRONMAN 70.3 World Championship run five-deep.
Even allowing for that, the depth of quality of the championships means that top finishes are very hard to achieve. After 10 podiums 12 months ago in Port Elizabeth (HERE) and seven two years ago in Chattanooga (HERE),  there were six trophies for British athletes to collect this year.
The sole Gold was from Linda Spillane (70-74), while Gill Fullen added a Silver in F55-59 to the Gold she won four years ago in Austria. Finishing in fifth place in F60-64, Barbara Holmes completed a World Championship podium triple within eight days after winning Gold (Sprint Distance) and Bronze (Standard Distance) in Lausanne.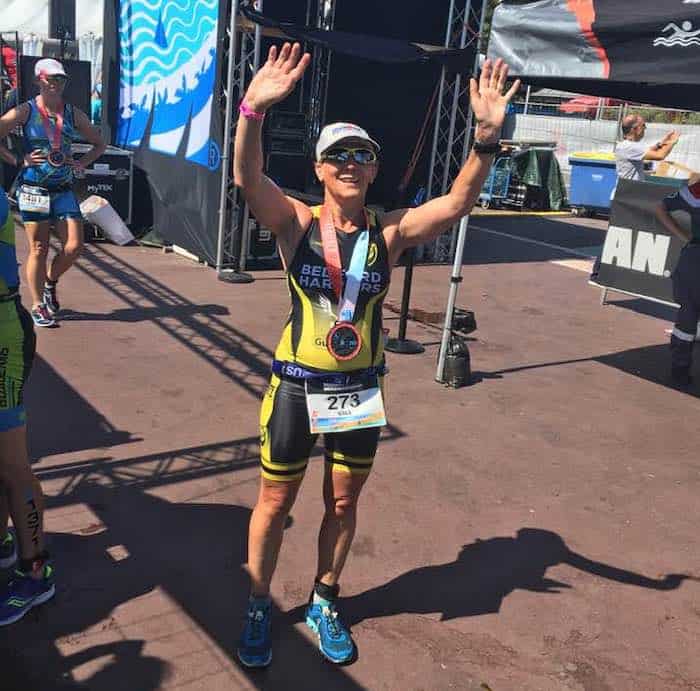 Also managing awards in both Lausanne and Nice was Donald Brooks. Winner of the M40-44 Standard Distance in Switzerland the previous week, he was fifth in France – one place and less than a minute behind Oliver Simon, the Tenby-based multiple winner of the Long Course Weekend. Second last year in M50-54, Graham Baxter was on the podium again, this time in fifth position.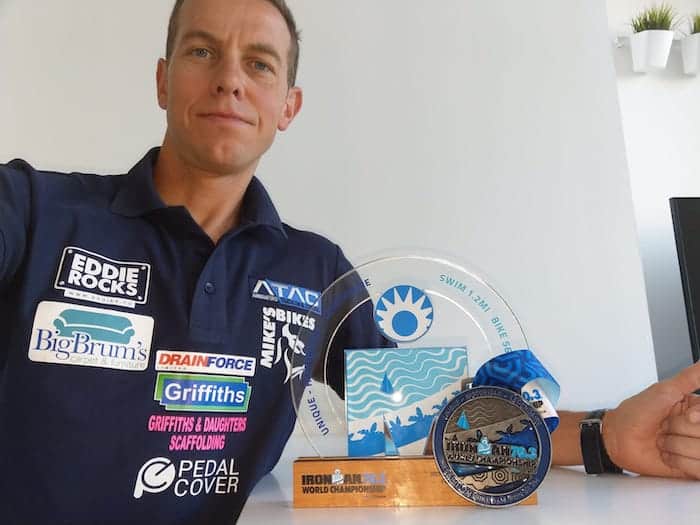 Here is the full list:
GOLD (1)
Linda Spillane (F70-74) – 7:32:03
SILVER (1)
Gill Fullen (F55-59) – 5:27:14
FOURTH (1)
Oliver Simon (M40-44) – 4:30:14
FIFTH (3)
Donald Brooks (M40-44) – 4:31:09
Graham Baxter (M50-54) – 4:42:44
Barbara Holmes (F60-64) – 5:58:12
https://www.instagram.com/p/B2MXLWhhveE/
The one that got away…?
There has been much discussion since the weekend over the number of 'dopers' ** winning in Nice, of which there were at least three that I'm aware of:
F50-54 – Brigitte McMahon (Olympic Triathlon Champion 2000)
M45-49 – Alexandr Vinokurov (Olympic Road Race Champion 2012)
M50-54 – Laurent Jalabert (Vuelta a España winner 1995 and Time Trial World Champion 1997)
(** Jalabert 'acknowledged an EPO positive but did not confess to doping…')
Much of the anger has been directed towards IRONMAN – the brand / organisers – perhaps understandably on an emotional level, but, in my opinion, at least in part unfairly. First off – and this really is going back to basics… it was the athletes who doped! So yes, direct your anger and frustrations towards them. We've seen this in several sports, notably most recently at the World Swimming Championships with the podium protests of Mack Horton and Great Britain's Duncan Scott towards Sun Yang of China.
Secondly, and this is where is does start to get a bit more complicated, IRONMAN is a signatory to the World Anti-Doping Agency (WADA), and thus – like every other sport and governing body also part of WADA – has to follow their rules and processes, which includes the sanctions (issued and expired) across other sports. That – to my perhaps limited understanding – means that it would be very difficult (impossible?), for IRONMAN to meet their WADA obligations, while also for example applying its own "lifetime ban" for dopers, were that a route it wanted to choose.
There is a some precedent in this regard… in that the British Olympic Association used to have its own by-law that athletes previously subject to doping bans could not then represent Great Britain at the Olympic Games. That case was challenged in court in a case brought by Dwain Chambers, the BOA against CAS (Court of Arbitration for Sport) – and the BOA lost the case and the by-law was dropped.
(It's worth noting the Brigitte McMahon has been regularly racing and winning ETU and ITU Age-Group events for the past seven seasons, including ten consecutive Gold medals from 2013 to 2017 inclusive).
In British athlete terms, these results directly impact Hywel Davies, who finished sixth in the M45-49 category of Vinokurov. You can read Hywel's own report on his race and the whole situation HERE.
💥Alexandr Vinokurov becomes the world champion!
We congratulate our general manager on winning the Ironman 70.3 World Championships 2019 in Nice! @alexandrvinokurov #ironman #ironman703 #ironmanworldchampionship #ironman703nice pic.twitter.com/B0NYPK5Jpq

— Astana Qazaqstan Team (@AstanaQazTeam) September 8, 2019