The man who made REAP Bikes happen…
It's been in development for over three years now, but the REAP TT/Tri bike made it's debut last weekend at the IRONMAN World Championships, ridden by Great Britain's Harry Wiltshire.
We profiled the bike last week (HERE), but in this feature we focus on the founder, Martin Meir, and how a "guy from Stoke" started from scratch to create the very distinctive new addition to the cycling landscape. We also find a man with a long history in the sport.
---
How did you get into triathlon and what is it that you like about the sport?
I was living in London, 22 years old and was having a few beers with a mate who had just completed a long distance race in Nice. After a few more beers I decided I should have a go and did my first triathlon at Halesowen with a pool swim. My sporting background was Sailing and Rugby, although at the time I was very good at being a student. The Halesowen Triathlon was a disaster, I got lost on the run, so I decided to do a half distance event four weeks later and that was it – I was hooked.
Triathlon does take over your life and I like the fact that is a challenge every time you go out. Only you know the prep you have done and you don't have to come first as the race is always a very personal challenge. I did triathlon into my 30's and ended up racing Elite. I raced for GB in Nice at the Long Distance World's and thought I was doing well until I saw Simon Lessing running the other way, and that put my performance into perspective.
And triathlon then stopped?
Yes, children came along and I also started my profession as a composites engineer. I set up my own business in 1997 specialising in the automotive and heavy goods industry. I found triathlon had given me that mental ability to not have as many boundaries, you set your own limits and that really helped me when setting up the business.
I was away from triathlon while the kids grew up, although as a family we were very active; taking the kids to football, rugby, cricket, swimming galas etc. It wasn't till the kids got to 9/10 years old that the bike came back out, as both kids got into triathlon. Lots of family bike rides ended up with my oldest child getting into the Academy Squad and regularly placing top 10 at national level.
So how did the move into creating a bike brand happen?
About three and a half years ago the company I set up in 1997 got involved in a contractual issue and the company ended up going into liquidation. As you can imagine it was a difficult time and I went away to lick my wounds. In a conversation with my wife, she said you will just have to go out and get a job. At that point I felt I was too old to be employed by other people and I felt strongly on what kind of message it sends to the children if I just give up now on my dream.
Moving forward and developing the business again was important and again I drew on the inner strength I had gained through sport. So, I sat down and came up with a plan. The majority of bikes are made overseas, in Taiwan etc…I knew I had a composite facility, composite knowledge and a sporting background so I had the nucleus of a business plan.
How did you take that idea and make it actually happen?
While putting together the business plan I went to see Dean Jackson at HUUB for some direction. I had reconnected with Dean at a triathlon event having not seen him for 15 years, and at that point Dean has just started HUUB. I asked him "with your industry knowledge, triathlon and cycling – where would you start with a new bike company?" Dean was a great help – he said he thought there was a gap in the triathlon market. His advice was to look back in time in order to develop a very specific triathlon bike. We had both grown up with bikes like Zipp 2001 and Kestrel, and back then I dreamed of owning one of those bikes.
Designing a triathlon bike also meant that we didn't have to adhere to UCI regulations and that allowed me more design freedom.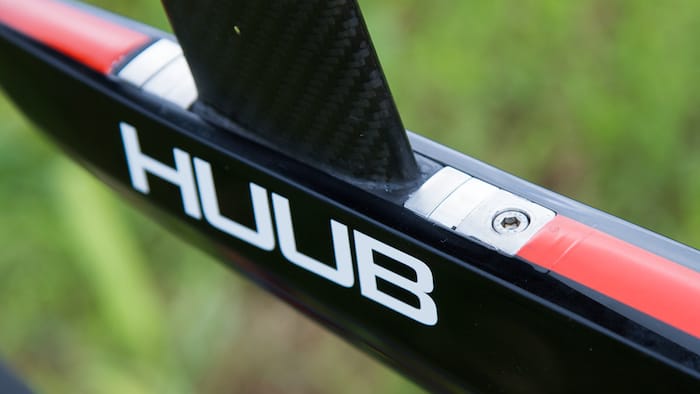 So you had decided on a triathlon bike made in the UK – what was next?
We wanted to put a team together to deliver the project. We looked at all the important elements of a triathlon – we knew we couldn't do anything about the swim but we felt we could influence the bike and the run. We wanted a fast bike that was aero and in some way reduced fatigue so the athlete could get off the bike feeling fresh, giving them more opportunity to have an optimal race. So, aero and comfort was important, but we also wanted the bike to be easy to use – it had to be easily serviceable. We wanted it to be easy to fit (for bike fitters) and we knew that people who spend £7k upwards on a bike are likely to travel with it, so it also needed to fit in a bike box. There were a lot of things it had to do, so I knew a good team was vital for the project.
Who did you get to make up the team?
We engaged with TotalSim (www.totalsimulation.co.uk), experts in computational fluid dynamics, who have a rich history in not just the automotive world, but cycling as well. They were involved in two Olympic cycles (2008 and 2012). We appointed transport and product design agency Quarterre (www.quarterrestudio.com) and Dean Taylor from Fit Me Up (www.fit-me-up.com), a chartered physiotherapist and bike fitter.
Dean Jackson was also still involved and we added an ex pro cyclist, and got Harry Wiltshire to give us a Pro triathletes input. We got everyone in a room and started to build the fastest triathlon bike we could.
How did the process go?
The overall process took longer than I expected and I also had to balance getting funding for the project. We used equity funding and worked with Gareth Mobley who instantly got the concept and idea which really helped. It took two years to get the bike to ride. We took a working model to Southampton University and were able to test it on the velodrome against the latest Cervelo, and take the data and use it to modify the design and really take the bike forward. We did experience a delay when the ITU required us to apply for approval to show the bike was safe and roadworthy. It took us six months to get the approval, but we are in a much better position having gone through the process.
So tell us about the bike?
The bike is a one-piece carbon monocoque, often described as a 'beam' bike and the materials we have used have made it particularly good at reducing road vibrations; it is a really comfortable bike. It's the first thing anyone says when they ride it, the next thing they say "it's really fast"… that is the printable version. I like to think it's the complete package. Once we had a working bike we gave it to Harry to "shake down" and Harry had it all winter. In my experience professional athletes tend not to look after bikes that well, but the bike survived.
What has surprised you about the project?
I think I was surprised how it all pulled together. We have recently been getting lots of exposure on social media with people talking about the bike but I have been living it for three years. We have achieved what we started out to do and I am really proud of that. The work we did around the velodrome showed that the bike outperformed the Cervelo by 10watts. How does a guy from Stoke with a fraction of the budget end up competing against the big boys? I am really pleased with what the team and I have achieved.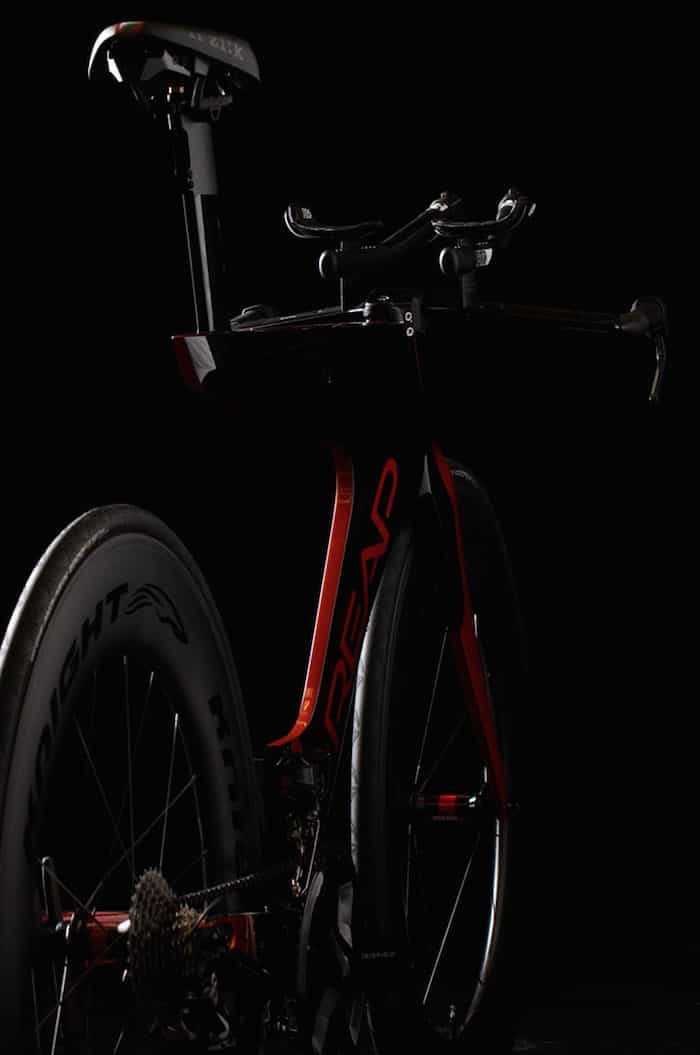 You had a stand at the Cycle Show in Birmingham last month, what was the feedback?
The show was good for us and particularly for me. I felt very proud watching people come onto the stand and look at the bike. Most people seem to do the same thing; they would smile and then appreciate the engineering. I do believe we have done something special and ticked all the boxes based on engineering potential. We came away from the show with a couple of people who we are building bikes for and that's a positive sign we have done something right.
You had Harry Wiltshire riding the bike in the IRONMAN World Championships this year how did his race go and what was is it like having a pro racing on your bike?
What a race, everyone I talk to was blown away by the whole thing. It is a nerve racking experience to have your bike at such a global event, and then there is always the added level of nerves when following an athlete you have worked closely with for three years. Myself and Harry chatted before the race and I asked him to run his own race and not feel obliged to try and smash the bike section to get coverage.
One of the comments on social media was about the tyre choice Harry had gone for. We know there are much faster tyres he could have used, he had faster ones in his bike bag but the faster tyres ran a higher risk of punctures, so we went with the least risk option. Harry had a solid race and executed his own plan and came away with his best Kona placing and in a stacked field. Whilst Harry's performance may have been slightly overshadowed by two stellar performances by other Brits, he is now the third fastest Brit ever in Kona, and that is astonishing when you think about the British athletes that have been there to race before; there a few world champions in that group of athletes.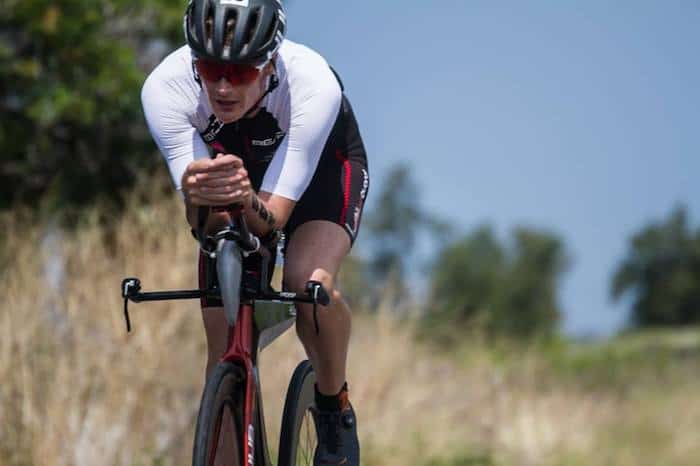 We set out to get a bike to Kona, we have achieved our goal and now know we are in a great position to move forward. I can't wait to have a mug of tea and a chat with Harry and plan next year; you never know, the Kona bike count may have a few more of our bikes there next time.
What does 2018 look like for you?
I approach the future from an engineering point of view rather than a marketing one. There isn't a graph in the office saying we must hit 1,000 sales each month. We want to make the best bike and really enjoy the journey. I often liken it to the film Field of Dreams, "If You build it, They Will Come". We want more people to join us on the journey, building a brand that understands what the athlete wants. We are looking to give people the chance of being part of something different, buying the bike we couldn't afford as kids.
On a personal note, I have decided I need to either get fit or fat and I am choosing fit. I am looking to get back into racing and have signed up to a long distance event in Spain and am still looking for that perfect race. We all want PB's and I believe the Reap can help me do that.
For more on REAP Bikes, visit: www.reapbikes.com.