Ahead of this Sunday's Columbia Threadneedle World Triathlon Leeds, 2013 ITU World Champion and 2016 Rio Olympic Games fourth place finisher, Non Stanford, is looking forward to racing on home soil – and fully expecting the pace to be 'on' from the start…
We talked home town advantage, crowds, tactics, form… and coming to terms with missing housemate, friend and training partner, Vicky Holland.
---
Non, how are you looking forward to racing without all the usual complications of travel, luggage, hotels and bike boxes to deal with?
"It is quite weird actually! With no travel and being very familiar with the surroundings you actually have to try and maintain a balance of not training too much because you have the time, and staying relaxed and fresh before the race. Of course, I'm really looking forward to racing in front on a home crowd on Sunday."
Last year, speaking to several of the international athletes, they seemed shocked and surprised by just how big the crowd support for the race was. Can you give us an insight into how it compared to other races you've done around the world?
"It really is unrivalled I think. Like you say, I think a lot of the international athletes that raced last year were gobsmacked at the size of the crowds supporting them. I was having a bit of a rough ride last year, not racing very well and while it is clichéd to say it… the crowds really did get me around that race. I think without them I'd have been tempted to step off the course long before the finish line!"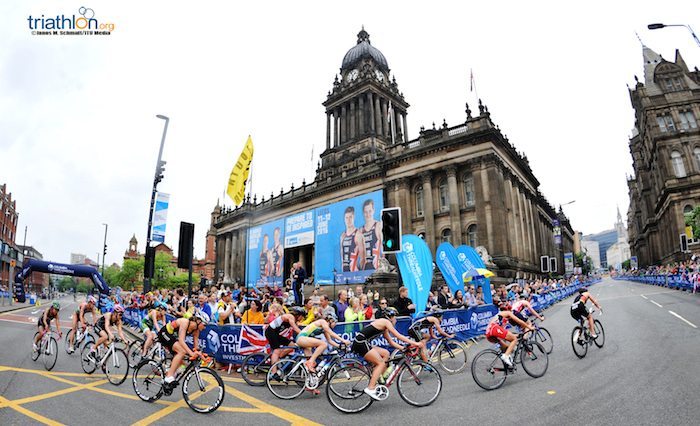 Last year we saw a breakaway right from the start of the race (Flora Duffy, Lucy Hall, Jessica Learmonth), and all three are racing again on Sunday. Are you expecting some similar tactics for the race this year?
"I think we can assume that the swim is definitely going to be 'on' from the start. With so many good swimmers, I know I'm going to have to be focussed to try and stay in contention right from the start. On the bike Flora is so strong – and so good technically too. With the city centre circuit, that plays to her strengths. I'm fully expecting it to be a very hard swim/bike and I'm going to have to work really hard to try and stay close enough to be in contention when we get to the run"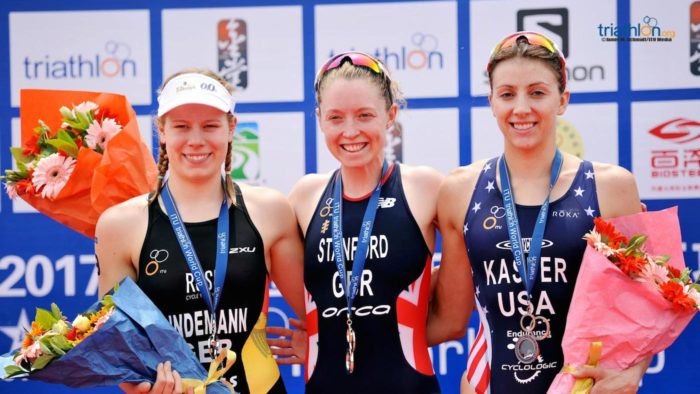 Are you happy with your fitness and form coming into this race and how do you assess your season to date?
"I'm pleased how the season has started. Winning the World Cup in Chengdu, China was obviously very pleasing. I was happy with Yokohama too – I probably had the best swim of my career there. Unfortunately I crashed on the bike and had some mechanical issues from that. While the final result (7th) wasn't the best, I still finished with the second fastest run of the day, so I think there were plenty of positives from the day too."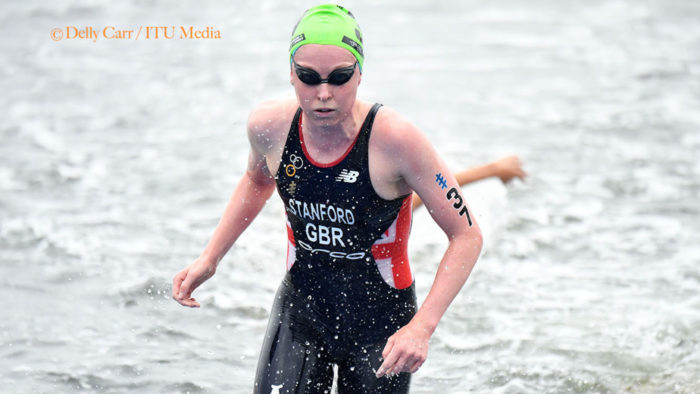 One of the big changes this winter is 'losing' your primary training partner (and housemate), Vicky Holland who has moved to Bath. How has that changed things and has it been difficult to get into a new routine without her there?
Nothing has really changed in terms of the training that we are doing, but of course it is different. There are lots of good athletes in the group here in Leeds to train with, but when you lose both a housemate and primary training partner, it does take a while to try and adjust. Vicky really was a major part and personality of that group, and of course she is sorely missed."