Sands Beach Hotel in Lanzarote has a long relationship with the BMC-VIFIT Pro Triathlon Team. On a recent training camp Pablo Dapena Gonzalez was happy to show off his BMC Timemachine 01 Disc to Chris Hovenden.
---
His breakthrough year
Pablo Dapena Gonzalez had his breakthrough year in 2018. His palmarès included multiple victories on the Challenge Family circuit and a standout victory at the ITU Long Distance World Championship.
Interestingly, despite being unable to successfully defend his world title, Dapena claims his favourite race experience/proudest moment to date is his second place finish behind training partner, and triathlon great, Javier Gomez at the 2019 ITU Long Distance World Championship hosted in his hometown of Pontevedra, Spain – "in my hometown with many friends and family it was crazy!"
Time to focus on the bike
Despite all of his success, somewhat surprisingly, it wasn't until the 2019 IRONMAN 70.3 World Championship in Nice, and to be specific 1.5km before the top of the Col de Vence, that Dapena realised that if he really wants to compete consistently for the top honours he needs to work on his bike!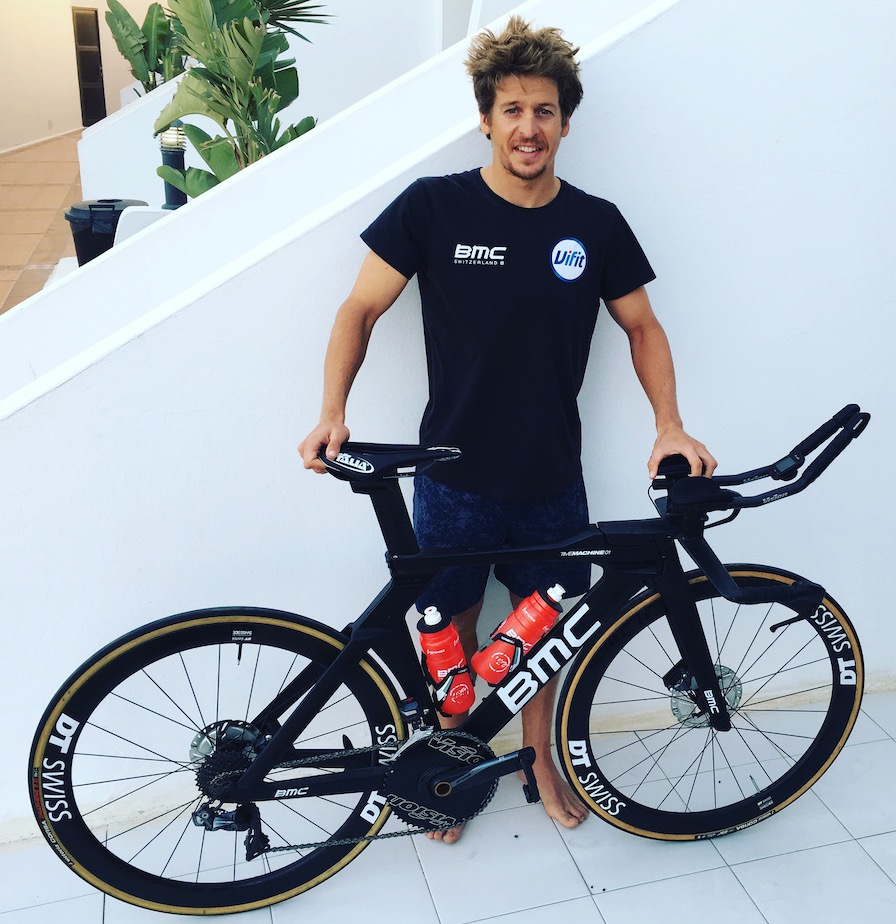 With 1500m to go to the crest of the climb the 'train' including hitters such as Sebastian Kienle and Bart Aernouts steamed passed, and with it any realistic expectations of a top-end finish – posting a 1.10.29 half marathon Dapena would finish with the 5th fastest run split. He crossed the line in 15th position.
The above was a watershed moment for Dapena – he explained that he finally listened to those that had been making suggestions regarding his bike set-up for some time: "I didn't feel really good on the bike, I don't know why, [and] many people told me 'you have to change' …after Nice I started to listen to what people told me…"
He used his time trial bike for the race, but accepted that had he had the chance to recon the course he may have opted for his road bike due to the unique parcours.
BMC Timemachine 01 Disc
Riding a frame size small, Dapena swapped his 170mm long cranks for shorter 165mm. Pablo reports that doing so has resulted in better sensations on the run.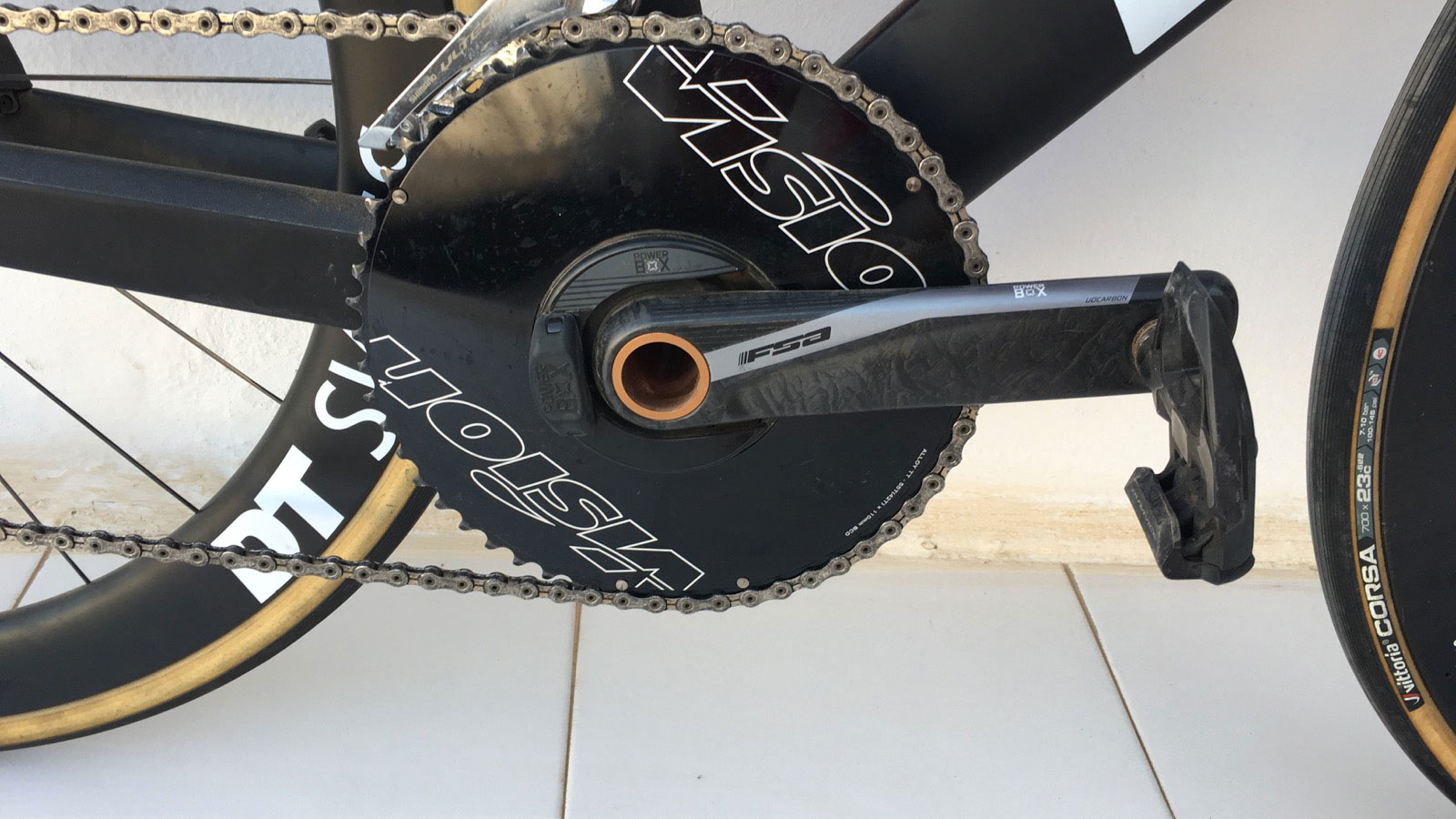 He also changed from a 54 tooth big ring to a 55. The substantial, solid Vision chainring is paired with an FSA PowerBOX power meter.
As you may expect for a pro-level bike, Dapena's BMC Timemachine 01 Disc is equipped with Shimano's flagship Dura Ace Di2 electronic gears.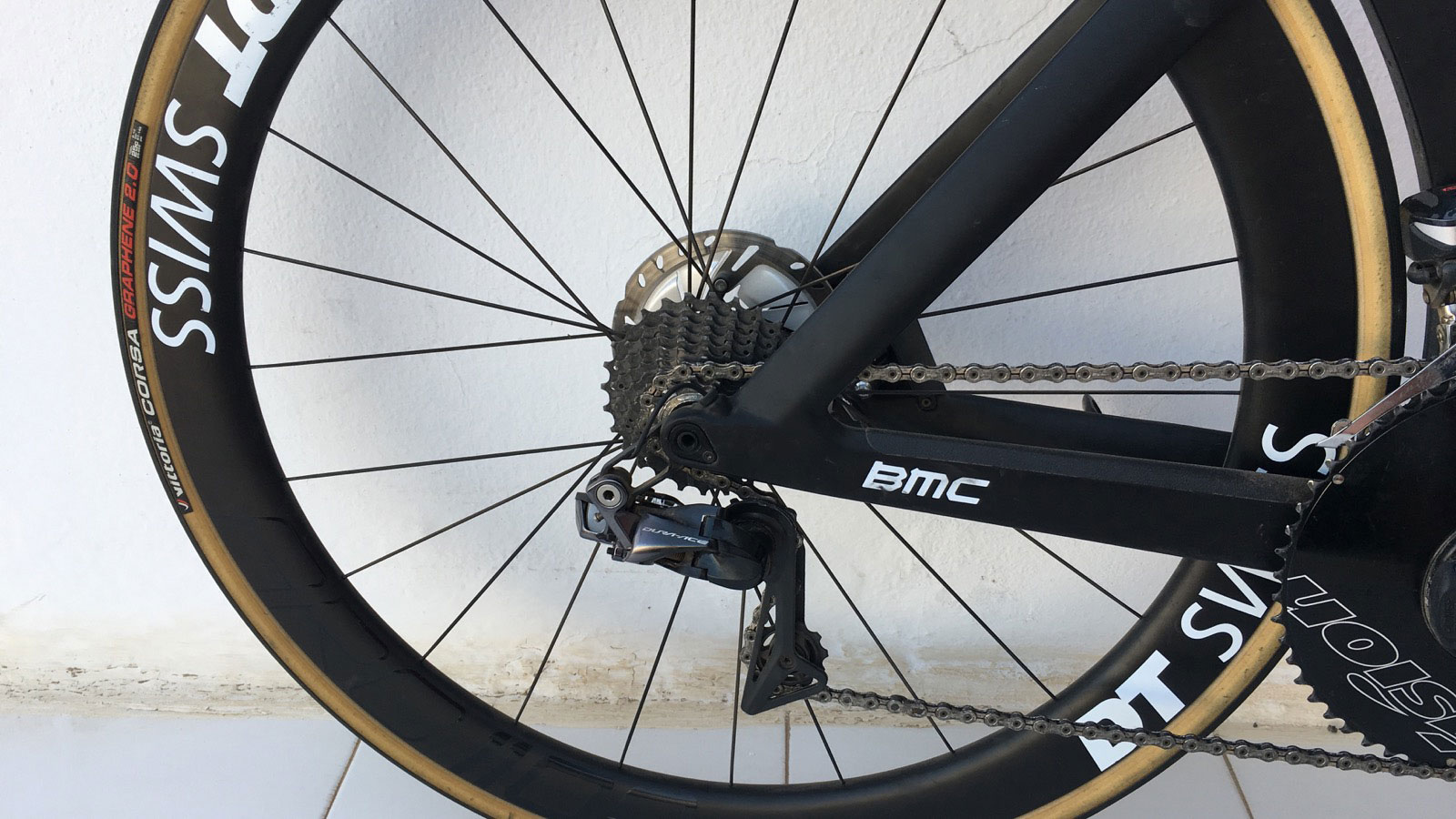 His perch of choice is the team edition Selle Italia SP-01 Boost, with its large cut-out, and reflecting this is his training set-up in the warm conditions of Lanzarote, he stows two water bottles.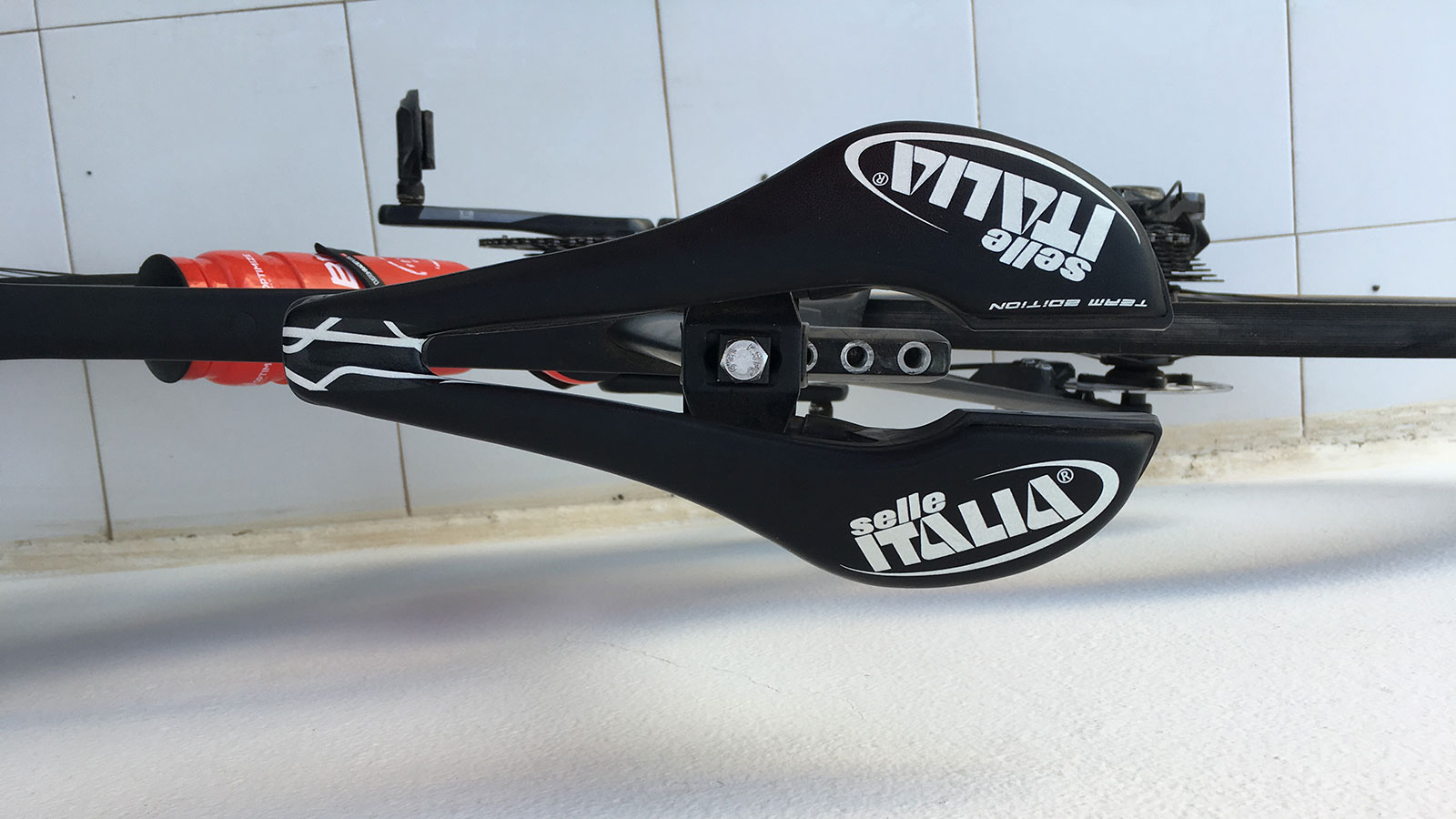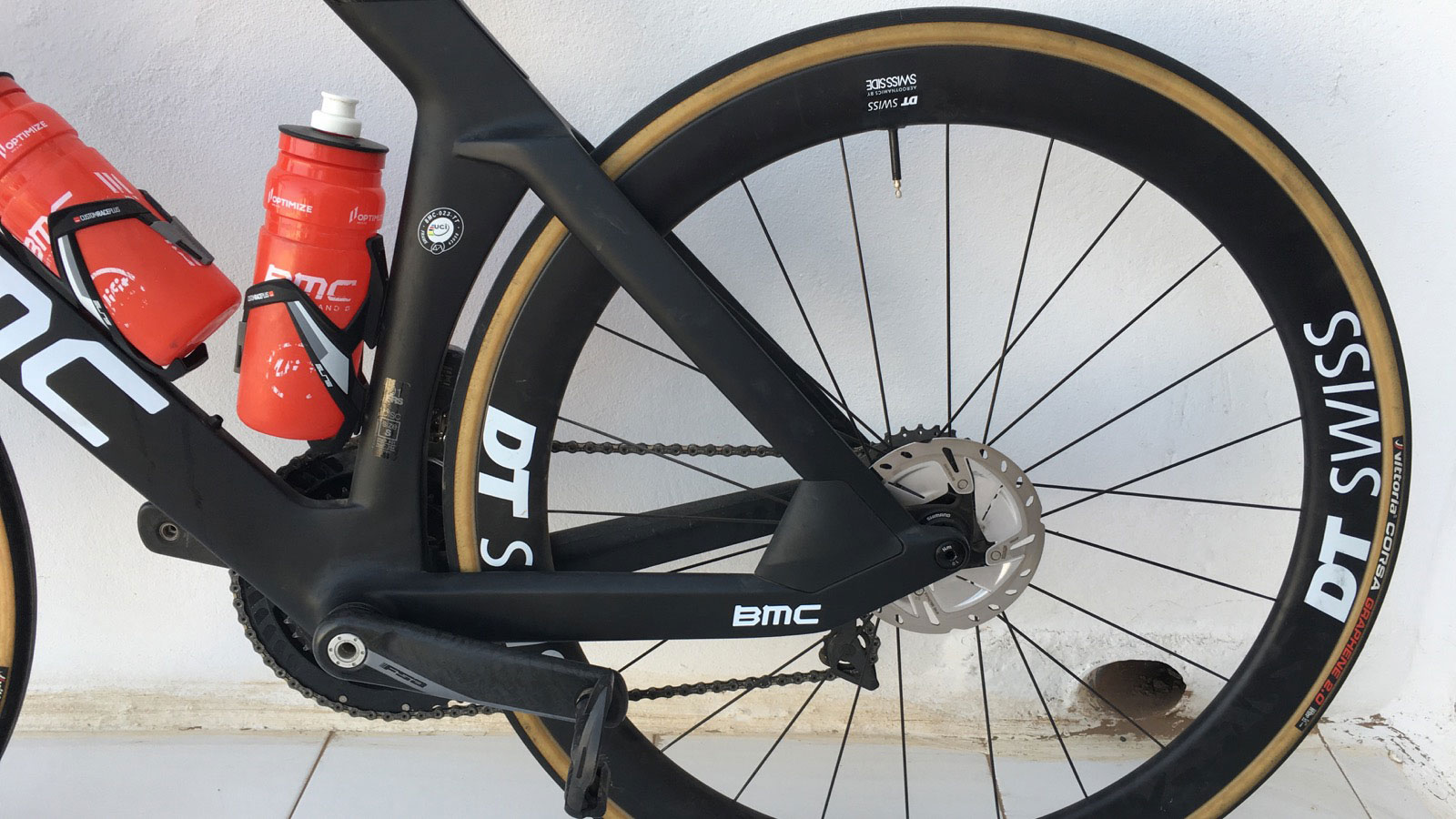 The cockpit is exclusively supplied by Vision save for the Polar M640 cycling computer. The Vision extensions pointing skywards for a combination of comfort and aerodynamics.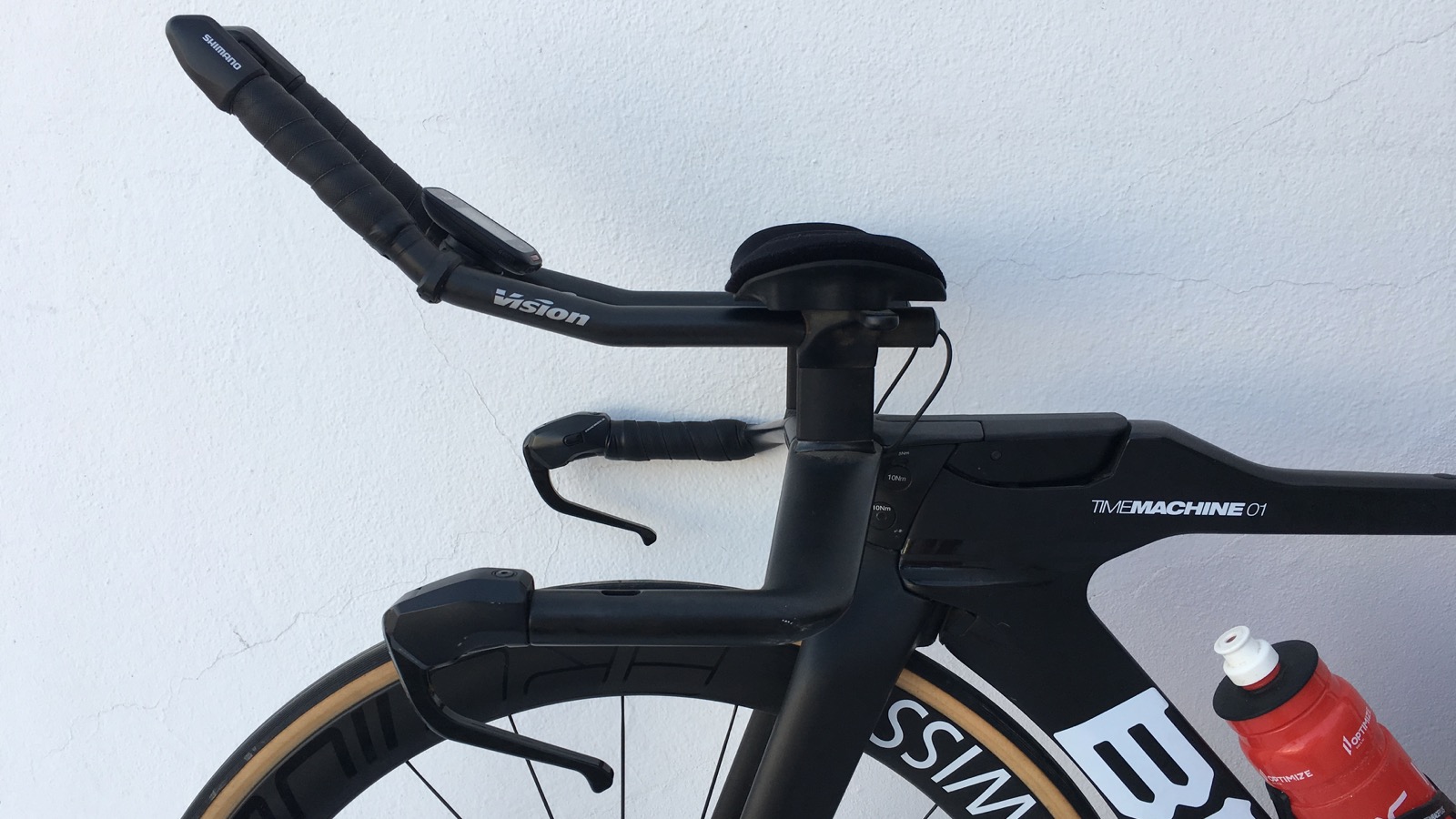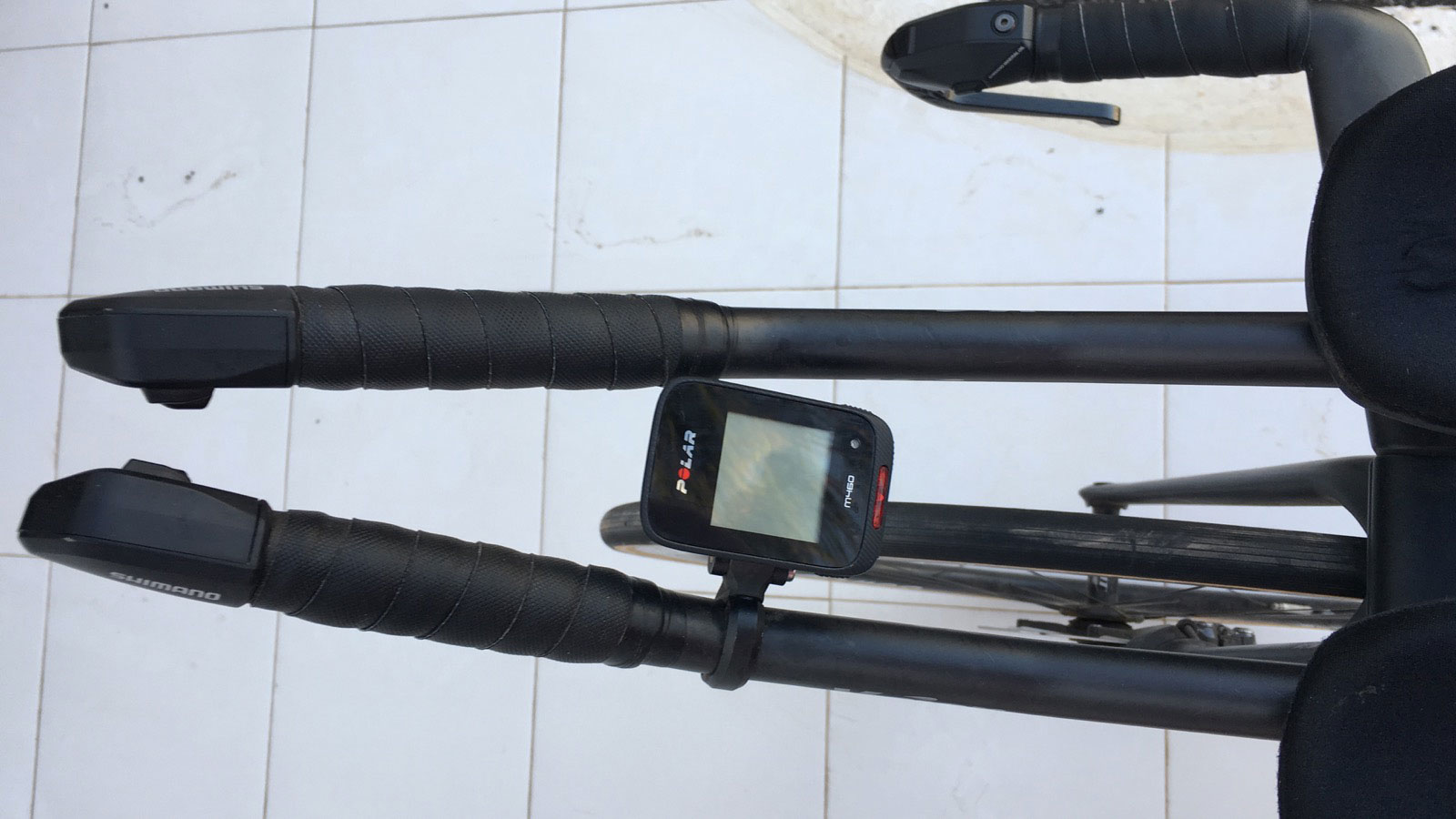 Prior to the Nice experience, Dapena says he had only used a turbo fleetingly. However, now he regularly uses his Elite Direto X direct drive turbo: "After Nice I started doing more turbo, because before I hated it, but now I start to [realise] if you want to be a better cyclist in triathlon you have to use the turbo!"
Easy rides
In particular Dapena uses the turbo for strength focussed intervals where the controlled and certain environment is beneficial. A classic being 4 lots of 6 mins with 4 minutes recovery. As an aside, he actually uses his time trial bike proportionately less than he has in previous years. He still opts for the time trial bike for specific and focussed sessions, but enjoys getting out on his road bike for 'easy' rides.
Whilst based at Sands Beach Hotel, Lanzarote, Dapena has been using a DT Swiss ARC 1100 Dicut disc wheelset, paired with Vittoria Corsa rubber famed for their infused graphene. Pablo opts for a narrower 23mm tyre on the front with a 25mm on the rear. Dapena shared his current view on disc brakes, namely they certainly have a place on road bikes but on time trial bikes he thinks they are fine but, subject to the course, he is not as convinced they are absolutely necessary.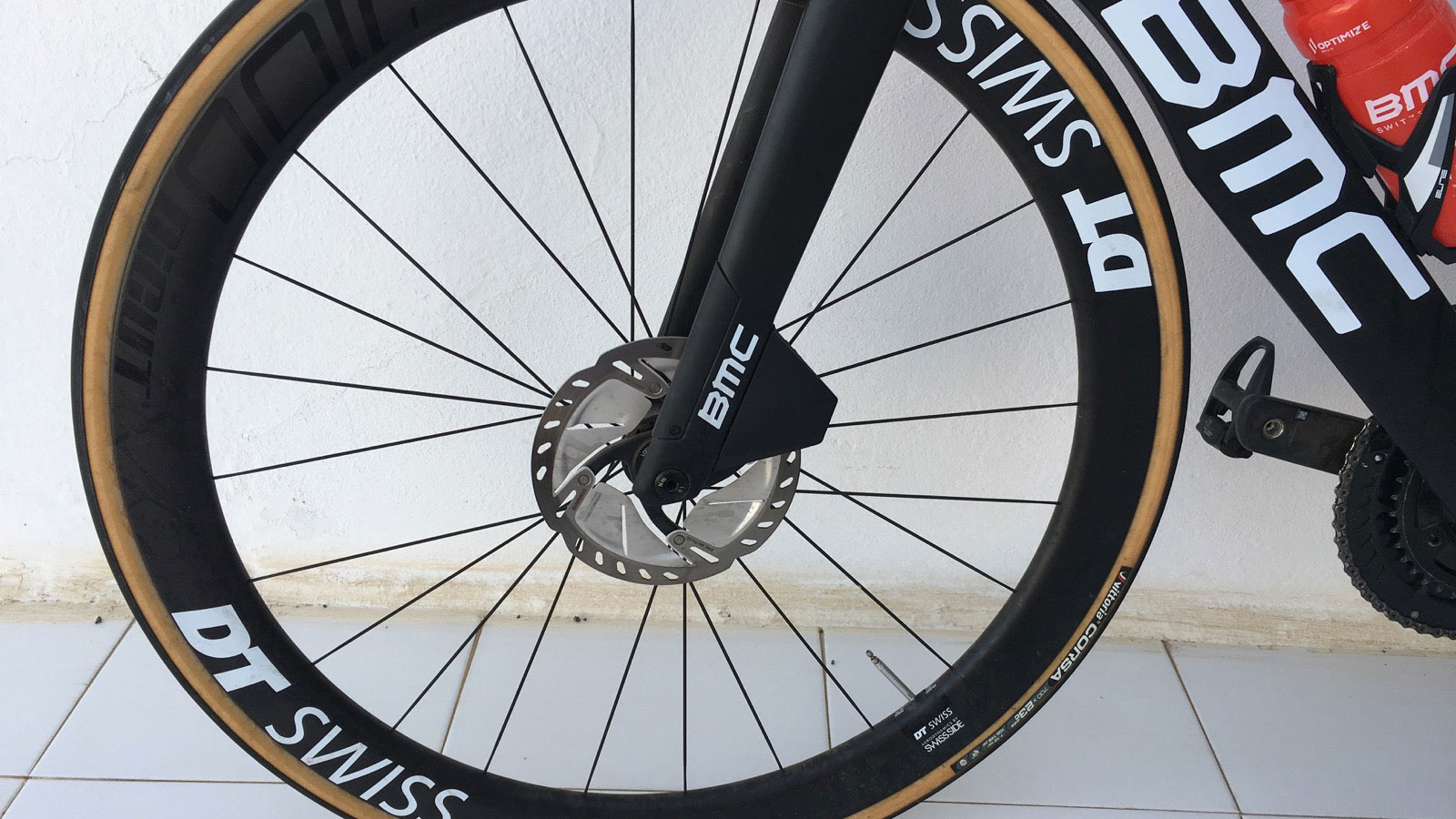 With some races appearing on the horizon, we may get to see Pablo Dapena Gonzalez hammering on the pedals soon. Feel free to have a closer look at BMC's offerings at www.bmc-switzerland.com