Alice Betto will be representing Italy at Tokyo 2020, but will be doing so racing on her very French bike, the LOOK 795 Blade RS (with its 'Carbon Champagne' paint job).
Betto has been racing in elite triathlon since 2010 and finished an impressive second at the Tokyo 2020 qualifying event in 2019 following the disqualification of British duo Georgia Taylor-Brown and Jessica Learmonth.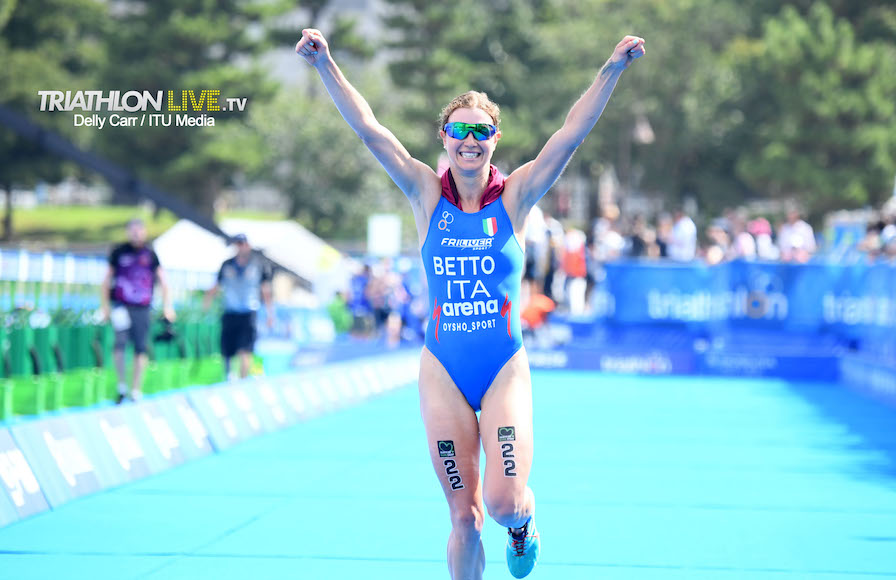 Prior to joining the LOOK family, Betto had ridden various Specialized bikes (see our Pro Bike feature of Flora Duffy's Specialized Tarmac SL7). She confirmed that was a pleasure, but is pleased to have made the move to the French brand:
"During the last five years I had been riding on different Specialized models ([the Amira, Tarmac, and Venge). It was a great experience but now I have found my way with LOOK!"
LOOK has some serious cycling pedigree. In addition to developing the first clipless pedals in 1983, in 1986 the French company brought to market the LOOK G86 and in doing so led the way in carbon framed bicycles – no doubt helped by Greg Lemond riding the LOOK G86 to Tour de France victory!
LOOK 795 Blade RS
Betto is clearly impressed with her new steed (if you like a stealth look, the 'Carbon Champagne' colour scheme is certainly a winner), and went into detail regarding what makes her LOOK 795 Blade RS special:
"I like the design, the colour, the lightness….the frame design is really thin and [an] aero style. The bike is light, compact, stiff, reactive…and really aggressive."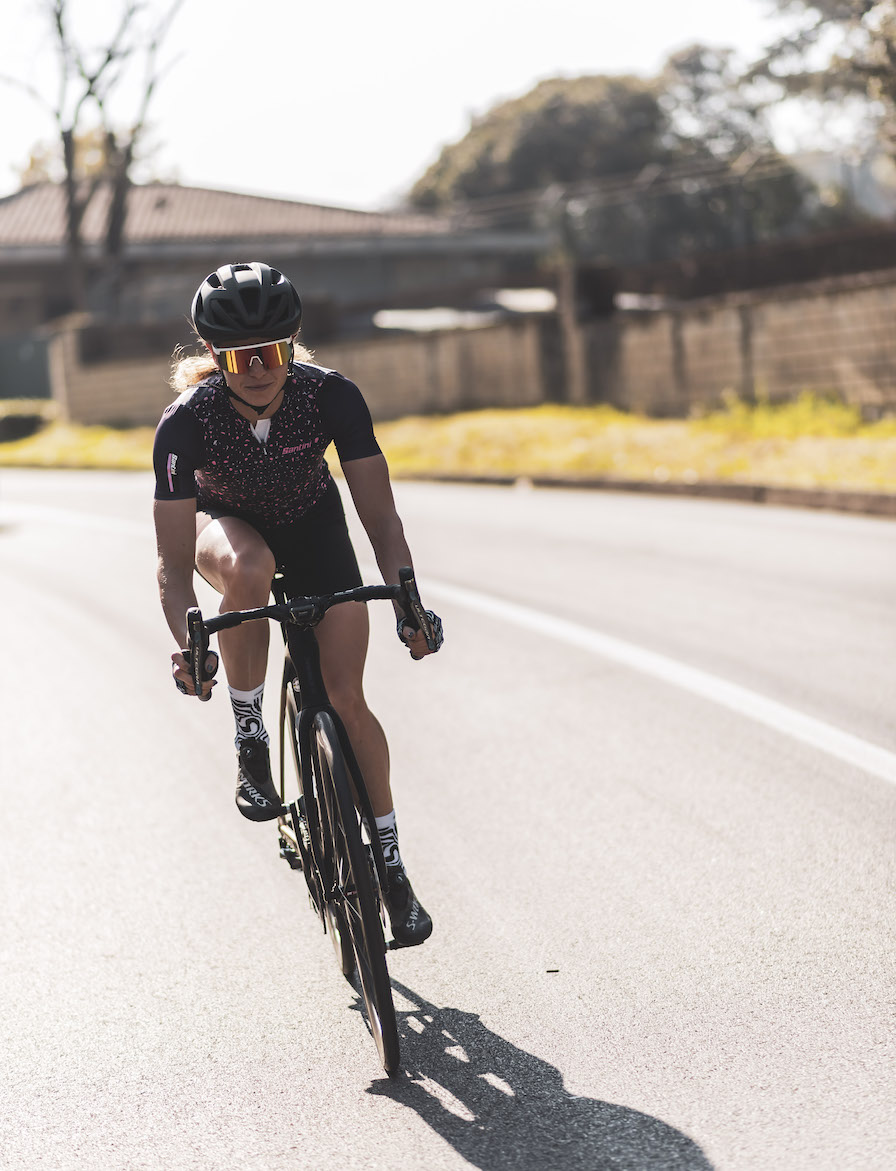 She continued:
"I really like how she [the LOOK 795 Blade RS] reacts when I push on the pedals, even more when I'm out of the saddle, I feel she follows me and all my power goes directly in[to] the wheels. On flat roads you can enjoy high speed, it's really impressive how you can accelerate and keep the speed easily, it rolls by herself!"
Alice also effused about the bike's attributes when it comes to going down hill at speed:
"I really like it also during descents as it is really a blade, she goes, you can trust the bike and feel comfortable."
'No' to rim brakes
Brakes are a crucial consideration when it comes to descending and Betto confirmed she is a disc brake convert:
"I like disc brakes very much, because I feel safer on the road, I couldn't go back to rim brakes."
To the get most out of you and your bike it is important that you and your bike fit harmoniously. Betto works with a LOOK consultant to optimise her position and she explained the reasons for her opting for a smaller frame than you might expect:
"I'm pretty tall (170cm) but I prefer a smaller bike, because it's easier to ride it. My bike is a 51."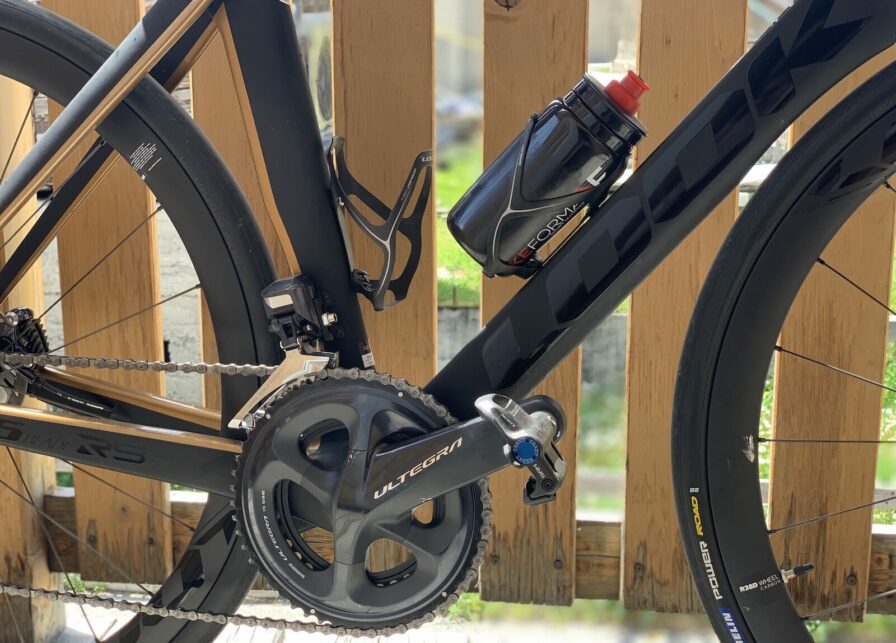 She elaborated:
"The size isn't too big for me so I really feel comfortable in every position on it. I tried bigger bikes in the past, and I didn't feel really comfortable in each situation of the race. A smaller bike means to be more compact and find a better aero position, but also more responsive and easy to manage."
Betto is also a fan of her Prologo Dimension 143 saddle. She confirmed it has a similar profile to her previous perch and she prefers a small but wide saddle.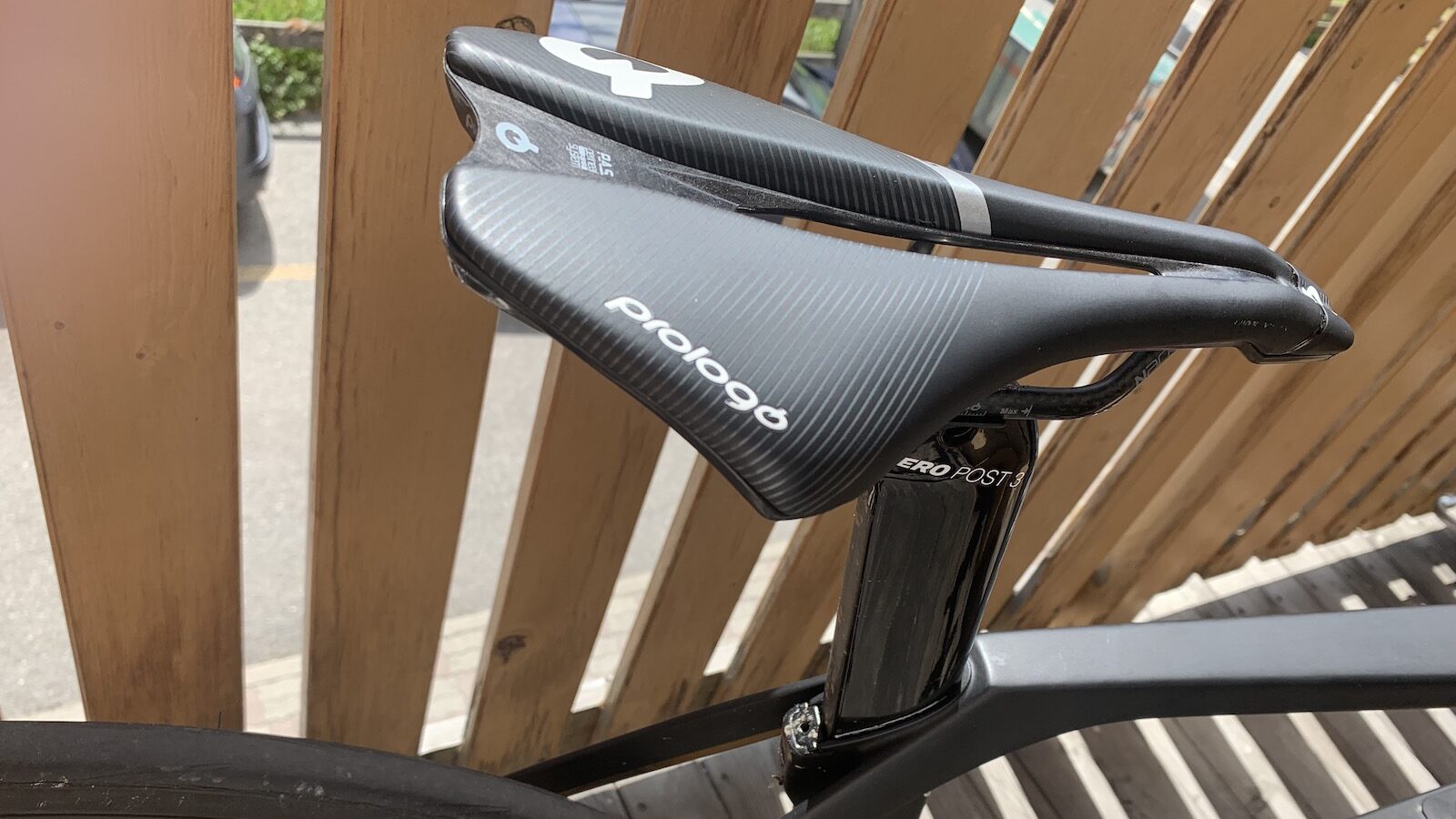 Aero bars
The front-end of Betto's Look 795 Blade RS combines a 130mm Look Aero Design Stem and a 40cm Look Aero Design Handlebar 2, with clip-on bars. Betto provided her thoughts on the use of clip-on bars on road bikes (see our article on the increase in use of clip-on bars):
"I use an ergonomic LOOK handlebar, [and] I compete in draft-legal races so I don't need a really extreme position. Versatility is the most important [thing], because bike courses are always different. I don't like [very] much extensions on my handlebar because World Triathlon races are really technical so there aren't long straights where I use them. They [clip-on bars] could be useful only for chasing and closing a gap but it's really a particular situation, for example for mixed-relay races where often we ride [with] no draft."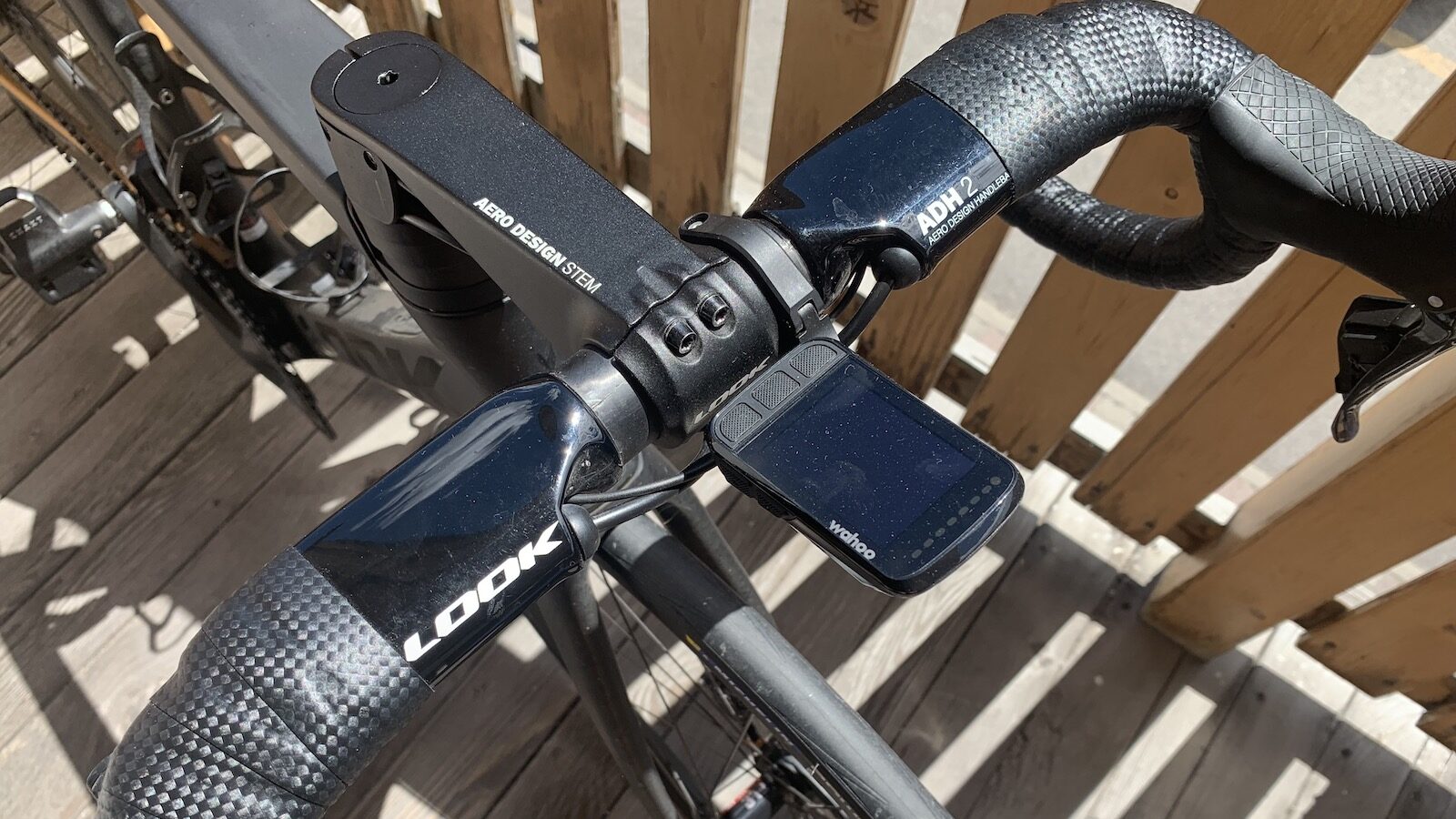 Taking into account the nature of short-course draft-legal racing, and years of experience, Betto elects for a 52/36 chainring setup. She explained:
"On my Look 795 Blade RS I have a Shimano Ultegra DI2 groupset with 52/36 11 speed. I have chosen 52/36 because it fits good for me. During these 10 years I had tried 53/39 and 50/34 as well, but at the end I prefer 52/36, definitely it's the best, more versatile."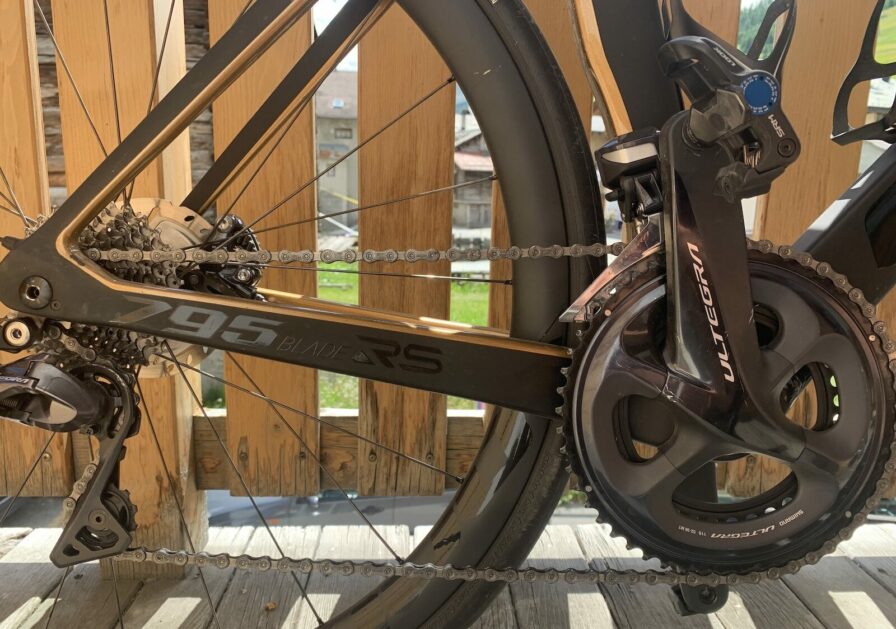 Pedal power (meter)
As you would expect, Betto's LOOK 795 Blade RS is equipped with the French company's pedals. In this case Alice uses both LOOK's Keo Blade Carbon Ceramic pedals and the brand's power pedals developed with SRM, the LOOK SRM EXAKT. Alice confirmed that she uses her EXAKT power meter for training and racing:
"I have the LOOK EXAKT pedal based power meter on my bike, they are really accurate and cool… I think the power meter is really important during training and during racing as well. It gives a lot of useful data to improve the physical condition and to understand my situation during races."
She also said she uses a Wahoo cycle computer, and it appears to offer everything she needs:
"It's simple and clear, it's super professional and it gives a lot of information about power, cadence etc. Also it reads all sensors you want to use!"
French frame, French wheels
Continuing the French theme, Betto's Look 795 Blade RS is fitted on race day with the striking 47mm deep carbon tubular Corima MCC 47 wheels and Michelin tubular 25mm or 28mm tyres (depending on the race). The wheels look incredible and Betto suggests they ride as well as they look:
"The Corima wheels are amazing, really light, rigid, reactive, like swords!"
When it comes to training rides her bike setup is the same, save that Betto swaps out her Corima wheels for a pair of Look R38 carbon wheels with Michelin Power Road 28mm tyres. When training indoors she uses the full suite of Wahoo tools, namely the KICKR and CLIMB.
We wish Alice good luck for the remainder of the season and shall keep a 'look' out for her at Tokyo 2020.
If you like what you see, check out: Look and Corima.