If there is a conversation about uber-bikers in triathlon, it is impossible not to mention Joe Skipper. For 2021 Skipper will be riding a Quintana Roo PRsix Disc.
12 hours!
How accomplished a cyclist is Joe Skipper? To hold close to 300 watts over the bike-leg of sprint-distance triathlon, or just for 20 minutes, would be considered a very solid effort for the majority of top age-groupers. At the 2020 UK National 12-Hour Cycling Time Trial championship Skipper averaged an astounding 282 watts and covered a distance of 326 miles – just consider that again, he averaged over 280 watts for 12 hours!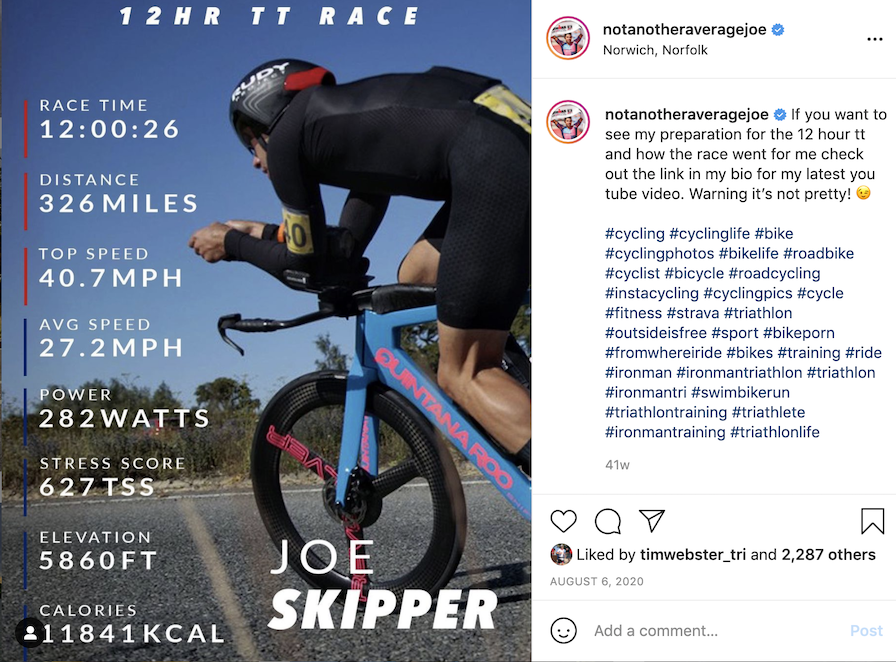 However, it would be unfair to label Skipper as simply a biker. As reflected in his Professional Triathletes Organisation stats, he has some impressive run speed (a 91% rating as opposed to 96% for his biking prowess), and has some notable victories and results. These include first place finishes at 2020 Ironman New Zealand and 2019 Ironman Florida; two second places at Challenge Roth (2017 and 2016); and, a sixth place at the 2019 Ironman World Championship.

Quintana Roo PRsix Disc
Skipper is a fan of his 2021 ride and gave a refreshing justification for why he chooses a Quintana Roo PRsix Disc:
"….I would definitely say it's the best bike I've ever used as I wouldn't be using it if my other bikes were better."
He added:
"I really like the fact it's got disc brakes as on hilly and wet courses you know the brakes are going to work really well. I also like the fact it's very aero and comfortable as well."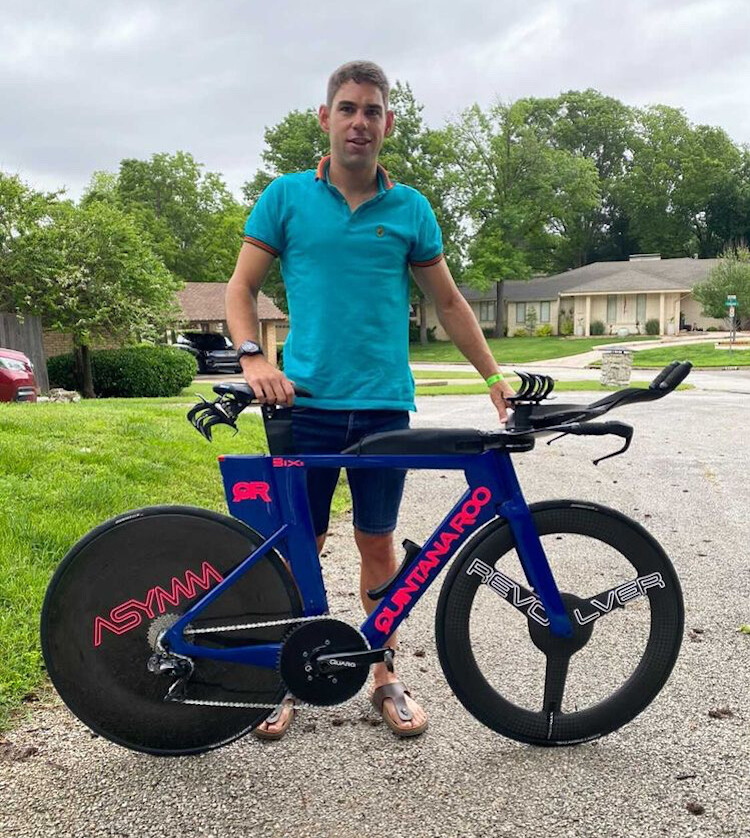 Bike fit
Skipper uses a 54cm frame, which is normal for him, and he worked with Harry Walker at Revolver Components to help to get the right fit. This included selecting 165mm cranks:
"[I use] 165mm cranks as it allows me to get more aero and also a better hip angle."
Comfort is a crucial consideration and at the moment Skipper is using an ISM saddle, but he explained he is considering a change:
"To be honest I've been using an ISM saddle as that's what has always come on my bikes but I'm looking to change this as I'm not sure it's right for me so am looking into different saddles."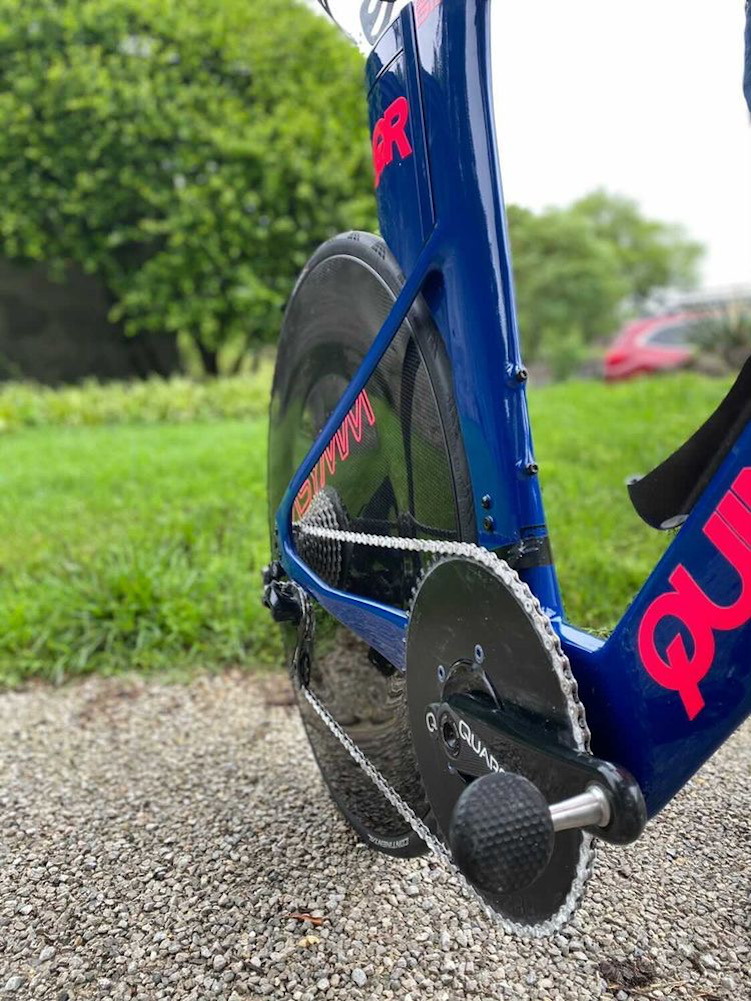 One thing Skipper is certainly not looking to change is his pedal selection, he confirmed:
"Speedplay [are the] most aero and comfortable pedals I've used. "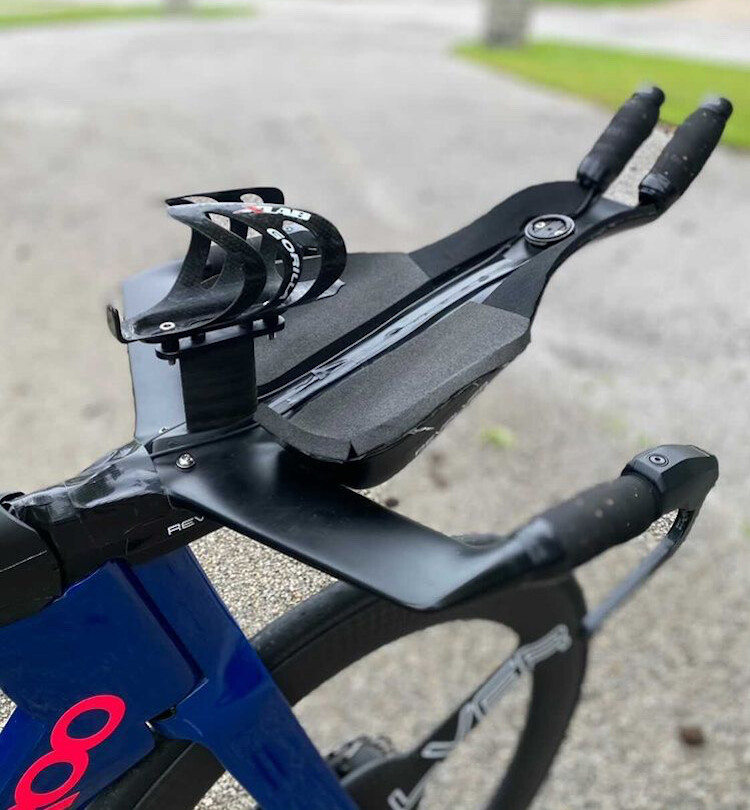 Walker's input has not been limited to a bike fit, he has also provided some custom parts for Skipper – from the pictures you'll notice Skipper has an interesting set of bars, all designed to make Skipper cut through the air as smoothly as possible. He confirmed:
"I use a Revolver mono bar which is a totally custom set-up. As I'm using a mono bar the elbow pads are pretty much together."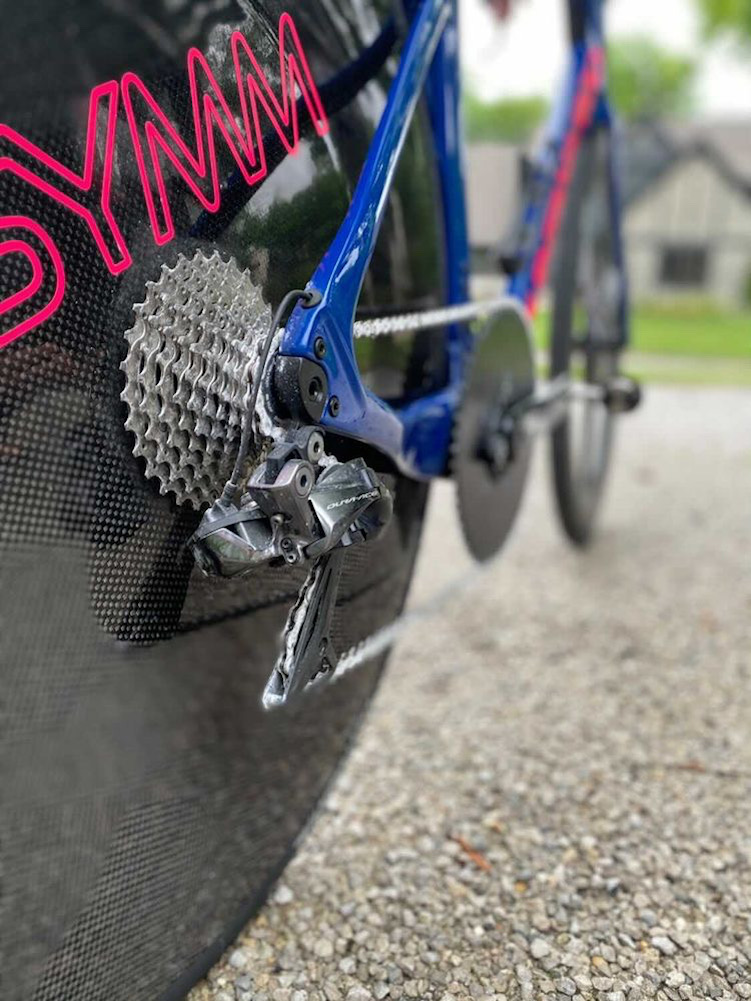 Having recently received his latest Quintana Roo PRsix Disc, Skipper has made the move from SRAM eTap to using a Shimano Dura-Ace Di2 groupset. In addition to Shimano's top offering, Skipper explained he has spruced up his groupset, including a dinner plate size chainring, all in the interest of speed!:
"…I also use a single 60-tooth chain ring and oversize pulley wheels. I use these products as they make the bike more aero and also increase drive chain efficiency."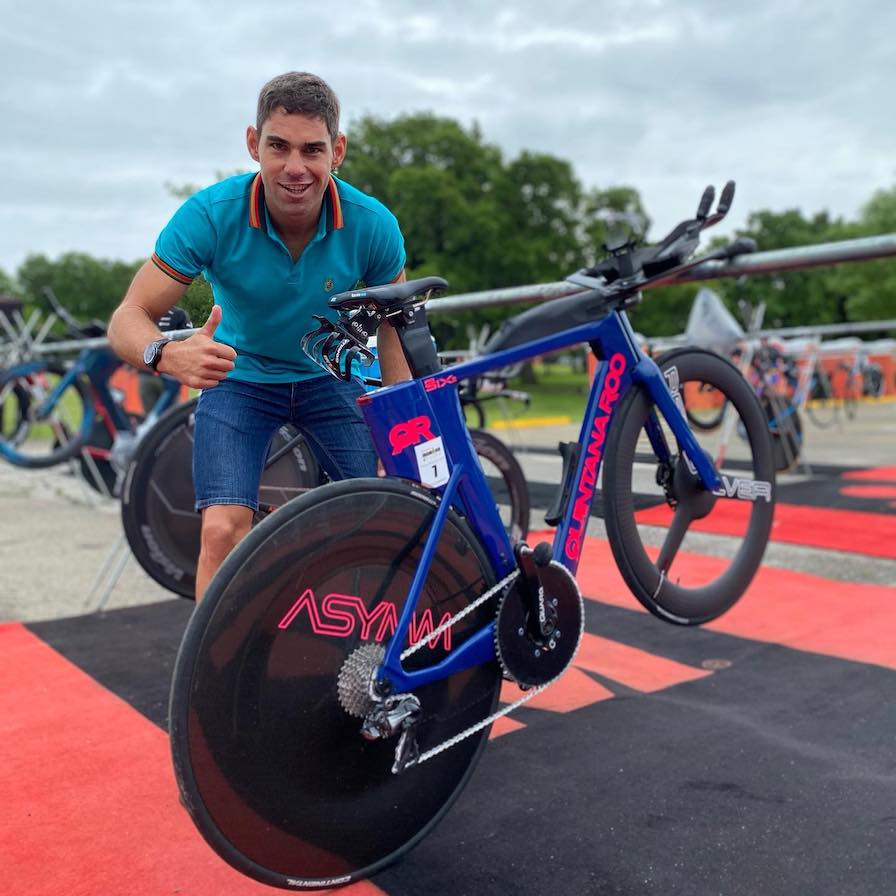 Skipper explained that rather sticking to one gearing selection, he adapts to the conditions:
"…I don't really have an optimal gearing as it would totally depend on terrain, wind etc. It would just be a gear that allows me to keep my optimum cadence."
Disc brake benefits
Interestingly, in addition to the common argument that disc brakes provide superior braking power, whereas some athletes mention that one of the reasons they stick with rim brake bikes is the ease of building the bike (a genuine consideration for a triathlete that frequently travels internationally), Skipper's view is that disc brakes are advantageous here as well:
"Yeah I do prefer this [disc brake set-up], it's better at stopping and also I find when you build your bike up disc brakes are much better as you don't get rubbing."
Race to feel
Power is an important metric for Skipper which he uses for all of his riding. Historically, Skipper has used the power meters that have come with his bike, namely Quarq or Rotor power meters. He explained how he utilises his power data:
"I use my power meter for all my training as I want to make sure I'm training at the right intensity for certain sessions. During races I look at 3second power but I don't have lap power showing and just race to feel."
Wow-factor
One of the most eye-catching parts of Skipper's Quintana Roo PRsix Disc is the wheelset. The combination of the Revolver ASYMM disc wheel and the Revolver TroikaMAX tri-spoke definitely has some 'wow-factor'!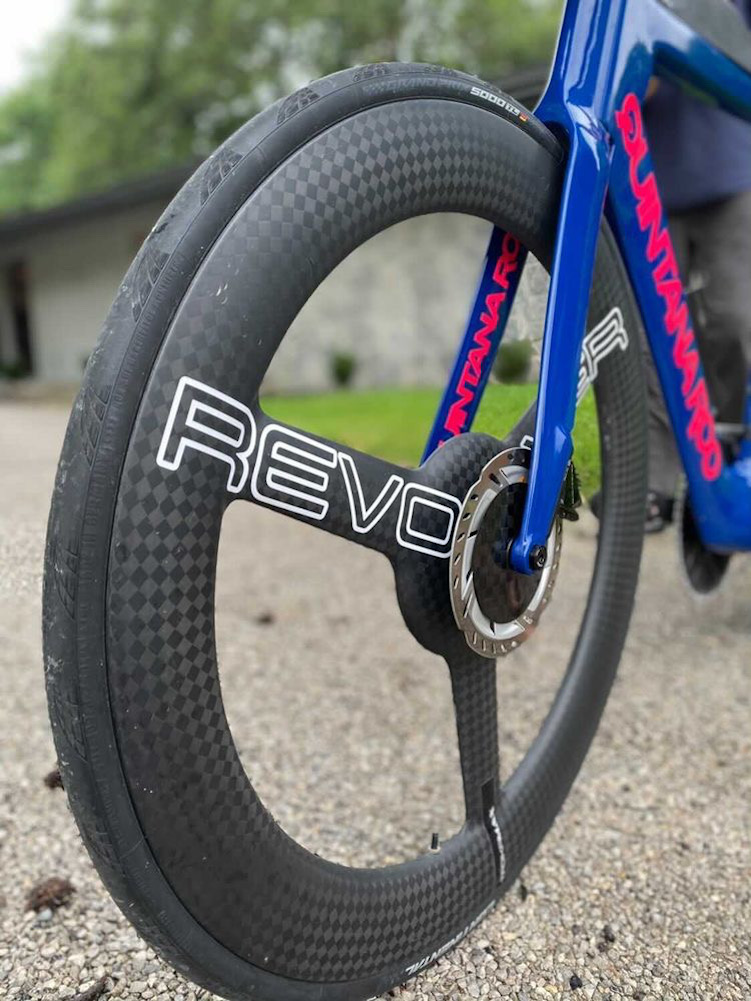 Skipper is lucky to have a separate bike for training rides, he pairs his stunning hoops with 25mm Continental GP5000s for training and racing, but he likes to save his best kit for race day:
"[My training] set-up is pretty similar, I have a training bike which is set up for a similar position but with cheaper components so when I get on the race bike it feels great…. I save my best legs for race day!"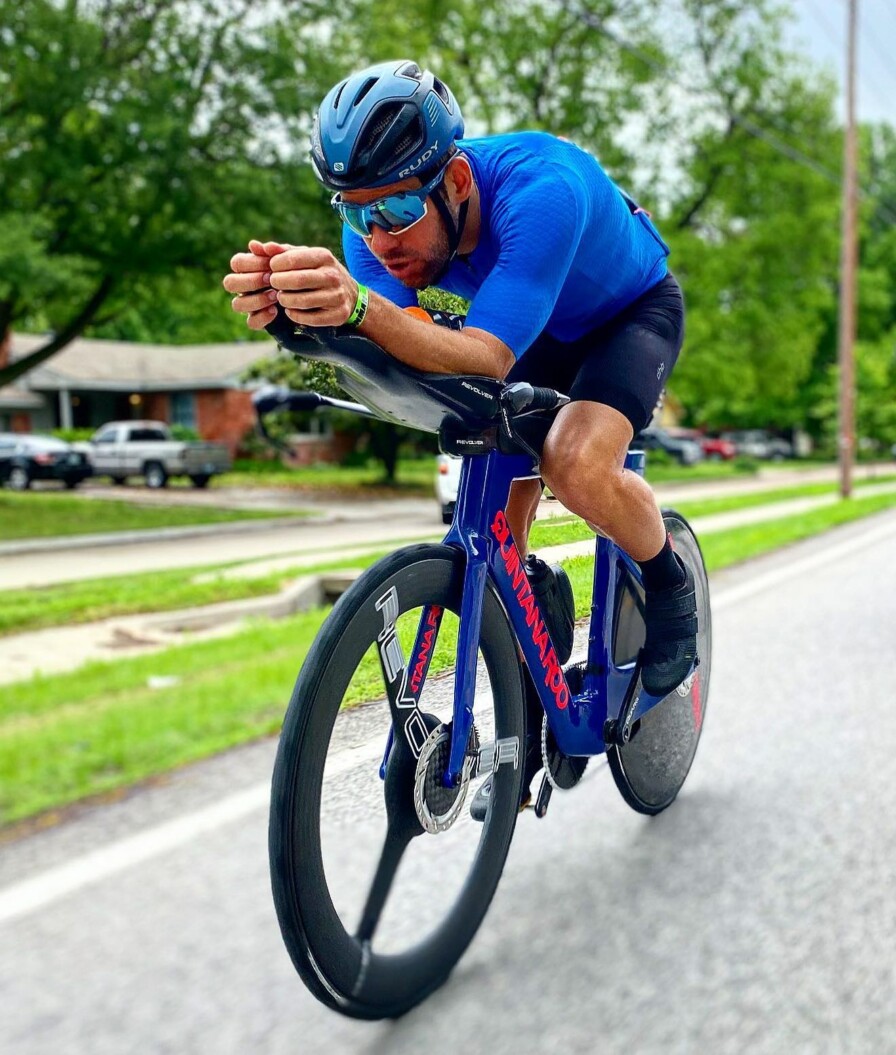 Training days
Those that follow Skipper's training, before jetting off to Dubai for a few months (check out his Youtube videos), will have seen that he although he often toughs it out in the elements around his base in Norfolk, he is no stranger to Zwift racing:
"I normally use my road bike if I'm training indoors as it's more comfortable. I'm not a massive fan of indoor training. I try to ride outside as much as possible but in the winter when the weather is bad, I ride on Zwift or when they organise the professional triathlon race series as these are actually really good fun and an amazing workout."
Joe has been putting in some impressive training and it was great to see him finish in 6th place at the stacked 2021 Ironman North American Championships, Tulsa. Good luck for the rest of 2021!
If you like what you see, check out: Quintana Roo, and Revolver.