There's one constant in triathlon – whatever the distance, terrain or challenge, there will always be something longer, hillier or tougher on offer sooner or later – enter 255 Triathlon.
Sunday's event fitted into the category of 'when an iron-distance race isn't quite enough', with its 5km swim, 200km and 50km run offerings.
The official line is 'The World's Longest Single-Day Triathlon' – which I can neither confirm or deny – but bottom line, throw in some significant wind and rain, and it will have provided plenty of challenges to its debut entrants, irrespective of marketing tag-lines.
255 Triathlon course – lots of laps
The event was primarily based at Goodwood Motor Racing circuit in West Sussex, with the swim taking place nearby at Chichester Watersports, Westhampnett Lake.
Four x 1.25km laps of swimming (with an Australian exit), followed by 52 (!) traffic-free laps of the circuit on the bike, and then ten x 5km run laps around the perimeter of the circuit.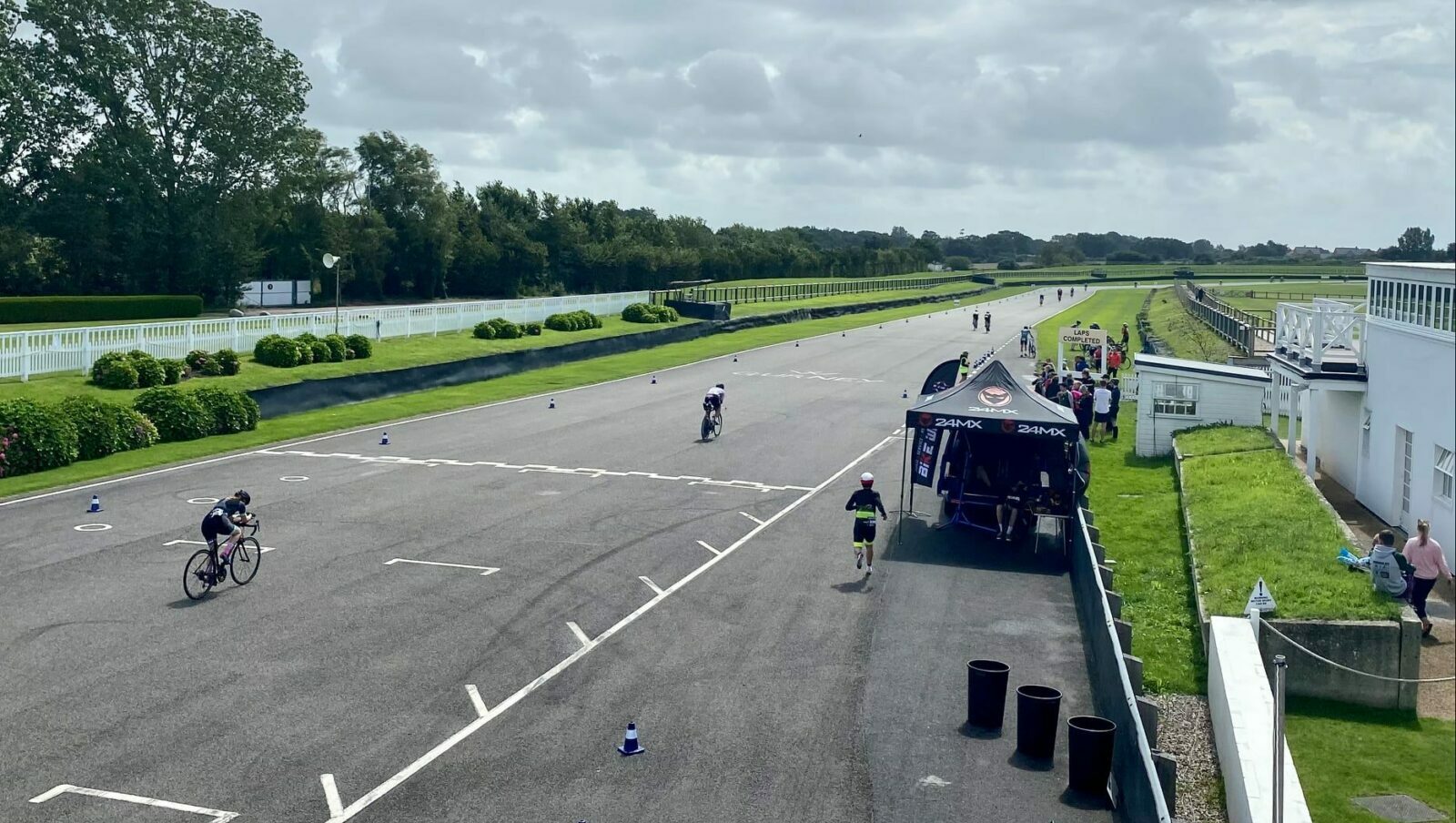 Dean Kirkham calls on Kona experience
Men's winner Dean Kirkham is an experienced iron-distance athlete, and raced the 255 because "I just wanted to test myself". While the distance was new, he still had goals. Having done his first IRONMAN 10 years ago under 11 hours, he wanted to see if a decade later – over a longer distance – he could still break 11 hours. He did just that, winning in 10:55:39.
He was also happy to be make in a mass start racing environment, enjoying the closed roads of the racing circuit – and also the total lack of pot holes, which are part of his regular rides!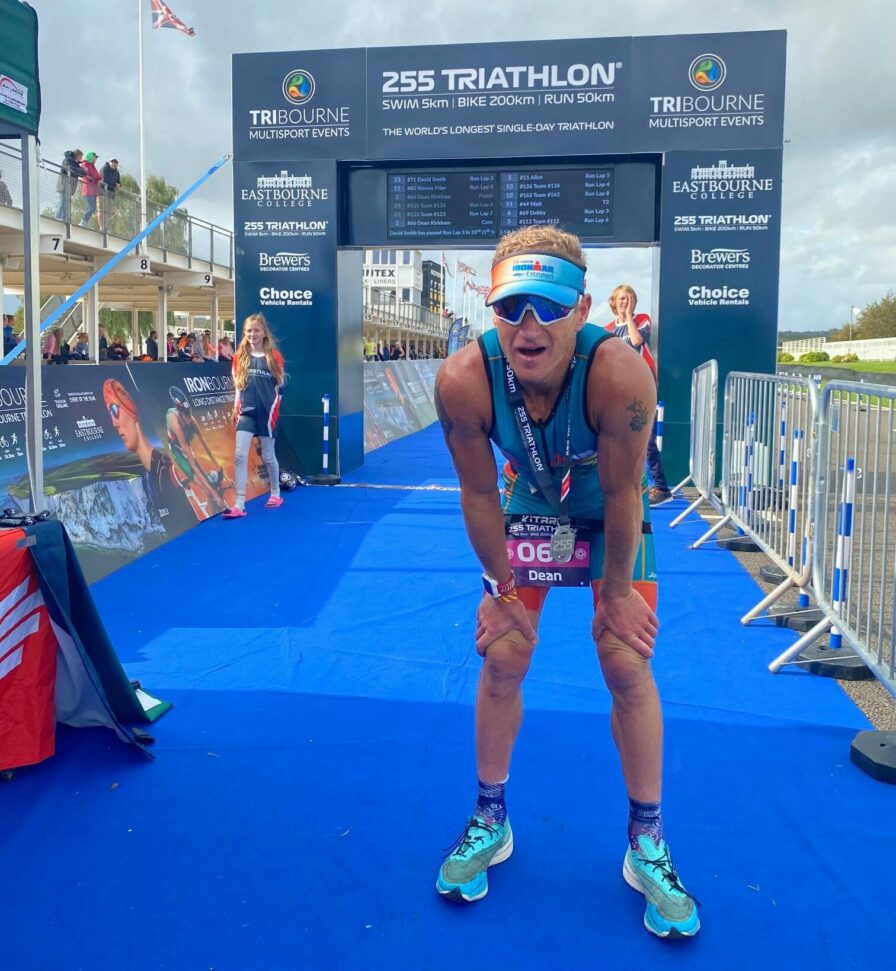 Gill Fullen's fairwell
If you've read the pages of this website for any length of time, you'll surely have seen the name of Gill Fullen appear. If you need a catch-up, then this interview and this summary will help. We've got more coming soon too..
Gill, as far as I'm aware, has not raced in a triathlon since she completed her incredible Age-Group C.V. with a 27-minute margin of victory at the 2019 IRONMAN World Championship in Hawaii. She'd won everything… and along comes something else, so, may as well have a stab at that too.
She may be turning 57 this year… but that's never stopped her before, and she was the fastest female by well over an hour. A fine 'goodbye' to the British triathlon scene, as the Bedford Harrier will be departing to live in New Zealand within the next two weeks.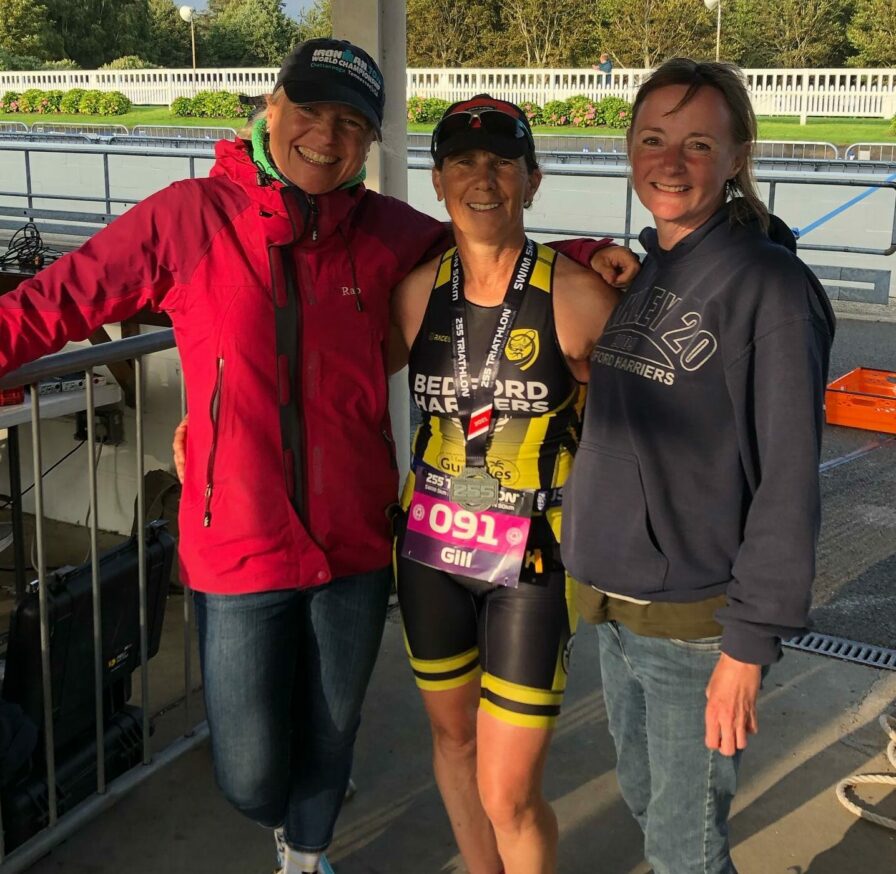 I spoke to Gill about her 255 Triathlon experience:
"The lake was lovely, course well marked and the water nice. I really enjoyed the Australian exit each lap, as it gave you a chance to regroup. I managed to find some lovely feet too, and was making great progress… until the zip on my wetsuit failed, and soon filled with water! I had to stop and try and fix that without much success, but got through the swim ok in the end.
"The bike at times was ridiculously windy. From a tailwind on a straight, into a headwind via a bend needed some good bike handling to stay upright at times.
"I was surprised that I didn't get bored with all the laps. It was almost a 'like Zwift in real life' type scenario, as you got used to seeing the same people and passing, or being passed by, familiar figures as the laps went on. One of those was Dean, the men's winner, he really looked superb and was truly racing this distance.
"You also had the whole width of the track, and so there was no need to draft, something I thought might be an issue, but it really wasn't. The circuit is also flatter than I expected with a great surface – there really is the potential, with the right conditions, for this to be a really fast bike course.
"After the first run lap, my legs felt surprisingly good. The 5km run laps, mentally, were really nice.
"The course layout, with the pit lane, also meant that you could tailor your own fuelling, without having to take everything on-course with you, or use a special needs bag etc.
"There were also lots of relay teams, and with the multiple laps and flexibility to race in the format you choose, lots of clubs and teams having a great time."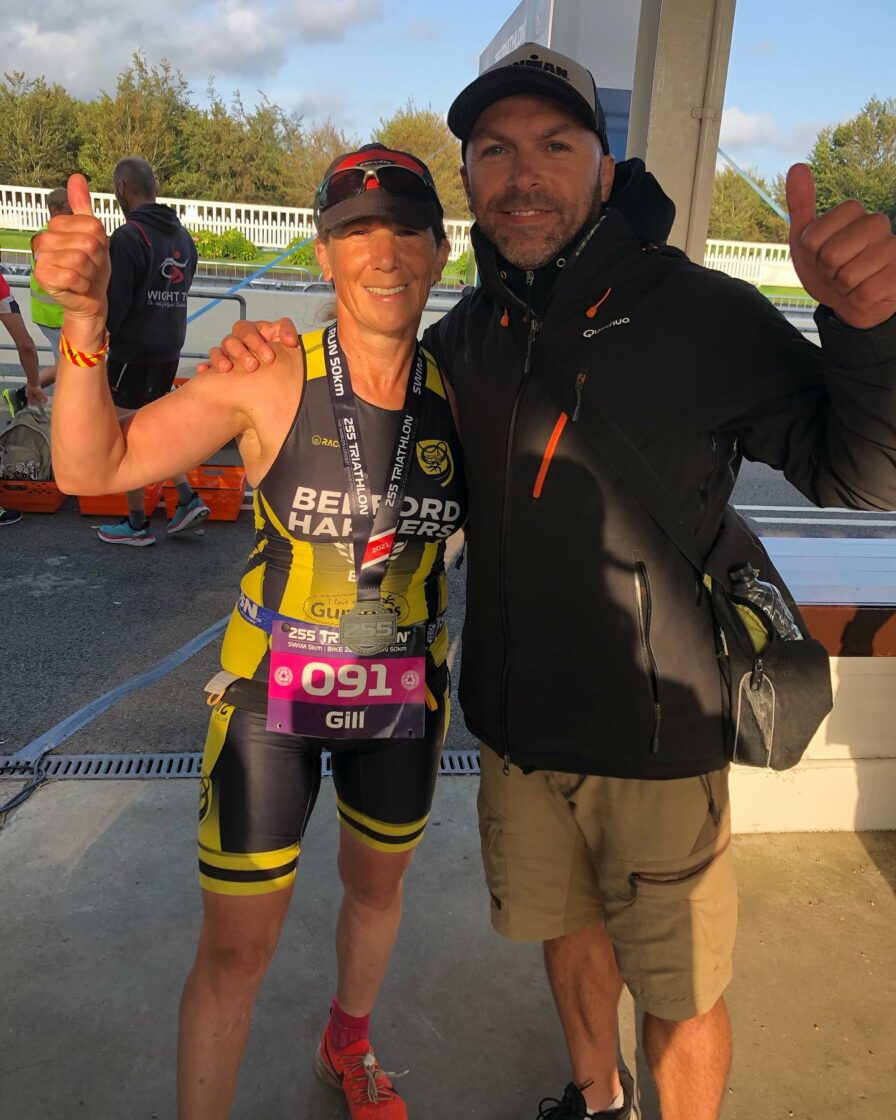 Claire Danson's Delight
If the Olympics didn't provide enough tears, there were certainly plenty around courtesy of the efforts of Claire Danson. As we highlighted a few weeks back, Claire was taking on the 255 Triathlon less than two years after a collision while cycling left her paralysed.
Claire was a regular feature on the pages of TRI247 via her regular medal-winning performances in the British AG team in European and World Championship competition, and I got to see Claire's return to triathlon a few weeks back when racing at the British Paratriathlon Championships at Dorney Lake.
That jump from sprint to more than iron-distance… some feat. Claire was supported by the surgeon who operated on her back in 2019, and for the last couple of laps was accompanied by Olympic gold medal-winning sister, Alex, who was part of the Rio 2016 victorious GB Hockey team.
You can still sponsor Claire, who was raising funds for Wings for Life Spinal Cord Research Foundation HERE.
Relays – lots of them
The distances may be some, well, distance away from what the British gold medal winning team achieved in Tokyo, but one thing the 255 Triathlon did very well was attract a significant number of relay teams. With flexibility on the format (how many in a team, how much of each leg you race, how you order allocated distance etc), that proved very popular with lots of clubs racing, of all standards, benefitting from a central location from which to cheer on their team mates and swap laps etc.
When you are adding a new full distance race – a massive undertaking, and a risky one – then attracting more athletes through this route is a hugely positive one.
255 Triathlon Results
MEN – Individual
Dean Kirkham (Real Fitness Race Team) – 10:55:39
Nathan Newton (Tavistock Triathlon Club) – 12:03:07
William Galvin (Chichester Westgate Triathlon Club) – 12:25:43
WOMEN – Individual
Gill Fullen (Bedford Harriers) – 12:34:23
Alice Rogers – 13:51:33
Debby Saunders (Port Talbot Harriers) – 14:16:36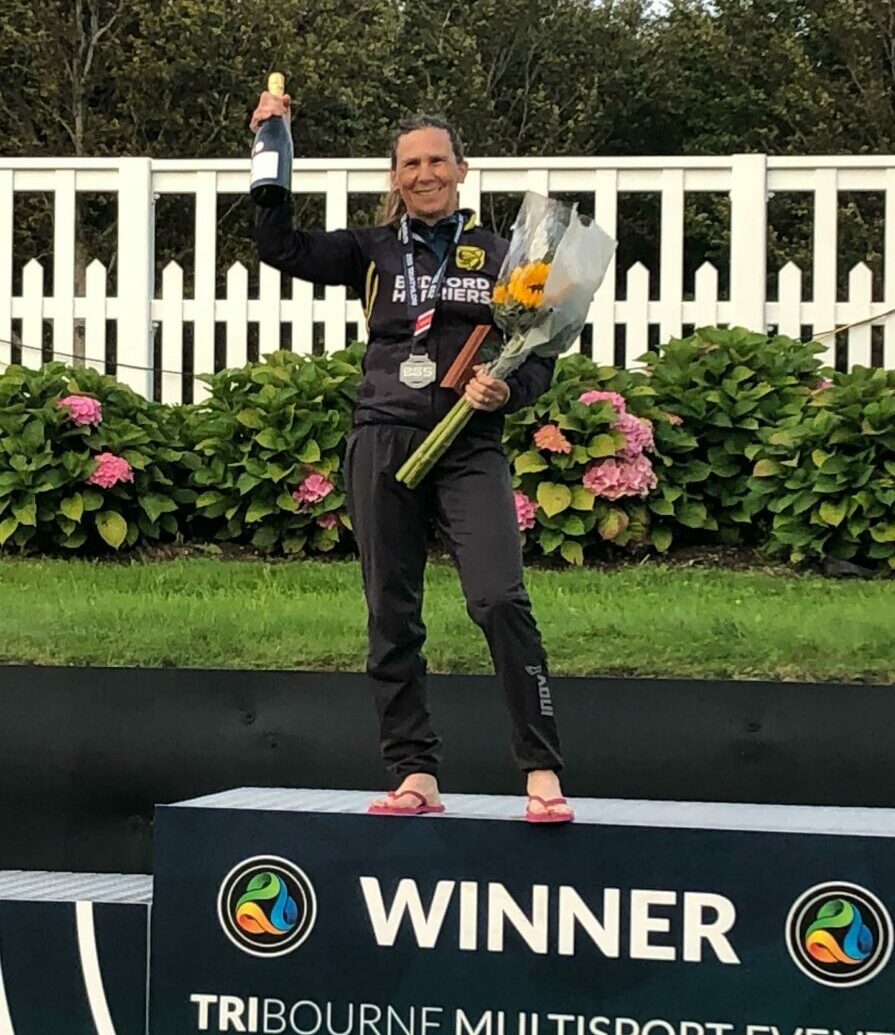 HANDBIKE / WHEELCHAIR
Claire Danson (Precision Race Team) – 14:08:31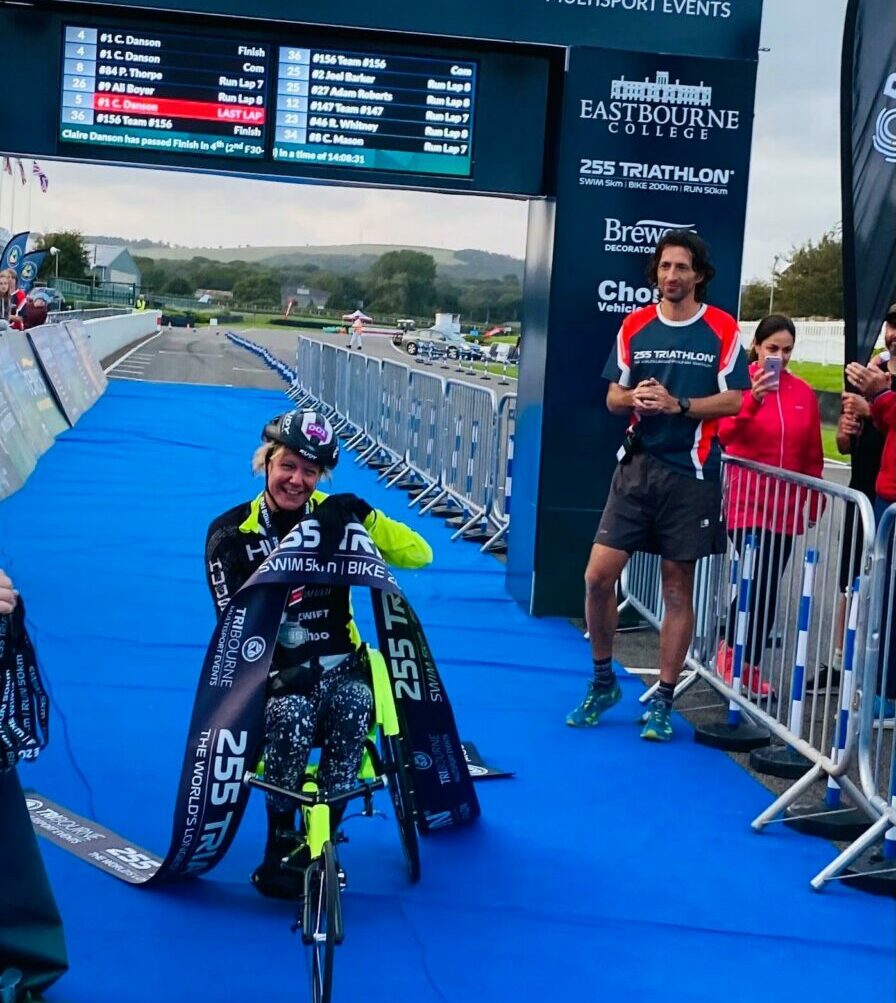 RELAY TEAM WINNERS (Provisional)
Team of 2 – BAD – Bristol and District – 11:35:30
Team of 3 – Team Cooper – 10:42:52
Team of 4 – Tri Surrey – 9:20:39