"This was the big one for me. A goal for the last 10 years"
The inside story on Gill Fullen's IRONMAN World Championship victory

Some people just have that ability to make sport look easy. That's what Men's Pro champion, Jan Frodeno, did at the IRONMAN World Championship this year for example.
British Age-Group athlete, Gill Fullen, is another of those athletes who you may assume finds it easy too. With European and World Championship titles counted well into double figures over the past decade (plus a host of Ironman and 70.3 wins, British titles, Outlaw Triathlon victories and much more), when Gill races, pretty much everyone assumes that she will win easily. Life, really, is not like that.
If you've been reading the site for several years, you'll probably (and if not, you should…), have read this interview with Gill from April 2017. From World Champion to cancer, to surgery… and back, it's not been an easy journey at all.
For all she has won, there was one 'missing' piece in completing what is perhaps the most impressive C.V. of any British Middle and Long DIstance Age-Group athlete ever… winning in Hawaii. The final piece of the jigsaw was the biggest one.
After getting herself into perhaps her best form ever before the 2018 race, a horse promptly broke her foot, and she didn't even make it to the start line in Hawaii.
Last Saturday, Gill did make it safely to the start at Dig Me Beach – and won the F55-59 category by 27 minutes. Making it look easy? Not in the slightest, as an honest and open Gill revealed to me…
---
We spoke privately a couple of weeks before the race, and at that time you were really not feeling confident at all in your prospects. Any rational reasons why?
"Rational reasons" are not often the basis for emotions, but I was giving headspace to an endless list of confidence-sapping excuses which included:
The year starting with some seemingly minor health issues, which actually had a much greater effect on my training than I realised.
I didn't consider that I'd had a good year racing; I hadn't achieved the results I'd wanted.
Was I "just getting older", or was I really not performing as well as I should be?
Last year I had felt invincible and even a race with serious mistakes brought me over the finish line in around 10:09, which I couldn't get anywhere near this year.
I felt the heat was affecting me much more than in previous years.
I still hadn't got a handle on my nutrition, my big bug-bear.
And that's just the start of the list, it went on and on and on. Mentally, I had the overwhelming feeling that last year should have been my year and this year nothing was going to plan and I had missed my chance.
You got the Silver medal in your Age-Group at the 70.3 World's in Nice this year. A great result for most, but I know not something you would have been happy with. You are a positive person and have dealt with plenty of bigger setbacks – but did that impact your confidence?
Things came to a head when I didn't perform well in Nice. The defeat seemed to justify all my fears and worries. I should have been able to deal with coming second, but it turns out this was the straw which broke the camel's back.
All the times I'd been strong over the past few years came crashing down round my ears and no amount of reassurance from coach, Perry Agass, could drag me out of my personal black hole. Eventually – faced with a patient clearly having at least a minor breakdown – my physio suggested that rather than cry on his couch, I seek professional help. This was the best thing I could have done.
I went to see a Chartered Sport Psychologist and with only a very short time frame to work miracles, Helen Davis of Think, Believe, Perform duly did just that. I'm certain that even having taken the step to find help in itself had a positive effect, as it put me back in control. That, plus some very clear methods to deal with the negativity and move forward turned my race prep and the race itself completely around. I didn't even spend the whole pre-race time in the portaloos!
Controlling my nerves then helped me execute my race plan and ultimately succeed, where I could have worried myself into failing.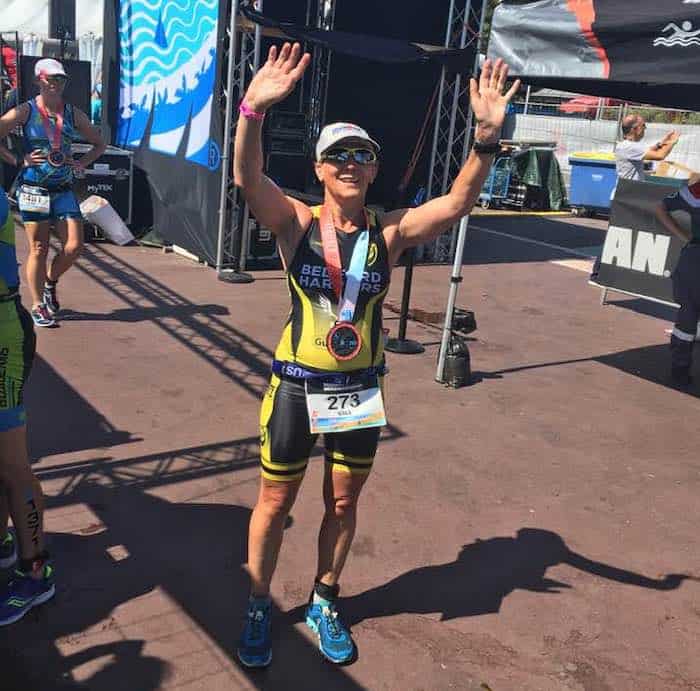 I believe your trip to Kona actually got off to the worst possible start to with an accommodation issue – what happened?
I thought I'd found the ideal spot on Ali'i Drive, right on the sea front. Initially I was going to be on my own so I booked somewhere on the less expensive side (on the Kona scale of pricing…), but then was thrilled when my friend Louella also qualified so I checked there were two beds and it still seemed suitable for the job.
When we arrived we couldn't believe we were in the right place as outside it was essentially a scrapyard. The host was not there and a random guy gave us a key code which seemed common knowledge. We looked around the property and our hearts fell. Not only was there only one, lumpy, small double bed but the sofa should have been condemned about 50 years ago. The rest of the property was in a similar state; filthy, smelly and in a state of disrepair and we quickly knew we couldn't stay there. We repaired to a hotel to consider our options.
Did that somehow turn out to be a blessing of sorts, because of where and who you then ended up staying with? Do you believe in fate?!!!!
A friend put us in touch with Karlyn Pipes, who had a spare room in her beautiful house… but by moving in with Karlyn, we got so much more than a roof and a bed. Karlyn is the epitome of Ohana, (the Hawaiian spirit of family and welcome, and the theme for this year's IRONMAN Championship). She took us into her home, taught us about Hawaii, made us enthusiastic about swimming, introduced us to some amazing people and generally made our stay so very special.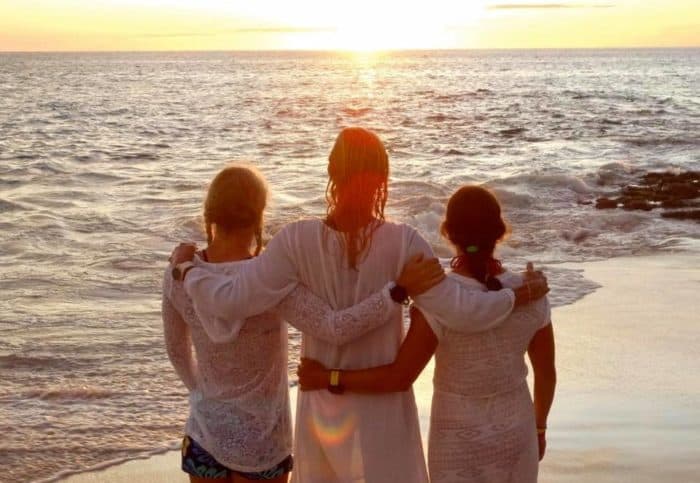 Did I mention that Karlyn is a world record holding swimmer, a recovering alcoholic, an author, motivational speaker and all round incredible person? We could not have fallen more firmly on our feet. Fate? No… but maybe it was Madame Pele coming to our aid?
https://www.facebook.com/804877093/videos/vb.804877093/10157564205192094/
The swim is not your strength, but coming out of the water within 10 minutes of the leader – and literally next to Catherine Houseaux (FRA), who beat you in Nice – was a very solid start. Did you feel like you had swam well and, at that point, have you any idea (or indeed, interest), in where you are in the race?
That was hilarious! I knew I'd had a good start to the swim as I found some great feet and managed to stay on them for a good portion of the outward leg. The way back in was far harder work with the tide, waves and the chop of the sea working against us and I couldn't maintain the great starting pace.
I was telling myself that this swim was the reason for every single one of my 5:25 alarms for the past few years and I had better make it all worthwhile by getting myself together and pushing all I could. It still seemed to take about two hours to get to the jetty and despite not being sick this time (ear plugs, nose clip, ginger, wristbands, practice), I still thought my time would be slow. My watch told me 1:15 as I finally felt the sand under my feet and I was pretty happy with that.
In the change tent I apologised as I squeezed past someone and when I saw it was Catherine, I was thrilled. I had expected her to have at least 10 minutes on me if we followed Nice form. I was grinning as I ran for my bike and not just from relief at being out of the water.
What was your plan for the bike? Over the first 40 or so miles it looks like Catherine gained close to four minutes on you at one point, but by 65 miles you were in the lead and at T2 you got off the bike 10 minutes clear.
I exited T1 in front of Catherine and was sitting on my brakes behind a slower chap on the steep descent of Palani into a tight turn, all of which was a no-passing zone, when a bike streaked past on my inside. At the first turnaround a few minutes later, I saw it was Catherine, who made time to eyeball me before pulling away at speed. It was clear she knew she had to ride herself into a significant lead over me if she were to hold me off on the run and that is what she set out to do.
I was under strict instructions not to push the start of the bike leg though, so tempting as it was to go and chase her, I stuck to the plan and hummed as she rode away from me. My adherence to instructions was to pay off as I passed her just after the turnaround at the halfway point. At this point I rode into the lead on the bike, but I wouldn't know that until much later.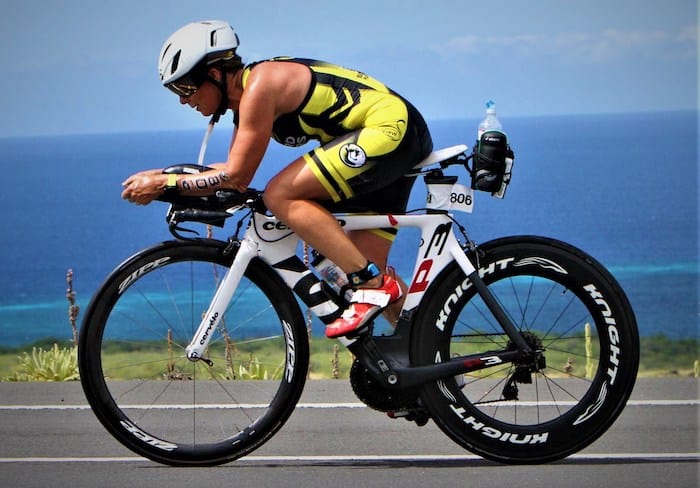 Fastest bike split – and then the best run split too (3:40:30) – as much as you can in the conditions in Hawaii, did you feel good?
I felt great. The other races I have done this year all gave me extremes to deal with – wind, climbing and heat in Lanzarote; extreme heat in Frankfurt; heat, climbing and altitude in Alpe d'Huez and finally yet more heat and climbing in Nice. These races all challenged me hugely and at times I genuinely doubted I would finish, so the heat, wind and humidity in Hawaii I actually enjoyed and struggled with far less than I expected.
I loved the first half of the run where I felt fairly fresh and kept up a reasonable pace. The second half was harder out on the lonely drag to the Energy Lab and back, but by now I knew I had a pretty good lead so I could settle into a rhythm and just run it in. I had expected to have to battle hard for that position so I was far more cheerful than normal on the return leg.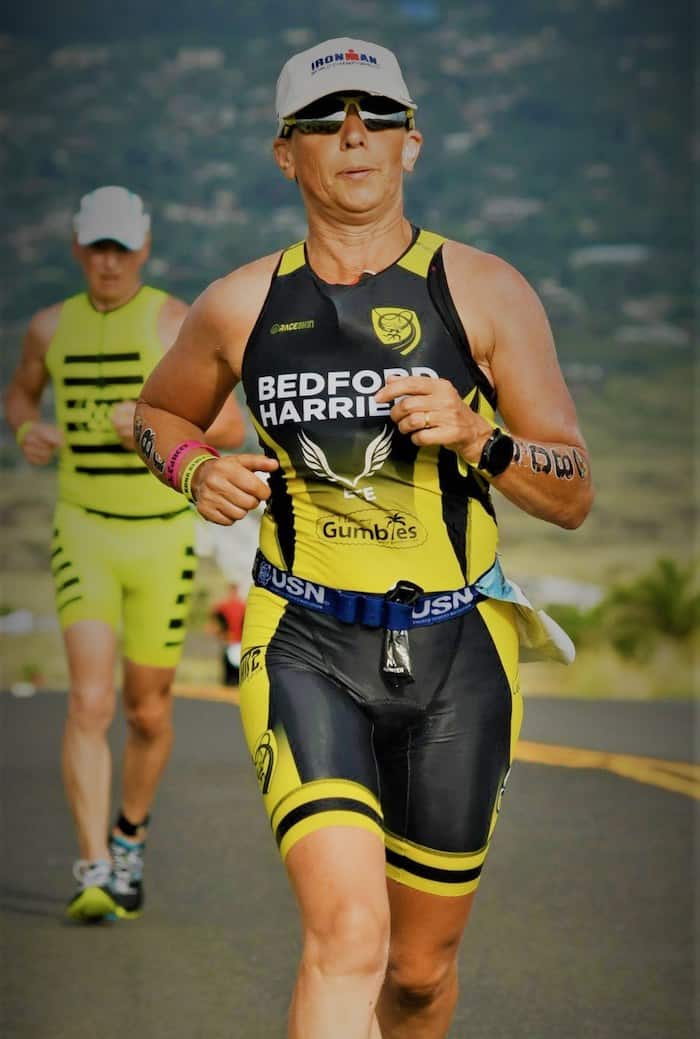 You've won pretty much everything it's possible to win as a Middle and Long Distance Age-Group athlete, in Duathlon and Triathlon, European and World Championships, ITU / ETU / Ironman / 70.3…but this was the final (and biggest) piece of that puzzle, the one that everyone would love to conquer. That last mile, knowing you are in the lead, what were you feeling and thinking?
As I started the run I was told I had nine minutes lead over the next lady in my age group. By the time I had run the first 10k this had lengthened to 14 minutes so I was no longer hunting down competitors but fighting to keep that top spot.
At the Energy Lab turnaround I didn't see anyone gaining on me and I guessed that the race was mine to lose. I backed off if I felt at all wobbly (with Sarah True's collapse 500m from the finish in Frankfurt still fresh in my mind), and made sure I took on enough nutrition to get me to the finish line. I knew by the last mile that it was mine and running that last stretch onto the blue carpet of All'i drive was pure magic.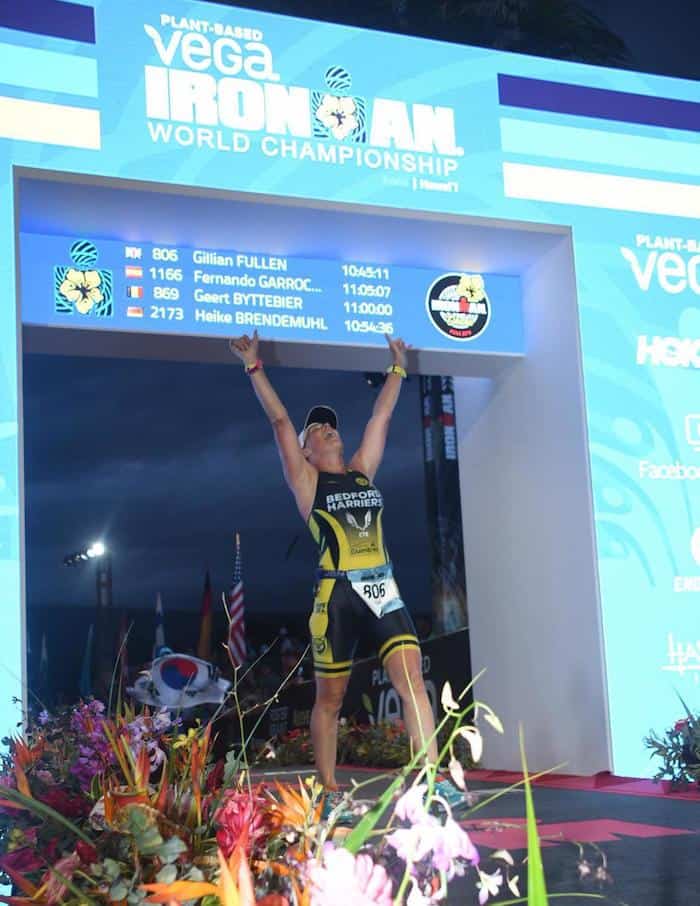 Gill Fullen's World and European Championship Age-Group C.V.
| | |
| --- | --- |
| IRONMAN World Champion | 2019 |
| IRONMAN European Champion | 2019 |
| IRONMAN 70.3 World Champion | 2015 (plus Silver 2019) |
| IRONMAN 70.3 European Champion | 2018 |
| ITU Long Distance Triathlon World Champion | 2013, 2018 (plus Silver 2012) |
| ITU Powerman Long Distance Duathlon World Champion | 2013 |
| ETU Powerman Long Distance Duathlon European Champion | 2016 |
| ITU Duathlon World Champion | 2012, 2013, 2015, 2016, 2017, 2018 (plus Silver 2014) |
| ETU Sprint Duathlon European Champion | 2014 |
Getting to Kona, let alone winning, is rarely an easy journey for anyone. Add in your illness and surgery, then frustration at not being able to even start last year – does that make it even more special, to have finally achieved that goal?
This was the big one for me. A goal for the last 10 years, since I set foot on the Ironman path. One that was denied me last year when I was in the absolute best form of my life. There have been so many challenges to get here, both physical and mental (not to mention financial), that this was always going to be emotional.
Paul Kaye was on the commentary to call me over the line and to finally putting such a huge goal to bed was like a massive weight lifted from my shoulders. Yes, I cried for the closing of a chapter; yes, I laughed and yes I screamed for joy. Those moments of real heartfelt happiness are so rare in life that giving into your emotions is the only honest thing to do.
Winning the IRONMAN World Championship in Hawaii – F55-59
(Video credit – Karlyn Pipes)
The obvious question (and, I realise that it is too early to ask this, but I will anyway…), what's next?! And, if you think you will continue to race… would you like to go back to Kona at some point, or is that perhaps a wonderful way to close that chapter?
Seriously, I have no idea. I came to Kona this year with the intention of putting it to bed one way or another. I had no intention of going back. I have no plans for next year. I'm going to have some well earned down time and probably a long chat with both coach and husband. There are so many things I'd like to do it's hard to know where to begin. But it's also hard to know when to stop….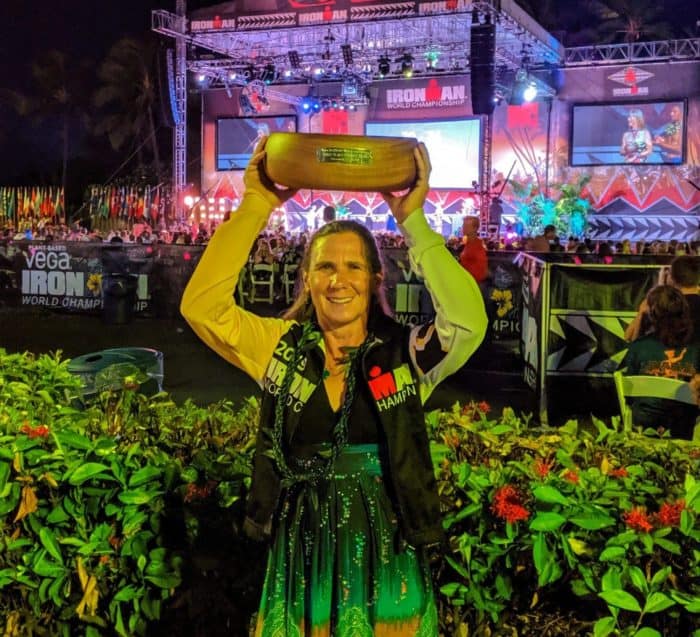 You've had lots of people (like me…), who have so much respect and admiration for what you have done, over so many years, and how you have dealt with the adversities along the way – what has the response been like from friends and, I suspect, many people you barely even know to what you did on Saturday? As someone who doesn't seek the spotlight that your results put you in, that must be quite humbling the pride and belief that others have in you?
My inbox has been full up with messages and I have barely scratched the surface of the Facebook posts. I have been truly overwhelmed by the support and congratulations from such a huge variety of people that it is, as you rightly say, very humbling. I deliberately stayed away from the media hype pre-race as I had enough to deal with in my own head, so to peek out from my personal space and be surrounded by such a mass of well-wishers is simply unreal.
Thank you so much to every single person who has helped me achieve this goal. Never underestimate how motivational that support is. You are all a big part of this success.