An in-depth chat with the fastest British female Age-Group athlete at Kona 2017
'The Postman' – because she always delivers! Alison Rowatt is one of the very best British amateur triathletes of the past decade.
At the IRONMAN World Championship this year, Alison collected her fourth Umeke award – and after finishing second three times previously, she finally reached the top step of the Kona podium this year. An IRONMAN is 140.6 miles long, and Alison was into that final '0.6' before she finally hit the front of the race.
Almost ten hours of effort… for a winning margin of 27 seconds.
Interviews with Great Britain's fastest at Kona 2017:
---
Pre-triathlon, you were an international hockey player (as was Natalie Seymour!). How long did you play hockey for, and what were your best achievements?
I played hockey all the way through secondary school, playing for Scotland U16, U18, U21 and finally the senior team. All-in-all it was for about 16 years. I got a few GB caps but I was never really good enough for the GB team, and it was at that point I think I realised I'd done all I could in hockey and needed a new challenge.
I played for the Scottish senior team for about six years and I went to Europeans, a World Cup in Australia in 2002 and the Commonwealth Games in Melbourne 2006, among other tournaments. I was also lucky enough to spend five months in Australia following the World Cup in 2002, training in Perth and then moving to Darwin to play for Northern Territory in the Australian State Tournament. It was an incredible experience and I'm not quite sure I appreciated it as much at the time as I should have. Looking back though, I was very lucky to have been part of that trip.
Hockey to triathlon doesn't seem a natural or obvious transition – how did you first start in the sport?
I always loved running – at school I did cross country and athletics, as well as hockey. As a family we used to (and still do), go to Arran on holiday every year and we would always take bikes there and cycle every day. For anyone that has cycled in Arran they will know that it's not easy with lots of big hills and I remember very early on one of my biggest achievements was the first time I got up the hill to our house without having to get off and walk. I would always go out on the bike with my older sister and my Dad, so I was always having to try and keep up, but I still loved it. So, I grew up biking and running.
One year, friends of mine were doing the New Years Day Triathlon in Edinburgh, so despite not being able to swim properly, I signed up. I was still playing hockey at the time but it seemed a nice way to start the year. It wasn't. I struggled through the 400m swim in the Commonwealth Pool; outside it was freezing cold and cycling with wet clothing made it even colder. And then my legs were so numb I couldn't feel them for the run. But somehow it didn't put me off and when I decided my hockey playing days were over and I wanted something to fill the void, triathlon seemed a good option!
Given your hockey career and that you've been racing in triathlon at a good level for several years now, did you realise quite quickly that you had an aptitude for your new sport?
It's a difficult one. I realised quite early on that I was a decent runner off the bike – and I was able to catch a lot of folk. But when I started, my first races were pool-based sprint distances and some competitors were almost finished by the time my (very slow) swim wave got going, so I never really felt it was a "race". They were also so short that I didn't have enough time to make up my deficit from the swim. My first open water race, while nerve wracking, was a bit of a revelation as I was starting at the same time as everyone else in my age group, so I felt like I was actually in a race. I also quickly realised that the longer the race, the more success I had, as I had more time to chase folk down on the bike and then the run. The old adage of "it's not the fastest person who wins, it's who slows down the least" really resonates with me. I've never been fast – my sprint tests in hockey prove that – but I could keep going at the same speed, so it was almost was a no brainer that I should turn to Ironman.
Having found that, was the drive to take it 'seriously' pretty much there from the start?
I never consciously thought I was going to "take it seriously" and I still wouldn't say that's what I do now – it's just how I do things. It's maybe that combination of being a bit of a perfectionist and having *slight* (!!) OCD so I like to do everything as well as I can. Preparation for me is key, so whatever I'm doing – an exam, a meeting at work, an interview or a race, I like to be as best prepared as I can be.
Looking through our archives, it looks like your first major result was winning 70.3 World's 2010 (25-29) back in Clearwater, where you were also the fastest AG'er overall. What do you remember about that race?
I have such great memories of that race – it is definitely one of my biggest achievements. I don't remember much about the swim but I remember the bike being super fast. It seemed to go past in a flash. Off the bike I was running well but I kept expecting Eimear Mullen to catch me – she was also quite new to the sport at that time and I knew she was a super fast runner. One of my most distinct memories from the race was taking a cup of water at an aid station during the run, drinking the water and aiming the cup at a bin and it going straight in – at that point I thought, "this could be my day"!
In the last mile there was a guy in an orange tri suit who was running really well and I just wanted to hang on with him and make it to the end. Strange what you remember, seven years on! It was a fantastic trip, my first time at a big triathlon event, racing in America and it really sparked something in me and made me want more.
It appears as though you've focussed through your racing career of trying to perform at your best, at a small number of the highest quality races (IRONMAN and IRONMAN 70.3. World Championships primarily). Has racing in any of the ITU/ETU events for example, ever been on your radar?
Not really, I suppose because I've focussed more on the longer distances it's mainly been Ironman and 70.3. I would be keen to do ITU long course though, I think that the distances (other than the 3k swim!) would suit me.
You appear to be very consistent in your racing – can you tell us a bit about your training, as I'm going to take a hopefully educated (!) guess that is probably reflected in a very consistent and strong work ethic within your training too?
I do think the key to consistent racing is consistent training and I do train consistently. I must admit that with work, training is a great stress buster, so even in the off season I struggle not to do something as it's the best way (for me) to unwind after a day at work.
That being said, Ironman training is hard. It's long hours of biking and running and any time not spent training is recovering. I think it's a difficult balance between doing enough to get the most out yourself and not pushing too far to risk injury/fatigue/overtraining. While in previous years I've not had a "coach" as such – I've had various people I could speak to – the last year with Richard really helped to get that balance right and to get the best out my training.
You work full-time – can you tell us about that and how you manage to balance that senior role in parallel with your sporting objectives?
I'm very lucky in that the firm I work for accepted my 9-5pm hours from the beginning. I've been with the same firm for 13 years and when I started there I was playing hockey so I've always been managing the work/play balance. I live a 15min walk from the office so I can be home and on the turbo or ready to run by 5.30pm. To be able to train twice a day, you need to be quite time efficient so you maximise the training time and (more importantly) recovery time to be able to do it day after day. I'm also a bit of a groundhog who likes routine, so the day in, day out, training regime suits me.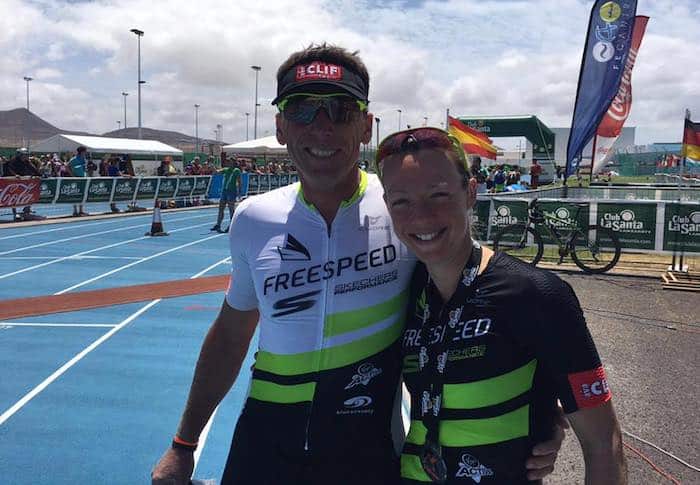 I noticed you started working with Richard Hobson as your coach in the last year or so – has that changed much for you?
It's made a massive difference – much more than I ever expected when I started working with him. One of the best things about our coaching relationship is that Richard knows me very well so he is able to get the best out of me. I knew him as part of Team Freespeed but we got to know each other better when I went on his Long Distance Tri Living training camp in Lanzarote. He recognised I needed help with my swim and offered to give me some sessions. He made me enjoy swimming which was a huge thing for me. This year I turned up to his Volcano Camp just after the marathon so I was run fit but dreadful on swim and bike – he offered his help with the bike as well as the swim.
By the lead in to Ironman Frankfurt this year he had taken control of my whole programme, given me renewed motivation and really transformed me. He seems to know just how hard to push without sending me over the edge. And for the smaller details away from swim/bike/run he's there for support, advice and someone to tell you that the way you're feeling is totally normal! I attribute this years Kona win to him and I can't thank him enough for the help he's given me.
You've raced in Kona five times now and finished on the podium four times. Is it a race you can 'love', or do the conditions just mean you have to just 'suffer faster' than most of your opposition?
I definitely don't love it. As a course it really doesn't suit me – I'm not a strong swimmer and it's a hard sea swim and on the bike the wind and long flat sections don't really suit me either. The heat on the run makes nutrition even more important and coming from Scotland it's hard to practice that, so all-in-all, it's not ideal! Every year mid way through the bike I tell myself as much, as another girl flies past me! But, I think in Kona you just need to grind it out, put your head down, don't psyche yourself out by overthinking your current position in the race and just get from A to B as quickly as you can. It's Kona, and that's what's so special about it.
Ahead of Kona this year you had three second-placed Umeke awards. That must give a mix of both pressure of previous success / expectations (external, perhaps), but also drive to take the final step. How did you manage that?
I honestly believe that the difference this year was down to Richard. A couple of days before the race he chatted through some nutrition advice with me – my race up to about 20 miles on the run was no different to any other year, but as I came out the energy lab with just over 6 miles left to run I felt almost the best I had the whole race and I was able to pick up the pace when I had to. The nutrition advice that Richard gave me, together with the training he put me through in the months leading into the race, gave me the strength and fitness to be able to run hard to the end.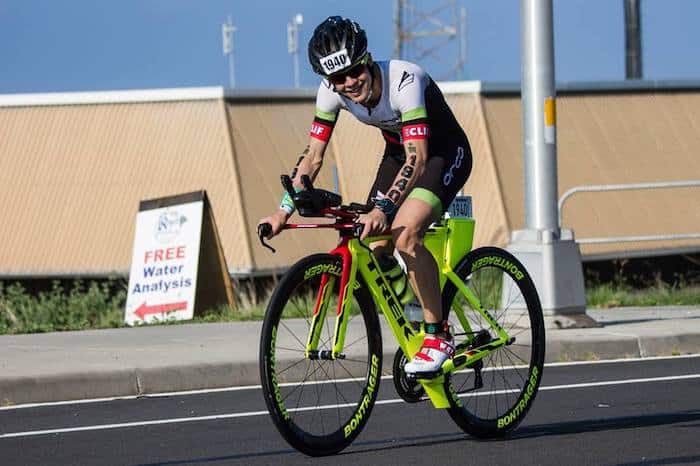 Looking at the race – you exit the water 26th in your AG and are still not in the top-10 starting the run. Do you race base on power / heart rate / RPE or anything – and did you have any awareness at all of position until you get to the run?
The swim I just get through as best as I can. The bike I know what watts I should be aiming for from what I've done in training, but I also like to go a bit by feel. I think you also need to take the conditions in Kona into consideration so while watts are important, if you can't hit the numbers or it feels too hard trying to hit your target power, then you need to back off or you'll pay for it later. I found the power useful when I felt I was going hard and the numbers confirmed that – so regardless if girls are gliding past me with seemingly effortless ease, I know what I can do without "blowing up" so when it feels too hard and the numbers confirm this, then I have to back off.
In qualification races and coming out quite far back after the swim I'm used to going past girls on the bike, but in Kona I know there's girls that I just can't compete with on the bike. That being said, this year there were a couple of girls that I recognised and I wanted to keep an eye on but who got away from me after the Hawi descent. I finished the bike a bit frustrated at myself and sensing (you never actually know), I was quite far down the age group.
The run course in Kona is not great for spectators, with its two big out-and-backs. Were you able to get many time updates during the run?
In the first 10miles out-and-back along Ali'i Drive, I had no idea of position and/or time splits. I wasn't feeling great, it was super hot and I was just trying to cool down whenever I could. Philip Hatzis was on Ali'i Drive and was fantastic at giving support whenever I saw him. While I wasn't feeling good he kept telling me I was moving faster than the other girls and just to catch the next one ahead. It really made a difference hearing such simple, positive advice.
As I went up Palani to go out on to the Queen K I still wasn't feeling great but I saw two friends half way up who again provided such energy and positivity that it couldn't fail to spur me on.
It wasn't really until I came out of the Energy Lab though that I got proper time splits. Ironically, I think it was a message from Richard Melik's wife, Jenny, at home passing on the speed I was running at and how far the girls were up the road. I must admit I wasn't convinced when I heard the numbers and did the maths that there was any way I would catch the girls ahead, but my legs felt good and I was feeling strong, so I decided to go with it and see how long it would last!
With two miles to go Richard told me there was another girl two minutes up the road and to get a move on!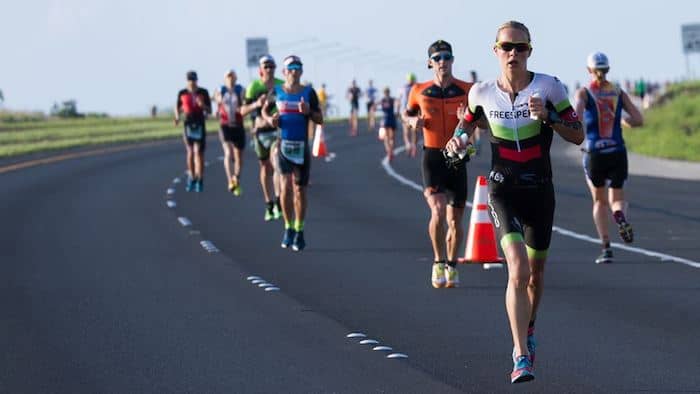 With one mile to go – having just come down Palani Hill, quads in pieces – I'm guessing you had some information that you were about 40 seconds behind in second place. What goes through your mind at that point, as aside from perhaps Patrick Lange, nobody really wants to sprint for the next six/seven minutes at that point?!
I actually still wasn't sure of my position but I knew there was a girl up ahead that I needed to catch. I was feeling good thankfully and I just put my head down and went as hard as I could. As you're coming back into town the crowds line the road so you get lots of cheers and shouts which really helps, even if you aren't able to acknowledge it at the time.
You won by just 27 seconds, which likely means you passed the long-time leader actually on Ali'i Drive. We're you aware you had taken the lead – for all of maybe 400 metres of the race (the most important 400 metres!) – and could you actually enjoy the moment?
I saw the girl just as I turned right on to Ali'i Drive (about 500m to go), but I suddenly had no idea what to do! I had been "sprinting" for the last mile and knew I couldn't go any faster, so if she kicked when I past her, I had nothing. I contemplated sitting on her shoulder and trying to go past her nearer the finish line, but knowing my (lack of) sprint I decided just to keep going and hope she couldn't pick up her pace. As it happens, I don't think she even tried but in my head she was right on my shoulder the whole way in and I just kept going as hard as I could, only looking back when I got on the carpet. My finishers pictures coming up to the finish line are all of me looking over my shoulder! I wasn't happy until I had crossed the line.
I still didn't know I had won when I crossed the line. Yes, I passed the girl I had been chasing but neither of us were sure what positions we were in. I was taken away for drugs testing straight after I crossed the line and I found myself in a hotel room with Susie Cheetham and Daniela Ryf all waiting to be tested as well. When they asked me how I got on and I admitted I still wasn't sure, Rob, Susie's husband, immediately checked the tracker and told me I'd won the age group. So it was a pretty cool way to find out and everyone was very kind in their congratulations. We passed the time chatting through our experiences of the race and it really was one of the highlights of my day!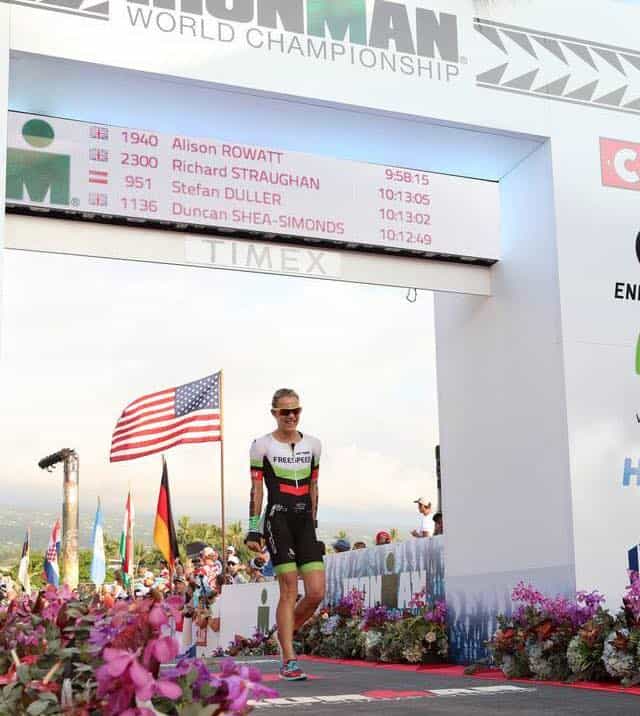 A few weeks on now, how proud are you of your performance?
About a month before I was due to fly to Hawaii my family received some really hard news and there were times in that month that it was doubtful I would go. I'm a home girl and when there's something wrong I just want to be close by, so being half way across the world was, at times, just not an option for me.
So looking back, I think what I'm most proud of, is getting through it, both the training during that month and the race itself – almost regardless of the result. When something seems too hard to contemplate but you face up to it and do it anyway, it's amazing what you can do. The result was a nice reward for the hard work and I suppose testament to never giving up.
I know I asked you at the awards – but with a little more time to think now (and an automatic entry for 2018), do you plan on returning to Kona?
At the moment I plan to go back. As strange as it may sound, I still don't feel I've had a race in Kona that I'm satisfied with. I may never have one, but I still have the desire and motivation to go back and try for it.
Having an automatic entry gives me more options for next year and I plan to race Challenge Roth in July so my build up should be similar to this year.
How important has being part of Team Freespeed – and the support they are able to provide – been over the last five years for you?
Team Freespeed are a fantastic group of people and I feel so incredibly lucky to be part of it. We have great sponsors – this year I was lucky enough to race the LA Marathon with Skechers – and each year the sponsors really support us and make us feel as valuable to them as they are to us. The Team itself is a great group of like-minded individuals and it was brilliant to have so many of us in Kona this year. It's amazing the lift it gives you on the race course when you see a Freespeed suit coming towards you, and thanks to Orca making us really visible custom Kona race suits, we were really easy to spot.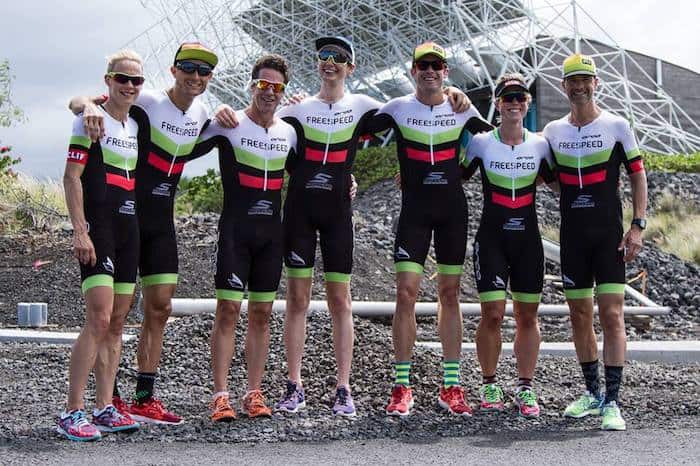 International Hockey, Age-Group World Champion at 70.3 and IRONMAN plus a super fast Marathon in Los Angeles this year – are there any other sporting ambitions for you in the future we should know about?
Haha! I'm not sure! I definitely want to try to go faster. As I mentioned, next year I'm signed up for Challenge Roth so I'd love a shot at getting as close to 9 hours as I can. And I'm also hoping to do another marathon and try to beat this year's time, but we'll see. It took me four years to better my debut Ironman time so hopefully the marathon won't take as long!
Massive congratulations on your achievement this year – I think your success and commitment to achieving it is respected more widely than perhaps you appreciate.
Thank you. And thank you for taking the time for the questions and listening to my ramblings!