Next stop Kona. Can Gill complete a stunning sporting C.V.?
Gill Fullen, Natalie Ruffell the only GB Age-Group athletes on the Frankfurt podium
If you've read the Pro reports (MEN | WOMEN), or watched the live coverage from the IRONMAN European Championship, Frankfurt in Sunday, you'll no doubt be aware what an incredibly tough day it was for all of the athletes. Temperatures on the run course reported to be in the region of 38ºc at times and a non-wetsuit swim were not going to lead to personal best times for the vast majority – especially as the bike course is already 'long' at 185km.
Combined with the conditions, the competition standard in Frankfurt is always exceptionally tough, given the depth of quality and the passion for iron-distance racing in Germany. That depth is arguably reflected in the (small) number of British Age-Group athletes who secured top-three finishes on Sunday at the IRONMAN European Championship – just two this year.
Natalie Ruffell (25-29) from Clapham Chasers put together a great performance (11:07:07) to take third place in her category, and was just nine seconds slower than the second place finisher. In those sweltering conditions she closed out her race with a 3:44:09 marathon. Even more impressive, that was her first IRONMAN start too.
https://www.instagram.com/p/BzSo3V2Byhq/
The one British winner in Frankfurt is no stranger to the pages of TRI247. Gill Fullen is without question one of the most successful and consistent British Age-Group athletes ever and continues to impress, now in her first year in the 55-59 division. Despite describe describing her own performance to me as "pathetic", that she still won her Age-Group (11:29:31) by more than TWO HOURS, probably helps bring a little balance back into the assessment of how her day went, given the conditions!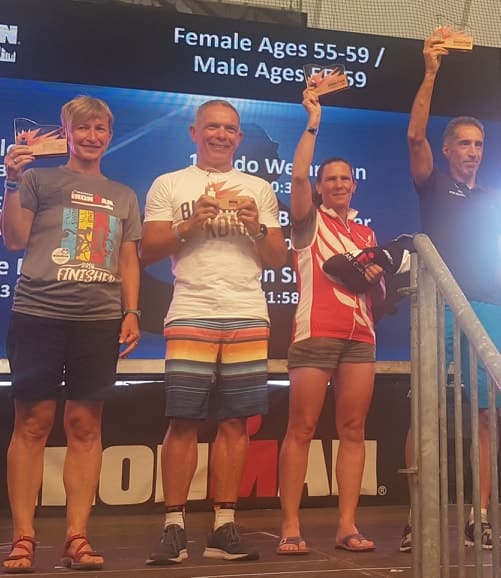 Chasing Kona…
Racing in Frankfurt achieved one thing that is actually quite difficult when you have Gill's racing history – finding a Championship event you haven't previously won. She's pretty much ticked all of the boxes out there now, with Gold medals at the ITU Long Distance World's, World and European IRONMAN 70.3 Champion and now IRONMAN European Champion. Her record in Duathlon is arguably even more impressive. Check out the stats below.
Of course, that just leaves one (huge) target – conquering Kona and collecting a large Umeke to become an IRONMAN Age-Group World Champion. After injury last year, that is now the big goal for Saturday 12th October 2019. Gill already has one trophy from Hawaii from her fifth place five years ago, but her goal for 2019 will certainly be set far higher than that.
In the last year Gill has won her Age-Group at IRONMAN Copenhagen (by 19 minutes), IRONMAN Lanzarote (by 70 minutes) and IRONMAN Frankfurt (by 131 minutes). As Gill will know better than anyone else, the challenge in Hawaii will be tougher still, combining intense racing conditions and the strongest competition from around the world. It is that challenge that drives her, and I look forward to following her progress.
GILL FULLEN'S WORLD AND EUROPEAN CHAMPIONSHIP C.V.
Triathlon
ITU Long Distance Triathlon World Champion (x2): 2013 and 2018 (Silver in 2012)
IRONMAN 70.3 European Champion: 2018
IRONMAN European Champion: 2019
IRONMAN 70.3 World Champion: 2015
IRONMAN World Championship; 5th (50-54), 2014
Duathlon
ITU Duathlon World Champion (x6): 2018, 2017, 2016, 2015, 2013, 2012 (Silver in 2014)
ITU Powerman Long Distance Duathlon World Champion (Zofingen): 2013
ETU Powerman Long Distance Duathlon European Champion: 2016
ETU Sprint Distance Duathlon European Champion: 2014