Sunday's eighth edition saw Pro racing return to IRONMAN 70.3 Staffordshire, where James Teagle took the victory in the men's race, details of which you can find in our event report from the day.
As always, a big day for plenty of Age-Group athletes too, where George Martindale and Stephanie Clutterbuck were the overall amateur winners.
The road to victory
After a fantastic bike split of 2:30:27, Stephanie (25-29) started the run with a significant lead of more than nine minutes over Jasmine Holmes (18-24), and a 12-minute advantage on Dee Allen (30-34). She still had to work hard though, as Dee used her renowned run speed to record a 1:24:48 half marathon, to leave her just 73 seconds shy at the finish, while Jasmine completed the overall top three.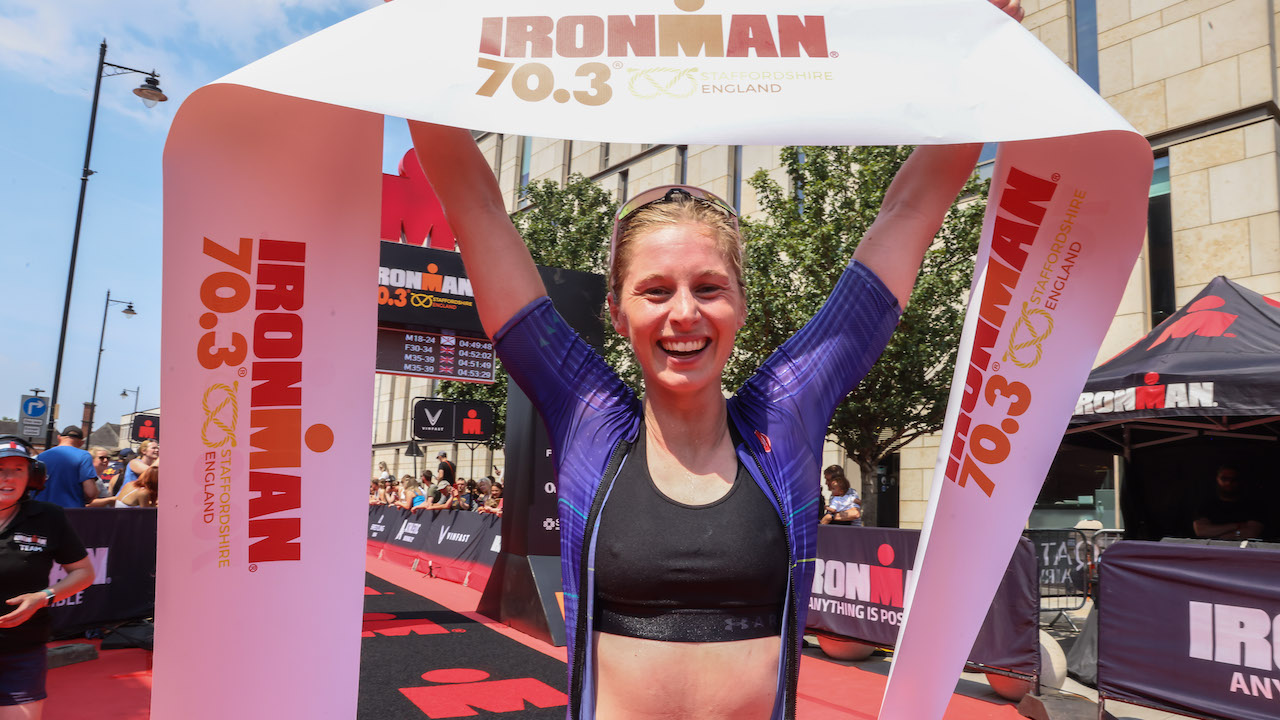 For the men, George (30-34) – who topped the IRONMAN UK podium last year – started the run in third place, 1:39 down on leader Kieran Morris (18-24) and a minute shy of Tom Bill (30-34). By 5km however he had erased those deficits, to take the tape via a 1:19:57 run. Tom Bill held strong for second three minutes back, and as Morris drifted out of contention for the top spots, it was Chung Yai Liu (HKG – 25-29) who rounded out the overall podium positions for the amateur men.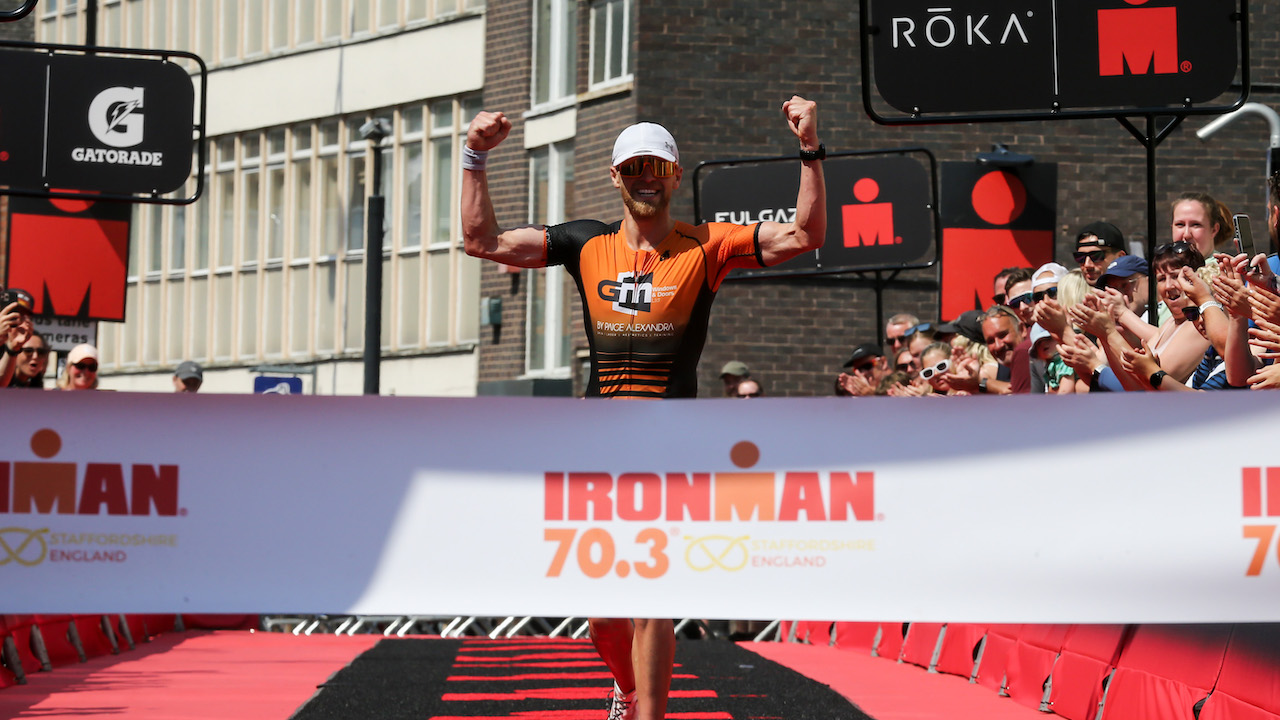 With great thanks to Huw Fairclough (www.huwfaircloughphotography.co.uk) / IRONMAN – we've got pictures from the awards collection post-race on Sunday of the podium finishers.
IRONMAN 70.3 Staffordshire 2023: Age-Group winners
FEMALE
18-24: Jasmine Holmes (GBR) – 4:46:35
25-29: Stephanie Clutterbuck (GBR) – 4:37:25
30-34: Dee Allen (GBR) – 4:38:39
35-39: Laura Heinonen (FIN) – 4:53:16
40-44: Laura Fairhurst (GBR) – 5:05:54
45-49: Emma Benson (GBR) – 5:14:19
50-54: Frances Recchia (GBR) – 5:34:37
55-59: Dea Ditchfield (GBR) – 5:38:21
60-64: Sherry Grewal (CAN) – 7:12:29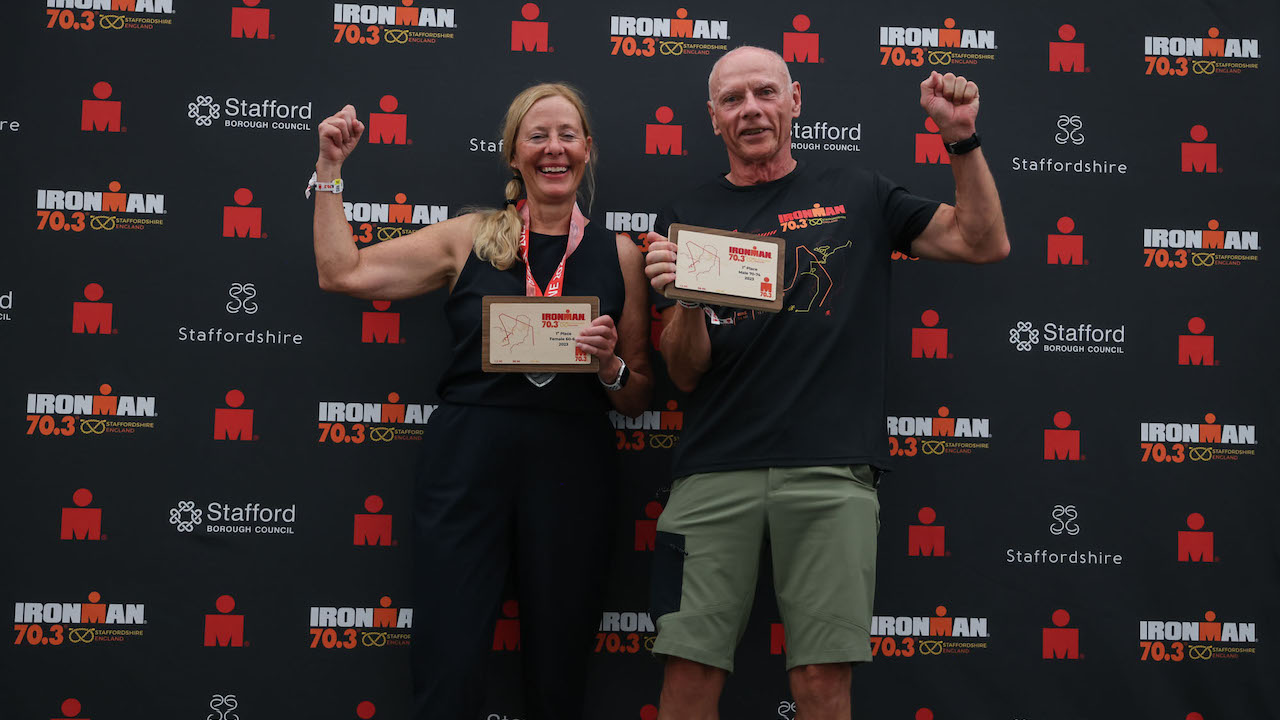 MALE
18-24: Joe Tabachnik (GBR) – 4:28:12
25-29: Chung Yau Liu (HKG) – 4:19:30
30-34: George Martindale (GBR) – 4:10:48
35-39: James Eacott (GBR) – 4:24:21
40-44: Andrew Bryson (GBR) – 4:19:32
45-49: Andy Moran (GBR) – 4:31:49
50-54: Robert Harrison (GBR) – 4:28:12
55-59: Peter Younghusband (GBR) – 4:33:45 **
60-64: Tim Howley (AUS) – 5:14:16
65-69: Richard Dunbabin (GBR) – 5:34:15
70-74: Tony Hoare (GBR) – 6:12:59
(** Peter also won M55-59 in 2021)
Podium Pictures