As no doubt you'll be aware, there was two days of racing this year at the IRONMAN World Championship in Kona, Hawaii. After three years away due to the global pandemic, that left a lot of age-group athletes having qualified from as far back as September 2019, who had not yet been able to take up their place on the pier alongside Dig Me Beach.
Racing over two days was, in part, to resolve that conundrum and as a result there were more Age-Group athletes than ever racing. No surprise then that this was – by a long, long way – the biggest entry ever for the UK and Ireland contingent, with around 240 men starting.
Here I take a look at the UK and Ireland Male Age-Group results from Kona. ALL of them!
[You can find the women's AG roundup HERE]
Below you will find two tables featuring the results of every entrant, ordered initially by overall time, and then by category in the second table.
(EDITORS NOTE: The full listing of GB & Ireland entrants was extracted from the official participants list pre-race. If there is an error or you are missing, then a) apologies (!), and b) that is probably why. Please do get in touch if that is the case (editor@tri247.com) and I'll get things updated for you.)
James Ellis goes Sub-9
The fastest British amateur in Kona – on his Hawaii debut – was James Ellis. He clocked 8:57:09. James featured on these pages back in 2019, when he reported for us on his impressive 2:26 run at the London Marathon. Later that year he was involved in a cycling accident that left him in hospital with several broken bones and a long road to recovery. What a debut, what a recovery.
It's a measure of the depth of standards in Hawaii that an 8:57 finishing time 'only' get you 17th position in the M30-34 category.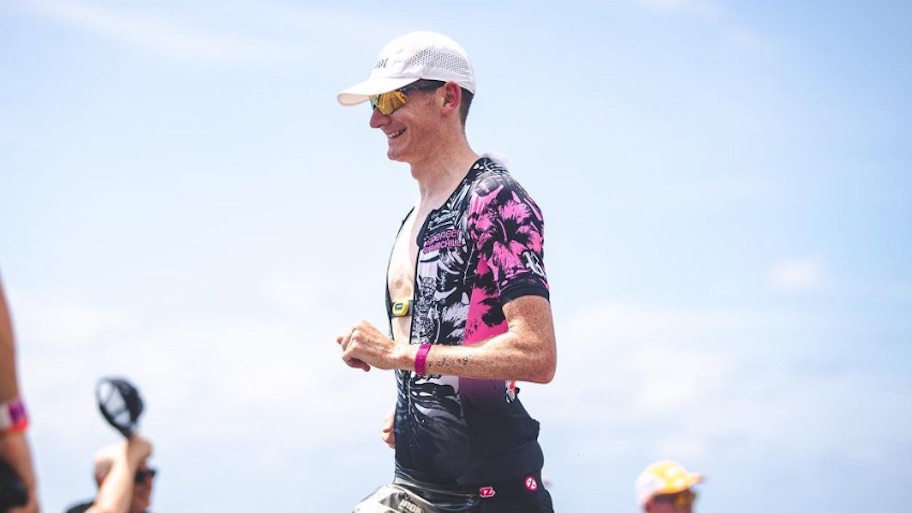 More on the podium finishers soon, but just an early note here for Martin Gannon. We featured Martin (and wife Elizabeth) pre-race, and he had a fantastic day to win the M65-69 category, having twice finished fourth in Hawaii previously.
All UK and Ireland Age-Group Male Entrants – Fastest First
| BIB | NAME | DIVISION | COUNTRY | DAY | CAT POS | TIME |
| --- | --- | --- | --- | --- | --- | --- |
| 2587 | James Ellis | M30-34 | GBR | Saturday | 17 | 08:57:09 |
| 2497 | Grant Johnson | M30-34 | GBR | Saturday | 24 | 09:03:24 |
| 2077 | Neil Eddy | M35-39 | GBR | Saturday | 11 | 09:08:11 |
| 1541 | Djalil Baiou | M40-44 | GBR | Saturday | 15 | 09:11:25 |
| 1801 | Sion Slyman | M35-39 | GBR | Saturday | 20 | 09:13:07 |
| 1533 | Stephen Cordiner | M40-44 | GBR | Saturday | 22 | 09:14:23 |
| 2021 | Duncan Chedburn | M35-39 | GBR | Saturday | 24 | 09:15:14 |
| 2322 | Matthew Brooke | M30-34 | GBR | Saturday | 38 | 09:15:35 |
| 1908 | Vanrisch Mclean | M35-39 | GBR | Saturday | 29 | 09:16:56 |
| 2450 | Thomas Joly De Lotbiniere | M30-34 | GBR | Saturday | 45 | 09:20:21 |
| 2350 | Finlay Mcandrew | M30-34 | GBR | Saturday | 57 | 09:24:50 |
| 2419 | Daniel Anderton | M30-34 | GBR | Saturday | 58 | 09:24:50 |
| 1902 | Michael Scully | M35-39 | IRL | Saturday | 44 | 09:24:56 |
| 2067 | James Eacott | M35-39 | GBR | Saturday | 45 | 09:25:09 |
| 589 | Stuart Anderson | M45-49 | GBR | Saturday | 13 | 09:26:41 |
| 1699 | Lee Williams | M40-44 | GBR | Saturday | 52 | 09:31:09 |
| 1780 | Daniel Lanigan | M35-39 | GBR | Saturday | 66 | 09:31:24 |
| 2030 | Sam Shepherd | M35-39 | GBR | Saturday | 69 | 09:32:05 |
| 1984 | Craig Llewellyn | M35-39 | GBR | Saturday | 78 | 09:34:54 |
| 2430 | Rhys Palmer | M30-34 | GBR | Saturday | 89 | 09:38:00 |
| 1914 | James Curran | M35-39 | IRL | Saturday | 95 | 09:38:44 |
| 2492 | Jack Schofield | M25-29 | GBR | Thursday | 35 | 09:39:12 |
| 1204 | Graeme Stewart | M40-44 | GBR | Saturday | 74 | 09:40:07 |
| 2583 | Oliver Hewitt | M30-34 | GBR | Saturday | 96 | 09:40:14 |
| 2600 | Chris Harris | M25-29 | GBR | Thursday | 37 | 09:40:29 |
| 1175 | Richard Bruce | M40-44 | GBR | Saturday | 77 | 09:40:47 |
| 2069 | Tom Davey | M35-39 | GBR | Saturday | 112 | 09:43:27 |
| 2384 | Robert Harrison | M50-54 | GBR | Thursday | 7 | 09:47:00 |
| 2331 | Sam Chapman | M30-34 | GBR | Saturday | 119 | 09:48:09 |
| 1941 | James Hoare | M35-39 | IRL | Saturday | 132 | 09:49:18 |
| 1473 | Michael Mccarron | M40-44 | IRL | Saturday | 105 | 09:50:34 |
| 2109 | Oliver Whitby | M35-39 | GBR | Saturday | 140 | 09:50:57 |
| 2496 | Oliver Stringer | M30-34 | GBR | Saturday | 128 | 09:51:24 |
| 2446 | William Tyrrell-Moore | M30-34 | GBR | Saturday | 134 | 09:52:33 |
| 1855 | Stephen Magrath | M35-39 | GBR | Saturday | 147 | 09:53:03 |
| 1328 | Gary Roberts | M40-44 | GBR | Saturday | 117 | 09:54:07 |
| 1507 | Alan Kenny | M40-44 | IRL | Saturday | 118 | 09:54:28 |
| 2212 | David Cole | M30-34 | GBR | Saturday | 139 | 09:54:53 |
| 2582 | Luke Sullivan | M30-34 | GBR | Saturday | 141 | 09:55:24 |
| 1918 | Andrew Williams | M35-39 | GBR | Saturday | 158 | 09:56:10 |
| 1990 | Mark Tomlinson | M35-39 | GBR | Saturday | 164 | 09:56:55 |
| 1261 | Luke Worthington | M40-44 | GBR | Saturday | 132 | 09:57:07 |
| 2079 | Alex Duce | M35-39 | GBR | Saturday | 167 | 09:58:11 |
| 859 | Donnacha Holmes | M45-49 | IRL | Saturday | 72 | 09:59:32 |
| 1951 | Sean Burke | M35-39 | GBR | Saturday | 178 | 10:00:06 |
| 1346 | Oliver Simon | M40-44 | GBR | Saturday | 151 | 10:00:42 |
| 693 | Giles Brook | M45-49 | GBR | Saturday | 77 | 10:00:46 |
| 344 | Martin Foster | M55-59 | GBR | Saturday | 6 | 10:01:55 |
| 1196 | Andy Brodziak | M40-44 | GBR | Saturday | 166 | 10:04:13 |
| 2610 | Dan Elliot | M25-29 | GBR | Thursday | 71 | 10:06:28 |
| 2045 | Adam Labbett | M35-39 | GBR | Saturday | 207 | 10:07:49 |
| 2302 | Jame Hall | M30-34 | GBR | Saturday | 166 | 10:08:12 |
| 386 | Ivan Jones | M55-59 | GBR | Saturday | 10 | 10:08:31 |
| 714 | Stephen Anderson | M45-49 | GBR | Saturday | 99 | 10:08:42 |
| 1624 | Richard Whitfield | M40-44 | GBR | Saturday | 183 | 10:08:54 |
| 763 | Keith Murray | M45-49 | GBR | Saturday | 106 | 10:09:32 |
| 520 | Owen Martin | M45-49 | IRL | Saturday | 107 | 10:09:33 |
| 2583 | Ryan Snee | M25-29 | GBR | Thursday | 75 | 10:09:43 |
| 1761 | Sam Thompson | M35-39 | GBR | Saturday | 218 | 10:11:53 |
| 2578 | Lee Mccarron | M30-34 | GBR | Saturday | 177 | 10:12:26 |
| 2145 | Thomas Walsh | M35-39 | IRL | Saturday | 231 | 10:15:03 |
| 2192 | Steven Forrest | M50-54 | GBR | Thursday | 36 | 10:15:36 |
| 667 | Niall Behan | M45-49 | IRL | Saturday | 122 | 10:15:38 |
| 1267 | Daren Davies | M40-44 | GBR | Saturday | 226 | 10:19:45 |
| 1812 | James Knipe | M35-39 | IRL | Saturday | 240 | 10:19:48 |
| 1557 | Thomas Collins | M40-44 | IRL | Saturday | 227 | 10:19:53 |
| 2368 | Matthew Spooner | M50-54 | GBR | Thursday | 44 | 10:20:10 |
| 1148 | Paul Timms | M45-49 | GBR | Saturday | 147 | 10:20:55 |
| 523 | Chris Maxwell | M45-49 | GBR | Saturday | 149 | 10:21:10 |
| 892 | Justin Dutton | M45-49 | IRL | Saturday | 164 | 10:23:31 |
| 549 | Paul James | M45-49 | GBR | Saturday | 165 | 10:23:45 |
| 1709 | Gareth Parr | M40-44 | GBR | Saturday | 246 | 10:24:02 |
| 1564 | Conor Quinn | M40-44 | IRL | Saturday | 247 | 10:24:03 |
| 1715 | James Platt | M40-44 | GBR | Saturday | 249 | 10:24:23 |
| 849 | Simon Day | M45-49 | GBR | Saturday | 172 | 10:24:50 |
| 1810 | Jonathan Cordiner | M35-39 | GBR | Saturday | 257 | 10:25:39 |
| 2472 | Matthew Wood | M25-29 | GBR | Thursday | 98 | 10:27:01 |
| 2132 | Kurt Mcdonnell | M35-39 | GBR | Saturday | 259 | 10:27:15 |
| 2118 | Geraint Lewis | M35-39 | GBR | Saturday | 260 | 10:27:38 |
| 1061 | Neil Dighton | M45-49 | GBR | Saturday | 190 | 10:28:19 |
| 862 | Giles Heaman | M45-49 | GBR | Saturday | 197 | 10:29:38 |
| 1666 | Warren Terry | M40-44 | IRL | Saturday | 273 | 10:29:57 |
| 873 | Oliver Harkin | M45-49 | IRL | Saturday | 203 | 10:30:11 |
| 1106 | Chris Ellett | M45-49 | GBR | Saturday | 205 | 10:30:43 |
| 823 | Stephen Mott | M45-49 | GBR | Saturday | 208 | 10:31:06 |
| 1268 | Mark Higgins | M40-44 | IRL | Saturday | 285 | 10:31:35 |
| 2389 | Robin Williams | M30-34 | GBR | Saturday | 221 | 10:31:54 |
| 2191 | Nick Harger | M35-39 | IRL | Saturday | 279 | 10:34:06 |
| 2558 | Matthew Benstead | M25-29 | GBR | Thursday | 109 | 10:34:57 |
| 2383 | David Devine | M30-34 | GBR | Saturday | 230 | 10:37:28 |
| 2250 | Lloyd Canham | M30-34 | GBR | Saturday | 232 | 10:39:10 |
| 827 | Marcus Cox | M45-49 | GBR | Saturday | 240 | 10:39:45 |
| 1318 | Stuart New | M40-44 | GBR | Saturday | 309 | 10:40:41 |
| 2398 | James Adamson | M30-34 | GBR | Saturday | 236 | 10:40:48 |
| 2261 | Paul Cullen | M50-54 | GBR | Thursday | 85 | 10:40:50 |
| 2513 | Charles Lambert | M30-34 | GBR | Saturday | 239 | 10:42:11 |
| 939 | Ryan Tomlinson | M45-49 | GBR | Saturday | 246 | 10:42:32 |
| 2637 | Samuel Cusworth | M25-29 | GBR | Thursday | 116 | 10:42:43 |
| 2525 | Cillian Moffat | M30-34 | IRL | Saturday | 244 | 10:43:44 |
| 524 | Martin Kirwan | M45-49 | IRL | Saturday | 257 | 10:44:44 |
| 2424 | Tom Marriage | M30-34 | GBR | Saturday | 247 | 10:44:56 |
| 2621 | Charles Punter | M25-29 | GBR | Thursday | 119 | 10:45:15 |
| 2174 | Curtis Huynh | M35-39 | GBR | Saturday | 305 | 10:45:38 |
| 1265 | Neal Bailey | M40-44 | GBR | Saturday | 327 | 10:46:01 |
| 2559 | Gregory Godley | M25-29 | GBR | Thursday | 122 | 10:47:47 |
| 1875 | Jim Burdett | M50-54 | GBR | Thursday | 106 | 10:49:05 |
| 2612 | Daniel Smallbone | M25-29 | GBR | Thursday | 124 | 10:49:22 |
| 670 | Ged Mcgrath | M45-49 | GBR | Saturday | 272 | 10:49:32 |
| 2128 | Dickon Morris | M35-39 | GBR | Saturday | 319 | 10:50:13 |
| 1392 | David Griffin | M40-44 | IRL | Saturday | 352 | 10:52:20 |
| 672 | Michael Mulcahy | M45-49 | IRL | Saturday | 287 | 10:52:32 |
| 917 | Andrew Hynes | M45-49 | GBR | Saturday | 292 | 10:53:56 |
| 1905 | Adrian Garvey | M50-54 | IRL | Thursday | 119 | 10:54:25 |
| 1630 | Alan Bremner | M60-64 | GBR | Thursday | 5 | 10:54:50 |
| 1570 | Martin Gannon | M65-69 | GBR | Thursday | 1 | 10:55:21 |
| 1125 | Iain Banks | M45-49 | GBR | Saturday | 301 | 10:55:29 |
| 2346 | Brett Hazelwood | M30-34 | GBR | Saturday | 264 | 10:55:45 |
| 2597 | Joseph Cook | M18-24 | GBR | Saturday | 43 | 10:56:33 |
| 2485 | Anthony Mason | M30-34 | IRL | Saturday | 269 | 10:56:39 |
| 1574 | Paul Barrett | M40-44 | GBR | Saturday | 364 | 10:56:39 |
| 2289 | Oliver Mountstephens | M30-34 | GBR | Saturday | 271 | 10:56:58 |
| 997 | Dave Smith | M45-49 | GBR | Saturday | 305 | 10:57:12 |
| 1481 | Thomas Curran | M40-44 | IRL | Saturday | 365 | 10:57:18 |
| 443 | Paul Slone | M55-59 | GBR | Saturday | 55 | 10:57:29 |
| 1786 | James Anderson | M35-39 | GBR | Saturday | 332 | 10:58:28 |
| 2065 | David Sheridan | M35-39 | IRL | Saturday | 333 | 10:58:36 |
| 1758 | Christopher Grundberg | M35-39 | GBR | Saturday | 334 | 10:59:40 |
| 1253 | Richard Bruton | M40-44 | IRL | Saturday | 374 | 11:00:04 |
| 2204 | Mark Robson | M50-54 | GBR | Thursday | 149 | 11:00:52 |
| 2515 | Dominic Birch | M25-29 | GBR | Thursday | 137 | 11:00:54 |
| 2226 | David Roocroft | M30-34 | GBR | Saturday | 279 | 11:01:11 |
| 1949 | Gary Richards | M35-39 | GBR | Saturday | 336 | 11:01:23 |
| 810 | Paul Smith | M45-49 | GBR | Saturday | 324 | 11:03:25 |
| 2532 | Andrew Kelly | M30-34 | GBR | Saturday | 282 | 11:04:27 |
| 841 | Andy Edwards | M45-49 | GBR | Saturday | 328 | 11:04:42 |
| 1797 | Mike Trees | M60-64 | GBR | Thursday | 11 | 11:08:03 |
| 1892 | Tony Clarke | M50-54 | GBR | Thursday | 174 | 11:08:39 |
| 410 | David Wilcock | M55-59 | GBR | Saturday | 80 | 11:10:28 |
| 451 | Stuart Campbell | M55-59 | GBR | Saturday | 82 | 11:11:20 |
| 560 | Kenneth Mckenzie | M45-49 | GBR | Saturday | 346 | 11:11:36 |
| 2314 | Mark Mccabe | M50-54 | IRL | Thursday | 187 | 11:13:16 |
| 1756 | Simon Smith | M35-39 | GBR | Saturday | 346 | 11:13:24 |
| 1366 | Thomas Morley | M40-44 | GBR | Saturday | 399 | 11:14:24 |
| 2200 | Chris Wild | M50-54 | GBR | Thursday | 191 | 11:14:42 |
| 1745 | Pete Bacon | M40-44 | IRL | Saturday | 401 | 11:15:40 |
| 787 | Sam Storer | M45-49 | GBR | Saturday | 368 | 11:19:15 |
| 2412 | Roderz Hill | M50-54 | GBR | Thursday | 207 | 11:21:20 |
| 691 | Mathew Goddard | M45-49 | GBR | Saturday | 376 | 11:21:50 |
| 2245 | Derek Clarke | M50-54 | GBR | Thursday | 217 | 11:22:57 |
| 423 | Salim Mohamed | M55-59 | GBR | Saturday | 103 | 11:22:57 |
| 2189 | Niall Campbell | M50-54 | IRL | Thursday | 218 | 11:23:09 |
| 2418 | Adrian Toland | M50-54 | IRL | Thursday | 226 | 11:24:24 |
| 1839 | Graham Wilcock | M50-54 | GBR | Thursday | 228 | 11:25:34 |
| 650 | Simon Smith | M45-49 | GBR | Saturday | 384 | 11:26:31 |
| 1891 | Nick Hadwen | M50-54 | GBR | Thursday | 236 | 11:27:05 |
| 698 | Roman Lacko | M45-49 | GBR | Saturday | 385 | 11:27:10 |
| 2086 | Derek Flood | M50-54 | IRL | Thursday | 237 | 11:27:14 |
| 2394 | Christopher Ashton | M30-34 | GBR | Saturday | 308 | 11:28:04 |
| 1068 | Jason Raffill | M45-49 | GBR | Saturday | 395 | 11:29:17 |
| 1351 | Mark Moloney | M40-44 | IRL | Saturday | 429 | 11:29:19 |
| 2481 | George Bonnick | M25-29 | GBR | Thursday | 152 | 11:29:30 |
| 2608 | Alfie Mcintosh | M18-24 | GBR | Saturday | 49 | 11:29:39 |
| 1489 | Andrew Alexander | M40-44 | GBR | Saturday | 431 | 11:29:50 |
| 819 | Mark Higginbotham | M45-49 | GBR | Saturday | 399 | 11:30:09 |
| 2152 | Aly Hadfield | M35-39 | GBR | Saturday | 365 | 11:30:54 |
| 191 | Ed Nicoll | M55-59 | GBR | Saturday | 117 | 11:31:03 |
| 1412 | Russell Wright | M40-44 | GBR | Saturday | 434 | 11:32:34 |
| 2405 | Lee Anderton | M50-54 | GBR | Thursday | 257 | 11:33:37 |
| 645 | Stephen Pepper | M45-49 | IRL | Saturday | 410 | 11:33:55 |
| 1616 | Stephen Loughnane | M40-44 | IRL | Saturday | 441 | 11:35:18 |
| 461 | Kevin Freeman | M55-59 | GBR | Saturday | 133 | 11:37:48 |
| 433 | Stephen Page | M55-59 | GBR | Saturday | 141 | 11:41:21 |
| 2386 | Rory Weston | M30-34 | GBR | Saturday | 316 | 11:44:29 |
| 117 | James Keeley | M55-59 | GBR | Saturday | 158 | 11:46:09 |
| 1751 | Marcus Richardson | M60-64 | GBR | Thursday | 31 | 11:46:57 |
| 1302 | Pat Hudson | M40-44 | GBR | Saturday | 466 | 11:47:51 |
| 1101 | Neil Reid | M45-49 | GBR | Saturday | 438 | 11:49:43 |
| 1620 | Jason Shilliday | M40-44 | IRL | Saturday | 471 | 11:50:15 |
| 633 | Rob Debney | M45-49 | GBR | Saturday | 441 | 11:52:11 |
| 2595 | Oliver Hailes | M18-24 | GBR | Saturday | 57 | 11:52:37 |
| 2334 | Paddy Walsh | M30-34 | IRL | Saturday | 323 | 11:54:11 |
| 1998 | Nick Wenban-Smith | M50-54 | GBR | Thursday | 327 | 11:56:00 |
| 1623 | Tom Moore | M40-44 | GBR | Saturday | 478 | 11:56:41 |
| 1080 | Stuart Cleworth | M45-49 | GBR | Saturday | 458 | 12:02:00 |
| 377 | David Swindells | M55-59 | GBR | Saturday | 181 | 12:02:35 |
| 1147 | John Staunton | M45-49 | IRL | Saturday | 463 | 12:04:32 |
| 2210 | David Brown | M50-54 | GBR | Thursday | 342 | 12:05:49 |
| 381 | Mark Wharton | M55-59 | GBR | Saturday | 191 | 12:06:48 |
| 2008 | Shaun Paddison | M50-54 | GBR | Thursday | 348 | 12:07:08 |
| 1637 | Mark Hatton | M40-44 | GBR | Saturday | 485 | 12:07:22 |
| 1168 | Christopher Mole | M40-44 | GBR | Saturday | 486 | 12:08:52 |
| 2636 | Callum Stewart | M25-29 | GBR | Thursday | 172 | 12:15:44 |
| 417 | Barry Thomas | M55-59 | GBR | Saturday | 216 | 12:25:19 |
| 2199 | Benjamin Lloyd | M50-54 | GBR | Thursday | 386 | 12:27:54 |
| 2631 | Gatsby Fitzgerald | M18-24 | GBR | Saturday | 61 | 12:30:22 |
| 2507 | Alexander Woodward | M25-29 | GBR | Thursday | 174 | 12:36:00 |
| 2573 | Fraser Minnican | M25-29 | GBR | Thursday | 176 | 12:41:12 |
| 206 | Douglas Adamson | M55-59 | GBR | Saturday | 242 | 12:43:59 |
| 863 | Michael Briggs | M45-49 | GBR | Saturday | 500 | 12:45:25 |
| 1918 | Stephen Warriner | M50-54 | GBR | Thursday | 420 | 12:48:07 |
| 1779 | David Virden | M60-64 | GBR | Thursday | 84 | 12:50:34 |
| 2065 | Brendan Doyle | M50-54 | IRL | Thursday | 428 | 12:51:28 |
| 1450 | Trevor Dixon | M40-44 | GBR | Saturday | 507 | 12:52:33 |
| 2326 | Chris Riley | M50-54 | GBR | Thursday | 432 | 12:54:01 |
| 1578 | Alistair Abbott | M65-69 | GBR | Thursday | 12 | 12:54:48 |
| 173 | Andy Dines | M55-59 | GBR | Saturday | 254 | 12:58:47 |
| 2247 | Steve Ripley | M50-54 | GBR | Thursday | 435 | 12:58:52 |
| 1039 | Mark Hilton | M45-49 | GBR | Saturday | 506 | 13:01:34 |
| 2457 | Sam Holness | M25-29 | GBR | Thursday | 183 | 13:05:44 |
| 1469 | Matt Batchelor | M40-44 | GBR | Saturday | 513 | 13:05:51 |
| 2019 | Richard Kane | M50-54 | GBR | Thursday | 446 | 13:06:01 |
| 1687 | Michael Stacey | M60-64 | GBR | Thursday | 93 | 13:06:26 |
| 2586 | Alistair Garfoot | M25-29 | GBR | Thursday | 185 | 13:12:42 |
| 1727 | Simon Powner | M40-44 | GBR | Saturday | 519 | 13:24:47 |
| 1934 | Iain Gilbert | M35-39 | GBR | Saturday | 406 | 13:26:19 |
| 355 | Clive Granger | M55-59 | GBR | Saturday | 283 | 13:28:31 |
| 2133 | Jeremy Tiley | M50-54 | GBR | Thursday | 481 | 13:31:59 |
| 2667 | Marc O'Dwyer | M55-59 | IRL | Saturday | 289 | 13:33:12 |
| 202 | Mark Gornall | M55-59 | GBR | Saturday | 293 | 13:35:09 |
| 2481 | Kevin Foley | M30-34 | IRL | Saturday | 341 | 13:39:57 |
| 2274 | Simon Saunders | M50-54 | GBR | Thursday | 489 | 13:45:01 |
| 266 | David Pritchard | M55-59 | GBR | Saturday | 300 | 13:46:01 |
| 431 | Gary Lancaster | M55-59 | GBR | Saturday | 305 | 13:54:18 |
| 2052 | Michael Wilkner | M50-54 | GBR | Thursday | 497 | 13:55:28 |
| 947 | Mark Carruthers | M45-49 | GBR | Saturday | 527 | 14:02:49 |
| 195 | Phil Sumner | M55-59 | GBR | Saturday | 323 | 14:14:21 |
| 473 | Douglas Mactaggart | M55-59 | GBR | Saturday | 338 | 14:36:59 |
| 135 | Nic Johnson | M55-59 | GBR | Saturday | 344 | 14:45:36 |
| 1501 | Paul Jurczuk | M65-69 | GBR | Thursday | 51 | 14:48:24 |
| 1566 | Peter Overvoorde | M65-69 | GBR | Thursday | 52 | 14:48:50 |
| 1950 | Gary Robertson | M50-54 | GBR | Thursday | 524 | 14:55:31 |
| 482 | Mark Kearney | M55-59 | GBR | Saturday | 353 | 15:09:27 |
| 1466 | David Hill | M70-74 | GBR | Thursday | 24 | 15:25:16 |
| 1716 | Andy Pidduck | M60-64 | GBR | Thursday | 169 | 15:31:20 |
| 928 | James Mowbray | M45-49 | GBR | Saturday | 555 | 15:43:38 |
| 1522 | Michael Kendall | M65-69 | GBR | Thursday | 67 | 15:48:34 |
| 1972 | Shane Mc Gale | M50-54 | IRL | Thursday | 566 | 16:19:45 |
| 623 | Tom Britton | M45-49 | IRL | Saturday | 565 | 16:25:51 |
| 1681 | Vaughn Dinnage | M60-64 | GBR | Thursday | 192 | 16:31:10 |
| 1423 | Christopher George | M75-79 | GBR | Thursday | 5 | 16:43:41 |
| 2153 | Stephen Day | M50-54 | GBR | Thursday | DNF | N/A |
| 2414 | Paul Lunn | M50-54 | GBR | Thursday | DNF | N/A |
| 1632 | Dermot Connolly | M60-64 | IRL | Thursday | DNF | N/A |
| 1437 | Alan Mccartney | M70-74 | GBR | Thursday | DNF | N/A |
| 1464 | Tony Johnson | M70-74 | GBR | Thursday | DNF | N/A |
| 2358 | James Smith | M30-34 | GBR | Saturday | DNF | N/A |
| 1334 | Greg Adam | M40-44 | GBR | Saturday | DNF | N/A |
| 1486 | Greg Irving | M40-44 | GBR | Saturday | DNF | N/A |
| 526 | Glyn Tallon | M45-49 | IRL | Saturday | DNF | N/A |
| 1021 | Kieran Mcshane | M45-49 | IRL | Saturday | DNF | N/A |
| 447 | Greg Morgan | M55-59 | GBR | Saturday | DNF | N/A |
| 2542 | Aaron Tomasz | M25-29 | GBR | Thursday | DNS | N/A |
| 1828 | Mark Turnbull | M50-54 | GBR | Thursday | DNS | N/A |
| 2155 | Gary Squires | M50-54 | GBR | Thursday | DNS | N/A |
| 1834 | Mark Rushby | M50-54 | IRL | Thursday | DNS | N/A |
| 2381 | Ciaran Byrne | M50-54 | IRL | Thursday | DNS | N/A |
| 1785 | Paul Adams | M60-64 | GBR | Thursday | DNS | N/A |
| 2236 | Harrison Belfield | M30-34 | GBR | Saturday | DNS | N/A |
| 2246 | Mark Lamonby | M30-34 | GBR | Saturday | DNS | N/A |
| 2293 | Tom Danter | M30-34 | GBR | Saturday | DNS | N/A |
| 2320 | Tom Lovegrove | M30-34 | GBR | Saturday | DNS | N/A |
| 2515 | Aaron Webb | M30-34 | GBR | Saturday | DNS | N/A |
| 2274 | Anthony English | M30-34 | IRL | Saturday | DNS | N/A |
| 1771 | Tom Van Rossum | M35-39 | GBR | Saturday | DNS | N/A |
| 1827 | Dave Cresswell | M35-39 | GBR | Saturday | DNS | N/A |
| 1884 | Guy Evans | M35-39 | GBR | Saturday | DNS | N/A |
| 2126 | Lee Clare | M35-39 | GBR | Saturday | DNS | N/A |
| 1425 | Dan Blake | M40-44 | GBR | Saturday | DNS | N/A |
| 1674 | Martin Bickley | M40-44 | GBR | Saturday | DNS | N/A |
| 1252 | Derek Sheridan | M40-44 | IRL | Saturday | DNS | N/A |
| 1333 | Colin O'Shea | M40-44 | IRL | Saturday | DNS | N/A |
| 1487 | David Connolly | M40-44 | IRL | Saturday | DNS | N/A |
| 1593 | Dermot Costello | M40-44 | IRL | Saturday | DNS | N/A |
| 637 | Andrew Robertson | M45-49 | GBR | Saturday | DNS | N/A |
| 1126 | Ivan O'Gorman | M45-49 | IRL | Saturday | DNS | N/A |
| 275 | Neil Mcloughlin | M55-59 | GBR | Saturday | DNS | N/A |
| 277 | Graham Baxter | M55-59 | GBR | Saturday | DNS | N/A |
| 425 | Keith Garbutt | M55-59 | GBR | Saturday | DNS | N/A |
| 218 | Charlie Elders | M55-59 | IRL | Saturday | DNS | N/A |
All Great Britain and Ireland Age-Group Male Entrants – By Category
| BIB | NAME | DIVISION | COUNTRY | DAY | CAT POS | TIME |
| --- | --- | --- | --- | --- | --- | --- |
| 2597 | Joseph Cook | M18-24 | GBR | Saturday | 43 | 10:56:33 |
| 2608 | Alfie Mcintosh | M18-24 | GBR | Saturday | 49 | 11:29:39 |
| 2595 | Oliver Hailes | M18-24 | GBR | Saturday | 57 | 11:52:37 |
| 2631 | Gatsby Fitzgerald | M18-24 | GBR | Saturday | 61 | 12:30:22 |
| 2492 | Jack Schofield | M25-29 | GBR | Thursday | 35 | 09:39:12 |
| 2600 | Chris Harris | M25-29 | GBR | Thursday | 37 | 09:40:29 |
| 2610 | Dan Elliot | M25-29 | GBR | Thursday | 71 | 10:06:28 |
| 2583 | Ryan Snee | M25-29 | GBR | Thursday | 75 | 10:09:43 |
| 2472 | Matthew Wood | M25-29 | GBR | Thursday | 98 | 10:27:01 |
| 2558 | Matthew Benstead | M25-29 | GBR | Thursday | 109 | 10:34:57 |
| 2637 | Samuel Cusworth | M25-29 | GBR | Thursday | 116 | 10:42:43 |
| 2621 | Charles Punter | M25-29 | GBR | Thursday | 119 | 10:45:15 |
| 2559 | Gregory Godley | M25-29 | GBR | Thursday | 122 | 10:47:47 |
| 2612 | Daniel Smallbone | M25-29 | GBR | Thursday | 124 | 10:49:22 |
| 2515 | Dominic Birch | M25-29 | GBR | Thursday | 137 | 11:00:54 |
| 2481 | George Bonnick | M25-29 | GBR | Thursday | 152 | 11:29:30 |
| 2636 | Callum Stewart | M25-29 | GBR | Thursday | 172 | 12:15:44 |
| 2507 | Alexander Woodward | M25-29 | GBR | Thursday | 174 | 12:36:00 |
| 2573 | Fraser Minnican | M25-29 | GBR | Thursday | 176 | 12:41:12 |
| 2457 | Sam Holness | M25-29 | GBR | Thursday | 183 | 13:05:44 |
| 2586 | Alistair Garfoot | M25-29 | GBR | Thursday | 185 | 13:12:42 |
| 2542 | Aaron Tomasz | M25-29 | GBR | Thursday | DNS | N/A |
| 2587 | James Ellis | M30-34 | GBR | Saturday | 17 | 08:57:09 |
| 2497 | Grant Johnson | M30-34 | GBR | Saturday | 24 | 09:03:24 |
| 2322 | Matthew Brooke | M30-34 | GBR | Saturday | 38 | 09:15:35 |
| 2450 | Thomas Joly De Lotbiniere | M30-34 | GBR | Saturday | 45 | 09:20:21 |
| 2350 | Finlay Mcandrew | M30-34 | GBR | Saturday | 57 | 09:24:50 |
| 2419 | Daniel Anderton | M30-34 | GBR | Saturday | 58 | 09:24:50 |
| 2430 | Rhys Palmer | M30-34 | GBR | Saturday | 89 | 09:38:00 |
| 2583 | Oliver Hewitt | M30-34 | GBR | Saturday | 96 | 09:40:14 |
| 2331 | Sam Chapman | M30-34 | GBR | Saturday | 119 | 09:48:09 |
| 2496 | Oliver Stringer | M30-34 | GBR | Saturday | 128 | 09:51:24 |
| 2446 | William Tyrrell-Moore | M30-34 | GBR | Saturday | 134 | 09:52:33 |
| 2212 | David Cole | M30-34 | GBR | Saturday | 139 | 09:54:53 |
| 2582 | Luke Sullivan | M30-34 | GBR | Saturday | 141 | 09:55:24 |
| 2302 | Jame Hall | M30-34 | GBR | Saturday | 166 | 10:08:12 |
| 2578 | Lee Mccarron | M30-34 | GBR | Saturday | 177 | 10:12:26 |
| 2389 | Robin Williams | M30-34 | GBR | Saturday | 221 | 10:31:54 |
| 2383 | David Devine | M30-34 | GBR | Saturday | 230 | 10:37:28 |
| 2250 | Lloyd Canham | M30-34 | GBR | Saturday | 232 | 10:39:10 |
| 2398 | James Adamson | M30-34 | GBR | Saturday | 236 | 10:40:48 |
| 2513 | Charles Lambert | M30-34 | GBR | Saturday | 239 | 10:42:11 |
| 2525 | Cillian Moffat | M30-34 | IRL | Saturday | 244 | 10:43:44 |
| 2424 | Tom Marriage | M30-34 | GBR | Saturday | 247 | 10:44:56 |
| 2346 | Brett Hazelwood | M30-34 | GBR | Saturday | 264 | 10:55:45 |
| 2485 | Anthony Mason | M30-34 | IRL | Saturday | 269 | 10:56:39 |
| 2289 | Oliver Mountstephens | M30-34 | GBR | Saturday | 271 | 10:56:58 |
| 2226 | David Roocroft | M30-34 | GBR | Saturday | 279 | 11:01:11 |
| 2532 | Andrew Kelly | M30-34 | GBR | Saturday | 282 | 11:04:27 |
| 2394 | Christopher Ashton | M30-34 | GBR | Saturday | 308 | 11:28:04 |
| 2386 | Rory Weston | M30-34 | GBR | Saturday | 316 | 11:44:29 |
| 2334 | Paddy Walsh | M30-34 | IRL | Saturday | 323 | 11:54:11 |
| 2481 | Kevin Foley | M30-34 | IRL | Saturday | 341 | 13:39:57 |
| 2358 | James Smith | M30-34 | GBR | Saturday | DNF | N/A |
| 2236 | Harrison Belfield | M30-34 | GBR | Saturday | DNS | N/A |
| 2246 | Mark Lamonby | M30-34 | GBR | Saturday | DNS | N/A |
| 2293 | Tom Danter | M30-34 | GBR | Saturday | DNS | N/A |
| 2320 | Tom Lovegrove | M30-34 | GBR | Saturday | DNS | N/A |
| 2515 | Aaron Webb | M30-34 | GBR | Saturday | DNS | N/A |
| 2274 | Anthony English | M30-34 | IRL | Saturday | DNS | N/A |
| 2077 | Neil Eddy | M35-39 | GBR | Saturday | 11 | 09:08:11 |
| 1801 | Sion Slyman | M35-39 | GBR | Saturday | 20 | 09:13:07 |
| 2021 | Duncan Chedburn | M35-39 | GBR | Saturday | 24 | 09:15:14 |
| 1908 | Vanrisch Mclean | M35-39 | GBR | Saturday | 29 | 09:16:56 |
| 1902 | Michael Scully | M35-39 | IRL | Saturday | 44 | 09:24:56 |
| 2067 | James Eacott | M35-39 | GBR | Saturday | 45 | 09:25:09 |
| 1780 | Daniel Lanigan | M35-39 | GBR | Saturday | 66 | 09:31:24 |
| 2030 | Sam Shepherd | M35-39 | GBR | Saturday | 69 | 09:32:05 |
| 1984 | Craig Llewellyn | M35-39 | GBR | Saturday | 78 | 09:34:54 |
| 1914 | James Curran | M35-39 | IRL | Saturday | 95 | 09:38:44 |
| 2069 | Tom Davey | M35-39 | GBR | Saturday | 112 | 09:43:27 |
| 1941 | James Hoare | M35-39 | IRL | Saturday | 132 | 09:49:18 |
| 2109 | Oliver Whitby | M35-39 | GBR | Saturday | 140 | 09:50:57 |
| 1855 | Stephen Magrath | M35-39 | GBR | Saturday | 147 | 09:53:03 |
| 1918 | Andrew Williams | M35-39 | GBR | Saturday | 158 | 09:56:10 |
| 1990 | Mark Tomlinson | M35-39 | GBR | Saturday | 164 | 09:56:55 |
| 2079 | Alex Duce | M35-39 | GBR | Saturday | 167 | 09:58:11 |
| 1951 | Sean Burke | M35-39 | GBR | Saturday | 178 | 10:00:06 |
| 2045 | Adam Labbett | M35-39 | GBR | Saturday | 207 | 10:07:49 |
| 1761 | Sam Thompson | M35-39 | GBR | Saturday | 218 | 10:11:53 |
| 2145 | Thomas Walsh | M35-39 | IRL | Saturday | 231 | 10:15:03 |
| 1812 | James Knipe | M35-39 | IRL | Saturday | 240 | 10:19:48 |
| 1810 | Jonathan Cordiner | M35-39 | GBR | Saturday | 257 | 10:25:39 |
| 2132 | Kurt Mcdonnell | M35-39 | GBR | Saturday | 259 | 10:27:15 |
| 2118 | Geraint Lewis | M35-39 | GBR | Saturday | 260 | 10:27:38 |
| 2191 | Nick Harger | M35-39 | IRL | Saturday | 279 | 10:34:06 |
| 2174 | Curtis Huynh | M35-39 | GBR | Saturday | 305 | 10:45:38 |
| 2128 | Dickon Morris | M35-39 | GBR | Saturday | 319 | 10:50:13 |
| 1786 | James Anderson | M35-39 | GBR | Saturday | 332 | 10:58:28 |
| 2065 | David Sheridan | M35-39 | IRL | Saturday | 333 | 10:58:36 |
| 1758 | Christopher Grundberg | M35-39 | GBR | Saturday | 334 | 10:59:40 |
| 1949 | Gary Richards | M35-39 | GBR | Saturday | 336 | 11:01:23 |
| 1756 | Simon Smith | M35-39 | GBR | Saturday | 346 | 11:13:24 |
| 2152 | Aly Hadfield | M35-39 | GBR | Saturday | 365 | 11:30:54 |
| 1934 | Iain Gilbert | M35-39 | GBR | Saturday | 406 | 13:26:19 |
| 1771 | Tom Van Rossum | M35-39 | GBR | Saturday | DNS | N/A |
| 1827 | Dave Cresswell | M35-39 | GBR | Saturday | DNS | N/A |
| 1884 | Guy Evans | M35-39 | GBR | Saturday | DNS | N/A |
| 2126 | Lee Clare | M35-39 | GBR | Saturday | DNS | N/A |
| 1541 | Djalil Baiou | M40-44 | GBR | Saturday | 15 | 09:11:25 |
| 1533 | Stephen Cordiner | M40-44 | GBR | Saturday | 22 | 09:14:23 |
| 1699 | Lee Williams | M40-44 | GBR | Saturday | 52 | 09:31:09 |
| 1204 | Graeme Stewart | M40-44 | GBR | Saturday | 74 | 09:40:07 |
| 1175 | Richard Bruce | M40-44 | GBR | Saturday | 77 | 09:40:47 |
| 1473 | Michael Mccarron | M40-44 | IRL | Saturday | 105 | 09:50:34 |
| 1328 | Gary Roberts | M40-44 | GBR | Saturday | 117 | 09:54:07 |
| 1507 | Alan Kenny | M40-44 | IRL | Saturday | 118 | 09:54:28 |
| 1261 | Luke Worthington | M40-44 | GBR | Saturday | 132 | 09:57:07 |
| 1346 | Oliver Simon | M40-44 | GBR | Saturday | 151 | 10:00:42 |
| 1196 | Andy Brodziak | M40-44 | GBR | Saturday | 166 | 10:04:13 |
| 1624 | Richard Whitfield | M40-44 | GBR | Saturday | 183 | 10:08:54 |
| 1267 | Daren Davies | M40-44 | GBR | Saturday | 226 | 10:19:45 |
| 1557 | Thomas Collins | M40-44 | IRL | Saturday | 227 | 10:19:53 |
| 1709 | Gareth Parr | M40-44 | GBR | Saturday | 246 | 10:24:02 |
| 1564 | Conor Quinn | M40-44 | IRL | Saturday | 247 | 10:24:03 |
| 1715 | James Platt | M40-44 | GBR | Saturday | 249 | 10:24:23 |
| 1666 | Warren Terry | M40-44 | IRL | Saturday | 273 | 10:29:57 |
| 1268 | Mark Higgins | M40-44 | IRL | Saturday | 285 | 10:31:35 |
| 1318 | Stuart New | M40-44 | GBR | Saturday | 309 | 10:40:41 |
| 1265 | Neal Bailey | M40-44 | GBR | Saturday | 327 | 10:46:01 |
| 1392 | David Griffin | M40-44 | IRL | Saturday | 352 | 10:52:20 |
| 1574 | Paul Barrett | M40-44 | GBR | Saturday | 364 | 10:56:39 |
| 1481 | Thomas Curran | M40-44 | IRL | Saturday | 365 | 10:57:18 |
| 1253 | Richard Bruton | M40-44 | IRL | Saturday | 374 | 11:00:04 |
| 1366 | Thomas Morley | M40-44 | GBR | Saturday | 399 | 11:14:24 |
| 1745 | Pete Bacon | M40-44 | IRL | Saturday | 401 | 11:15:40 |
| 1351 | Mark Moloney | M40-44 | IRL | Saturday | 429 | 11:29:19 |
| 1489 | Andrew Alexander | M40-44 | GBR | Saturday | 431 | 11:29:50 |
| 1412 | Russell Wright | M40-44 | GBR | Saturday | 434 | 11:32:34 |
| 1616 | Stephen Loughnane | M40-44 | IRL | Saturday | 441 | 11:35:18 |
| 1302 | Pat Hudson | M40-44 | GBR | Saturday | 466 | 11:47:51 |
| 1620 | Jason Shilliday | M40-44 | IRL | Saturday | 471 | 11:50:15 |
| 1623 | Tom Moore | M40-44 | GBR | Saturday | 478 | 11:56:41 |
| 1637 | Mark Hatton | M40-44 | GBR | Saturday | 485 | 12:07:22 |
| 1168 | Christopher Mole | M40-44 | GBR | Saturday | 486 | 12:08:52 |
| 1450 | Trevor Dixon | M40-44 | GBR | Saturday | 507 | 12:52:33 |
| 1469 | Matt Batchelor | M40-44 | GBR | Saturday | 513 | 13:05:51 |
| 1727 | Simon Powner | M40-44 | GBR | Saturday | 519 | 13:24:47 |
| 1334 | Greg Adam | M40-44 | GBR | Saturday | DNF | N/A |
| 1486 | Greg Irving | M40-44 | GBR | Saturday | DNF | N/A |
| 1425 | Dan Blake | M40-44 | GBR | Saturday | DNS | N/A |
| 1674 | Martin Bickley | M40-44 | GBR | Saturday | DNS | N/A |
| 1252 | Derek Sheridan | M40-44 | IRL | Saturday | DNS | N/A |
| 1333 | Colin O'Shea | M40-44 | IRL | Saturday | DNS | N/A |
| 1487 | David Connolly | M40-44 | IRL | Saturday | DNS | N/A |
| 1593 | Dermot Costello | M40-44 | IRL | Saturday | DNS | N/A |
| 589 | Stuart Anderson | M45-49 | GBR | Saturday | 13 | 09:26:41 |
| 859 | Donnacha Holmes | M45-49 | IRL | Saturday | 72 | 09:59:32 |
| 693 | Giles Brook | M45-49 | GBR | Saturday | 77 | 10:00:46 |
| 714 | Stephen Anderson | M45-49 | GBR | Saturday | 99 | 10:08:42 |
| 763 | Keith Murray | M45-49 | GBR | Saturday | 106 | 10:09:32 |
| 520 | Owen Martin | M45-49 | IRL | Saturday | 107 | 10:09:33 |
| 667 | Niall Behan | M45-49 | IRL | Saturday | 122 | 10:15:38 |
| 1148 | Paul Timms | M45-49 | GBR | Saturday | 147 | 10:20:55 |
| 523 | Chris Maxwell | M45-49 | GBR | Saturday | 149 | 10:21:10 |
| 892 | Justin Dutton | M45-49 | IRL | Saturday | 164 | 10:23:31 |
| 549 | Paul James | M45-49 | GBR | Saturday | 165 | 10:23:45 |
| 849 | Simon Day | M45-49 | GBR | Saturday | 172 | 10:24:50 |
| 1061 | Neil Dighton | M45-49 | GBR | Saturday | 190 | 10:28:19 |
| 862 | Giles Heaman | M45-49 | GBR | Saturday | 197 | 10:29:38 |
| 873 | Oliver Harkin | M45-49 | IRL | Saturday | 203 | 10:30:11 |
| 1106 | Chris Ellett | M45-49 | GBR | Saturday | 205 | 10:30:43 |
| 823 | Stephen Mott | M45-49 | GBR | Saturday | 208 | 10:31:06 |
| 827 | Marcus Cox | M45-49 | GBR | Saturday | 240 | 10:39:45 |
| 939 | Ryan Tomlinson | M45-49 | GBR | Saturday | 246 | 10:42:32 |
| 524 | Martin Kirwan | M45-49 | IRL | Saturday | 257 | 10:44:44 |
| 670 | Ged Mcgrath | M45-49 | GBR | Saturday | 272 | 10:49:32 |
| 672 | Michael Mulcahy | M45-49 | IRL | Saturday | 287 | 10:52:32 |
| 917 | Andrew Hynes | M45-49 | GBR | Saturday | 292 | 10:53:56 |
| 1125 | Iain Banks | M45-49 | GBR | Saturday | 301 | 10:55:29 |
| 997 | Dave Smith | M45-49 | GBR | Saturday | 305 | 10:57:12 |
| 810 | Paul Smith | M45-49 | GBR | Saturday | 324 | 11:03:25 |
| 841 | Andy Edwards | M45-49 | GBR | Saturday | 328 | 11:04:42 |
| 560 | Kenneth Mckenzie | M45-49 | GBR | Saturday | 346 | 11:11:36 |
| 787 | Sam Storer | M45-49 | GBR | Saturday | 368 | 11:19:15 |
| 691 | Mathew Goddard | M45-49 | GBR | Saturday | 376 | 11:21:50 |
| 650 | Simon Smith | M45-49 | GBR | Saturday | 384 | 11:26:31 |
| 698 | Roman Lacko | M45-49 | GBR | Saturday | 385 | 11:27:10 |
| 1068 | Jason Raffill | M45-49 | GBR | Saturday | 395 | 11:29:17 |
| 819 | Mark Higginbotham | M45-49 | GBR | Saturday | 399 | 11:30:09 |
| 645 | Stephen Pepper | M45-49 | IRL | Saturday | 410 | 11:33:55 |
| 1101 | Neil Reid | M45-49 | GBR | Saturday | 438 | 11:49:43 |
| 633 | Rob Debney | M45-49 | GBR | Saturday | 441 | 11:52:11 |
| 1080 | Stuart Cleworth | M45-49 | GBR | Saturday | 458 | 12:02:00 |
| 1147 | John Staunton | M45-49 | IRL | Saturday | 463 | 12:04:32 |
| 863 | Michael Briggs | M45-49 | GBR | Saturday | 500 | 12:45:25 |
| 1039 | Mark Hilton | M45-49 | GBR | Saturday | 506 | 13:01:34 |
| 947 | Mark Carruthers | M45-49 | GBR | Saturday | 527 | 14:02:49 |
| 928 | James Mowbray | M45-49 | GBR | Saturday | 555 | 15:43:38 |
| 623 | Tom Britton | M45-49 | IRL | Saturday | 565 | 16:25:51 |
| 526 | Glyn Tallon | M45-49 | IRL | Saturday | DNF | N/A |
| 1021 | Kieran Mcshane | M45-49 | IRL | Saturday | DNF | N/A |
| 637 | Andrew Robertson | M45-49 | GBR | Saturday | DNS | N/A |
| 1126 | Ivan O'Gorman | M45-49 | IRL | Saturday | DNS | N/A |
| 2384 | Robert Harrison | M50-54 | GBR | Thursday | 7 | 09:47:00 |
| 2192 | Steven Forrest | M50-54 | GBR | Thursday | 36 | 10:15:36 |
| 2368 | Matthew Spooner | M50-54 | GBR | Thursday | 44 | 10:20:10 |
| 2261 | Paul Cullen | M50-54 | GBR | Thursday | 85 | 10:40:50 |
| 1875 | Jim Burdett | M50-54 | GBR | Thursday | 106 | 10:49:05 |
| 1905 | Adrian Garvey | M50-54 | IRL | Thursday | 119 | 10:54:25 |
| 2204 | Mark Robson | M50-54 | GBR | Thursday | 149 | 11:00:52 |
| 1892 | Tony Clarke | M50-54 | GBR | Thursday | 174 | 11:08:39 |
| 2314 | Mark Mccabe | M50-54 | IRL | Thursday | 187 | 11:13:16 |
| 2200 | Chris Wild | M50-54 | GBR | Thursday | 191 | 11:14:42 |
| 2412 | Roderz Hill | M50-54 | GBR | Thursday | 207 | 11:21:20 |
| 2245 | Derek Clarke | M50-54 | GBR | Thursday | 217 | 11:22:57 |
| 2189 | Niall Campbell | M50-54 | IRL | Thursday | 218 | 11:23:09 |
| 2418 | Adrian Toland | M50-54 | IRL | Thursday | 226 | 11:24:24 |
| 1839 | Graham Wilcock | M50-54 | GBR | Thursday | 228 | 11:25:34 |
| 1891 | Nick Hadwen | M50-54 | GBR | Thursday | 236 | 11:27:05 |
| 2086 | Derek Flood | M50-54 | IRL | Thursday | 237 | 11:27:14 |
| 2405 | Lee Anderton | M50-54 | GBR | Thursday | 257 | 11:33:37 |
| 1998 | Nick Wenban-Smith | M50-54 | GBR | Thursday | 327 | 11:56:00 |
| 2210 | David Brown | M50-54 | GBR | Thursday | 342 | 12:05:49 |
| 2008 | Shaun Paddison | M50-54 | GBR | Thursday | 348 | 12:07:08 |
| 2199 | Benjamin Lloyd | M50-54 | GBR | Thursday | 386 | 12:27:54 |
| 1918 | Stephen Warriner | M50-54 | GBR | Thursday | 420 | 12:48:07 |
| 2065 | Brendan Doyle | M50-54 | IRL | Thursday | 428 | 12:51:28 |
| 2326 | Chris Riley | M50-54 | GBR | Thursday | 432 | 12:54:01 |
| 2247 | Steve Ripley | M50-54 | GBR | Thursday | 435 | 12:58:52 |
| 2019 | Richard Kane | M50-54 | GBR | Thursday | 446 | 13:06:01 |
| 2133 | Jeremy Tiley | M50-54 | GBR | Thursday | 481 | 13:31:59 |
| 2274 | Simon Saunders | M50-54 | GBR | Thursday | 489 | 13:45:01 |
| 2052 | Michael Wilkner | M50-54 | GBR | Thursday | 497 | 13:55:28 |
| 1950 | Gary Robertson | M50-54 | GBR | Thursday | 524 | 14:55:31 |
| 1972 | Shane Mc Gale | M50-54 | IRL | Thursday | 566 | 16:19:45 |
| 2153 | Stephen Day | M50-54 | GBR | Thursday | DNF | N/A |
| 2414 | Paul Lunn | M50-54 | GBR | Thursday | DNF | N/A |
| 1828 | Mark Turnbull | M50-54 | GBR | Thursday | DNS | N/A |
| 2155 | Gary Squires | M50-54 | GBR | Thursday | DNS | N/A |
| 1834 | Mark Rushby | M50-54 | IRL | Thursday | DNS | N/A |
| 2381 | Ciaran Byrne | M50-54 | IRL | Thursday | DNS | N/A |
| 344 | Martin Foster | M55-59 | GBR | Saturday | 6 | 10:01:55 |
| 386 | Ivan Jones | M55-59 | GBR | Saturday | 10 | 10:08:31 |
| 443 | Paul Slone | M55-59 | GBR | Saturday | 55 | 10:57:29 |
| 410 | David Wilcock | M55-59 | GBR | Saturday | 80 | 11:10:28 |
| 451 | Stuart Campbell | M55-59 | GBR | Saturday | 82 | 11:11:20 |
| 423 | Salim Mohamed | M55-59 | GBR | Saturday | 103 | 11:22:57 |
| 191 | Ed Nicoll | M55-59 | GBR | Saturday | 117 | 11:31:03 |
| 461 | Kevin Freeman | M55-59 | GBR | Saturday | 133 | 11:37:48 |
| 433 | Stephen Page | M55-59 | GBR | Saturday | 141 | 11:41:21 |
| 117 | James Keeley | M55-59 | GBR | Saturday | 158 | 11:46:09 |
| 377 | David Swindells | M55-59 | GBR | Saturday | 181 | 12:02:35 |
| 381 | Mark Wharton | M55-59 | GBR | Saturday | 191 | 12:06:48 |
| 417 | Barry Thomas | M55-59 | GBR | Saturday | 216 | 12:25:19 |
| 206 | Douglas Adamson | M55-59 | GBR | Saturday | 242 | 12:43:59 |
| 173 | Andy Dines | M55-59 | GBR | Saturday | 254 | 12:58:47 |
| 355 | Clive Granger | M55-59 | GBR | Saturday | 283 | 13:28:31 |
| 2667 | Marc O'Dwyer | M55-59 | IRL | Saturday | 289 | 13:33:12 |
| 202 | Mark Gornall | M55-59 | GBR | Saturday | 293 | 13:35:09 |
| 266 | David Pritchard | M55-59 | GBR | Saturday | 300 | 13:46:01 |
| 431 | Gary Lancaster | M55-59 | GBR | Saturday | 305 | 13:54:18 |
| 195 | Phil Sumner | M55-59 | GBR | Saturday | 323 | 14:14:21 |
| 473 | Douglas Mactaggart | M55-59 | GBR | Saturday | 338 | 14:36:59 |
| 135 | Nic Johnson | M55-59 | GBR | Saturday | 344 | 14:45:36 |
| 482 | Mark Kearney | M55-59 | GBR | Saturday | 353 | 15:09:27 |
| 447 | Greg Morgan | M55-59 | GBR | Saturday | DNF | N/A |
| 275 | Neil Mcloughlin | M55-59 | GBR | Saturday | DNS | N/A |
| 277 | Graham Baxter | M55-59 | GBR | Saturday | DNS | N/A |
| 425 | Keith Garbutt | M55-59 | GBR | Saturday | DNS | N/A |
| 218 | Charlie Elders | M55-59 | IRL | Saturday | DNS | N/A |
| 1630 | Alan Bremner | M60-64 | GBR | Thursday | 5 | 10:54:50 |
| 1797 | Mike Trees | M60-64 | GBR | Thursday | 11 | 11:08:03 |
| 1751 | Marcus Richardson | M60-64 | GBR | Thursday | 31 | 11:46:57 |
| 1779 | David Virden | M60-64 | GBR | Thursday | 84 | 12:50:34 |
| 1687 | Michael Stacey | M60-64 | GBR | Thursday | 93 | 13:06:26 |
| 1716 | Andy Pidduck | M60-64 | GBR | Thursday | 169 | 15:31:20 |
| 1681 | Vaughn Dinnage | M60-64 | GBR | Thursday | 192 | 16:31:10 |
| 1632 | Dermot Connolly | M60-64 | IRL | Thursday | DNF | N/A |
| 1785 | Paul Adams | M60-64 | GBR | Thursday | DNS | N/A |
| 1570 | Martin Gannon | M65-69 | GBR | Thursday | 1 | 10:55:21 |
| 1578 | Alistair Abbott | M65-69 | GBR | Thursday | 12 | 12:54:48 |
| 1501 | Paul Jurczuk | M65-69 | GBR | Thursday | 51 | 14:48:24 |
| 1566 | Peter Overvoorde | M65-69 | GBR | Thursday | 52 | 14:48:50 |
| 1522 | Michael Kendall | M65-69 | GBR | Thursday | 67 | 15:48:34 |
| 1466 | David Hill | M70-74 | GBR | Thursday | 24 | 15:25:16 |
| 1437 | Alan Mccartney | M70-74 | GBR | Thursday | DNF | N/A |
| 1464 | Tony Johnson | M70-74 | GBR | Thursday | DNF | N/A |
| 1423 | Christopher George | M75-79 | GBR | Thursday | 5 | 16:43:41 |