Triathlon meets celebrity meets charity in California on Saturday and Sunday when the Malibu Triathlon 2021 shares the weekend with Super League Triathlon.
On Saturday afternoon (local time) a star-studded field (now including Lucy Charles-Barclay, Gustav Iden, Kristian Blummenfelt and Flora Duffy) will compete in the final event of the hectic month-long Super League Championship Series.
But either side of that, mass participation takes centre stage with the latest staging of the Malibu Triathlon – now an iconic event in the annual U.S. calendar – from the shores of Zuma Beach.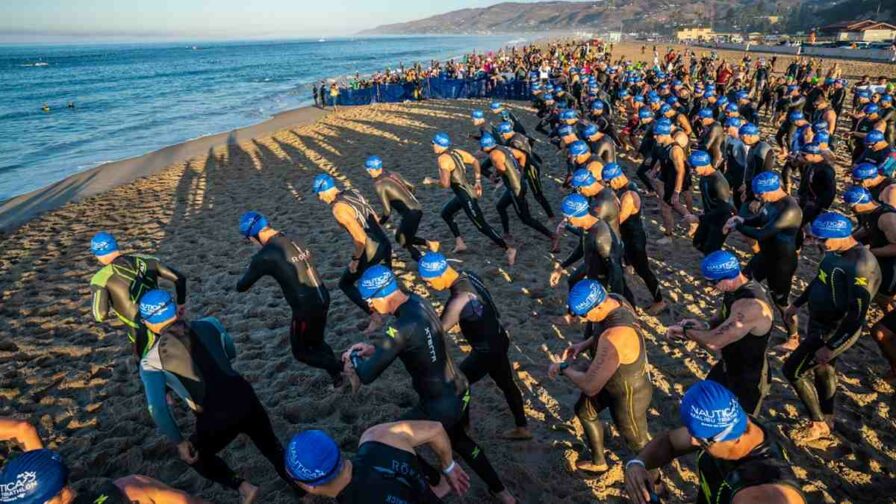 The whole idea of the weekend is to raise money for worthy causes, and now Malibu annually raises more than $1million for the paediatric cancer research programme at the Children's Hospital Los Angeles. In total it has raised more than $15million.
Here are all the details for the 2021 version.
Who is racing in Malibu?
This event always attracts significant attention, partially thanks to its location but also because it historically sees age-groupers mixing with huge celebrities. It is L.A. after all.
In the past having the likes of Jennifer Lopez, Tom Cruise, Jennifer Garner, Matthew McConaughey, Will Ferrell and Zac Efron taking part has provided valuable promotion for an event which has its core focus on raising charity funds.
This year's cast includes the likes of Gossip Girl star Chace Crawford, Ugly Betty actor Max Greenfield and British movie star Daniel Sharman.
The age-group field as ever highlights many special stories from everyday life, and 2021 will be no different. Perhaps the spirit of the event is embodied best by the likes of Elisha Becerra, who lost her son to heart disease soon after his birth at Children's Hospital Los Angeles.
Ever since that painful time in their lives, Elisha and her husband have made it their mission to raise money for the hospital, with $200,000 being the result of their efforts so far.
Elisha's husband has taken part in Malibu every year since 2017 long with the CHLA team, and this year Elisha will be on the start line for the first time too.
When does the Malibu Triathlon start?
The Olympic distance event (1.5km swim, 40km bike, 10km run) starts at 0700 local time on Saturday September 25.
The Classic Distance (0.5-mile swim, 17-mile bike, 4-mile run) follows up at 0700 local time on Sunday September 26. Registration on both days starts at 0500.
Both events have an individual element and a relay element (2-3 competitors per team).