The latest episode of the 'How They Train' podcast with Jack Kelly gives a fascinating insight into the training regime of two-time Olympic champion Alistair Brownlee.
Last year was stop-start one for the 34-year-old due to injury and illness, though he still managed to clock the fastest-ever time by a Briton for an IRONMAN race when winning in Kalmar – and also ended the season comfortably in the top 10 of the PTO world rankings.
Nice and PTO Tour the big draws
His transition from being the best there's ever been at Olympic distance through to middle and long-course racing was interrupted by the global Covid pandemic, making 2022's challenges all the more frustrating.
But it's a clean slate at the start of 2023 and he talks in great detail to Kelly about how his training may – or may not – have changed over the years and about his main aims for the next 12 months.
Asked whether the IRONMAN World Championship – which for the men will be held for the first time in Nice – is the focus, there's no hesitation: "That is very much the race I'm going to target – that and the PTO Tour events.
"Actually I've got to qualify, that's the first step," he pointed out, adding that an IRONMAN in March or April is the likely start point.
"And really my focus is being healthy and uninjured – last year was basically the first time in my career that I've been ill."
Patient approach
Kelly wonders whether his aggressive style, which transformed the short-course landscape, has sometimes hurt him when stepping up in distance and Brownlee admits: "I think you're probably right, it's a bit of a process of finding out what's the best way to do things.
"70.3 is a bit different at times but definitely once you're at IRONMAN I approach it that it's not really racing as such, you're pretty much doing what you can do and if someone is faster there's not a lot you can do about it.
"I think long-distance racing is a massive amount about pacing and really knowing where your limits are. I definitely need to find the sweet spot of swinging the odds in my favour in terms of winning races but at the same time doing it in a consistent manner that's going to get me to the finish line in the best possible way."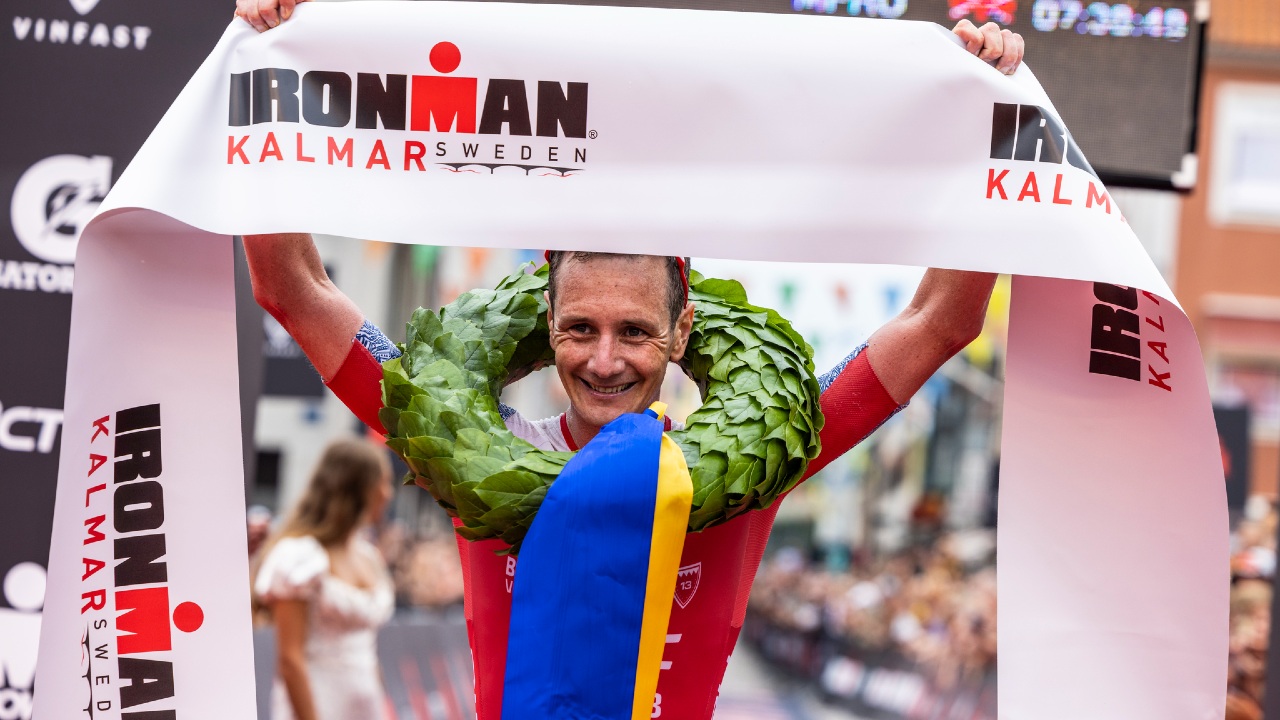 His 7:38:48 time at Kalmar in August underlined that and he added: "I actually feel that I've a relatively good idea of how to race IRONMAN well now in terms of what training I need to do, pacing, I've got my nutrition sorted, my bike position and so on – they're all positives.
"Hopefully if I've got all that right and stay uninjured then I'd like to think if I'm on a startline, I can be competitive."
Motivating factors
And while 2022 saw Norwegians Kristian Blummenfelt – who succeeded Brownlee as Olympic champion – and Gustav Iden raise the long-distance bar, that's something that clearly motivates the Briton.
"In long course, I think what's happening is it's a super-competitive era for sure. I think it's possibly the most competitive racing it's been, which is cool and great to see for the sport.
"What motivates me to get out of bed is to try and beat the best people on their day and have races that are the best I can possibly do. And I'm motivated to do that by seeing other people perform well which is kind of what it's been from day one. That's why the Olympics was such an obsession."
Given the title of the podcast it will come as no surprise that most of the talk is about training specifics – and it's well worth a listen.
But though the Norwegians' scientific approach has generated huge amounts of coverage over the last 12 months, Brownlee himself has been pushing the boundaries for years – whether it's underwater treadmills or applying the data to the Sub7 project.
He also has the knack of distilling training down into the absolute core essentials, explaining: "As cliche as it sounds, my focus has always been what can I do today, this week, this month to maximise my performance and get everything right I possibly can.
"I can only do what I can do. I don't generally worry about other people are doing, though I can learn from how they approach things, from science and from other sports. But you have to put all your effort into making sure you're in the best possible shape you can be.
"I try to run a sensible balance between understanding how people are training, with a general interest and fascination in endurance sports and human performance. Ultimately there are lots of different ways to train – people are individuals and the human body responds in different ways to different stimuli."