Switzerland's long distance legend, Daniela Ryf, was a dominant winner of Thursday's Alpe d'Huez Long Course Triathlon.
The four-time IRONMAN and IRONMAN 70.3 World Champion was actually the first athlete across the line – with the women starting 15 minutes ahead of the men, she held off France's Romain Guillaume to cross the line first. Indeed, her 1:26:32 run split was was just over a minute quicker than the men's champion. Based on her efforts over the closing couple of kilometres on the live stream, she absolutely wanted to cross that finishing line first! Daniela will be back to France in early September in search of a fifth IRONMAN 70.3 World Championship victory.
Guillaume's victory meant another second place for Spain's Albert Moreno Molins, as he was in 2018 and 2014.
https://www.instagram.com/p/B0WC9eZDDVs/
Only the top five men finished the race quicker than Daniela.
*** UPDATE ***
The event also times each athlete on the climbs of the Alpe Du Grand Serre and the final climb of Alpe d'Huez – and on that final iconic climb, Daniela Ryf set the fast time… overall, including all of the Pro men. Here's the data:
Alpe d'Huez Climb splits
1st – Daniela Ryf (SUI) – 55:01
2nd – Romain Guillaume (FRA) – 55:22
3rd – Felix Pouilly (FRA) – 56:07
4th – Scott Defillipis (USA) – 57:50
5th – Timothy Van Houtem (BEL) – 58:11
Alpe d'Huez Long Course Triathlon – Thursday 25th July 2019
2.2km / 118km / 20km
MEN
1st – Romain Guillaume (FRA) – 6:02:52
2nd – Albert Moreno Molins (ESP) – 6:09:42
3rd – Kenneth Vandendriessche (BEL) – 6:11:36
4th – Scott De Filippis (USA) – 6:14:09
5th – Gwenael Ouilleres (FRA) – 6:14:39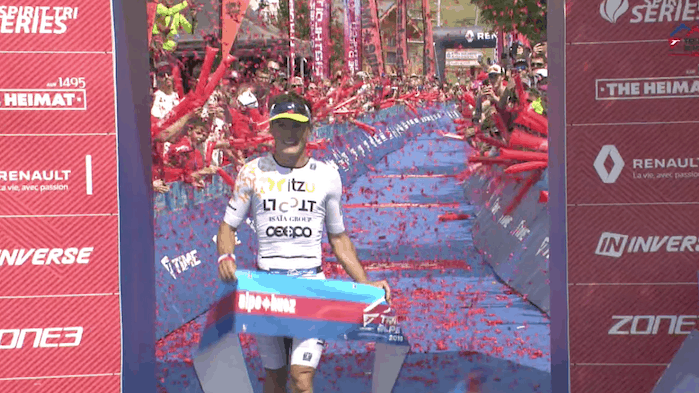 24th – Andrew Woodroffe (GBR) – 6:44:05
28th – Douglas Roberts (GBR) – 6:48:36
What a fantastically brutal day out at @alpe_triathlon yesterday! Really pleased at how I felt and pushed on. Managed to finish 24th overall and 1st British athlete home for the second year in a row! Thanks for having me back! #longdayout pic.twitter.com/hyWF3MuSxL

— Andrew Woodroffe (@andrewwoodroffe) July 26, 2019
WOMEN
1st – Daniela Ryf (SUI) – 6:15:57
2nd – Carrie Lester (AUS) – 6:44:15
3rd – Alexandra Tondeur (BEL) – 6:57:32
4th – Alice Meignie (FRA) – 7:02:11
5th – Meredith Hill (AUS) – 7:04:50
8th – Chantal Cummings (GBR) – 7:22:10
11th – Katherine Renouf (GBR) – 7:47:00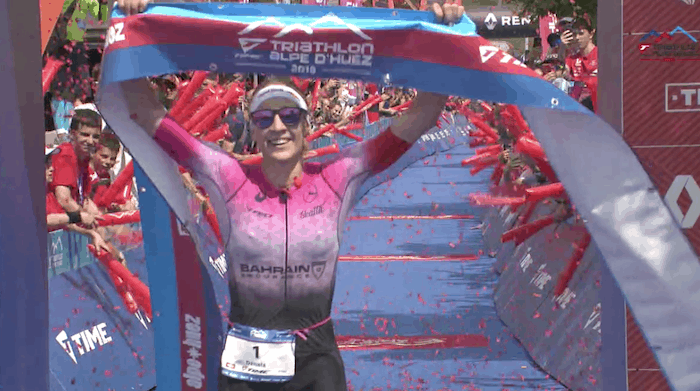 British and Irish podium success at the Alpe d'Huez Long Course Triathlon
2018: N/A (won by Frederik Van Lierde and Emma Bilham – REPORT)
2017: Emma Pooley – SECOND – REPORT
2016: Lucy Gossage – SECOND, Parys Edwards – THIRD – REPORT
2015: Emma Pooley – WIN – REPORT
2014: Catriona Morrison – WIN, Lucy Gossage – SECOND, Parys Edwards – THIRD – REPORT
2013: Ritchie Nicholls – WIN, Eimear Mullan (IRL) – SECOND – REPORT
2012: N/A (won by Mary Beth Ellis and Victor del Corral)
2011: Catriona Morrison – WIN, Tamsin Lewis – THIRD – REPORT
2010: Jodie Swallow – WIN – REPORT
2009: N/A (won by Nicola Spirig and Massimo Cigana)
2008: Chrissie Wellington – WIN – REPORT
2007: Chrissie Wellington – WIN, Stephen Bayliss THIRD – REPORT