The four British women dominated Friday's heats to qualify for the finals of Arena Games Triathlon Singapore, while in the men's event nearly all the main title contenders safely made it through.
Sian Rainsley was the fastest female qualifier in the Zwift-powered event, taking total control in Heat 2 with her time of 28:33 the quickest in the women's field on the day.
Beth Potter also made it through despite finishing almost a minute behind Rainsley (but 42 seconds ahead of third placed Anabel Knoll).
Rainsley told us afterwards: "It's great that all four Brits have auto-qualified into the final. It's a relief to get through, especially with only two from each heat doing so. I'm really excited to give it my best tomorrow and see what I can do."
Dealing with the heat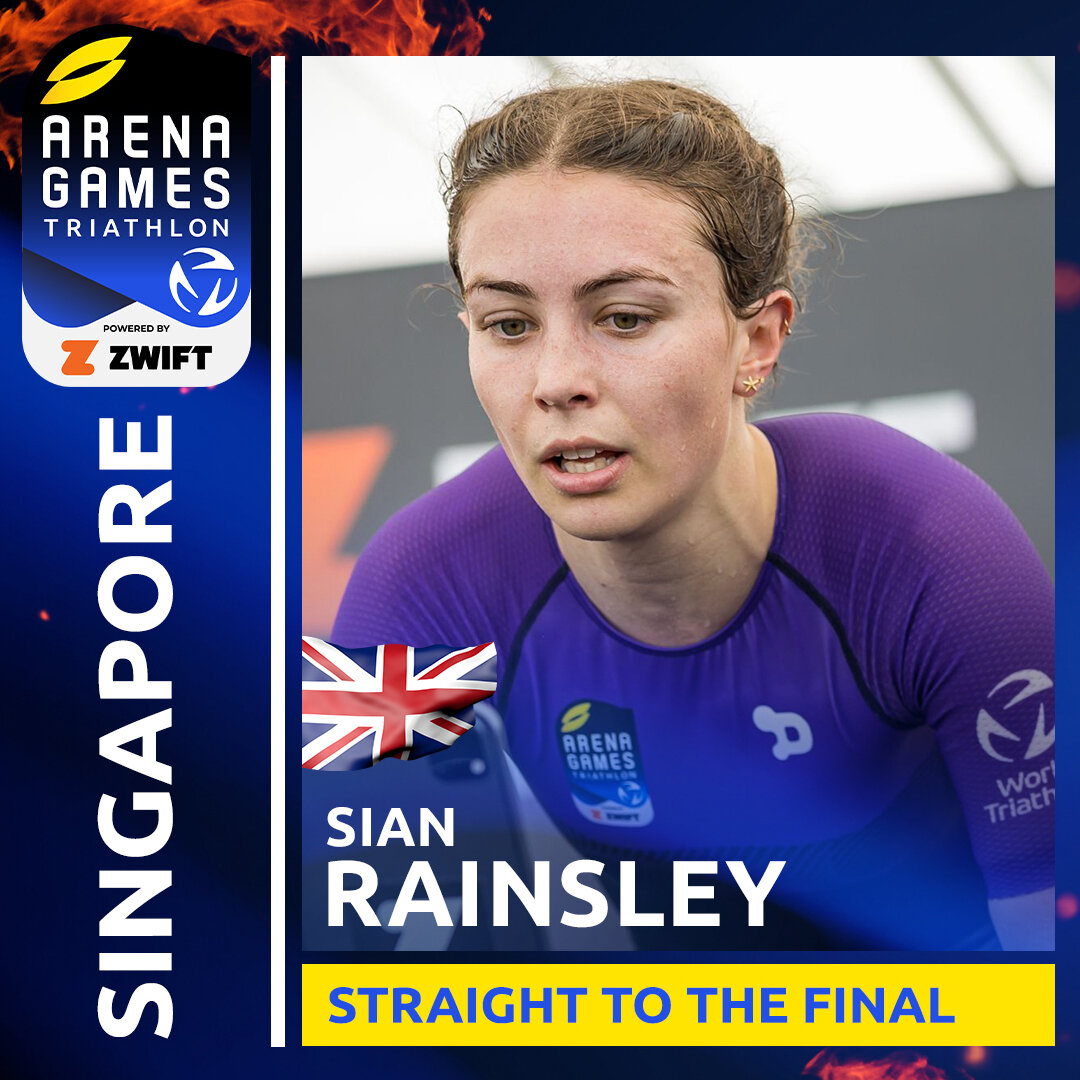 For the athletes it was a first taste of racing Arena Games Triathlon outdoors and in searing heat and they learned valuable lessons ahead of the final, which has the esports World Championship titles on the line.
"It's a really cool venue but it's so hot – 40 degrees outside let alone in the tent so getting the hydration and everything else right tomorrow is going to be a massive factor," added Rainsley.
The first heat went with form and was dominated by Jess Learmonth and Georgia Taylor-Brown. The gold medal winning duo had the chance to ease up in Stage 2 and conserve energy. Learmonth's time of 28:36 was easily enough to win with Taylor-Brown 17 seconds back.
All the remaining athletes go into Saturday morning's repechage with six qualifying for the final later in the day.
Learmonth told us: "Wow, I haven't experienced heat like that when racing in a long time!
"I am feeling a little apprehensive for the final, having to go harder and for longer. I think the winner will be who copes best with the heat, not the strongest athlete."
Big guns fire
And in the men's event, Justus Nieschlag and Aurelien Rapahel made it safely into the finals in Singapore as Alex Yee overcame a five-second penalty to keep his chances well and truly alive.
Munich winner Raphael and Yee made it through a stacked Heat 3, which also included Max Stapley and Chase McQueen.
Raphael had the fastest time in the men's heats with a 25:25 in which he again underlined his swimming prowess, this time in the open water of Marina Bay Reservoir. Yee showed his frustration as he was given a time penalty for having his towel out of his transition box, but composed himself to cruise through in 25:42.
Heat 1 saw a storming performance from Kenji Nener who went hard throughout as Marten Van Riel came home in second to ensure he also qualified automatically for the final.
Hayden Wilde made his Arena Games Triathlon debut in Heat 2 and showed he could well shake up the established order. While he can't realistically win the title, his presence could have a big impact on who does.
He blasted through his heat in some style with a 25:35, the second fastest men's time of the day, joined by Nieschlag, who heads the points table alongside Raphael after his win in London.
Wilde said: "It was absolutely awesome. I think we are the first people in the fresh water here and I had to get a gap on the first stage and played it easy in the second stage on the water and played my cards right and took it easy for the last 400m of the run.
"I love the heat and guys like Kenji and Marten will make it very intense so I look forward to that."
The athletes placed 3-7 and the five fastest losers have made it through to the two repechage tomorrow morning. The top two in each qualify for the final in the afternoon.
'Pretty wrecked'
Third overall in the Wilde / Nieschlag heat was TRI247 columnist Dan Dixon who was making his senior debut at the Arena Games after such a fine start to his season.
And he underlined his credentials by getting right in the mix, telling us afterwards: "It was so hard – you understand why Hayden's an Olympic medallist and Justus is one of the best in the world at this format.
"But I took it to them – I led by six or seven seconds after the first swim and came off the bike joint second with Justus but he just gapped me on the run. I was pretty wrecked to be honest – there was a lot of lactic!
"It was awesome to be part of it as a senior though and it's been fun – just not during it! We wait to see what happens tomorrow but at least there's a second chance to make the final."
You can follow all the repechage heats and the finals themselves on Saturday via our live blog.