Ben Kanute was blown away by the whole Challenge Roth experience – especially the crowds that turned out to watch the race – and put it on a par in triathlon terms with the London Olympics in 2012.
The American star was racing in the German showpiece for the first time and finished a fine third behind former winners Magnus Ditlev and Patrick Lange.
Looking back on the week, he said: "I've never experienced anything like Solar Hill. And to ride it behind Patrick, I think I got the full experience, the full German experience!
"It's hard to put into words but everybody talks about the 2012 Olympic crowd, but this has got to at least equal if not exceed it. I put it up against any crowd."
'Amazing experience'
Kanute raced at Olympic distance earlier in his career, representing his country at Rio 2016, and his Roth performance was all the more impressive given that his only previous full-distance race was IRONMAN Arizona last year.
And he added: "This is only my second full distance, so I didn't have too much expectation or set too many limits on myself. But I guess that changed when I got half an hour into the bike, and Magnus and Sam [Laidlow] were riding super hard. I looked at my power and I'm like, that's not sustainable. Maybe for them it was, but not for me!
"I just tried to take it one section of the course at a time and just kept plugging away but I'm really enjoying the long-distance circuit.
"Roth as a whole has been absolutely amazing and has put on a show like no other. I always love racing in Germany. I raced in Hamburg a few times with the Olympic distance circuit, but the people here are incredibly nice and accommodating – I have felt like it's almost like a second home, I haven't felt out of place at all."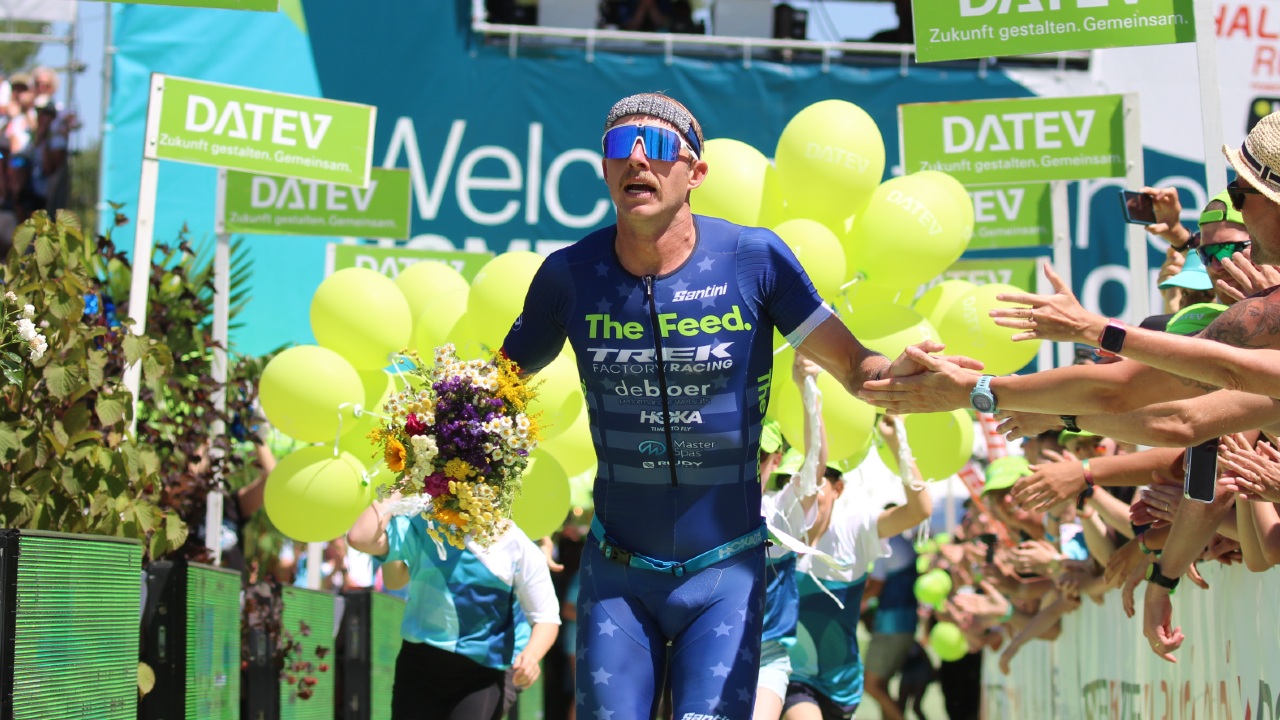 Focus switches back to middle distance
Looking ahead to the rest of the season, his display in Arizona earned him a spot at the first-ever IRONMAN World Championships to be held in Nice but he's deferred that to Kona next year as it clashes with his brother's wedding.
Instead he's going to focus his energies on middle-distance as he bids to go one better than last year's second place behind Kristian Blummenfelt at the IRONMAN 70.3 World Championship.
He told me: "Next up I'm going to race the two PTO races in Milwaukee and Singapore and then the 70.3 Worlds a week later.
"Next year, with Kona being late in October and the 70.3 World Champs in December, it's just going to be a really long year. So I'll probably have a bit more of a slow start to the season.
But it is nice [thanks to that deferred Kona spot] to have that flexibility and not be wondering if I'm going to be at the World Champs or not.
"I just want to race big races against the best. That's what motivates me. There's lots of options, I think, to race smaller races and maybe lesser competition and go for wins. And winning is fun and winning is great and it's still motivating. But winning on a big stage, there's nothing like it.
"So that's why I chose Roth and a lot of the other races this year, the PTO races, the World Champs, they're the pinnacle of the sport, it's where the best are. And I always put myself up there with the rest of the guys, so that's what I'm chasing."