Former 10,000m Olympic finalist Beth Potter is targeting success at this summer's Commonwealth Games in Birmingham alongside another successful Super League Triathlon (SLT) Arena Games campaign.
Potter kicked of her season with victory at the European Triathlon Cup Quarteira, controlling the race from start to finish.
Eyes on the Arena
The Scottish athlete, based in Leeds, is now set to compete at the trio of events hosted by SLT in April and May, with Arena Games races held in Munich (April 9), London (April 23) and Singapore (May 6-7).
"I really enjoy the format of Arena racing," Potter said on the Arena Games Triathlon Shorts / Short Chute podcast powered by Zwift.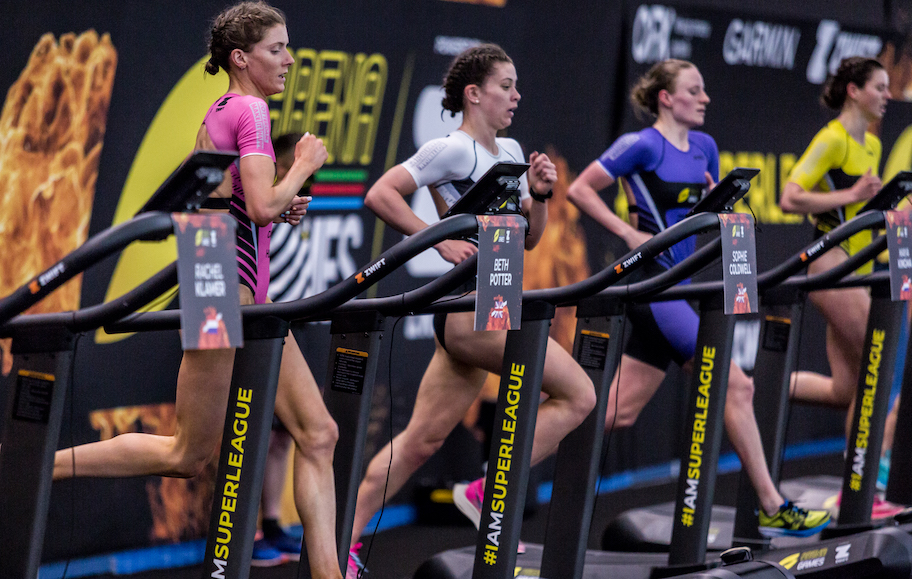 "I'm down to race at all three, it helps break up the winter a little bit, so I can do a little bit more faster training at the moment.
"It's really good fun, and I hope it's here to stay."
The 30-year-old won the inaugural London race in March 2021, following it up with a silver medal during the April event in Rotterdam. The first Arena Games event was held in Rotterdam in August 2020.
"I was actually practicing the bike to run sessions on treadmills set up in Leeds," Potter explained when looking back at her success a year ago.
"They were not as good as the ones at Super League and I actually strained my hamstring a little bit. I was expecting the worst, I was a little bit like 'I'm awful, I'm going to be so bad at this'.
"Then when I saw the start list, I was like I'll aim for fifth, if I come top five that is going to be good for me so let's just go with that.
"And then I don't know what happened – all those fears just seemed to disappear and when the gun went, I'm on one."
Super League exposure
Having transitioned from running to triathlon in 2017, Potter has spent the first few years of her new career learning her craft over the Sprint and Olympic distance, and praised her exposure to Super League Triathlon competition as a leading contributor to her success.
"SLT is the best 20 athletes in the world competing against each other, I was getting constant exposure racing with them.
"Being able to do the [Super League] races week after week – you don't have time to think about your mistakes, you're back on the start line, even in between races, that's really good.
"I thought it was really good, I find that I build in confidence and getting used to racing the more I have in a single block – so that was really good for me."
Commonwealth Games on the horizon
Potter has her eyes set on Birmingham this summer as she looks to emulate fellow Scot Marc Austin, who earned a bronze in 2018, the first athlete to win a triathlon medal for Scotland at a Commonwealth Games.
"It's always a bit stressful trying to qualify for teams – it can come down to form on a single day – so it was nice to get it in the bag early doors and just be able to focus on prep going into the Games.
"There is so much racing now April to November so it is nice to know that the Commonwealth Games spot is in the bag. The goal is to achieve a medal.
"I feel I just need to improve on last year – I've worked really hard on my biking this year and running has taken a bit of a back seat. I've been doing a lot of biking with cyclists this winter – I'm interested to see where it comes out when I race this season."