"When she's on and in the right headspace, she's hands down the best female triathlete on the planet."
That's Chris McCormack's gushing verdict on Cassandre Beaugrand. He may be biased given the Bahrain Victorious link in Super League Triathlon, but on current form it's hard to argue that the French star is the one to beat ahead of the upcoming Paris test event.
Beaugrand was a class apart in the Super Sprint format at WTCS Hamburg and it was a similar story over the Sprint distance at WTCS Sunderland, when she won both individual and Mixed Relay gold with a dominant French squad.
It all puts France – both the women and men – in a perfect position ahead of a home Olympics next summer, with incredible strength in depth across the board.
Adding 'English grit'
Beaugrand has been based at Loughborough in England since last October, which Macca thinks has helped in her case – and that Sunderland success was her fourth on UK soil in the last two seasons.
"I'm probably Cassandre's biggest fan," admits the Super League co-founder. "We've had her on our Bahrain team now for four years – I saw that talent in Super League back in Singapore in 2018 [when she won by fractions of a second after a thrilling finish with that year's world champion Katie Zaferes].
"And I think the move to Loughborough and getting a little bit of that English grit in her and putting the right people around her has been very beneficial.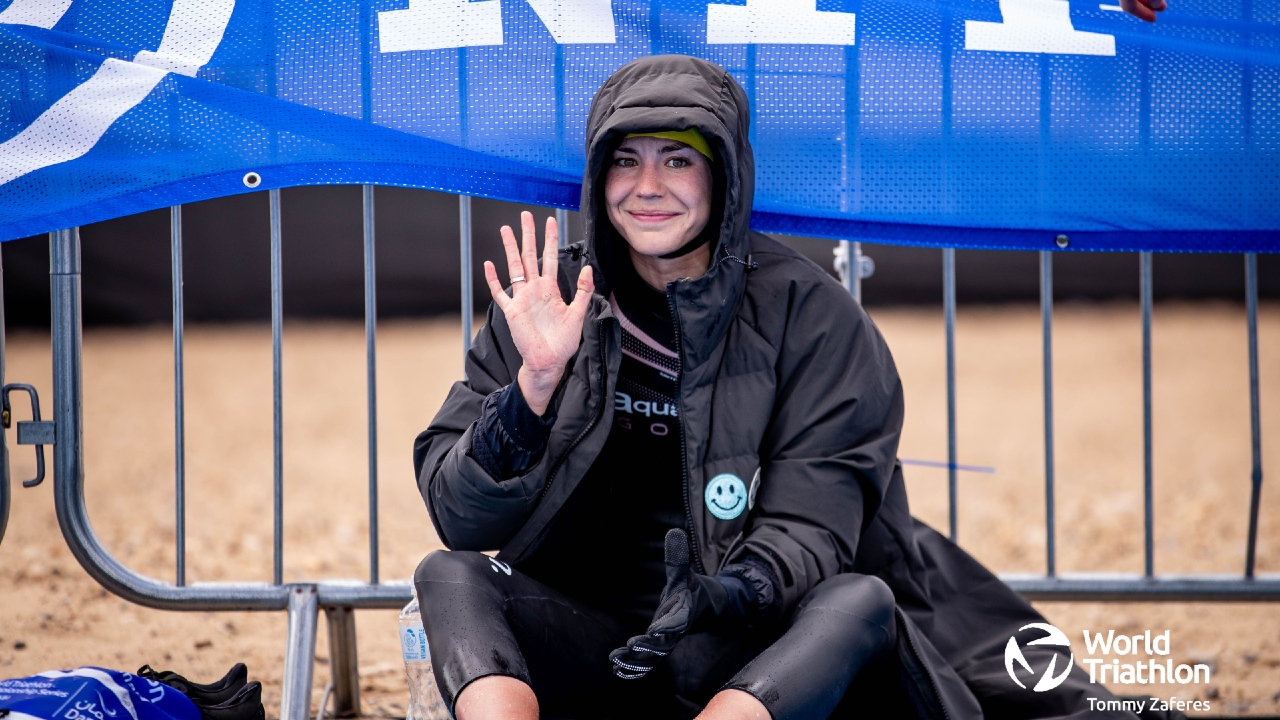 "She absolutely cruised that whole weekend in Hamburg. Sure, Georgia [Taylor-Brown] wasn't there, but Cassandre's swim is remarkable.
"She has an Achilles heel on the bike, but in Paris, I think she'll be fine. And in the Super League races this year, I think she'll be fine.
Munich moment
"She had a big crash last year in Munich and she unravelled a bit there having won in London.
But, dealing with her a lot, she's come through a French system where they can be very delicate and they're very protective.
"That's almost the opposite of the English, where you race and you fight. The English have a very different racing dynamic. The French are very slow, careful and protective and I think that at times that could be at the detriment to the athlete.
"So when things unravel and go wrong like that, it can be very hard for the athlete to individually pull themselves back together. They've always had people putting them back together and I think she's slowly moving through that process of becoming a more complete individual athlete for herself."
'More confident than I was at the start of the season'
Ahead of the test event, Macca will be giving us his take on who he thinks will win Olympic gold in a year's time but if he now feels Beaugrand has become that much more "complete athlete" are there any remaining weak spots?
And he says: "I've yet to be blown away by Cassandre over 10k. She hasn't put together a fantastic 10 yet. She's well and truly capable of it but I've been in conversations with her when she's told me 'I'm not very good at 10,000 metres'. And I've said, you need to get that thought out of your head."
Worryingly for her rivals, when I spoke to her after that Sunderland triumph about which distance she favoured, Cassandre told me: "I enjoy the short distance most, it's more fun for me. But then I think I've improved on my Olympic distance so I can't wait to see at the test event in Paris where I am right now – and I'm more confident than I was at the start of the season."
Saying she "thinks most of the work is done" after a big month of training in June, Beaugrand is relishing not only racing in front of her home fans but also her family.
Her route into triathlon began as a runner – her mother competing at middle distance and her father, Ludovic Beaugrand, working as a coach at the Livry-Gargan Athletics Club on the outskirts of Paris.
And asked what her early impressions of the Paris course are, she added: "I took the town bike and obviously it's not like racing but all the streets we are taking are very lovely and it's an amazing place. All my family are going to be at the test event and It's going to be nice racing in front of them."